---
A list of Spanish American War Veterans buried in
Louisiana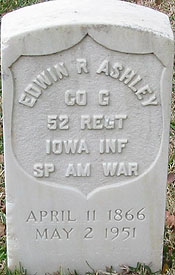 ---
This list is just starting and needs your help! If you know of more Spanish American War Veterans buried in Louisiana, please email us the information from their stone, and the location of the cemetery by clicking here
---
ARMSTEAD, CHARLES. H., Sgt.,
2nd Tennessee Volunteer Infantry (Red Oak Cemetery, Livingston Parish, LA)*
ARNETT, OSMER M., Cpl.,
2nd Arkansas Volunteer Infantry, Co. M (December 28, 1880 - May 23, 1953) (Mulhearn Memorial Cemetery, Monroe, Ouachita Parish, LA)*
ASHFORD, PERRY P.
6th Missouri Volunteer Infantry, Co. F (Salem Baptist Church Cemetery, Eros, Jackson Parish, LA)*
ASHLEY, EDWIN R.
52nd Iowa Volunteer Infantry, Co. G (April 11, 1866 – May 2, 1951) (Baton Rouge National Cemetery, Baton Rouge, Ascension Parish, LA)
BAILEY, JOHN M.
1st Artillery, Battery K (Woodlawn Cemetery, DeRidder, Beauregard Parish, LA)*
BAREFIELD, GEORGE, Pvt.,
1st Louisiana Volunteer Infantry, Co. B (December 29, 1876 - March 14, 1937)(Old Winnsboro Cemetery, Winnsboro, Franklin Parish, LA)
BARKER, IRA E
1st Louisiana Volunteer Infantry, Co. G (May 1, 1869 - November 23, 1937) (Graceland Orange Grove Cemetery, Lake Charles, Calcasieu Parish, LA)*
BASKERVILLE, PURNELL W., Pvt.,
Mississippi (Volunteer?) Infantry, Co. G (November 19, 1876 - April 23, 1958) (Greenwood Cemetery, Ruston, Lincoln Parish, LA)*
BEARDSLEY, BEN G., Sgt.,
1st Infantry, Co. G (Graceland Orange Grove Cemetery, Lake Charles, Calcasieu Parish, LA)*
BLACKWELL, HARRY L, Cpl.,
1st Louisiana Volunteer Infantry (June 4, 1871 - January 28, 1949) (Graceland Orange Grove Cemetery, Lake Charles, Calcasieu Parish, LA)*
BROOKS, JAMES MARION
(Simmons Cemetery, Oberlin, Allen Parish, LA)*
BROWN, TERRY
1st Louisiana Volunteer Infantry (March 9, 1873 - November 6, 1971) (Pentecost Cemetery, Jena, Lasalle Parish, LA)*
BRYANT, THOMAS
Hospital Corps (Woodlawn Cemetery, DeRidder, Beauregard Parish, LA)*
CALKINS, ALBERT M.
U. S. Volunteer Signal Corps (Woodlawn Cemetery, DeRidder, Beauregard Parish, LA)*
CALMES, CALHOUN O.
5th U.S. Infantry, Co. B (Sand Hill Cemetery, Walker, Livingston Parish, LA)*
CANADY, SALATHIDA
2nd U. S. Volunteer Infantry, Co. K (Magnolia Cemetery, Westlake, Calcasieu Parish, LA)*
CARR, HENRY
1st Louisiana Volunteer Infantry, Co. G (Died October 23, 1946) (Ritchie Cemetery, Moss Bluff, Calcasieu Parish, LA)*
CARTER, ALONZO, Pvt.,
1st Louisiana Volunteer Infantry, Co. F (September 30, 1873 - August 25, 1954)(Acree-Carter Cemetery, Point, Union Parish, LA)
CARTER, JOHN M.,
1st Louisiana Volunteer Infantry, Co. O (Riverside Cemetery, Ouachita Parish, LA)
CHAPPEE, HAGARD D., Pvt.,
Missouri Light Artillery (March 21, 1874 - October 6, 1951) (Whitaker Cemetery, DeRidder, Beauregard Parish, LA)*
CHAPMAN, JOE E.
1st Territorial Volunteer Infantry, Co. I (Hasley Cemetery, West Monroe, Ouachita Parish, LA)*
CLARK, ARTHUR JOHN
2nd Arkansas Volunteer Infantry, Co. D (November 30, 1874 - June 27, 1924) (Vivian Cemetery, Vivian, Caddo Parish, LA)*
COLLINS, EDGAR N., Sgt.,
1st Louisiana Volunteer Infantry, Co. G (February 24, 1876 - October 10, 1966) (Graceland Orange Grove Cemetery, Lake Charles, Calcasieu Parish, LA)*
CREDO, JOHN WILLIAM
1st Louisiana Volunteer Infantry, Co. M (1877 - 1927) (Metarie Cemetery, New Orleans, Orleans Parish, LA)
CREWS, ISAAC M., Pvt.,
Arkansas Volunteer Infantry, Co. E (October 4, 1871 - March 19, 1955) (Woodlawn Cemetery, DeRidder, Beauregard Parish, LA)*
DAVIS, CHARLES
(May 9, 1867 - December 8, 1945)(Baton Rouge National Cemetery, Baton Rouge, Ascension Parish, LA)
DAVIS, DAVID
Louisiana (Volunteer?) Infantry, Co. C (1872 - 1930) (Rosehill Cemetery, Jewish Section, New Iberia, Iberia Parish, LA)*
DAVIS, DAVID C., Musician
1st Arkansas Volunteer Infantry (May 26, 1871 - April 3, 1950) (Graceland Orange Grove Cemetery, Lake Charles, Calcasieu Parish, LA)*
DEES, GEORGE K.,
3rd Mississippi Volunteer Infantry (Born 1877)(Amite City cemetery, Amite Tangipahoa Parish, LA)
DELANEY, CHARLES
Louisiana Infantry, Co. G (April 17, 1876 - November 2, 1937) (Hayes Cemetery, Hayes, Calcasieu Parish, LA)*
DIAL, IRA H., Pvt.,
23rd (U.S.?) Infantry (January 17, 1877 - March 30, 1954) (Beauregard Cemetery, DeRidder, Beauregard Parish, LA)*
DICKSON, JOHN ALLEN
(June 20, 1866 - January 13, 1917) (Ramah Cemetery, Creston, Natchitoches Parish, LA)*
DOZIER, JOHN N.
2nd Texas Volunteer Infantry, Co. G (August 25, 1869 - August 19, 1936) (Bethyl Cemetery, Eros, Jackson Parish, LA)*
DREWES, WILLIAM, Pvt.,
1st Louisiana Volunteer Infantry, Co. F (June 25, 1878 - February 19, 1960)(St. Vincent de Paul Cemetery #2, New Orleans, Orleans Parish, LA)
EARLE, WILLIAM THOMPSON, Pvt.,
6th U.S. Cavalry (December 24, 1875 - June 30, 1932) (New Winnsboro Cemetery, Winnsboro, Franklin Parish, LA)*
EASTMAN, LORIN O.,
1st Louisiana Volunteer Infantry, Co. H (November 2, 1868 - Apr 28, 1945) (Joiner Cemetery, Robert, Tangipahoa Parish, LA)
ENDOM, ROBERT L., 1st Lt.,
2nd Texas Volunteer Infantry (Monroe City Cemetery, Monroe, Ouachita Parish, LA)*
DUGAS, OLIVIER T.,
Louisiana Volunteer Light Artillery, Battery C (Died July 4, 1957)(St. Mary Cemetary, Abbeville, Vermilion Parish, LA)
ELMER, WILLIAM, Pvt.,
Louisiana Volunteer Light Artillery, Battery C "Donaldsonville Cannoneers" (1876-1923) (Cemetery of St. John the Evangelist, Lafayette, Lafayette Parish, LA)
EUBANKS, SAM
1st Mississippi Volunteer Infantry, Co. H (October 17, 1867 - February 20, 1921)(Greenlawn Cemetery, Hammond, Tangipahoa Parish, LA)
EVANS, NORMAN PORTER, Pvt.,
2nd U. S. Volunteer Infantry, Co. K (August 19, 1878 - September 22, 1961) (Highland Memorial Gardens Cemetery, Lake Charles, Calcasieu Parish, LA)*
FIFE, SAMUEL TILTON
1st Louisiana Volunteer Infantry, Co. D (March 2, 1877-March 17, 1951)(Union Cemetery, Baskin, Franklin Parish, LA)
FORBES, EDWARD A.
2nd Georgia Volunteer Infantry, Co. L (May 12, 1879 - May 11, 1933) (Graceland Orange Grove Cemetery, Lake Charles, Calcasieu Parish, LA)*
FORD, FRANK
1st Louisiana Volunteer Infantry, Co. D (September 4, 1874 - January 5, 1961)(Hasley Cemetery, West Monroe, Ouachita Parish, LA)*
FRANCIS, MACK, Pvt.,
9th Infantry, Co. L (April 26, 1878 - February 7, 1965)(Carrollton Cemetery, Carrollton, Orleans Parish, LA)*
FRANCIS, SIDNEY L.
2nd Mississippi Volunteer Infantry, Co. K (Goldonna Cemetery, Goldonna, Natchitoches Parish, LA)*
FULLINGTON, ARTEMUN, SR.,
20th Kansas Volunteer Infantry, Co. E (August 3, 1875 - January 18, 1958) (Graceland Orange Grove Cemetery, Lake Charles, Calcasieu Parish, LA)*
GALLAY, WALTER F.
2nd U. S. Volunteer Infantry, Co. B (August 1, 1881 - April 18, 1951) (Carrollton Cemetery, Carrollton, Orleans Parish, LA)*
GERMANY, ROBERT WILLIAM, Pvt.,
1st Louisiana Volunteer Infantry, Co. E (February 16, 1876 - July 7, 1955) (Mulhearn Memorial Cemetery, Monroe, Ouachita Parish, LA)*
GOOS, FRED M.
2nd Alabama Volunteer Infantry, Co. C (August 20, 1862 - November 15, 1936) (Goos Cemetery, Goosport, Calcasieu Parish, LA)*
GUILLORY, OLIVEREL EVES, 1st Sgt. Maj.
2nd U.S. Volunteer Infantry, Co. K (1875-1944) (Sacred Heart Cemetery, Ville Platte, Evangeline Parish, LA)
HANNAH, CHARLES W., Sgt.,
21st Kansas Volunteer Infantry (October 1, 1874 - October 7, 1956) (Woodlawn Cemetery, DeRidder, Beauregard Parish, LA)*
HARRIS, WILLIAM M., Sr., Pvt.,
1st Louisiana Volunteer Infantry, Co. F (October 5, 1874 - May 31, 1958)(Mt. Union Baptist Church, Spearsville, Union Parish, LA)
HART, BENJAMIN, Pvt.,
Pennsylvania Volunteer Light Artillery, Battery A (June 5, 1879 - August 28, 1947) (Lafayette Protestant Cemetery, Lafayette, Lafayette Parish, LA)*
HART, SEABORN J., Sgt.
2nd U.S. Volunteer Infantry, Co. B (February 23, 1875 - November 15, 1936) (Tangipahoa Cemetery, Village of Tangipahoa, Tangipahoa Parish, LA)
HAYWOOD, ROBERT L., Cpl.,
4th Texas Volunteer Infantry, Co. H (Merryville Cemetery, Merryville, Beauregard Parish, LA)*
HENDERSON, ISAAC M., Sgt.,
Infantry, Co. I (China Cemetery, Elton, Jefferson Davis Parish, LA)*
HENDERSON, ORA W., Cpl.,
Infantry, Co. K (December 19, 1872 - April 20, 1953) (China Cemetery, Elton, Jefferson Davis Parish, LA)*
HERRINGTON, WILLIAM R., Cpl.,
(October 24, 1873 - March 9, 1966) (Highland Memorial Gardens Cemetery, Lake Charles, Calcasieu Parish, LA)*
HUNDLEY, FLETCHER C., Cpl.,
23rd U.S. Infantry (October 15, 1870 - January 20, 1948) (Hasley Cemetery, West Monroe, Ouachita Parish, LA)*
HURLBUT, MILERT LEE, Pvt.,
11th U.S. Infantry, Co. M (December 7, 1873 - December 9, 1956) (Graceland Orange Grove Cemetery, Lake Charles, Calcasieu Parish, LA)*
HUTCHINS, GEORGE F., Pvt.,
1st Louisiana Volunteer Infantry (July 24, 1870 - November 7, 1952) (Highland Memorial Gardens Cemetery, Lake Charles, Calcasieu Parish, LA)*
INDIANA, RUSH MENIFEE, Cpl.,
U.S. Army (December 27, 1873 - June 5, 1963) (Whatley-La Croix Cemetery, Jena, Lasalle Parish, LA)*
JACKSON, ERNEST V., Pvt.,
160th Indiana Volunteer Infantry, Co. M (November 27, 1876 - August 9, 1949)(Many City Cemetery, Many, Sabine Parish, LA.)
JACKSON, SPENCER T.,
3rd Virginia Volunteer Infantry, Co. B (Baton Rouge National Cemetery, Baton Rouge, East Baton Rouge Parish, LA)
JACKSON, TOKER, Sgt.,
21st U.S. Infantry, Co. L (December 8, 1878 - April 30, 1965)(Beulah Methodist Church Cemetery, Marthaville, Natchitoches Parish, LA)*
JEFFRIAN, GEORGE
9th U. S. Volunteer Infantry, Co. M (Huff & Thomas Cemetery, Lake Charles, Calcasieu Parish, LA)*
JOHNSON, CHARLES J., Pvt.,
U. S. Volunteer Infantry, Co. G (December 26, 1878 - April 26, 1953) (Vivian Cemetery, Vivian, Caddo Parish, LA)*
JONES, HENRY C.
Louisiana Volunteer Light Artillery, Battery C (August 12, 1879 - December 29, 1939)(Amite Baptist Church Cemetery, Watson, Livingston Parish, LA)*
KEYS, LEONARD J.
(April 16, 1873 - November 8, 1959) (China Cemetery, Elton, Jefferson Davis Parish, LA)*
KIDD, EARL E., Capt.,
1st Louisiana Volunteer Infantry, Co. F (1874? - October 15, 1943)(Winnfield City Cemetery, Winnfield, Winn Parish, LA)
KISSICK, MICHAEL JOSEPH
1st U.S. Artillery, Battery F (August 19, 1877 - July 10, 1869)(Marthaville Cemetery, Marthaville, Natchitoches Parish, LA)
LANDRY, BONIFACE
1st Louisiana Volunteer Infantry, Co. C (Died February 10, 1936)(Indian Bayou Methodist Church Cemetary, Indian Bayou, Vermilion Parish, LA)
LEBLEU, P. O., Cpl.,
1st U.S. Volunteer Engineers(?)(September 9, 1870 - September 5, 1937) (Graceland Orange Grove Cemetery, Lake Charles, Calcasieu Parish, LA)*
LEWIS, FRED J.
1st Texas Volunteer Cavalry, Troop E (Died May 29, 1956) (Baton Rouge National Cemetery, Baton Rouge, Ascension Parish, LA)
LEWIS, ROY ARMARDIS
1st Louisiana Volunteer Infantry, Co. B (March 20, 1878 - November 11, 1953)(Old Winnsboro Cemetery, Winnsboro, Franklin Parish, LA)
LEWIS, WILLIAM J., 1st Lt.,
1st Louisiana Volunteer Infantry (October 2, 1874 - September 16, 1950) (Greenwood Cemetery, Ruston, Lincoln Parish, LA)*
LILES, JOHN W.,
2nd U.S. Volunteer Infantry, Co. H (1868-1940)(Riverview Cemetery, Monroe, Ouachita Parish, LA)
LOVE, CHARLES H.
(December 29, 1876 - December 1, 1933) (Reed Cemetery, Oakdale, Allen Parish, LA)*
MAGEE, AMOS P.
3rd Mississippi Volunteer Infantry (1869 - 1916) (Oakley Cemetery, Gilbert, Franklin Parish, LA)*
MANGHAM, WALTER B., 2ND LT
1st Louisiana Volunteer Infantry (June 21, 1871 - August 3, 1945)(Monroe City Cemetery, Monroe, Ouachita Parish, LA)*
McCARROLL, THOMAS A.
2nd Mississippi Volunteer Infantry, Co. F (May 7, 1880 - May 3, 1973) (Hayes Cemetery, Hayes, Calcasieu Parish, LA)*
McCOY, CHARLES A., Capt.,
2nd WS(?) Volunteer Infantry (February 27, 1869 - September 3, 1948) (Graceland Orange Grove Cemetery, Lake Charles, Calcasieu Parish, LA)*
McCOY, WILLIAM ALBERT, Pvt.,
1st Louisiana Volunteer Infantry (February 18, 1879 - April 13, 1947)(Greenwood Cemetery, Ruston, Lincoln Parish, LA)
McCRANIE, GEORGE W.
1st Louisiana Volunteer Infantry, Co. D (Monroe City Cemetery, Monroe, Ouachita Parish, LA)*
McCRANIE, PERCY W.
1st Louisiana Volunteer Infantry, Co. B (Monroe City Cemetery, Monroe, Ouachita Parish, LA)*
McGREGOR, WILLIAM. A.
1st Mississippi Volunteer Infantry, Co. L (Woodlawn Cemetery, DeRidder, Beauregard Parish, LA)*
McLAUGHLIN, O. F. , Musician
1st Arkansas Volunteer Infantry, Band (Woodlawn Cemetery, DeRidder, Beauregard Parish, LA)*
McLEAN, JAMES W., Pvt.,
1st Florida Volunteer Infantry (May 17, 1874 - January 12, 1949) (St. Mary's Assumption Catholic Cemetery, Cottonport, Avoyelles Parish, LA)*
McLEOD, JOHN W.
(September 12, 1878 - August 1, 1950) (Plain Dealing Cemetery, Plain Dealing, Bossier Parish, LA)*
MILBY, JOHN C., Pvt.,
1st Louisiana Volunteer Infantry, Co. D (December 4, 1879 - September 14, 1956) (Lone Cedar Cemetery, Winnsboro, Franklin Parish, LA)*
MITCHELL, THOMAS J.
1st Louisiana Volunteer Infantry, Co. K (Carrollton Cemetery, Carrollton, Orleans, Parish, LA)*
MONROE, ALLEN B.
2nd West Virginia Volunteer Infantry, Co. C (Hopewell Cemetery, Hopewell, Beauregard Parish, LA)*
MOORE, WILLIAM A.
3rd Texas Volunteer Infantry, Co. E (Hamiter Cemetery, Plain Dealing, Bossier Parish, LA)*
MORGAN, JOSEPH W., Pvt.,
1st Mississippi Volunteer Infantry (July 5, 1874 - February 19, 1954) (Beauregard Cemetery, DeRidder, Beauregard Parish, LA)*
MOUNT, FRED SMYTHE
3rd U. S. Volunteer Engineers (Oswalt Cemetery, Wildsville, Concordia Parish, LA)*
MULLIN, JAMES H., Pvt.,
6th Missouri Volunteer Infantry (September 3, 1875 - September 18, 1926)(Greenwood Cemetery, Ruston, Lincoln Parish, LA)*
NICHOLAS, HENRY P.
1st Louisiana Volunteer Infantry, Co. G (June 8, 1865 - June 22, 1930) (Graceland Orange Grove Cemetery, Lake Charles, Calcasieu Parish, LA)*
NOLAND, BEVERLY W., Cpl.,
1st Kentucky Volunteer Infantry, Co. C (September 25, 1871 - July 19, 1936) (Carrollton Cemetery, Carrollton, Orleans Parish, LA)*
OBRYAN, F. DANIEL, Sgt.,
1st Louisiana Volunteer Infantry, Co. G (May 14, 1871 - October 31, 1936) (Graceland Orange Grove Cemetery, Lake Charles, Calcasieu Parish, LA)*
OBRYAN, ROBERT T.
1st Louisiana Volunteer Infantry, Co. G (September 10, 1878 - July 12, 1933) (Graceland Orange Grove Cemetery, Lake Charles, Calcasieu Parish, LA)*
OGDEN, SARGENT P., Pvt.,
1st Louisiana Volunteer Infantry, Co. B (October 11, 1878 - August 31, 1962)(Ogden Cemetery, Liddieville,Franklin Parish, LA)
PICKETT, CLARENCE C.
Co. D (1879 - 1929) (Cottage Grove Cemetery, Bossier City, Bossier Parish, LA)*
PLEASANT, RUFFIN GOLSON, Lt. Col., (Later Governor of Louisiana)
1st Louisiana Volunteer Infantry (June 2, 1871 - September 12, 1937) (Forest Park Cemetery, Shreveport, Caddo Parish, LA)
POWER, CHARLES J., Pvt.,
2nd Texas Volunteer Infantry, Co. M (July 30, 1877 - April 24, 1965) (Forest Park Cemetery, Shreveport, Caddo Parish, LA)*
PROTHRO, E. A., Artificer,
(1850 - 1911) (Mt. Lebanon Cemetery, Gibsland, Bienville Parish, LA)*
RAFTERY, JOHN J.,
U.S. Navy (Tangipahoa Cemetery, Tangipahoa, Tangipahoa Parish, LA)
RAWLS, ROBERT L.
1st Mississippi Volunteer Infantry, Co. C (Hasley Cemetery, West Monroe, Ouachita Parish, LA)*
REICHLEY, JOHN M., Pvt.,
5th U.S. Cavalry, Troop F (January 20, 1876 - June 9, 1959) (Graceland Orange Grove Cemetery, Lake Charles, Calcasieu Parish, LA)*
RIBBECK, ALBERT W.
1st Louisiana Volunteer Infantry, Co. C (February 26, 1874 - February 4, 1957) (Graceland Orange Grove Cemetery, Lake Charles, Calcasieu Parish, LA)*
RIDGEDALE, BENJAMIN,
1st Louisiana Volunteer Infantry, Co. H (November 11, 1871 - January 4, 1945) (Mitchell Cemetery, Ponchatoula, Tangipahoa Parish, LA)
ROANE, WILLIS W., Cpl.,
1st Louisiana Volunteer Infantry (January 17, 1877 - June 10, 1946) (Greenwood Cemetery, Ruston, Lincoln Parish, LA)*
ROBERTS, LOUIS C.
1st Louisiana Volunteer Infantry, Co. E (Hasley Cemetery, West Monroe, Ouachita Parish, LA)*
ROBERTS, WILLIAM G.
1st Louisiana Volunteer Infantry, Co. G (November 17, 1875 - May 15, 1960) (Graceland Orange Grove Cemetery, Lake Charles, Calcasieu Parish, LA)*
ROCK, GEORGE HORRIDGE SR.,
1st Louisiana Volunteer Infantry (July 29, 1877 - July 30, 1961) (Graceland Orange Grove Cemetery, Lake Charles, Calcasieu Parish, LA)*
ROOKER, CALEB ALFORD, Pvt.
1st Tennessee Volunteer Infantry, Co. E (July 14, 1875 - February 10, 1933)(Lafayette Protestant Cemetery, Lafayette, Lafayette Parish, LA)
ROSS, EDWIN WILDS
1st Louisiana Volunteer Infantry, Co. B (January 31, 1875 - April 6, 1944) (Hasley Cemetery, West Monroe, Ouachita Parish, LA)*
ROUSSEAU, JOSEPH A.,
2nd Infantry, Co. C (April 29, 1873 - March 16, 1945) (Whitehall Cemetery, Whitehall, Livingston Parish, LA)*
SHARKEY, PETER M.
2nd Louisiana Volunteer Infantry, Co. M (Sharkey Cemetery, Amite, Tangipahoa Parish, LA)
SMITH, EBENEZER M.
Texas (Volunteer?) Infantry, Co. H (Pine Hill Cemetery, Iowa, Jefferson Davis Parish, LA)*
SPEAR, JOHN MICHAEL
Louisiana Volunteers (Lowe Cemetery, Columbia, Caldwell Parish, LA)
SPRAGUE, JAMES L.
4th Missouri Volunteer Infantry, Co. H (Palestine Baptist Church Cemetery, Chatham, Caldwell Parish, LA)*
STACK, THOMAS J., Pvt.,
Hospital Corps (Woodlawn Cemetery, DeRidder, Beauregard Parish, LA)*
STRAUSZ, HARRY NOBLE,
6th Ohio Volunteer Infantry, Co. L (Masonic Cemetery, New Orleans, Orleans Parish, LA)
SUTTON, WILEY
2nd North Carolina Volunteer Infantry, Co. A (May 25, 1875 - December 28, 1955) (Big Woods Cemetery, Edgerly, Calcasieu Parish, LA)*
TAYLOR, GEORGE S.
1st Louisiana Volunteer Infantry, Co. G (Graceland Orange Grove Cemetery, Lake Charles, Calcasieu Parish, LA)*
THOMAS, ENOCH JOSHUA
U. S. Army (May 1, 1874 - October 12, 1949) (Cool Spring Cemetery, Logansport, Desoto Parish, LA)*
THOMAS, THOMAS CLANTON
U. S. Marine Corps (September 11, 1876 - August 14, 1945) (Cool Spring Cemetery, Logansport, Desoto Parish, LA)*
TRAUTH, SEBASTIAN W., Sgt.,
1st Louisiana Volunteer Infantry, Co. M (January 25, 1880 - December 21, 1936) (Carrollton Cemetery, Carrollton, Orleans Parish, LA)*
TRIPLETT, WILLIAM H., Pvt.,
3rd Tennessee Volunteer Infantry (April 4, 1880 - January 2, 1966) (Mulhearn Memorial Cemetery, Monroe, Ouachita Parish, LA)*
TRUDELL, PIER, Pvt.
1st Mississippi Volunteer Infantry, Co. C (1873-1933)(Baton Rouge National Cemetery, Baton Rouge, East Baton Rouge Parish, LA)
WALL, REUBEN
1st Louisiana Volunteer Infantry, Co. B (March 12, 1877 - January 6, 1951)(Rugg's Bluff Cemetery, Near Point, Southeastern Union Parish
LA)
WATKINS, RICHARD, Cpl.,
1st Texas Volunteer Infantry (August 4, 1876 - March 24, 1949) (Graceland Orange Grove Cemetery, Lake Charles, Calcasieu Parish, LA)*
WATSON, JOHN
1st Mississippi Volunteer Infantry, Co. E (Lay Cemetery, Benton, Bossier Parish, LA)*
WEBB, ELMER, Pvt.,
Hospital Corps (March 23, 1874 - June 20, 1951) (Mulhearn Memorial Cemetery, Monroe, Ouachita Parish, LA)*
WEBBER, EDWARD H., 1st Sgt.,
2nd Texas Volunteer Infantry (August 2, 1870 - October 10, 1952) (Big Woods Cemetery, Edgerly, Calcasieu Parish, LA)*
WHITE, MARTIN LUTHER, PVT.,
1st Mississippi Volunteer Infantry, Co. K (May 25, 1876 - July 22, 1958) (Bird's Nest Cemetery, Topsy, Calcasieu Parish, LA)*
WILLIAMS, JAMES T.
3rd Mississippi Volunteer Infantry, Co. B (February 29, 1876 - November 5, 1934) (Crowville Masonic Cemetery, Crowville, Franklin Parish, LA)*
WILLIAMS, ROLLIN F., Pvt.,
7th Ohio Volunteer Infantry, Co. K (December 25, 1878 - May 28, 1960) (Graceland Orange Grove Cemetery, Lake Charles, Calcasieu Parish, LA)*
WILSON, OTIS A.
6th U.S. Artillery, Battery E (Baton Rouge National Cemetery, Baton Rouge, Ascension Parish, LA)
WRIGHT, HARDIE, Cpl.,
4th Texas Volunteer Infantry (1869 - 1944) (Woodlawn Cemetery, DeRidder, Beauregard Parish, LA)*
YOUNG, ROBERT W.
1st Louisiana Volunteer Infantry, Co. G (Graceland Orange Grove Cemetery, Lake Charles, Calcasieu Parish, LA)*
---
Thanks to the following people for contributing information to the page!
Jane G. Bulliard (Oliverel Eves Guillory)
Jerry Carter (George Barefield, Alonzo Carter, John Carter, Samuel Fife, Earl Kidd, Roy Lewis, Sargent Ogden, Reuben Wall)
Belford Carver (Lorin Eastman, Sam Eubanks, Seaborn Hart, John Raftery, Benjamin Ridgedale, Peter Sharkey)
Bobby Cox (Edwin R. Ashley, Fred J. Lewis, Otis A. Wilson, and image of the Edwin Ashley Gravestone)
Linda Davis (Ruffin Golson Pleasant)
Wally Dees (George Dees)
Robert A. Drewes (William Drewes)
Lynard Fontenot (Ernest V. Jackson)
Harpo74442 (Spencer T. Jackson)
Bryan Hollis (William M. Harris)
Gale J. Luquette (Olivier Dugas, Boniface Landry)
John M. McKee (Harry Noble Strausz)
Dave Ogle (Caleb Alford Rooker)
Joe Rains (Michael Joseph Kissick)
Diane Refrow (names followed by an asterisk -*-)
Carol Elmer Schmidt (William Elmer)
Mildred Sherburne(Pier Trudell)
George Stanley (John Michael Spear)
William (Bill) Teegarden (William Albert McCoy)
Geraldine Tulane (John Credo)
John Kent Young (John Liles)

---
Click here to visit the website bibliography
---
Support this Site by Visiting the Website Store! (help us defray costs!)
---
We are providing the following service for our readers. If you are interested in books, videos, CD's etc. related to the Spanish American War, simply type in "Spanish American War" (or whatever you are interested in) as the keyword and click on "go" to get a list of titles available through Amazon.com.
Search:
Keywords:
---
Visit Main Page for copyright data