---
K Troop, 1st United States Volunteer Cavalry
List of Sutlers
---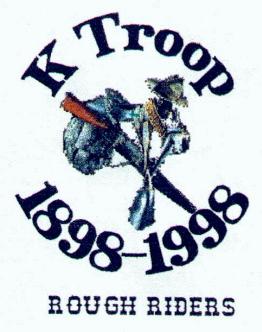 Spanish American War Sutlers:
1)Frazier Brothers. 5641 Yale Blvd., Dallas, Texas 75206. Canteen/Sling. Cups, Mills type Web belts, Blue Wool Shirts (excellent quality), leather goods, haversack slings, chevrons, trousers (blue wool only), tentage, and will start carrying the campaign hats. They take Master Card and VISA. (214) 696-1865. Email them by clicking here!
2) S & S Firearms, 74-11 Myrtle Ave., Glendale, NY. 11385. C-Clasp, Krag parts, Mills Belts. They take Master Card and Visa. (718) 497-1100.
3) Mike Boyd, P.O. Box 4844, Victoria, TX. 77903-4844. Has some stock left from the Rough Riders Movie. (One of our own K Troopers). Does not take Credit Cards. (512) 575-2567.
4) Grand Illusions Company, 705 Interchange Blvd., Newark, DE. 19711. Takes Master Card and Visa. Spanish American Uniforms, Officers Khaki Uniforms, Wool Shirts (lighter weight wool compared to Frazier Brothers, but serviceable). (302) 366-0300.
5) Col. Bubbies., 2202 Strand, Galveston, TX 77550. Vintage Haversacks (will need to replace straps with a leather one available from Frazier Brothers) and other vintage pieces. Mess kits (Ask for the SpanAm). They take Master Card, Visa, Discovery. (409) 762-7397.
6) Spring Army Surplus. 1923 Spring Cypress, Spring TX 77388. Ron Davis (one of our own). Messkits and other equipment. Does not take Credit Cards. (281) 353-0804.
7) Prater Mercantile, L.L.C., 13359 Highway 155 South, Tyler, TX 75703. Rough Rider Trowsers (Wahmaker Rough Rider), 5 Button Fatigue Jacket (Wahmaker Rough Rider) . Also has good inventory of guns. Steve and Erika Prater. They take Master Card, Visa, Discovery. (903) 534-5965.
Rifles, Carbines and Pistols can be purchased from the above, but most people have a better chance of finding the Carbines and Pistols at Gun Shows. Saddles and Horse Equipment can be found at various locations on the WWW. Other Sutlers will be listed as they are found.
If you For more info. on K Troop, contact:
John Cobb , Captain
K Troop, 1st United States Volunteer Cavalry
8068 PR 1440
Centerville, Texas 75833
---

To visit the website bibliography, click here. To visit the website video bibliography, click here

---

Support this Site by Visiting the Website Store! (help us defray costs!)

---

We are providing the following service for our readers. If you are interested in books, videos, CD's etc. related to the Spanish American War, simply type in "Spanish American War" (or whatever you are interested in) as the keyword and click on "go" to get a list of titles available through Amazon.com.
Search:
Keywords:
---
Visit Main Page for copyright data


Return to the Troop K Page