---
Roster of 1st New York Volunteer Infantry
Contributed by John LaBarre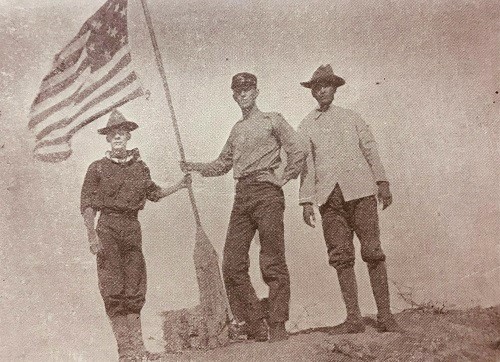 Members of the 1st New York Volunteer Infantry, Co. C raises the first American flag on Diamond Head, Oahu, Hawaii
---
Please Visit our Home Page to learn more about the Spanish American War
---
Field and staff ||| Company A ||| Company B ||| C ompany C ||| Company D ||| Company E
Company F ||| Company G ||| Company H ||| Company I ||| Company K ||| Company L ||| Company M
---
Click here for the history of the 1st New York Volunteer Infantry!
---
General:
The First New York Volunteer Infantry served in Hawaii during the Spanish American War.
The Roster:
Thomas H. Barber, Colonel, May 2, 1898 to Feb. 6, 1899
Horatio Potter Stacpole, Colonel, Feb. 7 1899 to Feb. 26, 1899
Horatio Potter Stacpole, Lt-Colonel, May 2, 1898 to Feb. 7, 1899
Walter Scott, Lt-Colonel, Feb. 7, 1899 to Feb. 26, 1899
Majors:
James T. Chase, May 2, 1898 to Oct. 21, 1898
Walter Scott, May 2, 1898 to Feb 7, 1899
Robert Temple Emmet, May 24, 1898 fo Feb 26, 1899
John Kelsey Sague, Feb 18 to Feb 26, 1899
Regimental Adjutants:
Robert Temple Emmet, May 6 to May 24, 1898
Clarence Strevell, May 24, 1898 to Feb 26, 1899
Battalion Adjutants:
William Fowler Wheelock, May 27, 1898 to Feb 20, 1899
William Henry Mapes, May 27, 1898 to Feb 20, 1898
Frank Burch Edwards, June 6 to July 2, 1898
Quartermaster: Bronson Winthrop, May 14, 1898 to Feb 26, 1899
Surgeon: Charles Edmund Davis, May 2, 1898 to Feb 26, 1899
Asst. Surgeons:
George D. Ramsey, May 2 to May 16, 1898
Lewis Theophilus Griffith, May 2, 1898 to Feb 26, 1899
Maurice Cavileer Ashley, May 17, 1898 to Feb 26, 1899
Chaplain:
Karl Schwartz, May 2, 1898 to Feb 26, 1899

Officers:
Frank R. Palmer, Captain
Adrian W. Mather, First Lieutenant
Howard M. McMillan, Second Lieutenant
Sergeants:
E. Eward Newcomb, First Sergeant, discharged July 20, 1898
Edwin T. Coffin, First Sergeant
Adam Van Allen, Q.M. Sergeant
William B. Coates
Eugene P. Cady
Erastus P. Gavit
Frank E. Selkirk
Corporals:
William H. McAvoy
Francis E. Dodds
Alexander F. Taylor
Josiah G. Beckwith, Jr.
William L. Martin
Charles M. Bliven
Robert A. Hamilton
William A. Ostrander
Jacob S. Kingsbury
Ashton H. Potter
David L. Patzig, Cook
David A. Starbuck
Philip T. Crapsey
Samuel Anable, 2nd
Others:
Joseph A. Devine, Musician
Francis W. Schriver, Musician
William H. Denison, Artificer
John Cronin, Wagoner
Privates:
Acheson, William F.
Albert, John M.
Bandorf, Arthur
Bastian, Edward
Becker, Reuben E.
Blessing, Ira H.
Brandow, Abram
Brown, John H.
Callanan, John J., Jr. discharged Aug 8, 1898, to 203rd, NYV
Campion, ?
Carr, William D.
Carrick, Augustin W.
Carroll, Eugene J.
Cole, Charles
Colerose, Walter
Cook, Lorelo E.
Consalus, David A.
Creighton, John B.
Davis, Howard
Dederick, Oscar H. (also spelled Dedrick)
Dermody, Patrick
Ebel, Harold P.
Ehrmann, Ferdinand
Fleming, John G.
Foord, John G.
Forstner, Peter
Fort, Clarence V.
Gaenssley, Frederick
Graham, Mansfield F.
Hackett, Edward F., Jr.
Hastings, Henry C.S.
Harris, Seymour N.
Hendrikse, Nicholas, Jr.
Hess, John, Jr.
Hevenor, Royal
Jenkins, Edward E.
Kearney, Orloff R.
Keleher, Joseph
Kerwin, Thomas
LaGrange, Howard H.
Lawyer, George H.
Lennon, Thomas, died Nov. 3, 1898
Loonie, Thomas J.
Marsh, Charles
McCarty, Webster, died Oct. 26, 1898
McCormack, John J.
McCoy, Jay S.
McCulloch, James P.
McGrane, James A.
Mesick, Chares E., Jr.
Middagh, Albert H.
Miller, Warner H., aka Warren H.
Murphy, William F.
Murray, Walter G.
Nash, Joseph P.
O'Neill, William
Pickett, John P.
Pladwell, William s.
Plew, George W.
Power, Frederick, (also spelled Powers)
Robinson, George W., Jr.
Robinson, Walter F.
Rourke, William
Satterlee, Richard S.
Secor, Bertie
Shepherd, Charles S.
Sheridan, Charles F.
Shick, ?
Sprong, Harwood B.
Stuart, Janes J.
Taggart, Morgan
Taylor, Carlton W.
Treadwell, William A.
Vincent, Fred E.
Warner, Charles L.
Welsh, George, Jr.
Wendell, Emory I.
Westfall, George
Wilson, John E.
Wood, DeWitt G.
Wright, George F.
Zahn, Eugene C.
Zimmer,

Officers:
Charles Bleecker Staats, Captain
William Dixon Manson, Captain [middle initial also shown as "S."]
Harry Caleb Staats, First lieutenant
Edward H. Burton, Second Lieutenant
Sergeants:
Jesse G. Robinson, First Sergeant
Frederick R. Meske, Q.M Sergeant
Cassimir F. Swan [also spelled Swann]
Louis J. Rezyemini [also spelled Rezzemini]
James B. McGoveren
Edward L. Manson
Philip G. Rosa [also spelled Roosa]
Corporals:
Robert S. Blake
Charles R. Bortle
Benjamin H. Bridgeford
Edward H. Chapman
Aaron P. Crounse
Nicholas S. Davenport
Austin W. Dunham
Ernest C. Johnson
James Mailer
Sanford A. Moeller
Michael J. Regan, discharged July 20, 1898 to the 203rd NYV
Robert G. Robinson
Charles A. Sussdorff
Edson Tygart
Others:
Alden D. Finkle, Musician
John J. Keirnan, Musician
Edward W. Salmond, Artificer
William P. Wilcox, Wagoner [first initial also shown as G.]
Privates:
Anderson, Edward W.
Babocck, Nathan
Bailey, Edward A., died Nov. 26, 1898 at Honolulu
Briggs, Frank
Brownell, Willard A.
Carrick, Robert I.
Caswell, Charles J.
Clark, Thomas H.
Coffin, Harrison L.
Collingwood, Robert J.
Colvin, Andrew J.
Cooke, John, [also spelled Cook]
Cosgrave, Robert M. [also spelled Cosgrove]
Crennell, Henry H.
Dayton, George P. [middle initialt also shown as S.]
Decker, Gordon H.
Dell, William
Denn, John J.
Deutschbein, Harry J.
Docharty, James B., Jr.
Donnelly, Charles F.
Donnelly, Edward J.
Dunn, Frederick R.
Dwyer, William J. [middle initial also shown as H.]
Everitt, Henry C.
Finkle, Harry W.
Fitzpatrick, Stoddard
Flemming, Harry
Flinn, John H.
Goery, Andrew J. [also spelled Gorey]
Haker, Charles
Harden, Winslow S. [middle initial also shown as K.]
Hill, Bert E.
Keefer, Frederick A.
Kennedy, James B.
Kennedy, William O.
Knifer, Frederick
Lamouree, James A.
Macholt, Henry G.
MacAuley, Arthur
MacRoberts, Alexander
Magnus, Alexander
Majory, Henry W.
Marcell, John D.
Marco, Joseph, Jr.
Marshall, Cornelius S.
Mattimore, Frank J.
McCoy, Fred J.
McCoy, Henry B.
McCredie, Frank, [also spelled McCredee]
McGrath, James H., Jr.
Melius, William G.
Mullen, Edward F.
Mullen, Arthur R.
Morgan, William
Plusch, Alexander J.
Poole, Frederick E.
Powers, Thomas
Rappe, Charles R.
Ready, James
Regner, George E.
Reynolds, Thomas E.
Riley, Edward J.
Robinson, Robert J.
Rodgers, Eugene A. [also spelled Rogers]
Ryan, John J.
Schweigart, Dominick
Sellnon, George E. [also listed as Sellnow G. C.]
Sheehan, Lott J.
Skinner, Geroge W.
Smith, Walter H.
Taylor, Alfred R.
Van Derpoel, Garrett H. [also shown as Vanderpool]
Vrooman, Allison, [also shown as Vroman]
Wagner, Joseph J.
Waterman, William P.
Webb, Robert M., Jr.
Weldon, Martin R.
Wemple, Frank A. M.
White, Stanley J.
Yager, Daniel J.
Officers:
James Edward Roach, Captain
Christopher Gresham, First Lieutenant
Edward Oliver, Second Lieutenant
Sergeants:
Frederich D. Luby, First Sergeant
William Goodrich, Q.M. Sergeant, died Oct. 30, 1898 in Honolulu
Carles H. Hallenbeck
Harry T. Johnston
George W. Kane
Charles E. Smith
Corporals:
Daniel J. Barton
William Buchheim
William G. Curtis
William Shaw Fredenrich
John Harbinger
Harry B. Hooghkirk, [also spelled Houghkirk]
Charles V.W. Jayne
Norman Lewis
David W. Martin
Eber Richard Reed
Frank G. VanTuyl, [also spelled VanTuyle]
Others:
Edward P. Rose, Artificer
John I. Belmore, Wagoner
Robert A. Boyd, Musician
George J. Schrieber, Musician, [also listed as G.T. Schriver]
Privates:
Ascher, Alfred
Amnenheiser, Carl
Barnard, Douglass H.
Blaaboer, Cornelius, [also spelled Blaauboer]
Blaaboer, Peter F., [also spelled Blaauboer]
Bracken, Charles E.
Brown, John
Bullock, Harrison W.
Bump, Clayton E.
Callacher, Michael
Carlin, Jharles E.
Carmody, James Edward
Cassidy, Joseph
Chapman, John J.
Coan, Joseph F.
Cook, John
Cruits, William F., [also spelled Cruit]
Delahanty, Edward J.
Doyle, James S.
Dykeman, Louis, [first initial also listed as G.]
Earl, Jesse G.
Fake, Reed
Fox, William
Gabriel, George F.
Gibson, Edward Temperton
Granley, John H., [also spelled Grauley]
Gregory, Joseph
Hallenbeck, William H.
Haney, Ira Nichols
Heitman, Frederick J., [first initial also listed as R.]
Horn, Peter
Hynes, James T.
Hynes, William
Kyle, William H.
Lansing, Livingston E., [first initial also listed as G.]
Leach, Austin B.
Lennon, Arthur E.
Leffingwell, Henry, Jr.
Lindsay, William
Luddy, Thomas
Lycett, Edward John
Malone, Patrick A.
Malcolm, William R.
Martin, Jacob T.
Maxwell, Lambert P.
McGue, Daniel Edward
McGue, Michael S.
Meehan, Thomas, [first intial also listed as E.]
Mitchell, John J.
Morrison, James J.
Murray, Peter Charles
Murphy, Francis J.
Oneil, Cornelius F., [first initial also listed as R.]
Rest, Edward H.
Rogers, Thomas A.
Ryan, John E.
Ryan, Patrick J.
Schnurr, William
Schoonmaker, Harry, [first initial also listed as G.]
Scott, George B.
Shea, John J.
Shear, Charles, [first intial also listed as W.]
Sheehan, Peter J.
Spellacy, Thomas G.
Stamn, William, [first initial also listed as J.]
Stephen, Alfred F., [first initial also listed as R.]
Thompson, Albert C.
VanWagenen, Charles
Wall, James F.
Wands, Robert, died Nov. 14, 1898, in Homolulu
Wasserbach, William F.
Weis, Joseph P.
Weishict, Frederick W., [also spelled Weisheit]
Welch, Richard L.
Wickham, John J.
Wilson, Thomas
Winchell, William G.
Wood, Joseph F.
Wullschlager, Gerritt
Officers:
William B. Gracie, Captain
William F. Wheelock, First Lieutenant
James Ezra Smith, Second Lieutenant
Sergeants:
Charles A. Walsh, First Sergeant
Henry S. Apple
Joseph U. Bailey, [middle initial also listed as W.]
Alfred J. Booth
John Knight
Archibald R. McFarland
Corporals:
John S. Caine
George H. Collins
William M. Cox, Jr.
Frank G. Day
L.Theodore A. Dreis, company clerk
Harry L. Durst
John E. Edwards
William A. Hendrickson
Charles F. Kinlock
Frank E Moran
William G. Mulheren
James C. Nolan
Others:
James R. Campbell, Cook
William Blum, Musician
Claus W. Vander Mehden, Musician, bandmaster [also spelled Von Der Mehden]
Matthias J. Schewe, Artificer
John J. Gilroy, Wagoner
Privates:
Allen, James L. Jr.
Bentley, Carles W., Discharged Aug 4, 1898, [middle initial also listed as N.]
Berg, John M.
Branigan, James F.,[also spelled Brannigan]
Brown, Edward P.
Branchle, John, [also spelled Brouchle]
Berberick, Joseph M.,[also spelled Buberick]
Buechs, Andrew J.
Buenshoff, Alfred C.
Cain, Philip F.
Casey, Michael
Cheeritree, William W., discharged Aug 25, 1898
Christian, Larsen J.
Clark, Pillip H., Jr.
Clarke, Francis B.
Clifford, Arther J.
Coleman, Allen B.
Crowder, Samuel
Daumler, Alban
Dee, John F.
Duffy, William M.
Dugan, John D.
Easton, Alvin C.
Ehrmann, John H., [also spelled Ehman]
Ellrott, Henry
Evans, Charles D.
Fisher, Henry S.
Gadsby, Orville
Gray, Frank E.
Hallenbeck, William E.
Hanser, John, [also spelled Hauser]
Hayford, Eugene W.
Helms, Arthur, [also spelled Helme]
Hennessy, John
Isler, William H.
Johns, Elmer W.
Johnson, Edward W., deserted July 5, 1898
Kelley, William C.
Kelley, James J.
Kennah, Joseph M.
Kernan, Daniel F.
Kernan, Joseph M.
Kerwin, Frank
King, George A.
Kirkwood, Robert H.
Lennon, Daniel H.
Lynde, Frank W.
Mahan, John T.
Maxwell, Francis E.
McGinnis, Edward J.
Mead, George A.
Miller, Frank T.
Moffitt, William J.
Monahan, Patrick, [also spelled Monohan]
Morgan, Charles A.
Morrison, Charles E.
Morrison, Charles, prior service in 3rd U.S. Artillery
Munger, William A.
Nevin, James C.
O'Brien, James F.
Phillips, Leo P.
Potter, Walter J.
Reittinger, Oliver W., [first initial also listed as C.]
Roosevelt, Frank
Sawyer, J.H., died Dec. 11, 1898, at Albany, NY
Schultz, Henry C., [also spelled Schulty]
Shank, Lewis
Sheehan, Bernard V.
Shutter, Nicholas
Smith, Peter J.
Smith, William H.
Stackhouse, Harvey
Stickler, Harry E., [also spelled Stickles]
Tucker, Leon W., discharged Aug 25, 1898
Wagner, Peter J.
Walker, Willis E.
Walter, Frederick J., Jr.
Wands, Roberts
Warner, Charles P., discharged Dec 13, 1898
Whalen, John E.
Zimmerman, Matthew

Officers:
Arthur W. Pickard, Captain
Franklin Thomas Wood, First Lieutenant
James R. Goodale, Second Lieutenant
Sergeants:
William R. Clark, First Sergeant
Frederick A. Brady, Q.M. Sergeant
Henry J. Cookingham, Jr.
Ellis F. Hall
Dennis F. Howe
Louis W. Potter
Corporals:
William M. Boes
George F. Burbidge
William H. Carpenter
William F. Cogley
Arthur H. Evans
William L. Foley
Francis J. Frey
John P. Gomph
Palmer A. Hart, cook
James W. Lamb
Henry C. Leslie
Fred L. Reynolds
Oscar R. Wheeler, died at Honolulu, Nov. 6, 1898
Others:
George W. Farrar, Musician
Christopher Irle, Musician
John F. Reagan,Jr. clerk,
Privates:
Adams, Frank L.
Aldrich, William M.
Alexander, Fred D.
Beach, Ernest J.
Bourne, John A.
Bray, John C.
Brayton, Stephen H.
Burkarth, Henry S.
Cady, George A.
Callahan, Edward S.
Carpenter, John S.
Caswell, Ray W.
Clifford, James D.
Clogher, William E.
Cole, John S., regimental historian
Collins, John O.
Cooper, Michael A.
Daly, Mark A.
Darling, Herbert C.
Disbrow, Dempster C.
Dunn, William L.
Dunn, Hubert F.
Dwyer, Thomas J.
Ehle, George
Fenner, George A.
Fisher, Edwin M.
Ford, Percy M.
Foster, Alfred W.
Hakes, Claude E.
Hankins, Herbert G.
Healy, Timothy M.
Howarth, James H.
Hubbell, Wilson
Hudson, George A.
Hughes, Arthur D.
Illingworth, Edward T.
Inman, Robert W.
Jackson, Henry L.
Johnson, Leon A.
Jones, Walter H.
Kerwin, Francis L.
Kohler, Frederick W., "Military postmaster"
Maher, John G.
Maher, Edward J.
Maloney, John A.
Marsden, Harry J.
Martin, James E.
Matteson, Charles N.
McGee, Frederick W.
McIntony, Alfred F.
McQuade, William J.
Norton, Raymond M.
O'Keefe, Martin J.
Parry, Fred B.
Pederson, Arthur J. [also listed in Co. B]
Read, James H., Jr., died at San Francisco Aug. 9, 1898
Rice, Clarence W.
Richardson, Harry E.
Robbins, Walter D.
Robbins, Willard G.
Roberts, Charles M.
Roberts, George A.
Schaal, William
Shotthafer, John W.
Siedler, Frank W.
Skinner, Robert, Jr.
Slater, Thomas
Sweezey, Frank A.
Sweezey, Alexander E.
Swift, Maynard F.
Thorn, Edward O.
Toumey, John F.
Van Derwerken, Franklyn C.
Waterman, Julius H.
Wells, Daniel
White, Nicholas A.
Williams, Milton
Williams, William J.
Wood, William W.
Wright, Arthur M., promoted to Sgt. Major, Dec. 12, 1898




Officers:
James Cutris Martin, Captain
Charles Henry Boice, First Lieutenant
Arthur E. Oothoudt, Second Lieutenant
Sergeants:
Albert L. Pine, First Sergeant
John Grant, Q.M. Sergeant
Walter G. Ames
John H. Sawyer
Ward B. Thompson
Frederick B. Warner
Corporals:
Arthur J. Daggett
Edwin S. Frost, [also listed as S.E. Frost]
Emerson Hardick
Lemuel S. Hine
John H. Hughes, [middle initial also listed as F.]
Adelbert B. Kingsbury
Hector S. Marvin
Herbert J. Rodgers, [also spelled Rogers]
Guy O. Sawyer
Henry L. Seely
Vincent White
James H. Woodburn
Others:
Charles A. Depuy, musician
William E. Wheeler, musician
Milton R. Hoyt, artificer, [also listed as being with Co M.]
Carles Albee, wagoner
Privates:
Allaben, Marshall A. [middle initial also C.]
Babcock, Arthur G.
Bailey, George H.
Bailey, Joseph J.
Barber, Frank
Barber, Herman
Barber, Julus C.
Beardslee, Burton M.,died of typhoid fever, Nov. 26, 1898, Honolulu
Benedict, Arthur W.
Benjamin, Clifford N.
Best, Charles N.
Bristol, Cornelius J.
Brown, Charles
Caldwell, Edgar
Campbell, Harvey J.
Carpenter, William J.
Clow, Charles
Conklin, Ivan V.
Connelly, James J.
Coons, William H., Jr.
Cunnungham, Charles
Cuyle, Lewis
Dane, Leland W.
Davis, William
Dicks, Earnest
Dickson, William
Elderkin, Elmer E.
Elliott, George
Ellwood, Arthur M. [also spelled Elwood]
Foote, Vernon A.
Frisbee, Jay D.
Fuller, Daniel H.
Gladstone, Frank
Goodrich, Edwin F.
Griswold, Eugene V.
Griswold, Stanley H.
Grotevant, Squire P.
Haynes, L., [also spelled Haines]
Hanson, Peter E.
Hillsinger, Andrew J.
Howland, Dwight I.
Howland, Homer R.
Howland, Norman
Howland, Sheldon
Hoy, Peter B.
Inderlied, Elmo E.
Ingram, Clarence M., [also spelled Inghram]
Kingsbury, Jacob S., [middle initial also listed as T.]
Launt, Rae C.
Law, Thomas
Leonard, Abraham
Leonard, John J.
Metcalf, Henry E.
Miller, Harvey
Nichols, Martin K.
Ogden, John P.
Ogden, James M.
Oliver, Harry I.
Osborn, Arthur J., [also spelled Osborne]
Pine, William H.
Rock, Howard M.
Rood, Charles A.
Ruggles, Henry E.
Sampson, Oscar F.
Schenck, Augustus B.
Silliman, Robert E., [middle initial also listed as C.]
Skinner, Wilfred W.
Smith, Charles B.
Smith, George F.
Smith, Rupert I.
Stewart, Frank G.
Thompson, John L.
Tidd, Thomas H.
Tregurhta, Bentwell A.
Urban, Charles L.
Wakeman, Nathan R.
Whipple, Russel L.
White, Albert B.
Williams, Evan J.
Wright, William W.
Young, Stewart
Young, Walter C.

Officers:
Ursil A. Ferguson, Captain, [also listed as W.A. Furguson]
Herman Alvin Tucker, First Lieutenant
Fred W. Boardman, Second Lieutenant
Sergeants:
Fred M. H. Jackson, First Sergeant
Frank L. Olin, Q.M. Sergeant, [also spelled Olive]
Albert G.Butts
Claude L. Pruyn
Frank O. Rollins
William H. Sersiorus, [also spelled Sessions]
Corporals:
Barnes, Grant
Barton, Stanley E.
Cook, Adin L.
Groat, A. Edward
Herrick, Chauncy W.
Higley, Sterling F.
Orvel J. Johnson
Garrett V. Johnson, [also listed as V.G. Johnson]
Keyes, De Forest, [also spelled Keyns]
Pattengill, Charles F.
Riddell, Murray H.
Van Dusen, William H
Others:
James E. Bush, musician
Richard De Witt Talmadge, musician
George L. Peet, artificer, died of Typhoid fever, Jan. 9, 1899, Post hospital, Fort Logan, Colorado
Fred B. Sheldon, wagoner
Privates:
Alger, Henry
Alger, Merritt
Allen, George Pearl
Anderson, Milo
Baker, Ralph H.
Barnhart, Guerdon
Baxter, Malcom E.
Bennett, Lewis J.
Birdsall, William M.
Blanchard, Thomas E.
Brink, Warren K.
Brown, Charles W.
Burlingame, William Edward
Burnside, John
Bush, Albert B.
Brazie, George Grant
Cain, Clarence M.
Carrol, Frederick Charles
Carter, Chalres F., died of Typhoid fever, Oct. 30, 1898, Honolulu
Champlin, Merton B.
Colvin, George Lee
Conant, John N., [also spelled Connant]
Conners, Joseph Roberts
Cotton, John S.
Craft, William Deial
Crouch, Albert E.
Crouch, George F.
Doherty, Charles Joseph, [also spelled Doharty]
Donnelly, Samuel J.
Doyle, Charles S.
Edson, Fred D.
Evans, Frank
Ferris, Elmer L.
Fisher, Clarence
Fleming, Fred Hale, [also spelled Flemming]
Galvin, Matthew J.
Gill, Edgar Temperton
Goodspeed, Clark N.
Gray, William S., [also spelled Grey]
Haase, Charles E.
Hamilton, Hyman A.
Harmer, Nathan C.
Heath, Harvey B.
Hill, Robert P.
Hitchcock, George Edward
Holmes, Le Verne
Hotaling, Burton J.
Jones, Leland C.
Keeney, Watson F.
Klippert, Frank Franklin, [also spelled Kleppert]
McMorris, Robert A.
Merrihew, George C.
Miller, John Randolph
Mooney, John hugh
Neal, Frank E.
Norton, George W.
Pannaci, Alfred D.
Pashley, Frank R.
Pierce, Willard J.
Ponte, Walter Lawrence, [also spelled Pontar]
Preston, Lewis J.
Riley, Frank V., Jr.
Schemehorn, Nicholas, [also spelled Schamehorn]
Sherman, Irs, Jr., [also spelled Sharman]
Shultz, Arthur Ward
Silliman, Arthur B.
Smith, Thomas P.
Somerville, William E.
Sommers, John
Springsteen, John V., died of typhoid fever, Dec. 4, 1898, Honolulu
Stapleton, James Henry
Stone, Sherman J.
Thornbury, William, Jr., [also spelled Thornburn]
Thorne, Clarence
Thorne, Wesley
Truhart, Thomas M.
Turp, Stewart J.
VanDerpool, George
Voorhees, Fred
Webster, Albert B.
Weidman, Claude O.
Wellman, Harrison P.
Wescott, Reuben H.
Woodbeck, Burton, died of Typhoid fever, Nov. 11, 1898, Honolulu

Officers:
Charles Henry Hitchcock, Captain
Harry P. Worthing, First Lieutenant
Charles N. Hinman, Second Lieutenant
Sergeants:
William H. Seeley, First Sergeant
Archibald K. Roberts, Q.M. Sergeant
Fred S. Cary
Edward S. Hoag
Lew B. Merselis
Peter C. Powell
Corporals:
Stephen O. Cline
Francis C. Huhn
Sterling S. Kimball
George D. Lathrop
Arthur E. Potter
Harrie W. Reynolds
Edward W. Rogers
Frank O. Seymour
Lewis VanTassell
Julian Ray Wilbur
Floyd E. Wilder
Frank Wood
Others:
Frank H. Merrill, musician
Lawrence S. Merrill, musician
Charles W. Hobbie, wagoner
Merton E. Lewis, artificer
Privates:
Ammerman, Samuel Howard
Ash, Clarence J.
Baker, Robert H.
Beebe, Mead
Bennett, Fred E.
Bishop, Frank W.
Bonnell, Asa L.
Chalker, Clarence E.
Courtney, Frank G.
Cowles, George H., died Nov. 13, 1898, Post Hospital, Honolulu
Curtin, Martin J.
Davis, William H.
Duren, George
Dwyer, James M.
Edgcomb, Albert
Fetherolf, Charles W., company clerk
Fraser, Samuel G.
Gage, Floyd L.
Gaige, Clarence W.
Gay, Geroge O.
Gay, Harry L.
Genung, Richard A.
Gibbons, Burton J.
Gillett, George W., [also spelled Gillette]
Gibson, Arthur
Glasby, Albert, died, Nov. 20, 1898, post hospital, Honolulu
Gleason, William L.
Gregory, John B.
Hakes, Willard A.
Hallett, Edward
Hawks, William H.
Harrington, Lorenzo D.
Hart, Edward
Hastings, Michael
Hobbs, Howard S.
Holcomb, Marion C.
Hubbard, Clarence R.
Hungerford, Herbert
Jenkins, Archie A.
Jennison, Bernard
Johnson, Charles B.
Kearley, James
Kilpatrick, Ward
Lagier, Frank B.
Leamy, Peter C.
Levee, Eugene B.
Lewis, Charles E.
Maffett, Thomas E.
Major, Edward
Malmquist, Edward J.
Malpass, Job B.
May, Frank S.
McHugh, Patrick J.
Mitchell, Oscar S.
Morrissey, Cornelius
Pelham, William E.
Pender, Charles B.
Place, Leon W.
Polhamus, Henry L.
Porter, Clarence H.,died, Oct. 2, 1898, post hospital,, Honolulu
Porter, Fred W.
Reynolds, Leigh H.
Rising, John H.
Riley, Bernice
Rose, Weller
Salsbury, Arthur W.
Schoonmaker, Frank M., [also listed as Schoonmake F. W.]
Scott, Geroge M.
Seabold, William F.
Shotwell, Frank J.
Simson, Edgar J.
Smith, Arthur A.
Stalker, Oscar F.
Stoltz, John, [also spelled Staltz]
Swain, Andrew A.
Tanner, James H.
Thompson, Charles H.
Tobey, Charles P.
Turner, William J.
Vosburgh, Arthur J.
Vosburgh, Charles
Waldhoff, Henry
Wemple, William
Yeomans, Charles W.

Officers:
Ames E. McIntyre, Captain, [also listed as Amos]
George E. Wallace, First Lieutenant
Abraham Lincoln Decker, Second Lieutenant
Sergeants:
Albert E. Nickinson, First Sergeant
George M. Millspaugh, Q.M. Sergeant
Jeremiah E. Barnes
William Dudley
Oliver B. Hill
Louis F. Wengenroth
Corporals:
William H. Chambero, [also,listed as Chambers]
Edward M. Decker
Clarence T. Dickerson
John F. Dugan
Samuel Gansman, [also listed as Gausmann]
Halsey E. Gould
Howard J. Powelson, died Oct. 21, 1898, Honolulu
Clarence Shaffer
John I. Sliter
Harry L. Steedman, [also listed as Steelman]
Archibald C. N. Thompson
Luther Vail
Addison T. Wilkerson
Others:
Robinson C. Wallace, cook
Alexander R. Skinner, artificer
Clement D. Atkins, wagoner
Ward Edwards, Jr., musician
William I. French, musician
Privates:
Babcock, Frasie H.
Backman, Philip H.
Ballman, John S.
Beakes, Joseph W.
Beakes, Spencer M.
Beakes, William E.
Blake, Robert S.
Borst, Lynn L., [also listed as Barst]
Burt, Linsay
Case, Alexander L
Clanson, George H., [also listed as Clauson]
Cochran, Alfred, [also listed as Cockran]
Codington, Edwin A., [also listed as Coddington]
Conkling, Albert
Conkling, Burtis
Constable, Curtis
Coopernail, William Irving
Cox, Robert J.
Crounse, James A.
Davey, Lewis J.
Decker, John E.
Decker, John W.
Dickson, Emmett
Egan, James C.
Francisco, Albert
Fredericks, Harry V.
Fullerton, Abraham L.
Gallagher, John A.
Glavin, Henry
Godfrey, Harland H.
Harford, Andrew J.
Hawley, Frank
Jones, Dokson
Jordan, William
King, Ivan D.
Lane, Emmett H.
Lawrence, Howard R.
Lee, Samuel E.
Lemon, John E., [also listed as Leeman]
Loane, William J.
MacGowan, Horace A.
MacGowan, Louis F.
Malone, Harvey E.
McCrea, William R.
McDermott, William
Meaney, Thomas
Medrick, Frank S., [also listed as Melrick]
Miller, Joe K.
Owen, Emmett W.
Paret, Frederick T.
Paret, Theodore D.
Phillips, James W.
Pickard, Carles H.
Pink, William J.
Potter, Eugene C.
Powers, William L.
Regan, William J.
Roberson, Herbert E.
Robinson, Lester H.
Rockafellow, George H.
Schultz, Edwin M.
Schwartz, Charles F.
Schwartz, Christopher, Jr.
Seaman, Amos L.
Sengstacken, Samuel H.
Shaw, David W.
Shaw, William F.
Shepard, Robert L.
Sherer, Frank
Sherman, Hezekiah H.
Sherman, Samuel R.
Suffern, David W.
Talcott, William H.
Tandy, Tom E.
Terhune, Ocsar
Terhune, Robert
Terwilliger, Thomas M., Jr.
Veber, Daniel
Wagner, Harry A.
Walters, Christian G.
Weller, Alfred C., died Nov. 26, 1898, post hospital, Honolulu
Whitmore, William F.

Officers:
Wilbur Vossler, Captain
Clarence Sague, First Lieutenant
Lucius J. Slater, Second Lieutenant
Sergeants:
Francis J. Horsfall, Q.M. Sergeant
Frederick R.P. Bollen
Frederick H. Heermance
Sheldon St. John
Wilfred D. Vignes
Corporals:
William L. Burnett
Charles G. Fowler
William C. Fries
Allen Frost
William A Holmes
Frank J. Hunter
Oliver E. Iler
Frederick L. Mitchell
Guy Van Wagenen, [also spelled Van Wagoner]
Charles Vossler
Luther S. Williams
Thomas G. Zabrislie
Others:
Frank L. Bissell, musician
Clarence Malcher, musician
Henry D. Dietz, artificer
Courtney Teator, wagoner
Privates:
Abeel, Howard H.
Allen, George R.
Alverson, Joseph C.
Bagley, William J.
Baker, Clarence C.
Baldwin, Albert L.
Beck, James W.
Berry, Thomas J.
Best, Frederick
Bogardus, Louis P.
Booth, Harold
Bowne, Arthur J.
Boyce, Benjamin C.
Bunnell, Frank G.
Butler, Thomas V.
Byington, Frederick
Campbell, Charles C.
Carroll, Daniel
Corbally, Thomas V.
Curr, John Y.
Decker, Walter H.
Dennis, William C.
Dent, James
Edwards, Edward E.
Eidle, Leonard J.
Eidle, William L.
Elmendorf, Richard A.
Farrar, Joseph P.
Faust, Charles E.
Goldsmith, Henry F.
Graham, Robert G.
Grisard, Frederick D.
Guernsey, Daniel W., Jr.
Hof, William
Holmes, Joel O.
Hoover, Jacob L.
Howe, Walter H.J.
Howell, William W.
Hoyt, H.B.
Hunt, Willard I.
Ingraham, Frank
Kimlin, Sewart T.
King, John J.
Knickerbocker, Frederick
Lattier, DeGrove D., [also spelled Lattin]
Loughren, Francis X.
Lowery, Timothy M.
Marshall, C.ornelius W.
Marshall, James W.
Martin, Ralph D.
McCoy, William J.
McGeen, William F., [also spelled McGun]
McGlasson, William H.
McKee, Jacob A.
Metzler, George
Michaels, William H.
Morehauser, Herman, [also spelled Morschauser]
Muckenhoupt, Joseph V.
Muldowney, Edward G.
Myers, Alfred
Myers, James H.
Neuwirth, Charles J.
Nunus, George, [also spelled Nunns]
Perkins, William A.
Quinn, Edward
Reidinger, Louis P.
Sadler, John
Schmidt, Henry C.
Seeley, Gerard W.
Shurter, William T.
Slater, Henry W.
Sorg, John A.
Southwick, Adin D.
Stockholm, Eugene
Stutt, William
Tator, Charles S.
Triller, George W.
Van Nosdall, Lewis L.
Van Vlack, John
Wardell, Fred, died, Nov. 30, 1898, Honolulu
Wiltsie, William J.
Wright, Andrew J.
Wright, Robert J.
Yentgraf, Peter J., [also spelled Zentgraf]

Officers:
James F. Sheenan, Captain
Alexander Gillespie Baxter, First Lieutenant
William H. Mapes, Second Lieutenant
Sergeants:
Andrew P. Gardner, First Sergeant
Timothy J. Dinan, Q.M. Sergeant
Frank H. Booth
Herbert E. Dunn, appt. color sergeant
Adam Faulkner
John McDowell
Corporals:
Harry Blyth
Abraham Burton
Edward A. Bush
George F. Chapman
Joseph J. Clark
Joseph M. Dillon
Abraham D. Eckert
Peter Gallagher
Joseph N. Kadrisky
John McElroy
Jesse A. Miller
George S. Turner
James D. Tweed
Others:
John T. Collins, musician
Whiting W. Grogan, musician
Allen Indzonka, artificer
John P. Wakeman, wagoner
Privates:
Abrams, Sanuel E.
Burke, John
Byrne, Bernard J.
Callahan, Benjamin A.
Carlue, David A.
Coffee, William
Coleman, Arthur J.F.
Coleman, Eugene K.
Colville, Henry R.
Courtney, Thomas F.
Craig, Samuel
Crotty, William
Dawson, William
Delaney, William P.
Earl, Frank A., [also spelled Earle]
Earley, Daniel F., [also spelled Early]
Ferguson, George S.
Ferguson, James E.
Fischer, James B.
Fitzgerald, Francis W.
Foster, Henry V.
Gallagher, Peter
Geralds, James W.
Gray, John A.
Grogan, James E.
Haslett, Samuel
Hectus, John
Holley, Frank E.
Holley, William H.
Hoyt, Milton W.
Hunter, James G.
Johnson, Edward W., [also spelled Johnston]
Johnson, Godfrey, [also spelled Johnston]
Keelan, Theodore
Kelly, John A.
Kellyhouse, Charles
Littleton, Christopher
Martin, Bernard
Martin, John J.
Matthews, James S.
McCauley, Charles E.
McCaw, Charles H.
McCaw, Samuel J.
McCoy, Henry
McDowell, Joseph G.
McElrath, Robert B.
McMillan, Charles
Moore, Hudson B., died, of typhoid fever, December. 23, 1898, Honolulu
Moore, John C.
Moran, Peter J.
Northrop, Henry E.
O'Connor, Francis J.
O'Donnell, John P.
Ostrander, Albert
Palethrope, William
Pecheux, William F.
Penny, Thomas F.
Powell, Rutherford
Purcell, Richard J.
Raymond, Charles J.
Reider, Frank R., [also listed with Co. I]
Rich, Art R.P.
Seaman, George H.
Smith, Arthur A.
Steinberg, Oliver C.
Sterling, Joseph C.
Sullivan, Owen
Terpenning, Charles W.
Thompson, Charles C.
Tice, George W.
Tobias, George W.
Tobias, Frank
Todd, Thomas
Turner, Thomas
Tweed, George
Van keuren, Willard G.
Wakeman, Charles
Ward, Samuel
Weeks, Clarence W.
Wheelan, Stephen
Wilson, Warren D., [also listed as Wilson, S.]
Wood, Charles E.
Young, Charles A.

Officers:
Robert Fulton Tompkins, Captain
John A. Huhne, First Lieutenant
Joseph M. Fowler, Second Lieutenant
Sergeants:
William G. Merritt, First Sergeant
J.Christian Larsen, Q.M. Sergeant
Arthur E. Winter
Walter E. Van Gaasbeck, died of disease, Dec. 20, 1898 at Hilo
James A. Wood
Corporals:
Becker, Charles H.
Beckman, George M., [also spelled Beekman]
Boyd, David W.
Fitzgerald, Edward D.
Foster, Walter S.
McEntee, James S.
Meade, Clifton J.
Seller, William G.
Smith, Charles H.
Smith, John J.
Wadsworth, Irving H.
Wilmot, Frank B.
Others:
Barber, James S., musician
Slezinger, Ralph H., musician
Hyatt, Asa M., artificer
Nestell, Walter S. wagoner
Privates:
Abeel, Raymond
Alliger, Charles J.
Allwood, William
Baylor, Arthur C.
Bazzoni, Lewis J.
Betts, Lee F.
Booth, Frederick
Borden, Charles E.
Bouton, Leonard
Bradley, Ambrose S.
Brooks, Lewis J.
Brown, Ffredeick P.
Burhans, Edwin
Charlton, Edward, Jr., [middle initial listed as J.]
Clark, Henry S.
Cohen, William
Coles, Roswell
Conlon, Joseph T.
Crispell, Homer H.
Deitz, Warren
Dempsey, George B.
Diamond, George F.
Ehlers, Lewis A., Jr.
Francis, Rollin J.
Fritog, Carl
Gilligan, Peter A.
Goldsworthy, Henry
Grimes, Joseph P.
Haines, William
Hagan, John F.
Halloran, Peter J.
Harris, John I.
Hicks, Harry C.
Holdridge, Lewis A.
Hyde, Tenney R.
Isreal, Milton J.
Jerson, John A.
Keefe, Augustus F., [middle initial also listed as S.]
Keefe, Charles S.
Kemble, Urban T.
Kemper, Eugene William, [also listed as W. E.]
King, Alexander H.
Lane, Jess W.
Lang, George R.
Lydecker, Harry T.
Lynes, Frederick
Margoles, Mores
McAndrew, William E.
MaKenzie, Edward H.
MaMillan, Charles
Mead, Frank
Messinger, Samuel J.
Moore, Charles H.
Nasholts, Burton F.
Odell, Albert C.
Ostrander, Floyd A.
Overbaugh, Willis D., [also listed as D. W.]
Overbaugh, Roy Eugene
Partlan, Frank J.
Phinney, James E., Jr.
Plass, Van Ness
Prull, Frederick
Prull, William C.
Rhodes, Soloman
Rice, Frank V.
Richardson, Edward D.
Romer, C.Arthur
Roosa, Karl V., [also listed as C. V.]
Ross, Charles
Schoonmaker, Egbert D.
Sipp, Charles
Terwilliger, Albert
Thompson, Henry
Thompson, Frank W.
Townsend, George W.
Van Demark, Luke
Van Keuren, George, died of disease, Nov. 4, 1898, post hospital, Honolulu
Van Wart, Burt
Wachmeyer, George W.
Wagar, George
Wells, Grandville L.,died of disease, Dec. 1, 1898, post hospital, Honolulu
Winter, George A.
Winter, David H.
Wood, Gerard F., [also listed as F. G.]

---
Bibliography:
New York in the Spanish American War. Vol. 1, (Albany NY, 1900)
Reminiscences, The 1st Regiment New York Volunteers in the War with Spain. (Albany: The Empire Emgraving Company, undated). (information provided from this reference are listed in brackets [], above)
---

Support this Site by Visiting the Website Store! (help us defray costs!)

---

We are providing the following service for our readers. If you are interested in books, videos, CD's etc. related to the Spanish American War, simply type in "Spanish American War" (or whatever you are interested in) as the keyword and click on "go" to get a list of titles available through Amazon.com.
---
Visit Main Page for copyright data