---
The 3rd Georgia Volunteer Infantry Regimental Band
Contributed by Tami Jo Pons
---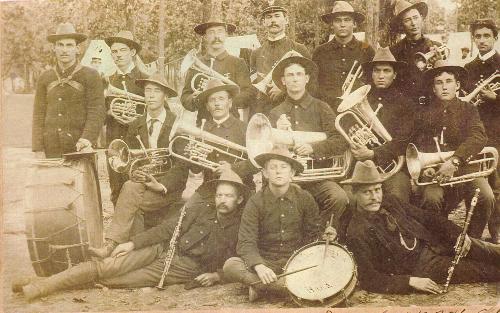 The 3rd Georgia Volunteer Infantry, Regimental Band
The man in the back row, third from the right is A. B. "Alfred Burres" Hall
---
Please Visit our Home Page to learn more about the Spanish American War
---
Click here to read a brief history of the 3rd Georgia Volunteer Infantry
---
General:
This is a photo of the Third Georgia Volunteer Infantry's regimental band. One of its members was A. B. "Alfred Burres" Hall, to whom the photo belonged.
The 3rd Georgia Volunteer Infantry Regimental Band included A. B. Hall, Frank P. Allen, Charles Pollard, Hubert Beckham, Charles Grigg, Albert Taylor, among others. Of these men, we know the most about Mr. Hall. Hall was born on February 10, 1877 in Dade County, Georgia. Hall grew up in Rising Fawn, Georgia, where, in about 1893 a music teacher came to town. He worked out a deal with the Hall family to exchange room and board in exchange for giving music lessons. "Burres", as A. B. Hall preferred to be called, was soon playing the cornet. When the Spanish American War broke out, Hall joined the 3rd Georgia Volunteer Regiment, Company D, and the regimental band.
After regiment returned from Cuba, Hall was discharged. He found his way to Oklahoma, where, in 1909 he married Carrie Counts. The couple raised four children. Hall died in 1952 at the age of 75.

---
Bibliograpy:
Information courtesy of Tami Jo Pons (descendant of A. B. Hall)
---

Support this Site by Visiting the Website Store! (help us defray costs!)

---

We are providing the following service for our readers. If you are interested in books, videos, CD's etc. related to the Spanish American War, simply type in "Spanish American War" as the keyword and click on "go" to get a list of titles available through Amazon.com.
---
Visit Main Page for copyright data