---
The Roster of the 3rd Ohio Volunteer Infantry
Contributed by Richard Mann
---
Please Visit our Home Page to learn more about the Spanish American War
---
Click here for a brief history of the 3rd Ohio Volunteer Infantry
---
Regimental Field and Staff ||| Company A ||| Company B ||| Company C ||| Company D ||| Company E
Company F ||| Company G ||| Company H ||| Company I ||| Company K ||| Company L ||| Company M
---
General:
The following is a roster of the 3rd Ohio Volunteer Infantry. The unit served its term of service within the continental U.S.
The Roster:
Anthony, Charles, Col., , Springfield
William, William J., Lt. Col., Springfield
Campbell, Robert E., Maj., Georgetown
Gross, William H., Maj., Covington
Curren, Patrick J., Maj., Sabina
Startzman, Charles F., Adjutant, Springfield
Shellenberger, James E., Surgeon, Piqua
Weaver, Fred C., Assistant Surgeon, Dayton
Gotwald, David K., Assistant Surgeon, Springfield
Ramsey, Clarence S., Quartermaster, Springfield
Dollinger, Edwin S., Battalion Adjutant, Covington
Barns, Mahara D., Battalion Adjutant, Sabina
Fay, Charles A, Battalion Adjutant, Springfield
Gardner, Clarence E., Chaplain
Hospital Stewards:
Burton, Curtis J.
Livingston, Mark M.
Colwell, Frank F.
Staff and Band:
Hayward, Pearl P., Quartermaster Sgt.,
Pferrer, Matthien, Battalion Sgt. Maj.
Langston, Raymond, Battalion Sgt. Maj.
Snell, Ernest F., Chief Musician,
Yearsley, Lawrence B., Principal Musician
Privates:
Austin, Ernest
Addington, Lawrence
Brown, Edwin E.
Bennett, Martin
Cochran, Clarence W.
Cowan, Beverly
Fisher, Robert H.
Horner, Theodore B. G.
Jones, Davis W.
Lyle, Albert J.
Meehan, John F.
McMeeken, Horace G.
Palmer, Judd L.
Prentiss, Park B.
Pheneger, Jeptha W.
Parker, John A.
Ridgely, F. Bryan
Royon, J. Charles
Shannon, Raymond
Zercher, John W.
Zollinger, Harry E.
Field and Staff Discharges and Promotions:
Battalion Adjutant Benjamin M. Marshall
Regimental Sgt Major Harry G. Peterson promoted to 2nd Lt Co.K
Battalion Sgt Major Ziba L. Ramsey promoted to 2nd Lt Co A
Battalion Sgt Major Charles A. Fay, promoted to Battalion Adjutant

Officers:
Weaver, Henry O., Capt., Died August 4, 1898.
Captain, James F. Hubbard, James F., Capt. From September 1, 1898 to Muster out.
Finfrock, Henry E, 1st Lt., from May 10, 1898 to Muster out.
Weaver, Henry O., 2nd Lt.
Ramsey, Ziba L., 2nd Lt., from May 16, 1898 to Muster out
Sergeants:
Lehman, John H., 1st Sgt.
Diltz, Eugene
Hill, Charles S.
Smith, Israel F.
Tucker, William N.
Corporals:
Belser, William
Branson, John H.
Butt, Arthur
Cumings, Elmer
Furlong, Hezakiah D.
Garrett, Lewis W.
Jones, Charles M.
Shefbauch, David H.
Sheridan, William T.
Spencer, Harold R.
Whitacre, Jariah R.
Wright, Rolan E.
Musician:
Burns, Robert R.
Artificer:
Langston, Luer J.
Wagoner:
Manning, James
Privates:
Aldrich, George
Aldrich, Nathan G.
Aregood, George
Barnhiser, George
Bauman, Orna A.
Benton, Horatio C.
Billet, Arthur
Blanke, Karl
Blanke, William
Carey, Joseph M.
Chipley, Thomas
Clark, Harry E.
Cole, Benjamin
Davenport, Charles
Davis, William
Day, George
DeWeese, Fred W.
Dickey, Stephen
Ebberts, George
Fagrie, Phillip T.
Fisher, Lawrence K.
Floyd, Hall
Fogle, Joshua K.
Franz, Albin
French, Frank
Funderburg, James
Furnas, Homer
Furnas, Howard
Gilbert, Edward O.
Griner, Julius
Hahm, Edward
Haines, Albert
Harman, John C.
Hayworth, Henry
Hoffman, Edwin B.
Hoover, Isaac
Houser, Ray
Hunt, Horace
Inman, Bert
Keck, William
Kenney, Thomas
Klepinger, William
Kress, Manfred
Lewsi, Daniel A.
Long, Irwin W.
Longanecker, Milton
Lyle, William B.
Martin, Henry V.
Mendenhall, Everett
Metz, Frank B.
Miller, Charles
Miller, Floyd
Mininger, David
Moss, William
Murphy, William F.
Nason, Perry
Neer, Harry S.
Neth, Lester F.
Parker, Frank M.
Perry, Wilson
Rank, Harry
Richards, George C.
Shuler, Wesley C.
Shunk, Samuel D.
Spuler, Wesley C.
Spurgeon, Charles
Stout, John
Stout, Lee
Sweeney, Morgan
Tenney, Arthur
Tenney, Carl
Trimbul, Robert
Tucker, Harry A.
VanKirk, Omer
Vanney, William
Wallace, Edgar F.
Williams, Lloyd H.
Worley, Joseph
Company A Discharges:
Sgt. Charles Smith
Company A Transfers:
Cpl. Edward Williams to HC
Pvt. Harry S. Grant to S.C.
Sgt. Raymond Langston to Battalion Sgt Major
Pvt. Lawrence Addington to Band
Pvt. Edwin Brown to Band
Pvt. Davis W. Jones to Band
Company A Deaths:
Capt. Henry O. Weaver
Pvt. Benjamin R. Bourne

Officers:
Brandbury, William H., Capt.
Bernard, Fred L., 1st Lt.
Bahinm, Michael J., 2nd Lt.
Sergeants:
McCuddy, James W., 1st Sgt.
Temple, C W., Quartermaster Sgt.
Filbert, Ezra K.
Kennedy, Charles E.
Knecht, Walter P.
Smith, George L.
Corporals:
Babin, James F.
Brantner, Thaddeus
Clark, Ezra T.
Day, William J.
Henthron, William T.
Rotsel, Fred C.
Smith, George S.
Startzman, Harry A,
Webb, J. Henry
Wilson, Harry
Wolf, Otis E.
Privates:
Alexander, Lewis
Ault, Charles L.
Baker, Ira
Barber, Charley M.
Brown, John C.
Burke, Thomas F.
Carr, Harry E.
Carter, Frank H.
Circle, James W.
Clark, Otto E.
Clark, Samuel B.
Coblentz, Frank H.
Cogley, Edward T.
Connor, Daniel T.
Conrad, Charles V.
Conrad, Hollis C.
Cronkwright, Albert
Dean, Harry K.
Dieterle, John D.
Dunsworth, Samuel A.
Ernest, Harry L.
Fisher, Starling L.
Friermood, Howard
Gebhardt, Edward
Harphant, William A.
Harrier, Charles F.
Hildebrant, Guy
Hogan, George W.
Huffman, George W.
Hunt, Frank R.
James, Oakley
Jenkins, John
Jones, Elmer L.
Jones, Francis M.
King, Charles
King, Oliver J.
Kinsella, Mathew B.
Kitchen, Zade E.
Klever, Frank N.
Lane, Thomas J.
Leonard, Alfred F.
Littler, Clyde E.
Lubbers, Fred
Manning, Edward W.
Maxwell, James F.
McCollum, Lester
McCollum, Seth
Meals, Newton C.
Meisner, Fred
Miller, Bert J.
Moore, Robert F.
Morris, Donnel. H.
Morrison, James B.
Myers, William M.
Netts, Lewis V.
O'Toole, Patrick E.
Pensinger, Daniel S.
Peterson, Franklin A.
Powell, John M.
Reynolds, Grant
Rinehart, Daniel C.
Ryan, Martin W.
Schneider, William
Schnelder, George A.
Schoenthal, Alex J.
Scruggs, Charles
Shank, William H.
Simeral, William
Smith, Alba J.
Soliday, L. Harry
Spitler, William E.
Stewart, Edmund
Stewart, Perry Me.
Taylor, Edward B.
Tetrick, Earl C.
Thrasher, Joseph
Wilson, Robert G.
Wilson, Van C.
Wright, Dennis
Company B Discharges:
Pvt. Charles A. Swartz
Pvt. Clarence Cawdgan
Company B Transfers:
Pvt. Joseph Black to Hospital Corps
Pvt Howard Moffett to Hospital Corps
Pvt.F. Byron Ridgely to Band
Company B Deaths:
Pvt. Arthur A. Betchel
Pvt. Frank L. Hopfer
Pvt. James D. Toomire

Officers:
Horner, Robert E., Capt.
Yount, Jacob E., 1st Lt.
Gilbert, Ray M., 2nd Lt
Sergeants:
Moore, John T., 1st Sgt.
Gottschall, L., Quartermaster Sgt.
Clark, Joseph W.
Hahn, Samuel M.
Moul, Charles P.
Palmer, Percy F.
Corporals:
Bell, Edgar
Bell, Noah E.
Cline, George D.
Eller, Orlan T.
Hoffman, Victor W.
Krickenberger, Oscar R.
Moul, John M.
Myers, Ortha M.
Myers, Vi H.
Seman, Emmanuel
Smith, Harry G.
Wion, David F.
Musicians:
Brandon, Clifford
Moul, Artemas A.
Artificer:
Pfoutz; Daniel
Wagoner:
Miller, August
Cook:
Kent, August
Privates:
Alley, Harry
Anderson, William
Arnold, Frank E.
Beam, Harry F.
Beam, Warren E.
Beard, Calvin
Bigler, Epaminondas, I.
Brookwalter, Erva
Burtch, Rufus A.
Carey, Charlie
Carey, Tommie A.
Clark, William P.
Clouse, William B.
Coppess, Ray
Crowell, Calvin J.
Dalrymple, Bert J.
Davidson, William F.
Dickey, Vernard
Drake, Benjamin S.
Eller, Hayes B.
Esky, Richard
Essick, John A.
Fissel, Robert B.
Foster, Alva C.
Foulkerth, Harvey
Galligan, George W.
Gerard, John L.
Good, James F.
Greene, Edward B.
Hahm, William
Halley, William E.
Harrison, George A.
Hathaway, Frank
Hayes, Elmer E.
Hess, Lewis A
Jefferies, Elmer D.
Johnson, William E.
Jones, William E.
Kuhn, Spencer A
Laymond, Clinton C.
Mann, Dorsey V.
Mannix, George W. Jr.
Manson, Fred W.
Miley, Zeno H.
Mills, Marvie B.
Monger, John E.
Myers, Zachary T.
Owens, Amzy E.
Parks, Frank
Paulin, Amos
Purdy, William
Rahn, David W.
Reedy, Charles
Robinson, Alexander M.
Robinson, Frank
Rogers, John G.
Russell, William E.
Shafer, William
Sheets, Hiram T.
Shively, David
Smith, Dollie
Speelman, Morrison
Springer, Victor L.
Stone, Fernan F.
Stover, Victor A.
Strome, Charles
Vore, Harry B.
Wade, David E.
Waitman, Earl C.
Weaver, Daniel J.
Company C Discharges:
Frank M. Sterritt
Pvt. Frank M. Shell
Company C Transfers:
Pvt. Ernest R. Ozias to Co. I
Pvt. Frank P. Ebert to Hospital Corps
Pvt. John S. Russell to Hospital Corps
Pvt. Simon M. Butt to Hospital Corps
Pvt. Judd L. Palmer to Band
Pvt. Theodore B.G. Horner to Band
Pvt. Harry E. Zollinger to Band
Company C Deaths:
Pvt. John S Sticher

Officers:
Captain Leonard, George W., Capt.
Gifford, Walter C., 1st Lt.
Burkett, George A., 2nd Lt.
Sergeants:
Ullery, Edward H., 1st Sgt.
Edward M., Quartermaster Sgt.
Gifford, Daniel H.
Hatfield, Frank H.
Lyons, Charles
Shaffer, John S.
Corporals:
Ayers, Ralph L.
Bailey, Charles A.
Barger, William L.
Bosler, Frank M.
Cushman, Charles W.
Gulick, Paul A.
Gumpert, William F.
Smith, Walter W.
Vermillion, Evan E.
Ward, William E.
Weber, Edward A.
Winder, Charles B.
Musicians:
Gohl, William H.
Roberts, Edward D.
Artificer:
Davis, Herbert C.
Wagoner:
Bentley, Charles H.
Privates:
Allgyer, Francis J.
Ashton, Lester W.
Ayers, Don L.
Ball, Timothy O.S.
Bayless, Ralph M.
Beck, Marsh
Bensing, Frank E.
Bosler, Benjamin S.
Brake, Allie
Cherry, Houston H.
Childs, Norman S.
Clark, Guy W.
Craig, Griffith E.
Craig, Richard
Curran, William F.
Cushman, Arthur G.
Dickerson, John H.
Ellis, Dallas P.
Ellis, Ross
Farrington, William L.
Faulkner, William L.
Fay, William H.
Fetz, George Jr.
Feurt, Kenneth
Fisher, Sumner J.
Fout, Joseph F.
Ganson, Dale R.
Hanley, David M.
Hedges, Phineas D.
Hegele, David K.
Hert, Henry
Hohnstedt, George L.
Holycross, Thomas J.
Howard, Harry H.
Hughes, Charles G.
Hughes, Milton L.
Hyde, Robert
Jennings, John S.
Jones, Lee R.
Kees, Jacob I.
Lannon, John W.
Lee, Arthur, M.
Lee, Frank N.
Lewis, Thomas O.
Linville, Kemp Q.
Martin, Sim D.
Mast, Cirero P.
Mattox, William B.
McClure, Andrew J.
McIlvaine, Robert E.
McInturff, Charles F.
McKinney, Forest O.
Moore, Martin S.
Overfield, John A.
Parish, John R.
Penny, Samuel H.
Phells, Verne H.
Poling, Daniel S.
Pontions, George H.
Ream, Arthur G.
Redmond, Charles H.
Reed, Edgar J.
Roberts, James F.
Romine, Annon W.
Sessions, Perry M.
Smith, William S.
Standish, Charles W.
Standish, Miles
Stanley, Ross D.
Taylor, George W.
Thruman, Harvey L.
Todd, Frank W.
Turner, Arthur
Weatherhead, Guy W.
White, W.
Wilford, James W. Jr.
Company D Discharges:
Pvt. William L. Redman
Company D Transfers:
Pvt. Frank F. Colwell to Hospital Corps
Pvt. Nevin A. Loucks to Hospital Corps
Cpl. Harry R. Hupman to Signal Corps
Pvt. Fred Ernest to Signal Corps
Pvt. Earnest Austin to Band
Pvt. John F. Meehan to Band
Cpl. Elmory B. Sowers to Co. A, 2nd U.S. Volunteer Engineers

Officers:
Locke, John F., Capt.
Emery, Peyton R., 1st Lt.
Smith, R. Arnett, 2nd Lt.
Sergeants:
Chenoweth, Rea, 1st Sgt.
McCormack, Ernest W., Quartermaster Sgt.
Armstrong, Harry H.
Coleman, Thomas
Toland, Harford A.
Trehearne, William S.
Corporals:
Cowgill, Frank
Dewey, Birnam J.
Florence, William J.
Gallagher, Harry B.
Legge, Drell B.
McCormack, Thomas H.
Robey, William J.
Stahl, Walter J.
Volka, John C.
Ward, Jacob E.
Musicians:
Davidson, G. W.
Skeels, Charles W.
Artificer:
Jones, George W.
Wagoner:
Snyder, Claude
Privates:
Anderson, Charles
Baker, John H.
Betts, Edward
Bigelow, Madison
Birt, Ernest
Bishop, William I.
Booth, John R.
Bradley, James L.
Bunnemeyer, Henry
Burns, Charles
Cartwright, Joseph W.
Cartwright, William R.
Cavanaugh, Richard
Cleary, John F.
Connor, Hugh
Corbett, Frank P.
Curry, Benjamin F.
Davidson, William Mac.
Dension, Grant
Dillow, Ernest G.
Dulaney, Denton
Dwyer, Patrick
Fleming, Lon
Freeman, Fremont
Frout, Zeph
Furrow, William
Garrett, Ray
Garrick, Michael
Graham, Toland J.
Griffith, Albert
Grubb, William D.
Gulcher, Harry
Hamm, John
Harding, Elijah
Hart, Charles
Hartman, George
Haynes, George N.
Heath, William
Heilman, Peter
Herdman, James
Hickey, Michael
Holloway, Newton J.
Holt , Frank
Holt, Howard
Howard, Arthur
Jack, Charles
Keefer, Thaddeus
Kelly, Eugene
Kinner, William
Kulp, Charlie S.
Liller, Lonzo
Long, Leroy
Longergon, Cornelius F.
Manuel, Thomas
Markley, John A.
McCollum, Reed S.
Minter, John W.
Moon, Morgan D.
Morris, Sam
Murlett, Clifford
Neighborgall, Harley
Nicely, Thomas J.
O'Brian, John
Pearce, Joseph W.
Peel, Charley F.
Preudergast, R.L.
Pryor, Henry
Richardson, James H.
Roberts, Homer
Ross, William W.
Ryan, Harry
Sharp, Leighton
Sidner, Ernest L.
Smith, George
Swetman, Manoah
Taylor, Chancie
Taylor, John
Tumnilison, Charles
Washington, Edward
Web, Howard M.
Wolfe, Walter W.
Wolff, Oliver
Young, Charles F.
Company E Discharges:
Pvt. Emmett Timmons
Cpl. William E. Winans

Officers:
Bowles, Thomas Q., Capt.
Jenkins, Arthur G., 1st Lt.
Gorman, John F.,. 2nd Lt., from May 10, 1898; died September 19, 1898
Newby, A. Wilbur, 2nd Lt., from September 20, 1898 to Muster out
Sergeants:
Mullenix, H. Mid, 1st Sgt.
Barrere, George W., Jr.,
Cryden, William H.
Corporals:
Caron, James
Chaney, Alexander S.
Fahrlander, Louis
Fullerton, Ralph N.
Henderly, John A.
Holmes, Hearley S.
Pease, Calvin E.
Rockel, William
Smith, Lyne, S., Jr.
Stratton, Charles N
Musicians:
McMillen, John
McReynolds, William D.
Artificer:
Pence, Charles W.
Wagoner:
Willett, S. W.
Privates:
Barnes, Edward
Barnes, Reece E.
Benfold, John
Bish, James
Bisher, John
Brabson, Fred C.
Brewer. Lewis
Butler, Harry
Caron, Starling
Carroll, William
Colburn, Otway
Colleens, Luther W.
Combs, John A.
Compton, Earl
Coven, peter S.
Cuplinger, Charles E.
Cuplinger, Francis E.
Dietz, Robert C.
Duncaon, Lee
Eggeling, William
Fahrlander, Walter
Fleming, William
Fox, Andrew
Frost, Sever
Gain, Arch
Gorman, Charles
Gorman, James
Hamilton, Walter
Hart, Charles
Hartley, Clement
Hendry, Edward
Hendry, Pearl
Hilton, Greenberry W.
Holladay, Charles
Howard, Michael
Hughes, Ernest
Hughey, Clare
Hussey, John
Job, Eldon
Jodry, Eugene
Jolly, David L.
King, Joseph
Lafferty, Charles
Lafferty, George H.
Lyle, Harry
Mackerley, Roy S.
Mara, Thomas F.
Martin, Emmett R.
McCoppin, Sherman
McGuire, Roy
McMahon, Edward
Miler, Vernon
Miller, Burch
Morgan, Walter
Mullenix, Charles
Neal, Nathan
Neal, Walter P.
Orr, Charles S.
Patterson, Fred
Phibbs, David A.
Pinkerton, Albert
Raines, Kirby
Raines, William
Reinbold, Louis C.
Scarrett, Edward
Smith, Russell R.
Stratton, Albert
Taylor, Beecher
Taylor, Ernest M.
Uhrig, Walter
Utman, James E.
Vance, Overton
Vance, Sam C.
Warren, William
Whitehead, William
Wilkin, William
Williams, Louis, A.
Williamson, John
Williamson, Thomas
Woods, David
Woods, Harry
Wright, Harry
Company F Discharges:
1st Sgt A. Wilbur Newby promoted to 2nd Lt.
Company F Transfers:
Corp Owen A. Kauffman to Signal Corps
Pvt. Albert J. Lyle to Band
Pvt. Jeptha Phengar to Band
Company F Deaths:
2nd Lt John P. Gorman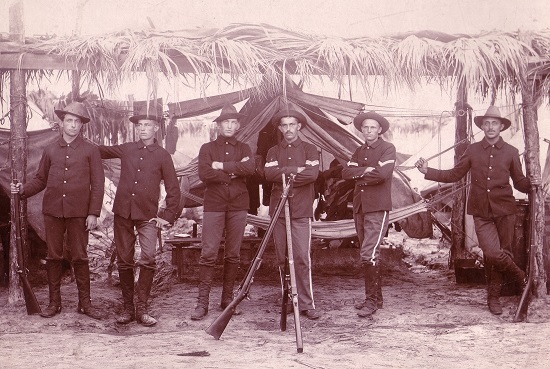 Men of Company G or the 3rd Ohio Volunteer Infantry. The man on the far left has been identified as Pvt. Orville K. Morris. The image is a staged scene as opposed to an actual camp scene. The rifle stack and that being held by Pvt. Morris are Springfield "Trapdoor" rifles.
Company G (Dayton)
Officers:
White, William W., Capt.
West, Arthur H., 1st Lt.
Wood, George H., 2nd Lt.
Sergeants:
Chaffin, Charles C., 1st Sgt.
Haskett, H. J., Quartermaster Sgt.
Chapman, Orra
Dyke, Alfred M.
Loy, Henry
McGregor, William T.
Corporals:
Bickham, Charles G.
Cassel, Oliver D.
Cleaver, Frank L.
Davis, John H.
Dryden, Clifford S.
Duckson, Norvel D.
Hoffman, Howard L
Kramer, Edward D.
McDonnell, Hugh
Nicholas, George J.
Robinson, Frank J.
Washington, George V.
Musician:
Johnson, W. I.
Artificer:
Skinner, John R.
Wagoner:
Paul, Robert J.
Privates:
Achey, Halsey
Bolender, George B.
Boyer, Edward
Boyer, Joseph
Brinkel, Clarence W.
Briton, Arthur
Campbell, Harry C.
Capwell, Nelson A.
Carr, Edward C.
Chryst, William A.
Cleaver, Lee
Cogill, Robert E.
Costello, John W.
Crane, Weakley
Crist. John E.
Crone, Lee
Daniels, Wilbur G.
Dubs, Frank A.
Dunkley, Benjamin
Durbin, Carey E.
Dyer, Frank E.
Dyke, Perrie R.
Eptling, James H.
Faulkner, Carl J.
Fisher, Fred
Floyd, Charles A.
Floyd, Joseph
Fox, Harold L.
Gaines, Walter W.
Ganler, James D.
Harris, William A.
Hayes, Joseph F.
Helser, Charles
Herchelrode, Eld.C.
Hoffman, Daniel C.
Hogan, John
Holzer, Ferdinand
Hunnicutt, Mark H.
Jones, Charley W.
Kramer, Leonard
Lake, Earl F.
LaPorte, Charles E.
Layman, Russell W.
Lockwood, Horace
Long, Chester C.
McCain, Arthur B.
McClung, David W.
McGraw, Charles E.
McNair, Ward D.
Mead, Daniel E.
Mead, Joseph W.
Meyer, Robert
Minnich, Joseph
Mitchell, Thomas J.
Morris, Orville K.
Neff, William
Nehrik, Louis
O'Brien, Edward J.
Pfeifer, Arthur T.
Ranthe, Jacob
Reibel, Joseph J.
Rigby, Edward D.
Roth, Jacob
Sage, Edward
Schneider, Charles
Sechler, Lawrence H.
Siger, George E.
Sweeney, Charles W.
Sweetman, Christopher
Taylor, Samuel
Ullery, Walter S.
Van Scoyk, Charles W.
Vance, Frank R.
Vickroy, Edward S.
Walley, George M.
Webb, Charles
Weigand, Nicholas J.
westfall, John M.
Woodruff, Charles H.
Worman, Charles M.
Wright, John
Company G Discharges:
Sgt. George H. Wood promoted to 2nd Lt
Sgt. Thomas N. Gimperling
Pvt. Warren T. Benner
Company G Transfers:
Pvt. Edwin C. Greene to Signal Corps
Pvt. Bernice Brein to Hospital Corps
Musician Park B, Prentis to Band
Pvt. Beverely Cowan to Band

Company H (Organized at Ripley, Ohio, August 1894; Mustered into U.S. service at Camp Bushnell, Columbus, OH May 10th, 1898):
Officers:
George G. Baumbach, Captain
Rush P. Tyler, 1st Lt.
Eugene R. Young, 2nd Lt.

Sergeants:
Welda S. Senteny, 1st Sgt.
Charles J. Richards, QM sgt.
Charles L. Cutler
Harry Fleig
Charles A. Sutherland
Charles M. Watters
Corporals:
Bell, William C.
Campbell, Benjamin A.
Coburn, Spencer S.
Davis, Thomas F.
Dunham, Edward
Fulton, Nelson B.
List, Otto J.
Manning, Milo
Mitchell, John T.
Power, James C.
Randall, John C.
Remley, Walter L.
Musicians:
Clifford Brown
Ed Kinkead
Artificer:
George R. Heinz
Wagoner:
Harris, Henry
Mitchell, John J.
Privates:
Aulick, Ashel C.
Bolander, Henry B.
Boyd, Albert
Burbage, James R.
Burger, Peter C.
Brown, John H.
Behymer, Elbert
Bradford, William P.
Bumgardner, Clifford, transferred to Hospital Corps
Chapman, Wilber S.
Cochran, George H.
Chapman, Eddie
Campbell, William D.
Campbell, Louis R.
Cook, Milton
Dunn, Lawrence T.
Dryden, Stanley
Dunkel, Rolla R.
Evans, Lee A.
Evans, Thomas J.
Evans, George
Evans, Henry
Evans, Joseph S.
Elcook, William W.
Edwards, Arthur
Fussnecker, William
Fries, Jacob
Fisher, Robert H., transferred to band
Hall, George G,
Haggerty, Thomas E.
Hunneman, Julius
Hughes, Harry
Harris, Henry
Honaker, William
Hollenbeck, Clarence M. transferred to Signal Corps
Jones, Sam H.
Jones, Joseph E.
Jones, Charles
Jones, Thomas
Jones, Frank L.
Johnson Andrew L.
Jordan, Charles
Jacobs, Titus O.
Jackson, Andrew B., transferred to Hospital Corps
Kinkead, Hamer C.
Koob, George
Lawwill, Charles
Long, Charles C.
Lamb, Edgar
Martin, George H.
Martin, William T. S.
Mussinon, Joseph
Miller, George H.
McFadden, Alva
Misner, Frank
Malott, Joseph S.
Martin, George, W.
Mauser, Oswald
McMeekin, Horace G., transferred to band
Norris, John H.
Purdon, Tom E.
Pickering, Charles L.
Powers, James C.
Parker, George A., transferred to Hospital Corps
Richards, Frank
Robinson, Charles
Rochwell [also listed as Rockwell], Frank
Rubenaker, John
Shepherd, Charles W.
Shewalter, Wilber E.
Shelton, Fred O.
Swisher, Walter S.
Sowers, Granville, M.
Shafer, Nicholas
Steele, Frank
Sheeler, John M.
Stroup, Charles W.
Scott, Ambrose
Stephenson, Pearl
Stevens, Albert
Theis, Rufus A.
Thompson, John W.
Van Delft, John H.
Vance, Lafayette S.
Wagner, John E.
Weeks, George W.
Webster, Auther
Wilson, William
Yearsley, Lawrence, promoted to Chief Musician of Regiment
Zercher, John W., transferred to band
Company H Transfers:
Cpl. George A. Parker to Hospital Corps
Company H Deaths:
Pvt. Fred O. Shelton
Pvt Elbert Behymer

Officers:
Boyer, Benjamin F., Capt.
Hamilton, Wesley W. K., 1st Lt.
Manning, Guy E., 2nd Lt.
Sergeants:
Rausch, George, 1st Sgt.
Owens, Charles, Quartermaster Sgt.
Davis, Elmer
Griffin, Edward
Kemp, David F.
Wulchet, Alexander G.
Corporals:
Anderson, Clinton M.
Becker, Henry
Croft, Clifford
Kenney, Arthur P.
Lawrence, Charles E.
Mills, Edward
Osborn, William K.
Plance, C. C.
Schaigel, John
Sherer, Ward
Smith, Herbert
Zeller, Ira R.
Musicians:
Scheibenzuber, P.
Livingston, F. H.
Artificer:
Ketzel, Frank B.
Wagoner:
Hallis, Isaiah
Privates:
Anderson, David
Austin, Maurice C.
Bayless, Raleigh
Blumenscheln, George S.
Boes, Gail
Boyer, William
Braun, J.F.
Campbell, Frank
Catterlin, Bert
Cattlerlin, William M
Cook, Collin E.
Davis, R.K.
Dempsey, Charles E.
DePries, John
Downing, Charles F.
Fay, William H.
Ferneding, John C.
Fleming, Earl M.
Fries, Joseph
Gross, Louis B.
Harter, Harvey J.
Himes, Harry W.
Jaques, Harry
Jones, Henry
Jones, Herbert
Jones, Jullus, V.
Kennedy, Fred
Kenney, Harry
Klefaber, Elmer
Klinger, Lee
Kuhus, Charles A.
Kusnarus, Frank
Lamborn, George
Largent, Harvey J.
Lawrence, Charles E.
LeRose, Louis
Longhenry, John B.
Marker, Everett B.
Mayers, Horace F.
McDonald. Harry
McKee, William
Moehlman, Fred
Morris, John
Morrison, Edward T.
Morse, Harold
Mort, George B.
O'Connell, Edward T.
O'Connors, Bernard
Pandorf, Charles
Parish, Albert E.
Paul, George
Penland, William E.
Poffenbarger, Purn W.
Reibel, Charles W.
Rhodehamel, Jesse
Rike, Fred
Robinson, Wilson
Rockafellar, George
Schlwetz, George
Seilman, Abraham H.
Shartel, George
Shell, William
Small, Bert
Spang, Charles D., Jr.
Steen, Harris K.
Steinbach, William
Steinbarger, Ellis M.
Steinbarger, Elmer E.
Strattner, John J.
Swadener, William
Taylor, Peter
Tuthill, William
Underberger, Joseph A.
Wallace, John
Walz, Henry
Webber, Charles
Wheeler, Elmer C.
Williamson, Pearl G.
Wilson, Verba E.
Winder, Frank M.
Company I Transfers:
Pvt. Jesse Conghenour to Hospital Corps
Pvt. Fred Scherbenzuber to Hospital Corps
Pvt. Clarence Cochran to Band
Pvt. Earnest Ozlas to Company I

Officers:
Brown, McPherson, Capt.
Hubbard, James F., 1st Lt., From June 30 to September 1, 1898
Mitchell, Harry D., 1st Lt., from September 1, 1898 to Muster Out
Mitchell, Harry D., 2nd Lt., from June 30 to September 1, 1898
Patterson, Harry G., 2nd Lt., from September 1, 1898 to Muster Out.
Sergeants:
Bowdle, Charles W., 1st Sgt.
Hall, Charles H., Quartermaster Sgt.
Allen, Joel R.
Bowdle, George F.
Smith, Edward J.
Yost, Loren
Corporals:
Baker, Martin R.
Galligan, Thomas
Genslinger, Stephen
Hardesty, Walker
Leedom, Chester B.
Loeffler, Chryst
Medaris, Percy H.
Peck, CeZelo
Penny, Isaac
Sonders, Claude
Stillwell, Charles
Wright, Enos
Musicians:
Reamer, George
Shafer, William
Artificer:
Street, Robert
Wagoner:
Roberts, Lon
Privates:
Anthony, Clarence
Baldock, Lafe
Balthaser, Frank
Bane, Charles
Beckenbaugh, John
Brant, David
Brookman, John H.
Brooks, Clifford
Brooks, Edward
Brown, Roy H.
Carter, Charles
Chapman, Walter
Clark, Oscar
Conaway, Harry
Crop, James
Diers, Henry
Drake, George
Drake, Ross
Draper, Rial
Eldridge, Clyde
Feaster, William
Ficken, William
Frank, Andrew
Garrel, Wesley
Geist, Edward
George, Robert
Gorrel, George W.
Grosvenor, Charles
Hickman, John E.
Higgins, Ben D.
Houser, Edward C.
Hubbard, John
Hughes, Charles
Jay, Frank P.
Jessup, Frank
Johnson, Marion
Karnehm, Olle
Kauffman, David
Killbury, Claude
Kipp, Charles
Kitt, Nicholas L.Jr.
Konz, Henry W.
Kroeger, Frank
Landahl, Eugene
Lindsay, Eugene
Link, John
Lyamn, Timothy
Macy, Webster
McCloud, Joseph
Mikles, James
Newman, John
Nolan, John E.
Nolan, Melvin
Plumb, King
Pontiss, Harvey
Prosser, Arthur
Relmiller, Henry
Roop, William S.
Ross, Arthur
Ross, Charles
Sachs, William
Safford, Clarence
Schnelder, August
Smith, Henry P.
Spencer, Frank
Stein, John
Stevens, Ross
Stilwell, Clifford
Strome, Frank
Sullenberger, Ora
Tessler, Harry
Throckmorton, George
Toomey, James
Trexler, Robert
Trunnel, Albert
Ubry, Joseph
Vantillburgh, Ben
Warner, Edward
White, Gen. W.
Wirick, William
Yenney, William
Company K Discharges:
1st Lt James F. Hubbard, promoted to Captain, Co A.
Company K Transfers:
Pvt. Raymond Shannon to Band
Company K Deaths:
Pvt. Louis C. Houck

Officers:
Amos, William T., Capt.
Theurer, Henry M., 1st Lt.
Moore, Emerson V., 2nd Lt.
Sergeants:
Wilson, Jesse C., 1st Sgt.
Frazier, Jesse L.
Hussey, Frank M.
Kah, Arthur W.
McCullough, Benjamin
Wilson, J. Cliff
Corporals:
Amann, Ferd A.
Craft, Louis P.
Dill, Omer R.
Grinn, Robert W.
Haines, Eayre
Hussey, Weber A.
Kendall, Elmer R.
Laughlin, Jesse C.
Orbison, James E.
Van DeGrift, Robert
Wikoff, Dan B.
Williams, Melvin T.
Musician:
Kah, Harland E.
Artificer:
Talbot, Asby G.
Wagoner:
Sarver, William G.
Cook:
Luckey, James A
Privates:
Ackerly, George
Apgar, William
Barber, Rolla M.
Beck, Henry W.
Bower, Samuel
Brandt, Joseph A.
Bulle, Marion L.
Burton, Daniel W.
Bush, DeWitt S.
Carey, Jason
Cowman, Edwin W.
Deveny, William B.
Dunnavant, William
Edgar, Ferd S.
Eherle, William
Ehrhardt, George H.
Flinn, Eayre D.
Foust, Oliver M.
Frey, Christ, Jr.
Funk, Benjamin F.
Gilfillan, William W.
Given, Fredrick T.
Griffin, Henry S.
Haines, George D.
Harbaugh, Charley W.
Havescher, Fred W.
Heiges, Ralph S.
Hoff, William
Horner, Oliver F.
Huffman, Albert B.
Humphreys, Harry T.
Hussey, Clem L.
Keplinger, Clinton A.
Kress, William
Kummer, William
Lewsi, George W.
Lewsi, Harry F.
Leymaster, William R.
Longanecker, John
Luckey, Ruben H.
Ludwig, John J.
McHenry, John R.
McKercher, John C.
McVay, Frank M.
Miller, Harry J.
Montross, Bayly M.
Morton, George H.
Motsinger, Roy B.
Neal, Harry S.
Nicholson, Edward T.
O'Dell, Omer H., Jr.
O'Neil, Daniel P.
Ockenfels, Frank
Parcher, Walter H.
Pfaadt, Louis E.
Rhinehart, Alvin D.
Rhodifer, Harry W.
Rieger, Joseph, Jr.
Rostron, William R.
Ruff, George P.
Sarver, Emory C.
Schaub, Joseph E.
Shannon, Stephen S.
Snider, Philemon B.
Staley, Jacob E.
Stang, John
Stuckman, Julius W.
Swob, George F.
Toller, John R., Jr.
Vogler, Elmer E.
Wagner, Albert
Weaver, Todd
Wiley, Ben C.
Williams, Adolphus
Willoughby, Frank
Wright, Freeman
Young, Adam M.
Young, John R.
Young, Karl F.
Company L Transfers:
Pvt. Roy G. Zimmerman to Signal Corps
Pvt Charles J. Royon to Band
Pvt Martin Bennett to Band

Officers:
Allen, Harry R., Capt.
Adair, William E., 1st Lt.
Runyan, James M., 2nd Lt.
Sergeants:
Cherryhomes, George, 1st Sgt.
Burl, William H., Quartermaster Sgt.
Ansbaugh, Thomas W.
Bence, William
Kelso, Harry L.
VanPelt, Charles W.
Corporals:
Anderson, Parker T.
Barlow, Hoye
Bayless, Norman
Butterfield, Bert
Hillengass, Fred
James, Ulysses C.
Kyle, Ormond, H.
Moon, Alanzo B.
Scott, Forest
Silvers, Allen
Swindler, Emmett
Syferd, Louis
Musicians:
Dunham, John G.
Huffman, C.C.
Artificer:
Schindler, Albert
Wagoner:
Real, John F.
Privates:
Aldridge, John A.
Alexander, Charles B.
Barlow, Marshall
Bartel, Harvey B.
Bashore, Henry
Beard, Joseph
Beckett, Edd
Beckett, James
Bennett, Marion
Bennett, Thomas
Blakley, James
Bogan, Frank
Bogan, Herman
Brown, Otto
Canter, Oscar
Clement, John D.
Clyborn, Thomas
Coones, John
Crisenbery, Luther
Cruze, William
Dakin, Theobald
Dawson, Hinton
Deeming, Edward C.
Donahoe, James
Driscoll, William T.
Duke, Grant
Dump. Harry S.
Ellis, Edward E.
Ferguson, Samuel
Fisher, Clarence F.
Fisher, Harry C.
Flint, Oscar
Garrison, Andrew
Gaylor, William
Graybill, John
Herman, Henry Jr.
Herman, ray
Hill, Frank F.
James, Everett
Johnson, Clinton
Johnson, James H.
Johnson, Lang
Kelley, Herbert
Kirby, Roscoe
Kline, Edward
Kline, Irwin
Lovenshiner, Bert
McFadden, Hugh M.
McKenzie, Wraith
Michael, William
Mitchell, Ellworth
North, David
Patton, William
Pearson, George
Platt, Herbert
Reams, William P.
Robuck, Alanzo
Rodgers, Phillip
Roush, Charles
Runnels, John
Rutan, Zelera
Scheiss, Frank C.
Schindler, Edward
Shen, James
Sprinkle, James R.
Stevens, Thurman C.
Stivers, Lewis M.
Taylor, Samuel
Thatcher, Edwin S.
Tomlin, Sylvester V.
Wade, Cyrus
Ward, Ernest
Warren, Samuel
Welsweber, Louis
West, James
Williams, Horace E.
Williams, John
Yeazell, Louis M.
Young, Elvon
Zimmerman, Allen
Company M Transfers:
Pvt. John A. Parker to Band
Pvt. Frank Snyder to Signal Corps
Pvt. John Val Koch to Hospital Corps
Pvt. Fredrick Shank to Hospital Corps
---
Bibliography:
Morris, Kent - Company G photo.

Official History of the Ohio National Guard and Ohio Volunteers. (Cleveland: The Plain Dealer (newspaper), 1909).
Additional info. on Company H: "Soldier's Memorial" (Copyright 1898, by Fuller Brothers, Buffalo, NY) contributed by Meredith Heinz

---

Support this Site by Visiting the Website Store! (help us defray costs!)

---

We are providing the following service for our readers. If you are interested in books, videos, CD's etc. related to the Spanish American War, simply type in "Spanish American War" (or whatever you are interested in) as the keyword and click on "go" to get a list of titles available through Amazon.com.
---
Visit Main Page for copyright data