---
The Roster of the 3rd Virginia Volunteer Infantry
---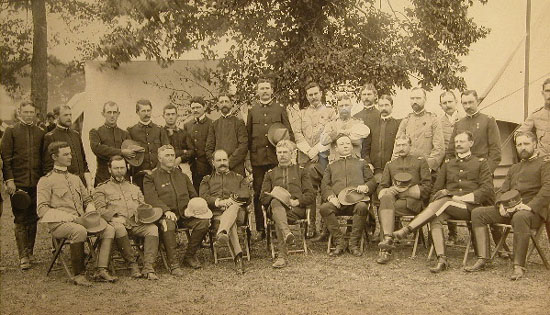 Officers of the 3rd Virginia Volunteer Infantry during the Spanish American War
---
Please Visit our Home Page to learn more about the Spanish American War
---
Click here to read the history of the Third Virginia Volunteer Infantry
---
General:
The following is a working document in which we are attempting to compile a roster of the entire Third Virginia Volunteer Infantry. The roster is incomplete. If you can fill with additional companies, please forward the information to the website through our contributions page
---
The Roster:
Colonel William Nalle
Lieutenant Colonel Thomas S. Keller
Major F. C. Scruggs
Major David Price
Major William M. Smith, Surgeon
Captain Frank Camm, Ass't Surgeon
Captain William E. Anderson, Ass't Surgeon

Company C (organized at Farmville, Prince Edward Co.)
Officers:
J.D. Allen, Captain
W.P. Venable, First Lieutenant
H. Williams, Second Lieutenant
Sergeants:
C.D. Davis, 1st Sergt.
B.S. Hopper, Quartermaster Sergt.
J.E. Beach
J.D. Davis
James Mann
Corporals:
W. R. Berkley
S. E. Burnett
W. L. Johnson
Charles Lenfield
T. H. Powers
J. V. Richardson
Charles M. Shepperson
J. B. Tuggle
Oliver White
B. L. Williams
R. B. Wilson
J. M. Worsham
Musicians:
Eugene Farley
Lloyd Morris
Other:
W.N. Cunningham, Jr. Artificer
Frank McKinney, Wagoner
Corporals:
Richardson, Walter B. - Croaker
Turnbull, Lewis P. - Newport News
Wilkinson, William F.
Ford, George E. - Charlottsville
Wilson, Blair P. - Smithfield
Moss, Charles C. - Newport News
McArthur, Alexander Jr. - Newport News
Moss, Frank C. - Newport News
Norsworthy, Richard C. - Newport News
Rothwell, Thomas C. - Charlottsville
Taylor, Samuel J. - Roxbury
Seifert, Henry A. - Musician, Newport News
Kinslow, Edward J. - Musician, Philadelphia, PA
Bennett, William E. - Artificer, Phoenil, RI
Reeder, Frank - Wagoner, Kansas City, MO
Privates:
Adams, H. P.
Allen, W. L.
Barron, W. J.
Barber, Wright, Jr.
Bagby, L. H.
Brown, W. C.
Brooking, C. L.
Byerly, R. V.
Bullock, William L.
Childress, J.M.
Clarke, J. E.,Jr.
Coleman, F.
Connor, F. E.
Connely, S. L.
Covington, R. B.
Cox, Willie
Davis, B. M.
Davis, J. W.
De La Rue, E. B.
Dieterick, A. P.
Deshazo, Edward
Downey, James
Edwards, J. E.
Ellis, Joe
Ewals, J. B.
Eubank, R. J.
Gately, T. J.
Gills, C. W.
Gooch, Zach.
Green, E. C.
Guy, B. W.
Hamilton, J. B.
Hanes, N. W.
Hardaway, E. T.
Hardy, H. A.
Haskins, W. J.
Hayedn, V. L.
Hazlewood, R.
Healy, F. J.
Henrickson, M. S.
Hopper, L. C.
Hunter, B. L.
Harrison, T. H.
Iverson, C. E.
Jett, Larfonzo
Jefferess, W. C.
Landos,F. P.
Layne, W. H.
Lipscomb, W. S.
Lynier, L. T.
Mann, R. H.
Mcgrath, William
Milan, J. F.
Miller, C. T.
Morton, S. A.
Mosby, H. H.
Norwood, E. R.
Owen, J. T.
Payne, R. B.
Purcell, Alex
Richardson, W. H.
Roberts, B. R.
Satter, White H. E.
Saunders, D. M.
Scannell, T. F.
Sclater, W. W.
Shields, J. F.
Smith, H. B.
Smith, J. T.
Smith, W. T.
Southall, L. M.
Sullivan, R. F.
Tate, P. L.
Thackston, J. P.
Trigger, S.
Waldmann, J. R., Jr.
Wallace, E. C.
Walters. J. E.
Wamsley, C. B.
Watkins, H. E.
Wilson, W. E.
Woodward, Michael
Williams, W. L.
Corporals:
Towles, William
---
Bibliography:
Bryant, Lisa - Information on Company C and regimental officers taken from a framed roster.
Peter Kalk, Peter - Information on Cpl., William Towles, Co. M

Pendleton, Robert - Photo of the officers of the 3rd Virginia Volunteer Infantry
---

Support this Site by Visiting the Website Store! (help us defray costs!)

---

We are providing the following service for our readers. If you are interested in books, videos, CD's etc. related to the Spanish American War, simply type in "Spanish American War" as the keyword and click on "go" to get a list of titles available through Amazon.com.
---
Visit Main Page for copyright data