---
The Roster of the 3rd Virginia Volunteer Infantry
---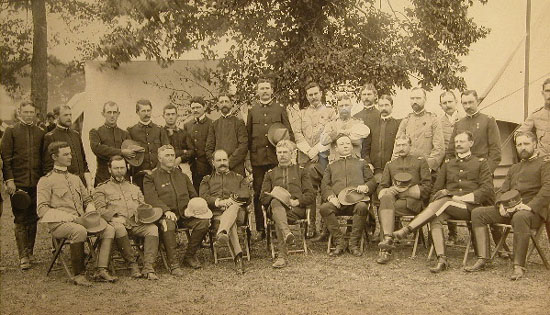 Officers of the 3rd Virginia Volunteer Infantry during the Spanish American War
---
Please Visit our Home Page to learn more about the Spanish American War
---
Click here to read the history of the Third Virginia Volunteer Infantry
---
General:
The following is a roster of the Third Virginia Volunteer Infantry.
---
The Roster:
Colonel William Nalle
Lieutenant Colonel Thomas S. Keller
Major F. C. Scruggs
Major David Price
Major William M. Smith, Surgeon
Captain Frank Camm, Ass't Surgeon
Captain William E. Anderson, Ass't Surgeon
Company A, Danville Grays (Danville, Virginia)

Captain – John R. Hutchins
First Lieutenant – Green P. Talbott
Second Lieutenant – Charles A. Raines, Jr.
Sergeants:
First Sergeant – John F. James
Quartermaster Sergeant – Frank M. Hamlin
Percy S. Robinson
Joseph C. Farrar
Sidney A. Lea
William M. Watson
Corporals:

Charles R. Adams
William D. Powell
Charles H. Hancock
Wallace C. Harris
George Kefauver
Sheior Stanley
Musicians:

Morris Thurman
Cabell H. Shelton
Other:
Artificer – John T. Rodenhizer
Wagoner – Price N. Thomas
Privates:
John S. Adkins
John E. Anderson
Addison W. Barksdale
William D. Barksdale
Benjamin E. Booth
Max Baruth
John R. Bradley
Thomas W. Blalock
Richard A, Blunt
Robert C. Blackwell
Peyton T. Bradshaw
William D. Chandler
Charles B. Chapell
Charles L. Cheatham
William E. Clayton
John E. Crutchfield
Iva Culley
James T. Covington
Harper G. Cole
William J, Disharoon
Sylvester S. Dowell
William P. Earles
Thomas P. Edmonds
Eugene G. Ferrell
Harry W. Fore
James W. Graves
Richard J. Hodnett
William N. Hall
Charles H. Hamlin
James E. Irby
John W. Jennings
Raleigh L. Jackson
Landress Laurence
Thomas M. Ligon
Thomas W. Lucke
Cornelius Lacks
Richard B. Moore
Calvin Moxley
John A. Mebane
Felix A. Moore
John H. May
Henry R. Moon
Robert B. May
Thomas Nash
Ira T. Pellard
Charles D. Patterson
Daniel M. Patterson
William B. Patterson
Leroy Pritchett
Ernest L. Ronald
William H. Scott
Patrick Shea
Fitz Lee Smith
Percy L. Thacker
Vincent A. Witcher
Frank Williams
James G. Williamson
James E. Wade
Charles Watson
Edgar S. Bunu
Napoleon B. Dixon

Company B, "Culpepper Minutemen" (Culpepper, Virginia)
Captain – Thomas E. Grimsley
First Lieutenant – Samuel A. Shadrach
Second Lieutenant – Frederick P. Hudgins
Sergeants:

First Sergeant – John R. Cooper
Quartermaster Sergeant – Robert H. Howard
James W. Jones
Henry O'B Cooper
William Wright
Corporals:

Charles E. Mosby
Ernest Hansbrough
Joseph C. Hawley
Charles E. Kilby
Reuben N. Howard
Alfred T. Carpenter

Musicians:

Alex. W. Melchier
Charles F. Adams


Other:
Artificer – Franklin K. Williams
Wagoner – Isaac B. Nicholson

Privates:
Charles E. Adkins
Nelson Able
Peyton Anderson
Otis Burgandine
James E. Brown
Ernest L. Bibb
William M. Bernard
Eugene Bowen
Alden A. Bell
Frank Bahran
George Brown
Samuel T. Byram
John A. Croysant
Charles L. Curtis
George Chambers
John E. Dennis
Richard H. Dennis
Timothy J. Doyle
Charles T. Davis
Eppa Deal
Ben F. Estas
William T. Edwards
Francisco C. Elkins
James B. Freeman
Thomas H. Freeman
James H. Filling
Joseph T. Faltz
John W. Green
Herbert R. Griffith
Paul Hansborough
Bailey Hawkins
Egbert Hudson
Archibald B. Hawley
William G. Johnson
Spencer B. Jackson
William W. Kilbey
William S. King
Rufus Lilliard
Edward Lilliard
Bryan Lee
Benjamin M. Marshall
William L. McFarlan
John A. McFarlan
Thomas B. Miller
Milton W. Markell
George W. Nelson, Jr.
Willie T. Nichols
John N. Patton
Beverly Peters
George W. Roach
James A. Roach
Fred. K. Sprinkle
Gustavus B. Sullivan
William T. Settle
Edward E. Sims
Edward Spicer
William Tipton
Lawrence H. Thrawl
Richard P. Thrawl
James C. Williams
George W. Yates
Bruce Roscoe


Company C (organized at Farmville, Prince Edward Co.)
(Note: This roster is a combination of the roster listed in the Richmond Dispatch and a framed memorial roster for this company only).

Officers:
Captain – J. D. Allen
First Lieutenant – W. P. Venable
Second Lieutenant – H. Williams

Sergeants:
First Sergeant – C. D. Davis
Second Sergeant – J. E. Beach
Third Sergeant – J. D. Davis
Fourth Sergeant – James Mann
Fifth Sergeant – W. L. Williams [Listed as a Private in framed roster]
Quartermaster Sergeant – B.S. Hooper [Listed as "Hopper" in framed roster]

Corporals:
N. M. Gill [Listed only in framed roster]
J. V. Richardson
G. B. Shepperson [Listed as "Charles M." in framed roster]
J. B. Tuggle
J. B. Brown [Listed only in framed roster]
B. L. Williams

Musicians:
E. Farley [Listed as "Eugene" in framed roster]
Floyd Morris [Listed as "Lloyd" in framed roster]

Other:
W.N. Cunningham, Jr., Artificer
Frank McKinney, Wagoner
Privates:
H. P. Adams
W. J. Barrow [Listed as "Barron" in framed roster]
Wright Barber
S. E. B. Burnett [Listed only in framed roster]
Willie Cox
J. M. Childress
R. B. Covington
Frank E. Connor [Listed as "Frank F." in framed roster]
Scott Cunningham [Listed only in framed roster]
B. M. Davis
A. P. Deitrick
G. V. Downing [Listed only in framed roster]
James Downey
R. J. Eubank
J. C. Ellis
J. B. Ewald [Listed as "Ewals" in framed roster]
Zach Gooch
C. W. Gills
B. W. Guy
E. C. Green
H. A. Hardy
R. H. Hazlewood [Middle initial listed as "H." in framed roster]
S. C. Hopper [First initial listed as "S." in framed roster]
V. S. Hayden [Listed as "L. Hayedn" in framed roster]
E. T. Hardaway
J. B. Hamilton
C. E. Iverson
W. L. Johnson [Listed only in framed roster]
W. C. Jeffress [Listed as "Jefferess" in framed roster]
Charles Lenfield [Listed only in framed roster]
W. S. Lipscomb
S. T. Lynier
C. T. Miller
S. A. Morton
J. F. Milan [Listed only in framed roster]
William McGath [Listed as "McGrath" in framed roster]
D. W. Matthews [Listed only in framed roster]
R. H. Mann
H. H. Mosby
E. Norwood
J. T. Owens [Listed as "Owens" in framed roster]
R. B Payne
W. H. Richardson
B. R. Roberts
C. M. Shepperson [Listed only in framed roster]
D. M. Saunders
J. F. Shield [Listed as "Shields" in framed roster]
L. M. Southall
W. W. Slater [Listed as "Sclater" in framed roster]
H. B. Smith
R. F. Sullivan
J. P. Thackston
J. E. Walters
E. D. Wallace
J. M. Worsham [Listed only in framed roster]
H.E. Watkins
R.B. Wilson [Listed only in framed roster]
J.R. Waldman [Listed only in framed roster]
O. White [Listed only in framed roster]



Company D (Monticello Guards, Charlottesville)"
Captain – Herbert H. Wingfield
First Lieutenant – Thomas P. Peyton
Second Lieutenant – Edgar F. Hoffman

Sergeants:
First Sergeant – Frederick C. Wills
Quartermaster Sergeant – Jonathan A. Bishop
Thomas M. Hill

John S. White
Basie Jones
John A. Maddox
Corporals:

George C. Wertenbaker
William B. Estes
Joseph E. Kelley
Emmet G. Roberts
Henry S. Rucker
Harry H. White


Musicians:

Charles G. Wheatley
Stewart B. Gordon


Other:
Artificer – Albert Wertley
Wagoner – Samuel S. Robertson


Privates:
John W. Ayers
Preston D. Brown
Robert E. Brogan
Walter L. Bunch
Luther H. Berry
Henry B. Ball
Benjamin C. Beckham
William N. Bispham
Burton B. Crump, Jr.
Cary Coffman
Robert E. Culin
Samuel H. Conway
James E. Dudley
William N. Edwards
William B. Ford
Alvin K. Foot
George M. Frazier
Joseph R. Ferreter
Roy Garber
Thomas G. Garth
Stuart A. Howard
Horace T. Harlow
Samuel M. Herndon
Clay P. Herring
Wilson R. Jarman
Ashton S. Kase
Aubrey R. King
William F. Long
David G. Long
James A. Long
Robert E. Lee
Paul G. Loomis
Walter F. Langley
David Leathers
William J. Miller
James T. McAllister
John H. Marks
Louis M. Moses
Lewis P. Meeks
Robert M. McMurdo
Charles H. Purvis
Merweath L. Price
John W. Phillips
Benjamin L. Payne
Joseph L. Payne
Charles M. Rucker
George W. Rea
John E. Riddle
Cary A. Snead
James M. Sclater
Maurice B. Shepherd
Stuart F. Stackler
Arthur C. Turner
Vernon G. Thacker
John B. Thrift
George W. Taylor
James B. Tillman
Toms Zash
James T. Woods
Arthur White
Welford L. Charles
Charles C. Wheat
Thomas Wall
Guy L. Wingfield
Edward H. Conway
Willie F. Ford
William H. Jessup


Company E (Lynchburg Home Guards)
Captain – Frank C. Scruggs (Promoted Major)
First Lieutenant – William J. Seabury
Second Lieutenant – William S. Faulkner


Sergeants:
First Sergeant – Granville R. Lewis
Quartermaster Sergeant – Robinson L. Stabler
Frank Adams
Hunter M. Scott
Henry C. Snead
Joseph H. Akers
Corporals:
Charles S. Adams
Frank W. Agnor
George W. Gilbert
Charles D. Hamner
Richard A. Lacey
Ruben H. Oglesby


Musicians:

Walter H. Tyree
William H. Bailey


Other:
Artificer – Patrick Kelly
Wagoner – Plunkett M. Jones


Privates:
Charles L. Adams
Bardon C. Burrow
Henry C. Bondurant
James L. Brown
Little Berry
D. Bradley
Robert P. Camp
Charles C. Carter
Walter E. Cox
Tipton S. Carter
James D. Calloway
Rufus M. Dickey
William E. Davis
William B. Deverick
William Fosco
Charles E. Gill
Landon C. Garland
James P. Garland, Jr.
George E. Grim
Arthur B. Hill
Walter E. Harris
Henry A. Hix
John B. Harris
Edward Jenkins
Robert Kinnier
Benjamin F. Kemper
Brownlow Light
John J. Lloyd, Jr.
Hayes O. Lacy
Celete D. Lindsay
Wade H. Mosby
Charles S. Morris
Robert W. Morgan, Jr.
Rennie O. Mays
Edward A. Murtland
George L. Moorman
Thomas J. Murray
William E. Minter
Alpheus C. Mitchell
Claude R. Noel
Edward J. Nichols
Robert D. Oglesby
David B. Payne
William C. Pendleton, Jr.
James O. Pollard
Henry H. Roberts
George W. Robinson
Edwin Rucker
James W. Sanders
John A. Stone
John H. Sholes
Emmet B. Sprinkle
Joel F. Taylor
Alexander S. Thompson
William E. Talbot
John Thompson
Eugene L. Watson
Samuel C. Watts
Harry S. Wilson
James L. Wellford
Walter C. Wilson
Company F (Alexandria Light Infantry)
Captain – Richard H. Atkinson
First Lieutenant – Charles L. Fisher
Second Lieutenant – James E. King


Sergeants:
First Sergeant – Patrick J. Murphy
Quartermaster Sergeant – Charles H. Appich
James L. Kelly
Claude L. Pickin
Charles E. Hawkins
Thomas A. Hulfish
Corporals:
Thomas J. Nugent
Richard W. Payne
Frank L. Slaymaker
Charles E. Williams
Richard I. Purcell
Charles H. Butts


Musicians:

John E. Briscoe
Walter E. D. Krauss


Other:
Artificer – Andrew D. Deeton
Wagoner – Charles F. Davis


Privates:
Charles J. Ayers
John T. Bowling
Samuel O. Baggett
Peter J. Brumer
Clarence B. Brown
Arthur T. Brenner
Robert M. Cheshire
Thomas B. Cochran
Charles M. Cuvillier
Benjamin Conklin
William Darley
John W. Davis
David J. Downey
William Daniels
Walter L. Evans
James Edwards
Henry D. Fisher
Orlando Ford
Preston W. George
William F. Greene
Clinton E. Harvey
Oscar E. Haws
William L. Hayes
James J. Hepburn
John T. Hillery
Charles J. Hooper
Raymond Hulfish
George E. Henry
Luther J. Hall
Clarence H. Harrison
Harry W. Javins
Crusie Jones
Wilmer L. Kemp
Walter P. Kerrick
William M. King
Seymour Mayhew
Mark E. Miller
William B. Moore
Yale C. Minton
Archibald J. Nalls
Rudolph L. Norris
Charles Nightingill
Leonard J. Narasmore
Alfred Owens
Andrew J. Patterson
Harvey Snellings
Stuart J. Simpson
Herbert V. Shacklett
Omar Shacklett
Harry L. Sappington
Frank Smith
Phillip Smith
Frank C. Spinks
John W. Stone
Charles W. Sullivan
William P. Smith
John H. Ticer
Robert M. Turner
William P. Tayloe
Roy S. Warring
William F. Webster
Sydney N. Wheatley
Robert L. Way


Captain – J. A. Nichols
First Lieutenant – W. A. Bond
Second Lieutenant – H.V. Parham

Sergeants:
First Sergeant – C. C. Gee
Quartermaster Sergeant – J.H.P. Leigh
Second Sergeant – John Cocke
Third Sergeant – W.B. Stevens
Fourth Sergeant – H.P. Field
Fifth Sergeant – William Grossman
Corporals:
J. A. Mallory
John McEwen
R. G. Bain
W. H. Kay
J. H. Short
Charles E. Evans


Musicians:

H. G. Crichton
E. J. Justis


Other:
Artificer – Andrew D. Deeton
Wagoner – Charles F. Davis


Privates:
A. B. Parham
Frank Aldridge
John Baggett
Thomas Blackwell
R. E. Bland
J. S. Brittingham
Rufus Butler
Robert D. Bullock
G. C. Clarke
Emmett Collier
T. E. Condrey
Robert R. Corbin
J. A. Crafton
W. T. Cleary
J. E. Cook
A. Cohen
G. W. Campbell
H. O. Dallen
C. E. Emery
R. B. Eanes
Robert Farley
Charles Gee, Jr.
George C. Gary
C. W. Goode
? Goodnight
E. Gregory
H. W. Huddleston
B. H. Hayes
F. A. Hawthorne
George Harper
Sydney Jones
? Layton
John Luffsey
T. C. Livesay
John Maher
J. L. Mulcaha
N. P. Meyers
J. B. Nunnally
J. T. Perkins
J. J. Powell
J. L. Reese
Harry Rutledge
J. A. Rives
W. L. Spivey
G. A. Seaborn
C. G. Smith
C. C. Scott
? Shilley
J. R. Slate
J. W. Slater
W. B. Stephens
W. H. Shadbolt
D. T. Stewart
H. R. Temple
F. A. Truesheim
E. W. Traylor
O. S. Totty
H. S. Townes
? Treadway
E. H. Turner
W. B. Wells
A. E. Wherry
J. R. Wyborney
H. J. Wyborney
Arthur Young
B. E. Worrell


Captain – Robert E. Freeman
First Lieutenant – Ernest L. Griggs
Second Lieutenant – George C. Martin


Sergeants:
First Sergeant – Willie S. Paylor
Quartermaster Sergeant – Albert F. Newcomb
Louis T. Wilson
Powhatan A. Cabell
Walter R. Scott
Robert L. Motley


Corporals:
Robert Brydon, Jr.
Frank L. Martin
John T. Clark
George S. Hairston
John T. Shields
Oscar L. Fitzgerald


Musicians:

Lyle W. Morgan
Harry L. Vernor


Other:
Artificer – John B. Lowrie
Wagoner – George S. Johnson


Privates:
Charles C. Auld
Richard D. Boswell
Thomas Blair
Zeb. V. Burch
Ruy C. Coleman
Eugene B. Carter
Thomas F. Duff
William L. Daughtey
Victor V. Earp
Marion B. Eutsler
Emmett W. Ferrell
Edgar F. Graham
Willie A. Gibson
Thomas A. Garner
Albert M. Gilley
James B. Gravely
Joseph B. Harding
William G. Hawkins
Herbert B. Holloway
James W. Hood
James D. Haden
Omond W. Johnson
James M. Kendrick
George W. Lumpkins
Lee T. Laney
Rufus A. Laney
Aiken A. Lowrie
Lee A. Ligon
John H. Meeks
Sterling C. Mattock
Forest L. Mallory
Joseph McFarland
Robert E. Morris
Zel. L. Moore
Henry J. Martin
Charles H. Nichols
William H. Nunnelly
Charlie Nedum
Oliver M. Phillips
Russell D. Purvis
Charlie E. Pritchett
Albert C. Purcell
Henry M. Patterson
Otto Royster
Joseph P. Richardson
George D. Redd
James Skinner, Jr.
Charlie T. Spencer
John W. Stanley
William H. Stulty
William C. Swanson
John A. Shinn
Horace A. Taylor
Eugene C. Thacker
Willie R. Thompson
Archer T. Thornton
Joseph P. Watkins
Martin P. Wilson
Joseph H. White

Company I (Fairfax County)
Captain – Joseph E.Willard
First Lieutenant – Arthur I. Flagg
Second Lieutenant – S. R. Donahoe


Sergeants:
First Sergeant – R. C. L. Moncure
Second Sergeant – T. B. Love
Third Sergeant – J. C. Chichester
Fourth Sergeant – Elton Renney
Fifth Sergeant – Lamar Monroe
Quartermaster Sergeant – Guy Huntington


Corporals:
C. Humprey Ford
James W. Ballard
C. Y. Oliver
Robert T. Lester
Boyd Watson
S. E. Davis


Musicians:

Sigman Borrenstein
George Maben


Other:
Artificer – H. T. Selecmen
Wagoner – Carl Moffett


Privates:
Harry Adams
Robert P. Adams
Jacob Allen
Charles A. Armstrong
C. P. Arnold
C. F. Arnold
James W. Baggott
Joseph L. Besley
Joseph W. Ballard
Ernest A. Brooke
M. G. Bushwald
R. H. Carmichael
John L. Carroll
Harry Collins
Harry M. Crowell
Harvey E. Curtis
Benjamin T. Davis
Peter Davis
William Donavan
Edward G. Evans
Charles Farquar
Patrick Farrell
S. F. Fisher
Vernon Fallin
Ernest R. Ford
H. T. Goodwin
A. H. Graham
William Graves
Moss Grinnell
Quinsey Hall
Robert Hutcheson
Joseph Jonas
John F. Kendall
Howland Kenyon
A. S. Marks
Eugene L. Martin
Ernest S. Martin
Charles B. Melville
Robert Moore
T. L. O'Connor
John B. Payne
John M. Pettitt
Robert L. Powell
Silas L. Reid
John E. Renney
J. Albert Ritchie
John H. Robertson
M. C. Sanbourn
Harry T. Selecman
Thomas E. Slooper
George C. Spalding
George B. Speer
Gilbert Spindle
Henry Tilghman
Edwin Trumble
Roy Wakefield
Ernest Williams
Daniel B. Wilson
Company K (Washington Guard, Fredericksburg)
Captain – Maurice R. Rowe
First Lieutenant – Frank L. Revere
Second Lieutenant – Robert S. Knox


Sergeants:
First Sergeant – William D. Richardson
Quartermaster Sergeant – Thomas M. Larkin
Aquilla A. Cole
Albert B. Botts, Jr.
Alonzo Jett
Rufus H. King


Corporals:
William U. Knox
James B. Rawlings
William A. Trowlan
Howard E. Allison
James H. Revere
Robert R. Perry


Musicians:

John T. Lucas
William W. Welker


Other:
Artificer – John B. Proctor
Wagoner – Henry Walters


Privates:
William T. Armstrong
Addison G. Billingslee
John W. Boggett
Charles R. Bowling
Maurice S. Bowling
James H. Boxley
Richard H. Bryan, Jr.
Edward T. Cain
Lester Carneal
Edward R. Courtney
Edgar H. Dunborrow
Robert E. Duvall
William B. Dye
James F. Estes
Thomas Elley
Lewis H. Farish
John J. Flipps
Henry W. Fox
John H. Freeman
William B. Gallaghan
Ashton Gill
William H. Goldsmith
Charles O'C. Goolrick
Charles T. Goolrick
William H. Hairslip
Clarence L. Hancock
Trevor T. Hill
Hugh A. Herndon
Robert A. Hughes
Florence B. Johnson
Lloyd M. Jones
Arthur V. Keene
George P. King
Joseph A. Larkin
James L. Layton
William F. Leacock
John S. Leonard
Arthur H. Lewis
Robert T. Lewis
Lewis S. Ligon
Laurence S. Lunsford
Edward A. Mathews
John B. Micks
Reuben H. McGee
David C. McMillan
John W. McWhirt
Lee A. Payne
Joseph L. Proctor
Thomas F. Proctor
Arthur T. Purks
George F. Rodgers
Seymour Scott
Richard E. Smith
Joseph G. Steidham
Lawrence F. Streshley
Joseph F. Stone
William T. Talley
Wade H. Thomas
John K. Thompson
George Thooms
Charles W. Wheeler
Richard H. Wheeler
Maury Williams
Thomas R. Woolfolk
Frank P. Zerr


Company L (Fitz Lee Rifles, Lynchburg)
Captain – Richard L. Miller
First Lieutenant – John D. Clark
Second Lieutenant – Richard H. T. Adam, Jr.


Sergeants:
First Sergeant – William D. Munro
Quartermaster Sergeant – Alvin B. Scruggs
Edward A. Murphy
Daniel A. Broadder
John E. Pettus
William P. Gorman


Corporals:
William F. Enochs
Walter L. Fulkes
James H. Snider
Ernest Hull
James C. Peerman
James F. Lyle


Other:
Artificer – Robert L. Atkins
Wagoner – Charles H. Brown


Privates:
Charles F. Abbott
Claude Adams
George H. Burch
Roy C. Brown
John P. Breader
John W. Burnley
Henry F. Bowles
Charles W. Childress
James C. Childress
Samuel M. Cheatwood
William G. Crawford
Walter C. Coleman
Edmond W. Cabell
? Carter,
Michael Doyle
Harry Dunbar
Robert F. Duff
Booker H. Drinkard
Joseph F. Dillon
George W. Eubank
David T. Evans
William H. Foster
Clarence Glass
W. Godsey
Nathaniel Goff
William R. Green
George W. Gilliam
William D. Hall
Thomas H. Hendricks
Robert E. Harvey
George E. Hamilton
Luke Hudson
Henry J. Hendershall
Harry W. Jenkins
Jesse U. Jennings
Robert E. Kelly
John W. Kelly
Daniel F. Kennedy
Dennis J Kelly
Reuben E. Layton
James W. LeGrand
James Leffew
James F. Lyle
Mike L. Lawless
Thomas E. Malley
William R. Murphy
Edward McKenna
Francis E. McKenna
Edward W. Morgan
Joseph F. O'Meere
Charlie Pendleton
Walter J. Payne
Stephen Peters
William J. Pickett
Robert W. Ray
John L. Riley
Matthew Rominez
Samuel L. Saunders
William S. Slavin
Julius C. Schultz
Warren Stennet
Robert L. Slavin
John R. Tanner
William E. Turner
Edward Turner
Richard C. Vest
Edgar C. Wheeler
Max G. Woody
James B. Wood
Patrick Woods
James F. Yuilia
Julius Zwanziger


Captain – Robert Le Masurier
First Lieutenant – Venable S. Hardwicke
Second Lieutenant – Joseph A. Le Masurier


Sergeants:
First Sergeant – William E. Thompson
Quartermaster Sergeant – Arthur H. Hamilton
William C. Boisseau
Herbert C. Mallory
James H. Stone
John MacDowell


Corporals:
William T. Hutcheson
William A. Smith
Russel A. Norvell
Charles C. Duke
George C. Waller
William H. Towles


Musicians:

George H. Davis
William T. Triplett


Other:
Artificer – Samuel H. Blankenship
Wagoner – Walter T. Thorpe


Privates:
Frederick W. Alberts
Charles L. Andrews
Emmett J. Barker
Judson O. Bass
Crenshaw N. Binford
George A. Boisseau
Joseph A. Campodonico
Richard S. Chalkley
James W. Culbertson
Charles C. Courtland
Thomas L. Dansey
William L. Dollings
Edward R. Elliott
Edgar L. Everett
John J. Finegan
John C. Fowlkes
Herbert M. Folkes
John S. Ford
Marion W. Gill
Nathaniel M. Hare
Alexander W. Hegemeyer
Travis L. Henenger
Roland B. Horsley
Edgar N. Hurt
Cornelius Hubard
Alfred N. Jennings
Williams H. Judkins
William M. Johnson
John P. Kemp
Edward K. Molloy
James W. Mannerschmidt
George A. Mannerschmidt
William D. McGruder
Robert J. McKane
Clifford D McKoy
Edward A. Murphy
Charles L. Napier
James G. Napier
Joseph B. O'Bannon
Edward D. Overby
Robin L. Poley
Thomas B. Peay
Albert W. Perkins
Ernest J. Price
Arthur C. Runge
Jacob Sebyer
Robert A. Sims
Bruce Shinault
Edward T. Smith
Nicholas J. Smith
Emmet W. Stanley
John A. Sullivan
Mordecai H. Taylor
Richard A. Tatum
Thomas K. Thornton
William Towles
Edward V. Whitlock
Samuel H. Wilburn
George W. Wilson
John W. T. Woodson
Frederick K. T. Wright
Louis Zwanziger
---
Bibliography:
Bryant, Lisa - Information on Company C and regimental officers taken from a framed roster.
Peter Kalk, Peter - Information on Cpl., William Towles, Co. M

Pendleton, Robert - Photo of the officers of the 3rd Virginia Volunteer Infantry
"The Third is Ready," Richmond Dispatch (Richmond, Virginia). May 28, 1898, 3 (Roster courtesy of John Allison).

---

Support this Site by Visiting the Website Store! (help us defray costs!)

---

We are providing the following service for our readers. If you are interested in books, videos, CD's etc. related to the Spanish American War, simply type in "Spanish American War" as the keyword and click on "go" to get a list of titles available through Amazon.com.
---
Visit Main Page for copyright data