---
The History of Company E, 49th Iowa Volunteer Infantry
and Biographies of its Officers
Contributed by Judy Landauer
---
Please Visit our Home Page to learn more about the Spanish American War
---
For a roster of the 49th Iowa Volunteer Infantry, click here
Think you have a relative in the 49th Iowa? Email your questions by clicking here!
---
General:
The following is the printed history of the 49th Iowa, Company E and biographies of its officers.
The History:
"Company E was organized June 4th, 1896, as Company E, First Regiment, Iowa National Guard, in Independence, Iowa, and volunteered its services when the call was made, being mustered into the Forty-Ninth Iowa Volunteer Infantry, June 2d, 1898, at Des Moines, Iowa, by Captain OLMSTED. The Company is officered by Captain ALLEN, who has made a most efficient and popular officer, and who has brought the Company up to its present standing, which is one of the best in the Regiment. Its members are business and professional men of high standing, who gave up all interests in the one great cause of justice and liberty, and should necessity require it, will be found amongst the first to serve their country faithfully and with honor to their State and themselves.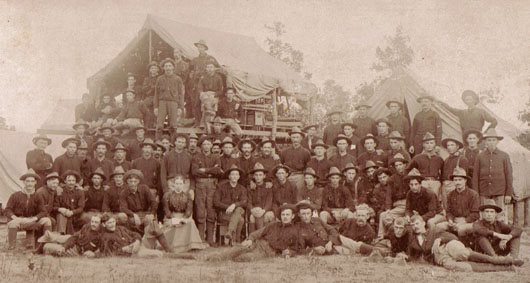 This is a photo of Company E. The following are identified. Lt. Mitchell O'Brien is seated in the front row, the first man on the far left.
The fourth man from the left in the front row is his brother Lawson O'Brien. Harry M. Voorhees. Voohees is located behind and to the
right of the man standing behind the seated woman. The man standing in the third row, second from left, immediately below the gent leaning on the tent,
is believed to be Curt Mellis.
Lawson O'Brien married st age 33 years old. He loved working with horses and worked for the famed Williiams of the Independence, Iowa
famed track there. While there, he observed the great Nancy Hank/Allerton, race which Nancy Hanks won by a hair. He had learned about
cock fighting in Cuba and sent back for a pen of cocks at least once. O'Brien had worked on the railroad as a Depot Agent for a time and then
farmed until the Great Depression. He was the father of seven children.In his later years, he lived at Lake City, Iowa. He was also an
Irish shanachie story teller.
Mellis passed away in Portland, Oregon in the 1966.
Captain Hurbert A. ALLEN was born in Buchanan County, Iowa, April 4th, 1872, and was educated in the public schools, and took a course of Mechanical Engineering at the Iowa State College, graduating with honors. Captain ALLEN joined Company H, Fourth Iowa National Guard, as a private in 1889, and was commissioned First Lieutenant of same Company, which was mustered out in 1892. He was elected Captain of Company E, June 4th, 1896, which position he has held ever since. Captain ALLEN is a clever marksman, under the State rules qualifying as a marksman, but has never shot on record. In private life Captain ALLEN is District Manager of the American Bell Telephone Company, of Independance, Iowa. His untiring efforts for the welfare of his Company are well repaid in the respect, esteem and confidence that his men hold toward him, a popular and efficient officer.
Lieutenant Mitchell B. O'BRIEN was born at Hazel Green, Wisconsin, and is 23 years of age. He was educated at the public schools of Independance, Iowa, and joined Company E, of the Iowa National Guard, June 4th, 1896 as a private, and on March 16th, 1898, was elected First Lieutenant of this Company, after having served as corporal and sergeant. Lieutenant O'BRIEN is a bricklayer in civil life, and has spent sixteen years of his life in Independance, Iowa. He is an expert marksman, and has made a most efficient officer. [The family of Lt. O'Brien adds that he
was also a good horseman. He is believed to have died a Georgia Veterans' Hospital, shortly after returning from Cuba. The family attributed his death to yellow fever].
Second Lieutenant Raymond P. SNOW was born in Independance, Iowa, and is 22 years of age. Was educated in the public schools and joined the Company June 4th, 1896, serving as a private, corporal and sergeant, being elected to his present rank January 22, 1897. In private life Lieutenant SNOW is a salesman, and is popular in both civil and military life, having done much towards the efficiency and welfare of the Company. He, like his brother officers of this Company, is an expert marksman, all of which are amongst the best shots in the Regiment."

---
BIBLIOGRAPHY:
"Historical and Biographical Souvenir of the 49th Iowa U.S. Volunteer Infantry. Illustrated with scenes of camp life." (Jacksonville, FL 1898).
Nelson, James H. - Identification attribution and information on Curt Mellis
O'Brien, Bernard R. - Information on lawson O'Brien and Lt. Mitchell O'Brien.
Tysdal, Ray - Photo of Company E and info. on Harry Voorhees
---

Support this Site by Visiting the Website Store! (help us defray costs!)

---

We are providing the following service for our readers. If you are interested in books, videos, CD's etc. related to the Spanish American War, simply type in "Spanish American War" (or whatever you are interested in) as the keyword and click on "go" to get a list of titles available through Amazon.com.
---
Visit Main Page for copyright data