---
The 49th Iowa Volunteer Infantry Band
Contributed by Judy Landauer and Helen Egeland
---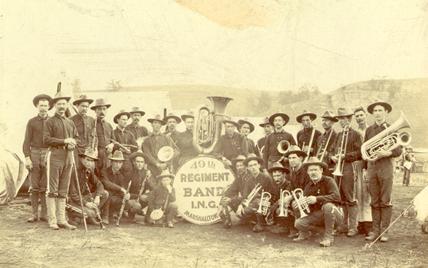 The 49th [Iowa] Regiment Band. The second cornetist (front row, right) from the right
is believed to be Arthur Leon Bruner
---
Please Visit our Home Page to learn more about the Spanish American War
---
For a roster of the 49th Iowa Volunteer Infantry, click here
To go to the band roster directly, click here
For a story of the unit's departure from Iowa, click here
---
General:
The following information is a brief description of the 49th Iowa Volunteer Infantry Band.
The band:
"The Forty-Ninth Regiment Band was organized by Chief Musician Charles C. Holt at Des Moines, Iowa, June 2d, 1898. Most of the musicians are from the northeastern part of Iowa, and are recognized artists in their particular instruments. Mr. Holt and Drum Major Reis were originally members of the old First Regiment Band, which was the National Guard Band prior to the enlistment in the Volunteer Army.
The Forty-Ninth Band plays only the best grade of music, and their concerts have won for them much praise; in fact, it became the favorite band of the Seventh Army Corps.
Charles C. Holt, Chief Musician of the Forty-Ninth Regiment Iowa Volunteer Band is a native of Ohio, and is 32 years old. He has a classical musical education, and is well known throughout the State of Iowa, where he has lived for six years, as the Euphonium Soloist of the First Regiment, National Guard of Iowa, Band. Mr. Holt's present residence is at Marshalltown, and is justly proud of the Forty-Ninth Band, which is one of the best in the Volunteer Army."



This is the cornet that was used by 49th Iowa cornetist Arthur Leon Bruner. It is engraved "Superior First Class, J. W. Pepper Maker, Philadelphia, Chicago No. 6557". It has fancy scroll work on the bell and up to the first curve, more in the inside of the bell and all over the body. It also has three lead pipes that fit between the mouth piece and the horn, so that it can be played in hree different keys.
---
BIBLIOGRAPHY:
"Historical and Biographical Souvenir of the 49th Iowa U.S. Volnteer Infantry. Illustrated with scenes of camp life." (Jacksonville, FL 1898).
---

Support this Site by Visiting the Website Store! (help us defray costs!)

---

We are providing the following service for our readers. If you are interested in books, videos, CD's etc. related to the Spanish American War, simply type in "Spanish American War" (or whatever you are interested in) as the keyword and click on "go" to get a list of titles available through Amazon.com.
---
Visit Main Page for copyright data