---
Frank Brito of the Rough Riders
1st U.S. Volunteer Cavalry, Troop I
(1877 - 1973)
By Frank Brito (Grandson)
---
Please Visit our
Home Page
to learn more about the Spanish American War
---
Click here
to read more about Native Americans in the Spanish American War
---
Please note: The photos on this webpage are copyrighted (as is the article) and can be used only with the permission of the author (and as fair warning, the photos have been embedded with tracking data).
---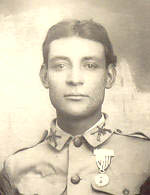 Frank C. Brito taken in his Rough Rider uniform, about 1905.
---
General:
Frank Brito served with the 1st U.S. Volunteer Cavalry ("Rough Riders") and was the second-to-the-last surviving Rough Riders when he passed away at age 96.
Biography:
One April 1898 morning found Frank C. Brito out tending cattle with his older brother Jose for the Circle Bar Ranch near Silver City, New Mexico. He was making $1 a day working as a 20-year-old cowboy. He and Jose received a message from their father to return home immediately to Pinos Altos, a small mining town at the edge of the Gila Wilderness in southwestern New Mexico. Their father was Santiago Brito, a Yaqui Indian mine owner and stage coach operator originally from Janos, Mexico.
Frank was born on August 24, 1877 in Pinos Altos, still a killing ground between citizens and the bands of Apaches under Geronimo, Victorio, Juh and Nana. He studied at the local grammar school and became a printer's apprentice, then a miner. The average employee made no more than $30 a month and worked long hours, usually at hard labor in the mines, ore mills or outdoors.
After a long ride home and listening to their father, Frank and Jose did as they were told and were enlisted as volunteer privates at Santa Fé, New Mexico on May 6, 1898. Frank was three months short of age 21 and his occupation listed as "miner." Lt. Col. Theodore Roosevelt and Col. Leonard Wood, as commander, formed the 1st U.S. Volunteer Cavalry, also known as the "Rough Riders," to fight in the Spanish-American War. They chose cowboys, miners and college athletes as their soldiers of choice. The Brito brothers were assigned to Troop H captained by George Curry, a future New Mexico territorial governor. Curry and Frank Brito were to remain lifelong friends. Shortly thereafter they were transferred to Troop I captained by Schuyler McGinnis. Here, Frank had as his bunkmate, Numa Frenger, later a District Judge in Las Cruces, New Mexico.
They were shipped to San Antonio, Texas where the men were drilled in cavalry basics until the end of May. On the 29th, they were shipped to Tampa, Florida. Because he was bilingual in speaking, reading, and writing in Spanish, Frank was placed in charge of the stockade established to deal with the potential Spanish prisoners of war. To his pleasure, he met Theodore Roosevelt and was nicknamed "Monte" by him, short for "Montezuma."
The men had some time for enjoyment during the seemingly endless preparations for war. Frank Brito, described an event that occurred in a shooting gallery in Ybor City, Florida while the men were seeking some sort of entertainment to break up the monotony of camp life. The shooting gallery was quite popular among the many troops stationed nearby. Frank Brito stated:

"I went in one time with Tom Darnell [a Sergeant in H Troop from Denver, Colorado who was later killed, according to Mr. Brito, while trying to shoot up the town of Central City, near Santa Rita, New Mexico] and some other troopers and we paid 25 cents to get in. There were bales of cotton behind the moving targets to catch the .22 caliber bullets and the whole place was surrounded with a fence of chicken wire. We told the man we would use our own six-shooters instead of the .22's and when we all started shooting, it scared hell out of everybody and people started jumping over that chicken wire fence. Somebody called the 10th Georgia Cavalry to quiet us down but we took the pins off our hats and nobody knew for a while that we were Rough Riders. The Colonel found out but by then it had all blown over. "

The revolvers used by the Rough Riders were Colt single action artillery models with a 5 ½" barrel and shot the powerful .45 Colt cartridge. The noise would have been deafening!
Unfortunately, Frank never made it to Cuba, remaining in Tampa with the stockade, most of the horses, the men of his troop and three other troops. The reason that Frank did not go to Cuba was that, because of a shortage of space aboard the transport ships, only eight of the regiment's twelve troops were permitted to board for Cuba. Also, because of the space shortage, those that did go to Cuba went without their horses, which were left behind for Frank's I Troop, joined by C, H, and M Troops, to care for.
The orders splitting the regiment met with protest. Roosevelt noted that "the four [Troops] left behind feel fearfully." Later he added "To the great bulk of them I think it will be a life-long sorrow. I saw more than one, both among the officers and privates, burst into tears…"
Partially to assuage them, those remaining behind were told by Colonel Wood that they would shortly be taken to Cuba also. Brito commented "We were too angry to hear him, and if we had, I doubt we would have believed him. We had come a long way together and being left out at the last minute was not something any of us had counted on."
At the war's end, all the Rough Riders were reunited at Camp Wikoff, Montauk Point on Long Island, New York to recover from their wounds and tropical diseases. Frank spent time in a New Jersey hospital recovering from malaria and dysentery prevalent in the Tampa area.
Frank was discharged from the Rough Riders on September 15, 1898. His brother remained in the service, joining another military unit after the Rough Riders were disbanded and was listed as "missing" in the Philippines during the latter phase of the Philippine-American War. Jose never returned and was presumed dead.
Frank returned to mining in Pinos Altos and was involved in a tragedy in September 1900. He returned home during the day and mistakenly killed his wife's sister. He was sentenced to the territorial prison for ten years but served only five. Territorial Governor Miguel Otero granted him a full pardon. In prison, he learned the emerging technology of electricity in operating dynamos and motors. During this time, he was divorced from his first wife.
He worked as a hoisting engineer at various mines, which required a high degree of skill, lowering equipment and men into deep shafts. Leaving Silver City, he moved to Las Cruces and was married a second time. He was also an electrician for the city of Las Cruces after his mining days were over. He later became a deputy sheriff, town constable, city jailor and game warden. Frank C. Brito was praised for a long and useful law enforcement career.



Las Cruces Town Constable Frank Brito, right, with his deputy, Santa Rosa Rico, left. The photo is from about 1917.
Frank also served in the U. S. Army National Guard and was sent to Columbus, New Mexico with his unit immediately after Pancho Villa's 1916 raid on that border city to guard from further raids. They were released when Villa went deeper into Mexico.
In his first days in Las Cruces, Frank held a part-time job as bartender at various saloons. He worked for John Barncastle's saloon and Dan Read's Cowboy Saloon. At the Cowboy Saloon, he met and became friends with Pat Garrett, the law officer who tracked and killed Billy-the Kid. Frank's seven children went to school with several of Garrett's children.
There were numerous reunions of the Rough Riders, the first taking place at Prescott, Arizona. There is a statue of Bucky O'Neill in the city park with a plaque listing all the Rough Riders. Frank's name is not on this plaque, however, his brother's name is on the plaque. It was probably thought Frank and Jose Brito were the same person. Both brothers' names are listed on all the original regiment records so there is an opportunity for the City of Prescott to correct this oversight. The later reunions were held at Las Vegas, New Mexico. The Rough Rider Museum was established in Las Vegas to commemorate this patriotic group. Las Vegas is not far from Santa Fé and this museum is worth visiting as it houses many artifacts dealing with this period.
Frank retired and spent his later life enjoying his family, friends, televised baseball, and stray cats. He enjoyed talking about his Spanish American War year and was interviewed many times by magazines, newspapers and historians. He was appointed as a Colonel and Aide-de-Camp to New Mexico Governor David F. Cargo on July 8, 1968 for his longevity as the sole remaining New Mexico Rough Rider and for many years of public service.
Frank C. Brito died on April 22, 1973, the penultimate Rough Rider to endure. He was 96 years old.


The last two Rough Riders - Frank Brito, left and Jesse Langdon, Right. Jesse Langdon would outlive Brito by just over two years.
---
Please note: The photos on this webpage are copyrighted (as is the article) and can be used only with the permission of the author (and as fair warning, the photos have been embedded with tracking data).
---
Bibliography:
Brito Family – Information from Santiago and Frank Brito.
Jones, Virgil Carrington, Roosevelt's Rough Riders. (New York: Doubleday, 1971) 57-58, 287.
Walker, Dale L., "The Last Rough Riders," Rough Writings: Perspectives on Buckey O'Neill, Pauline O'Neill and Roosevelt's Rough Riders. (Prescott, AZ: Sharlot Hall Museum Press, 1998) 13
Walker, Dale L., "The Next to the Last Man: Rough Rider Frank Brito," Nova (a publication of the University of Texas at El Paso). February - April 1971 edition, vol.6, no.2.
---

Support this Site by Visiting the Website Store! (help us defray costs!)

---

We are providing the following service for our readers. If you are interested in books, videos, CD's etc. related to the Spanish American War, simply type in "Spanish American War" (or whatever you are interested in) as the keyword and click on "go" to get a list of titles available through Amazon.com.
---
Visit Main Page for copyright data