---
The Filipino Scouts
Living History and Re-enactment Group
---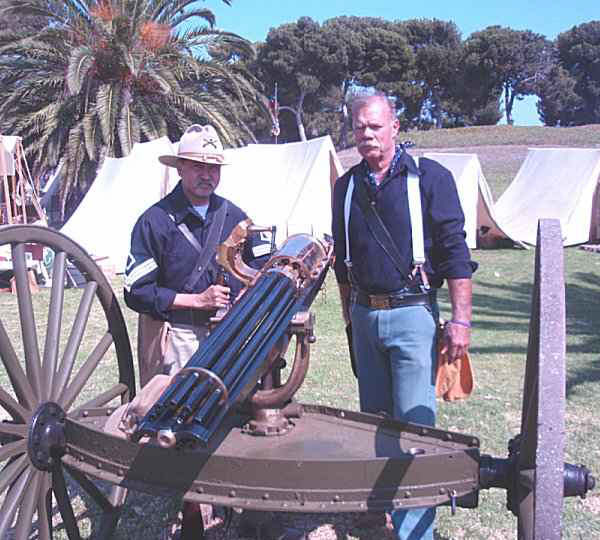 ---
---
General:
The Filipino Scouts recreates the lives of the Macabebe Natives who served with the American forces during the Philippine American War.
Unit History:
The Filipino Scouts were combat units were formed on September 27, 1899 during the Philippine American War. Orders to form the unit were issued by Maj. Gen. Henry Lawton, with the formation occurring under Lt. Matthew A. Batson of the 4th U.S. Cavalry who had suggested the organization. Made up of Filipinos from the town of Macabebe in the Pampanga Province, they were initially called the "Macabebe Scouts". Initially four companies of one hundred men were organized. In May 1900, the units were reorganized into 120 man companies, and included Tatalogs and Ilocanos. After 1901, the organizations raised no longer served as scouts but as full combat units.
The Living History Unit:
Part of the Tacoma, Washington Chapter of the Philippine Scouts Heritage Society, this group recreates the early blue-shirted Filipino Scouts of the 1899 period. The members are of Filipino descent, though there are roles available for parties of non-Filipino descent, such as officers and senior non-commissioned officers.
The organization also accepts females, who will wear the traditional dress as "Balintawak" and Saya with Sarong.
The groupís first event was at Ft. Lewis in May, 2008 (Armed Forces Day).
For more information on the organization, contact:
Filipino Scouts, 1899
c/oArturo Garcia
5915 99th Street SW-14A
Lakewood, WA 98499
Email by clicking here
---

Support this Site by Visiting the Website Store! (help us defray costs!)

---

We are providing the following service for our readers. If you are interested in books, videos, CD's etc. related to the Spanish American War, simply type in "Spanish American War" (or whatever you are interested in) as the keyword and click on "go" to get a list of titles available through Amazon.com.
---
Visit Main Page for copyright data