---
Spanish Gunboat Marques del Duero
By Jose Poncet
---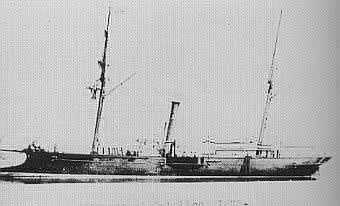 Image of the FERNANDO EL CATOLICO, sistership of MARQUES DEL DUERO
---
Please Visit our Home Page to learn more about the Spanish American War
To read Admiral Montojo's report of the Battle of Cavite/Manila Bay, click here

---
GENERAL:
The MARQUES DEL DUERO was one of the gunboats in Admiral Montojo's Philippine squadron. She was destroyed at the Battle of Cavite/Manila Bay on May 1, 1898.
BACKGROUND:
In 1874 the Spanish Minister of the Navy decided to carry out a plan of naval construction intended to meet the requirements for fighting at sea in areas such as the Gulf of Biscay and Mediterranean Sea, against the "Carlists," since it was impossible to predict the end of the Third Carlist War.
The Minister's plan included to laying the keels four screw propulsion "avisos", (peculiar Spanish classification that could be considered as 1st class gunboats), intended for repressing contraband and blockading the Carlists seaports. In addition, these boats were to serve as links between the naval forces serving in the Gulf of Biscay, hence their being termed "aviso," meaning "warning" in English.
Included in the iron-hull avisos would be the future MARQUES DEL DUERO and FERNANDO EL CATOLICO, which, after the end of the 3rd Carlist War in 1876, would be sent to Philippines and Cuba, respectively.
During her maiden voyage from Marseilles, (July 27, 1875), this vessel was sent to San Sebastian Bay, (North of Spain, Basque Country), in order to reinforce the Spanish Fleet in the Bay of Biscay during the Third Civil Carlist War. The 3rd Carlist War ended on February 27th 1876 and on April 5th, 1876 the naval forces operating in the Gulf of Biscay began to be dissolved.
On July 29, 1876, the MARQUÉS DEL DUERO weighed anchor for the Philippines, to be integrated in the South Division of the Spanish Asiatic Fleet at the naval station in Zamboanga. On July 24, 1880, the vessel went to Saigon and Singapore in a formal visit to the kings of Siam and Annam, though the reason for this visit is today a topic of conjecture.
This "aviso" carried out her first action against the "Moros" of Borneo (considered to be pirates by the Spanish) on September 27, 1895 at the same time that she was being re-classified as 3rd class gunboat. She captured several pirate launches. Later, a landing party from the MARQUES DEL DUERO attacked a group of pirates killing 18 men and capturing 30 prisoners among the pirates and Tagalogs.
The MARQUÉS DEL DUERO, when the Battle of Manila Bay occurred, was the oldest member of Montojo's squadron. As a consequence of the American shellfire this boat was destroyed. She was found to have been hit about five times, including by one 8" shell and one 6" shell. Her bow gun and one of her side guns were crippled as was one of her engines. She was scuttled and later burned by a landing party from the USS PETREL in the closing moments of the Battle of Cavite/Manila Bay. The vessel was salvaged by the U. S. Navy and renamed as "P-17". She was scrapped in 1900.

ADVANTAGES/DISADVANTAGES:
The Gunboat MARQUES DEL DUERO was simply outdated. She was small, lightly armed and unarmored. She was not fit for action in a fleet battle.
---
TECHNOTES:
| Classification | | First Class gunboat |
| --- | --- | --- |
| Keel Laid | | January 20, 1875 |
| Launched: | | May 3,1875 |
| Hull | | Iron |
| Armament: | | One 160 mm muzzleloading bow gun |
| | | Two 120 mm Hontoria muzzle-loading guns at the sides |
| Contractor: | | Forges et Chantiers de la Mediterranée, (La Seyne, Tolon, France). |
| Length: | | 48 m |
| Beam: | | 7.8m |
| Draft: | | ? |
| Displacement | | 550 tons |
| Complement: | | 96 men |
| Engine Type: | | Engines generated 850hp. |
| Boiler Type: | | ? |
| Speed: | | 10-13 knots |
| Coal bunker capacity: | | ? |
| Normal coal supply: | | ? |
| Armor: | | Unarmored |
| Cost: | | ? |
---

Rear Admiral F. Fernando de Bordeje y Morencos. Crónica de la Marina Española en el Siglo XIX, 1868 - 1898. Tomo II. Ministerio de Defensa. Madrid. 1995.
Ellicott, Lt. John M., "Effect of Gun-Fire, battle of Manila Bay, May 1, 1898" Proceedings of the U.S. Naval Institute, 1899, p. 331.
Agustín Ramón Rodríguez González. Política Naval de la Restauración, (1875 – 1898). Editorial San Martín. Madrid. 1988.
---

Support this Site by Visiting the Website Store! (help us defray costs!)

---

We are providing the following service for our readers. If you are interested in books, videos, CD's etc. related to the Spanish American War, simply type in "Spanish American War" (or whatever you are interested in) as the keyword and click on "go" to get a list of titles available through Amazon.com.
---
Visit Main Page for copyright data