---
Private Willard A. McSherry
(1877-1899)
4th Pennsylvania Volunteer Infantry
By Patrick McSherry
---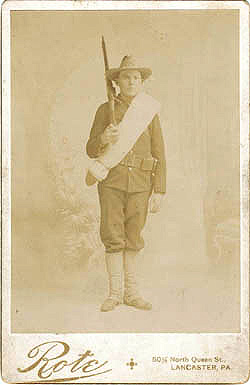 ---
Please Visit our Home Page to learn more about the Spanish American War
---
Click here for a History of the Fourth Pennsylvania Volunteer Infantry
Click here to view the flag of the Fourth Pennsylvania Volunteer Infantry
---
General:
Willard McSherry's role in the Spanish American War was minor. He was merely one of the 300,000 men involved. He didn't go up San Juan Hill, he didn't fight at Manila Bay, and he didn't storm El Caney. He served only a minor role, yet saw more action than the majority of the men in the service. This is his story.
The Biography:
Willard McSherry, the son of Napoleon Bonaparte McSherry and his wife Philena. "Pole" (Napoleon was known as "Pole" by is family) and Philena had been married at Delta, York County, Pennsylvania, on February 18, 1875. While they lived in Airville, York County, Willard was born, in 1877.
Sometime after "Pole" passed away, Philena moved across the Susquehanna River to the city of Lancaster, in Lancaster County, Pennsylvania, taking Willard with her. Willard eventually began working as a fruiter, and helped to support his mother.
By 1898, when Willard, a fruitman by occupation, was twenty-one years of age, the tension between the United States and Spain had increased to the breaking point. War broke out, and volunteers were needed to fight the Spaniards and drive them from the Western Hemisphere. The Pennsylvania National Guard was quickly mustered. Soon, it was learned that not all of the state's National Guard units be accepted, but only a limited number of regiments. The state responded by expanding the number of men who could serve in one regiment, adding four companies of men to many of the regiments. Willard joined one of the new companies, Lancaster's Company L of the Fourth Pennsylvania Volunteer Infantry, after President McKinley made his second call for volunteers to serve with army. Willard signed up with the unit on June 30, 1898. At this time he was a healthy five feet, four and three-quarters inches tall, with blue eyes, auburn hair an a fair complexion.
After joining the unit, Willard was soon off to Camp Thomas, on the former Civil War battlefield of Chickamauga, Georgia, for training. The days were long, beginning with Reveille at 5:00 A.M., and ending with Taps at 9:15 P.M.. The camp was crowded, being one of the major training camps for the U.S. Army's growing legion of volunteer regiments. He would have been involved in the Fourth's war games and witnesses the evening musical programs held in the Fourth Pennsylvania's camp. he training got a bit too intense at times, with one war game being called off to protect the men involved
July 4, 1898 brought fireworks of an unexpected type. The 4th Pennsylvania was ordered to report Charleston, SC for embarkation to points unknown. Later that month, Willard packed up his belongings and fifty rounds of ammunition for his outdated .45-70 "Trapdoor" rifle and arrived in Charleston with the regiment on July 25. Two days later, the regiment boarded the transports SENECA and CITY OF WASHINGTON, bound for Puerto Rico. Willard's Company L was aboard the SENECA Transport life was far from pleasing. The vessel had already made several trips as a transport and was showing the effects. Conditions were poor.
As the transports arrived in Puerto Rico's Ponce harbor, Willard and the other members of the regiment saw the guns of the auxiliary cruiser ST. LOUIS, the cruiser CINCINNATI and the former yacht GLOUCESTER blazing away at the hills behind the town.
Initially, the Fourth Pennsylvania regiment was encamped at near Arroyo, with the unit serving picket duty on the Patillo and Guayama roads. The unit was able to pack up their outdated "Trapdoor" rifles in favor of the new Krag-Jorgensen .30 cal. Rifles. Sitting out the capturing of the town of Guayama, the 4th Pennsylvania prepared to attack Spanish troops who were dug in just north of Guayama, on August 13. In a scene out of a Hollywood movie, as the action began, word arrived that an armistice had been negotiated. The action quickly ground to a stop and Willard soon found his regiment encamped on the Ponce Road.
With the armistice in place, and the fever season approaching, efforts were may to get the troops back to their homes. On August 28, the 4th Regiment embarked for home on the CITY OF CHESTER, arriving in New York on September 6, 1898.
Arriving back home, the unit was given a sixty day furlough, during which time Willard was able to return to Lancaster and the family home at 412 Chester Street. While he was home, his brother, Edward F. McSherry, who had contracted typhoid fever while serving as a civilian chaplain at Camp Alger, passed away on September 24 at the McSherry home in Lancaster. In October, Willard may have rejoined his comrades to take part in the Peace Jubilee in Philadelphia, but most likely he was unable to do so. On October 17th had been placed on furlough because of illness, since, while in Puerto Rico, he had apparently had contracted typhoid fever. Officially mustered out of the U.S. service with his unit on November 16, Willard could settle back into the quiet life in Lancaster. His health seemed to improve, but in early May, 1899 the fever began a renewed attack on Willard, and after struggling for five weeks, he passed away on June 6, 1899 at Lancaster's St. Joseph's Hospital. He was only twenty-two years of age. His funeral was held in the family home, with interment following at Lancaster's Greenwood Cemetery.
When Willard's mother, Philena, requested a dependent's pension from the U.S. government, it was at first denied, with the government claiming that Willard's death was not related to his service. Later, the government agreed that the illness was service-related and Philena was granted a dependent's pension
Willard did not climb San Juan Hill or storm El Caney, still, he gave his life in the service of his country. In the next war, World War One, the war to end all wars, Willard's younger brother, James, would die in France. One family. Three brothers. All died in the service of their country. Two other brothers survived them
Willard is also the cousin of the editor of this website.


Willard McSherry's grave at Lancaster's Greenwood Cemetery
---
Bibliography:
(As a service to our readers, clicking on title in red will take you to that book on Amazon.com)
Lancaster County Historical Society, Records Group MG 24.
Pension Records for Willard McSherry from the National Archives.
Sauers, Richard A., Pennsylvania in the Spanish-American War. (Harrisburg: Pennsylvania Capitol Preservation Committee, 1998) 16, 17, 60, 61, 91.
Stewart, Adj. Gen. Thomas J., Record of the Pennsylvania Vounteers. (Harrisburg: William Stanley Ray, 1901).
---

Support this Site by Visiting the Website Store! (help us defray costs!)

---

We are providing the following service for our readers. If you are interested in books, videos, CD's etc. related to the Spanish American War, simply type in "Spanish American War" (or whatever you are interested in) as the keyword and click on "go" to get a list of titles available through Amazon.com.
---
Visit Main Page for copyright data