---
John Philip Sousa
(1854-1932)
By Jack L. McSherry, Jr.
---
Please Visit our Home Page to learn more about the Spanish American War
---
Click here to read more about Music and the Spanish American War
---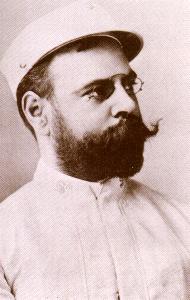 John Philip Sousa

---
General:
John Philip Sousa was the premiere band leader of the Spanish American War era. His patriotic songs were hits during the war.
The Biography:
Any person who has ever played an instrument in a high school band or a community band knows that John Philip Sousa was the greatest composer of marches who ever lived. This great man very deservedly is entitled to be referred to as the March King.
John Philip Sousa was born in Washington, D. C. on November 6, 1854, the third of ten children of John Antonio Sousa and Maria Elisabeth (Trinkaus) Sousa. His father was born in Spain of Portuguese parents. His mother was born in Bavaria, Germany. John Antonio Sousa came to the United States as a young man, and, while serving as a musician in the United States Navy, met Maria in Brooklyn, New York, and married her in the late 1840's. Antonio enlisted in the United States Marine Band as a trombonist in 1854, and the family moved to Washington, D. C.
John Philip Sousa had five sisters, Catherine Margaret, Josephine, Rosina, Annie Frances, and Mary Elisabeth, and four brothers, Ferdinand M., George Williams, Antonio Augustus, and Louis Marion.
When John Philip was about seven or eight years old, he began taking music lessons on the violin from John Esputa, Jr. He progressed in his music studies very rapidly. He learned to play the violin, piano, flute, baritone, alto horn, cornet, and trombone. It is believed that his passion for marches was developed because of his association with, and attendance at, Marine Band Rehearsals in the company of his father. To further bring this interest about, at an early age he was exposed to the many military bands of the Civil War.
Sousa attended grammar school and continued to play his primary instrument, the violin. At the age of thirteen, in June 1868, with some assistance by his father, he enlisted in the United States Marine Corps Band as an apprentice. While serving with the marines, he was also schooled in the basics of reading, writing, and mathematics. His music training continued and included lessons on the clarinet, fife, drum and trombone. His days were busy playing with the Marine Band, and in his schooling, but his evenings were his own. He took every opportunity to perform with civilian musical groups. Although he dabbled in composing music in his younger years, he finally began having his music published at the age of eighteen.
At the age of twenty, he began playing the violin professionally. He played in the orchestra at Ford's Theatre and at the Washington Theatre. His first conducting experience was in vaudeville at the Washington Theatre. In 1875, Sousa was discharged from the Marine Corps, upon which he began privately teaching music, and at the same time, continued playing in Ford's Theatre.
In 1875, Sousa began traveling and taking jobs with various orchestras. He went to Chicago, New York and Philadelphia. In Philadelphia he became a violinist in the Chestnut Street Theatre, and at the same time continued to teach privately. Still composing music, he also conducted vaudeville in places such as Cape May, New Jersey. During this time, he also made arrangements for music publishers.
In 1879, Sousa married Jane van Middlesworth Bellis. The Sousas had three children - John Philip, Jr., in 1881, Jane Priscilla, 1882, and Helen, 1887. After spending years performing, conducting, arranging and composing, John Philip was selected to be the leader of the United States Marine Band. He accepted this position, and in September 1880, enlisted in the Marine Corps. The Sousas then moved to Washington, D.C. As the new leader of the Marine Band, Sousa immediately reviewed the library of music for the band and eliminated many scores of music, and added better compositions to their repertoire, including some new music that he had written for the band. He also encouraged mediocre musicians to leave the band, and at the same time acquired new, competent members for the band. As a result, the band was better than it had ever been, and began to attract the attention of greater numbers of people, and of other musicians.
Sousa was the leader of the United States Marine Corps Band from 1880 to 1892. During that time period, the reputation of the band was vastly improved. Instead of playing at mediocre locations, the band began to attract discriminating audiences. The band was in great demand. While leader of the Marine Corps Band, Sousa served under five presidents, Hayes, Garfield, Arthur, Cleveland, and Harrison. While leader of the Marine Band, Sousa continued to compose marches, operettas, humoresques, and other music.
Presumably, being an enlisted man in the marines, and having less salary then he should have had, plus the annoyance of not being a commissioned officer as he felt that he should have been, in July, 1892, Sousa resigned from the Marine Corps, and as leader of the Marine Band. He immediately made plans to organize his own band, and proceeded to acquire the best musicians of the world to play in his band. The band was a complete success, traveling all over the United States, and several tours to Europe. Sousa knew his audiences and played the music that he knew they would like to hear. He was also constantly composing new music. The band was the greatest musical phenomenon of the time. The band led a very active life throughout the many ensuing years.
In 1898, Sousa was preparing to take his band on a tour of Europe, but upon the beginning of the hostilities of the Spanish American War, he cancelled these plans. With the war in mind, Sousa composed a patriotic pageant entitled "The Trooping of the Colors". He toured many cities in the United States with this pageant resulting in great public support and patriotism. At the time of the war, Sousa tried to enlist in the Marine Corps, but apparently there were no suitable positions for his talents. He also volunteered to serve as the bandmaster of the Sixth Army Corps, however, in June of 1898, he became ill with nervous exhaustion and was unable to serve. Later that year, he became even more seriously ill with typhoid fever and pneumonia. He recovered after about three months, and continued his travel and concerts. On November 30, 1899, the Sousa Band, with John Philip Sousa at its head, marched in the victory parade for Admiral Dewey in New York City.
Between the Spanish American War and World War I, the Sousa Band continued touring the United States and Europe with an active schedule of concerts. Sousa also continued to compose marches and other music. The band was in demand everywhere, and commanded considerable prestige.
During World War I, Sousa was requested to enter into a special enlistment in the United States Navy to train young bandsmen at the Great Lakes Naval Training Center. On May 31, 1917, he enlisted in the Navy Reserve, and received the rank of lieutenant. In a special agreement with the navy, he was free to tour with the Sousa Band each summer during his enlistment. He organized his new Navy Band. Because of his name and fame, new recruits rushed to enlist so that they could play in the Navy Band under Sousa. He ended up with so many musicians that he formed several bands and assigned them to various ships and naval stations. He maintained a large band with which he toured the east and the Midwest of the United States. The band played concerts, and marched in parades to promote the sale of Liberty Loan Bonds, the Red Cross, Navy Relief, and Recruiting for the armed forces. Sousa maintained good discipline, not by stern measures, but simply because his men respected him to the extent that they wanted to please him.
After the end of the war, in January of 1919, Sousa was discharged from active duty. Shortly thereafter, while in inactive service, he was promoted to Lieutenant Commander. He was forever after very proud of his commission in the United States Navy, and wore his Lieutenant Commander's uniform while directing his band many times over the years during the 1920's. He was even buried in that uniform.
He became an American institution as a bandsman, composer, and one of the most patriotic personalities in America. All through the 1920's, and into the 1930's, he continued playing concerts, and writing music. Sousa was invited to Reading, Pennsylvania to direct the Ringgold Band of Reading in a concert to be played on March 6, 1932, commemorating the band's eightieth anniversary as a band. On the evening of March 5th, he conducted the band at their rehearsal, then he attended a banquet following the rehearsal. This was his last time directing a band, and the rehearsal concluded with Sousa's greatest march, "Stars and Stripes Forever." After the banquet, he returned to his hotel room in Reading where, at 1:30 in the morning, on Sunday, March 6, 1932, he died of a heart attack at the age of seventy-seven.
Sousa was a great composer, a great musician, a very patriotic American, a highly talented band director, and was reverently and admiringly respected by his musicians, friends, and the public at large. Fortunately he left a great legacy of music for the American people, including "Stars and Stripes Forever," "Washington Post," "Semper Fidelis," "Liberty Bell," and the remainder of his 135 published marches.
---
Bibliography:
(For the convenience of of our readers, clicking on books marked in red will take you to that book on Amazon.com)
Bierley, Paul E., John Philip Sousa : American Phenomenon. (Miami, FL, Warner Bros. Publications, 2001.)
Morse, Joseph L, Editor in Chief, Funk & Wagnalls Standard Reference Encyclopedia . (New York, Standard Reference Works Publishing Company, Inc. 1961).
Howard, John Tasker, Our American Music. (New York, Thomas Y. Crowell Company Publishers, 1931.)
---

Support this Site by Visiting the Website Store! (help us defray costs!)

---

We are providing the following service for our readers. If you are interested in books, videos, CD's etc. related to the Spanish American War, simply type in "Spanish American War" (or whatever you are interested in) as the keyword and click on "go" to get a list of titles available through Amazon.com.
---
Visit Main Page for copyright data