---
A Biography of William "Brave Bill" Anthony
U.S. Marine Corps, Battleship Maine
(October 27, 1853 – 1899)
By Patrick McSherry
---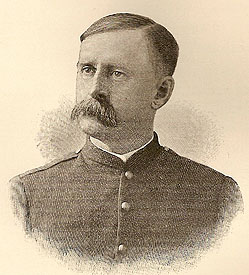 Private (later Sgt. Maj.) William Anthony
---
Please Visit our Home Page to learn more about the Spanish American War
---
General:
Marine Private William Anthony gained famed for his actions aboard the Battleship MAINE the night it was sunk in Havana Harbor, on February 15, 1898.
Background:
William Anthony was born in Albany, New York on October 27, 1853. His family eventually moved to New Jersey. According to some stories, Anthony, who was struggling at school, simply disappeared from the family home to enlist in the U.S. Army at the age of 17. Other sources indicate that he enlisted in the army in 1875.
Anthony served at least term terms of enlistment in the army, serving in the American west in units such as the 7th U.S. Cavalry. Eventually Anthony found himself at the U.S. Military Academy at West Point serving as a drum major. His broad-shouldered six foot – two inch frame made him an imposing figure.
Anthony was reported to be an excellent soldier, generally with good discipline. However, he had one tragic flaw – a penchant for alcohol. Other soldiers reported that he did not drink often or at least not to excess. However, when he did, he chose the wrong times, being caught and busted in rank. Many thought that if it were not for this flaw, William Anthony would have eventually received a commission.
After serving between eight and fourteen years in the army (depending on the source), Anthony joined the U.S. Marine Corps at Brooklyn, New York on July 1, 1885. He served for two years as a clerk in the Brooklyn recruiting office. Anthony's good judgement concerning the capabilities of the recruits. Anthony had a belief that the members of the Marines should be U.S. citizens. When it was discovered that he turned away eligible recruits because they were not citizens, he lost the position and was busted in rank. Anthony also served at sea, serving aboard the cruiser U.S.S. BROOKLYN, a vessel destined for fame in the naval Battle of Santiago.
Anthony sent a portion of each pay home to his mother, now a widow. After not seeing her son for several years, Anthony's mother traveled to Brooklyn to see her son. She found him on guard duty. Anthony forestalled her immediate tendency by stating "Don't kiss me now. I'm, on guard duty."
On May 12, 1897 Anthony, still a private, reported for service aboard the Battleship MAINE. Anthony's actions on the night that the ship exploded in Havana, Cuba on February 15, 1898, were notable in that he remained at his post and continued his duty within the sinking vessel by reporting to the ship's commander and reporting what had occurred, rather than simply abandoned the vessel. His actions were recorded by the MAINE's commanding officer, Capt. Charles Sigsbee, as follows:
"...[following the explosion] I groped my way through the cabin into the passage, and along the passage to the outer door. The passage turned to the right, or starboard, near the forward part of the superstructure.
At the turning, some one ran into me violently. I asked who it was. It was Private William Anthony, the orderly at the cabin door. He said something apologetic, and reported that the ship had been blown up and was sinking. He was directed to go out on the quarter-deck, and I followed him. Anthony has been pictured as making an exceedingly formal salute on that occasion. The dramatic effect of a salute cannot add to his heroism. If he made a salute it could not have been seen in the darkness of that compartment. Anthiny did his whole duty, at great personal risk, at a time hen he might have evaded the danger without question, and deserved all the commendation that he received for his act. He hung near me with unflagging zeal and watchfulness that night until the ship was abandoned."

Following the MAINE's loss, Sigsbee kept only a few crewmen with him in Havana, shipping the majority out as soon as possible. One of those chosen to stay behind was Private Anthony. Anthony's actions aboard the MAINE were reported to the Navy Department by Capt. Sigsbee, and the Secretary of the Navy, John Longm responded by sending Anthony a letter stating that "Your conduct was a credit to the naval service and entitles you to the hearty thanks and approval of the department." For his actions on the night of the sinking, Anthony was promoted to sergeant. During the war, Anthony served aboard the U.S.S. DETROIT from March 5, 1898 until being transferred to the U.S. Marine Barracks at his former station of Brooklyn, New York.
Following the massive amount of publicity that Anthony received after the loss of the MAINE, Anthony received a complimentary letter from Adella Maude Blancet, a native of Yates County, New York but living in Philadelphia. Eventually, the two started a strong correspondence, exchanged photos etc. A short courtship began that culminated on October 13, 1898, when the couple was married in Philadelphia.
Anthony departed his service in the U.S. Marine Corps with the rank of sergeant major. Following his departure from the military, he was less successful. He seems to have been unable to find permanent work. He worked in the grape industry around Guyanoga, New York for a time. Meanwhile, he and Adelia had a son. Mrs. Anthony and their son lived with her sister near Guyanoga while William Anthony apparently traveled in search of work.
On November 24, 1899, Anthony was seen at an entrance to New York City's Central Park near two police officers and an ambulance attendant. Suddenly, Anthony pulled out a bottle and drank a substance which was later found to be cocaine in an attempt to commit suicide. He was taken to Presbyterian Hospital, refusing to identify himself, only stating that he was from Albany. He died at the hospital. In his pockets were a medal issued to survivors of the MAINE, a Mauser cartridge, and a photo of his wife. On the back of the photo was written "Bury this with me." Also in his pocket was a letter to Mrs. Edward Kritsh of New York, his wife's aunt. It simply read:

"Dear Aunt Nett: Please do as I request in my note of the p.m. I am discouraged and disconsolate. It is better to end it all. Don't encourage Don [apparently a nickmane for Adelia] to come to this city. She is the best and noblest woman on earth and deserves better than I can give her. In case she should come, love our little boy as you would your own. Your unhappy Will."

Anthony's body was not immediately claimed at the hospital, but two days later was taken to the Stephen Merritt Burial Company by order of Mrs. Kritsch. Anthony's wife was too distraught to come to the city but his mother did come to view the body. Both the Philadelphia Times newspaper and Brooklyn's Tammany Hall offered to defray the costs with the latter offer apparently being accepted.
Sgt. Maj. William Anthony was buried at Evergreen Cemetery on Long Island.
Mrs. Anthony obtained a position as a clerk in the pension office in Washington DC. While there she met New York State Treasurer Hauser, who she eventually married. After the death of Mr. Hauser, Adella and her son returned to Yates County, residing there for the remainder of their lives.
Anthony has been honored by the U.S. Navy by naming two destroyers after him - the World War One era U.S.S. ANTHONY (DD-172) and the World War Two era U.S.S. ANTHONY (DD-515). The DD-515 was christened by William Anthony's grand-daughters, Florence and Alice.

---
Bibliography:
"Anthony's Body Not Yet Claimed," New York Times (New York, NY), November 26, 1899, p. 15.
"Brave Bill Anthony," Hornellsvill Weekly Tribune (Hornellsville, NY), December 1, 1899.
Creamer, John - Data on the spelling of Adella's first name, info., on her return to Yates County, and data on the christening of the DD-515.
"Maine Hero a Suicide," Naugatuck Daily News (Naugatuck, CT), November 25, 1899, p 1.
"Monument to Him," Naugatuck Daily News (Naugatuck, CT), December 14, 1899, p 1.
"Sergeant Major William Anthony, USMC (1853-1899), Naval Historical Center, http://www.history.navy.mil/photos/pers-us/uspers-a/w-anthny.htm
Sigsbee, Capt. Charles D., The Maine - An Account of her Destruction in Havana Harbor. (New York: The Century Co., 1899) 64-65.
"Story of Bill Anthony," Dubuque Daily Herald (Dubuque, IA), December 2, 1899, p. 2.
"To Bury William Anthony," New York Times (New York, NY), November 27, 1899, p. 7.
"Treasurer Huaser's Bride Maine Hero's Widow," Brooklyn Standard Union (Brooklyn, NY), June 14, 1907
---

Support this Site by Visiting the Website Store! (help us defray costs!)

---

We are providing the following service for our readers. If you are interested in books, videos, CD's etc. related to the Spanish American War, simply type in "Spanish American War" (or whatever you are interested in) as the keyword and click on "go" to get a list of titles available through Amazon.com.
---
Visit Main Page for copyright data