---
Spanish Cruiser Castilla
By Francisco José Díaz Díaz
---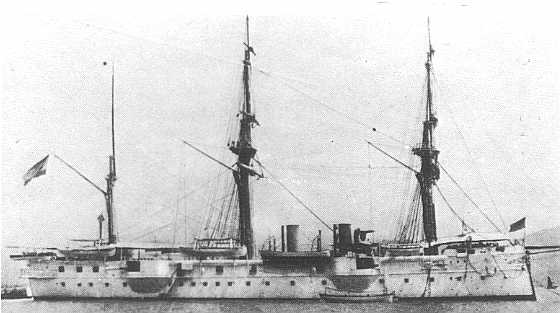 ---
Please Visit our Home Page to learn more about the Spanish American War
---
To read Admiral Montojo's report of the Battle of Cavite/Manila Bay, click here
To see one one of the CASTILLA's 150mm guns, click here
---
Additional views of the Castilla:
Castilla at dock ||| Wreck of the Castilla
---
General:
The cruiser CASTILLA was a wooden cruiser, named for a region in Spain, was built for service in the colonies by the provisional Spanish Government after the Revolution of 1868. She was sent to Philippine Islands in 1890, to support the Spanish Army during the First Tagalog Revolt against Spanish Rule. She was lost in the Spanish American War at the Battle of Cavite/Manila Bay.
Background:
In 1869, the provisional Government ordered three armored corvettes with wooden hulls to be built for colonial service. The construction of the CASTILLA and her sisters NAVARRA and ARAGON started in 1869. However, their construction wase delayed by political events until 1876. Navy Minister, Admiral Antequera, finally ordered their transformation to unarmored cruisers in 1877.
The cruiser CASTILLA was built in Naval Shipyards of La Carraca (Cadiz, Spain). As her wooden hull was impossible to transform into a iron hull, only her machines was updated to a more powerful system. As a result, she was already obsolete when she was completed in 1881.
The cruiser CASTILLA was commissioned in 1882 and served in the "Escuadra de Instrucción" (This squadron was used as Home Fleet) until 1890. During this era, she was sent to several Mediterranean ports in courtesy visits.
On April, 1890 the Cruisers CASTILLA, ULLOA and JUAN DE AUSTRIA were sent to Philippine Islands to reinforce the Asiatic Squadron.
During the first Tagalog Revolt, she was action in anti-smuggling and contraband patrols along the Philippine coasts and as a support vessel for the Spanish Army at Cavite Province on the island of Luzon.
When the Spanish American War broke out, the CASTILLA and the other ships of Spanish Squadron were sent to Subic Bay. Because her machinery and boilers were almost unusable and her speed was low, this ship was towed by the cruiser REINA CRISTINA when the squadron went back from Subic to Cavite.
On May 1, at 4:00 AM, Admiral Montojo signaled his forces to prepare for action and, at 5:20 AM, all Spanish ships opened fire against American Squadron as the battle of Cavite/Manila Bay began. At 6:30 AM, one gun of her 150 mm guns and one of her gun of 120 mm were disabled by American shells that also killed or wounded several men. At 7:15 AM the ensuing fires began to destroy the ship's deck and, at 8:30 AM, the ship was ordered to be abandoned.
During the action the Cruiser CASTILLA's crew lost 25 men killed and 80 wounded.
Her Captain was D. Alonso Morgado.

Advantages/Disadvantages:
The Cruiser CASTILLA with her wooden hull and poor machinery was obsolete and in no condition to take part in a modern naval battle. Her screw had been put out of action by the use of concrete around her shaft, in an effort to stop a serious leak.
---
TECHNOTES:
| Classification | | Unprotected Cruiser, first class |
| --- | --- | --- |
| Launched: | | 1879 |
| Completed | | 1881 |
| Commissioned | | 1882 |
| Hull | | Wood |
| Rig: | | 3 masts (two fully, one schooner-rigged) |
| Armament: | | Four 150 mm guns |
| | | Two 120 mm (4.7") guns |
| | | Six 57 mm rapid-fire guns |
| | | Three 350 mm torpedo tubes |
| Contractor: | | La Carraca Navy's shipyard (Cadiz, Spain) |
| Length: | | 74.45 m |
| Beam: | | 13.56 m |
| Draft: | | 6.35 m |
| Displacement | | 3,342 tons (as armored Corvette 3,650 tons) |
| Complement: | | 360 men under the command of Capt. D. Alonso Morgado |
| Engine Type: | | Engines generating 4,400 hp. |
| Boiler Type: | | ? |
| Speed: | | 15 knots |
| Coal bunker capacity: | | 460 |
| Normal coal supply: | | ? |
| Armor: | | Unarmored |
| Cost: | | ? |
---
Lledó Calabuig, José Buques de Vapor de la Armada Española 1834-1885. (Steam ships of Spanish Navy from 1834 to 1885) (Madrid, 1998, published by Agualarga Editores S.L.)
Vila Miranda, Carlos (Admiral, Spanish Navy) España y la Armada en las Guerras de Cuba. (Spain and the Navy in Cuban Wars) published by Fundación Alvargonzález, Gijón, Spain 1998.
Pery, José Cervera, La Guerra Naval del 98 (Naval War in 1898). (Madrid: Editorial San Martín, 1998)

---

Support this Site by Visiting the Website Store! (help us defray costs!)

---

We are providing the following service for our readers. If you are interested in books, videos, CD's etc. related to the Spanish American War, simply type in "Spanish American War" (or whatever you are interested in) as the keyword and click on "go" to get a list of titles available through Amazon.com.
---
Visit Main Page for copyright data