---
Model 1860 Naval Cutlass
By Patrick McSherry

---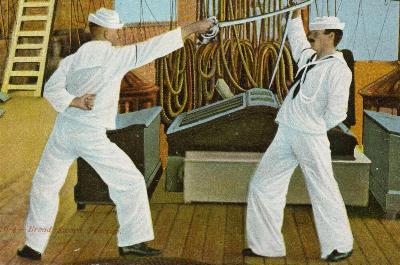 ---
Please Visit our Home Page to learn more about the Spanish American War
---
GENERAL:
The naval cutlass, though antiquated for purposes of naval warfare in the era of the steel vessels of the new American Navy, was still officially in use. The crews of the Spanish American War period were drilled in cutlass exercises, known as "single stick" drill.
BACKGROUND:
The 1860 naval cutlass was apparently adopted by the U.S. Navy in approximately 1860. The new U.S. Navy cutlass was based on the cutlass then in use with the French navy. The word "cutlass" is derived from the term "curtal axe", an ancient heavy, but short weapon. The cutlass has the same characteristics. The cutlass was used in ship-to-shop melee, in boarding parties and to repel boarders.

At top is the naval cutlass, just above the leather scabbard. At bottom is a wooden practice cutlass, or "single stick"
(photo from the Doug Howser Collection)
ADVANTAGES/DISADVANTAGES:
The cutlass was an excellent weapon for it intended use of fighting in onfined areas. However, by the time of the Spanish American War, the combatants seldom, if ever, met face to face. The weapon was outdated.
---
TECHNOTES:
| Overall length: | | 32 inches |
| --- | --- | --- |
| Blade length: | | 26 inches |
| Blade width: | | 1-1/8" at hilt |
| Blade type: | | Single-edged, with a rudimentary double edge within 5 |
| | | inches of point. A broad fuller (groove) runs from the |
| | | hilt to within 7 inches of the point. The blade is curved. |
| Guard: | | Broad "half basket" guard of sheet brass, generally unornamented. |
| Grip: | | Wood, covered with leather, wound with twisted brass wire. |
| Manufacturer: | | Most commonly Ames Manufacturing Co., Chicopee, MA. |
Farrow, Edward S., A Dictionary of Military Terms. (New York: Thomas Y. Crowell Co., 1918).
Howser, Doug (photo of cutlass, scabbard and single stick).
Peterson, Harold L., The American Sword. (Philadelphia: Ray Riling Arms Books Co., 1965).
---

Support this Site by Visiting the Website Store! (help us defray costs!)

---

We are providing the following service for our readers. If you are interested in books, videos, CD's etc. related to the Spanish American War, simply type in "Spanish American War" (or whatever you are interested in) as the keyword and click on "go" to get a list of titles available through Amazon.com.
---
Visit Main Page for copyright data