---
Richard Harding Davis
Contributed by Ray Cresswell
---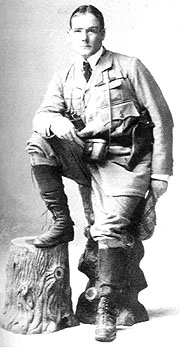 Richard Harding Davis at the time of the Spanish American War in his field gear.
---
Please Visit our Home Page to learn more about the Spanish American War
---
To read Richard Harding Davis' account of his capture of Coamo, Puerto Rico, click here!
To read Richard Harding Davis' account of a visit to San Juan Hill twelve years after the battle, click here!
To read Richard Harding Davis' account of the Rough Riders' Dynamite Gun Detachment, click here!
To read Richard Harding Davis' comments on the uniforms (condition and type) of the American troops, click here!
For information on the journalism of the Spanish American War, click here
---
General:
Richard Harding Davis was the most well-known war corrspondent of the Spanish American War era.
Biography:
Richard Harding Davis was a man of his time: a reporter, a journalist, a playwright, and an internationally renowned celebrity. He was the Gibson Guy - his handsome, clean-shaven features were the model for the young gentlemen escorting Charles Dana Gibson's "Gibson Girls" and started the fad that eventually eliminated facial hair from millions of American male faces. A world traveler and one of the highest paid literary figures of his era, he was the idol of millions. Yet he said after surviving the skirmish at Las Guasimas, having rescued wounded troopers and led a firefight against the Spanish while suffering yet another bout of sciatica, "…we are all dirty and hungry and sleep on the ground and have grand talks on every subject around the headquarters tent. I was never so happy and content and never so well." Richard Harding Davis identified with whatever subject he encountered, related to almost every person he met, and immersed himself in whatever situation he experienced. His brother Charles noted that into his fifty-two years, "he had crowded the work, the pleasures, the kind, chivalrous deeds of many men…"
Davis was born April 18,1864 in Philadelphia, to Lemuel Clarke Davis, editorial writer on The Philadelphia Inquirer, and novelist Rebecca Harding Davis. Rebecca Harding had achieved considerable celebrity prior to her marriage with her startlingly realistic Life in the Iron Mills, and other stories that transcended the usual status and norms of women writers of her era. With such literary parentage, it is little wonder that Davis determined to become a writer himself at an early age.
Many Gilded Age literary and theatrical greats frequented the Davis household. Davis found their world fascinating. The Barrymores, Drews, Booths - even Henry Irving – filled his life with a theatrical spirit and sense of drama that pervaded much of his later work. His own life and work would influence other writers, such as Sinclair Lewis, Jack London, Theodore Dreiser, H.L. Mencken, and Ernest Hemingway.
He attended Lehigh University and Johns Hopkins University from 1882 to 1886, where he was active in student organizations, sports, and student publications. Due to his indifferent grades, however, college diplomas proved elusive. But his literary career had already begun with the publication of The Adventures of My Freshman, a collection of short stories.
His father's influence enabled him to begin his newspaper career at the Philadelphia Record in 1886. He then joined the Philadelphia Press in December of that year, where he gained fame by infiltrating a gang of thieves and later covered the 1889 Johnstown Flood. Eventually, he signed with the New York Sun in 1889 – where his journalistic viewpoint was further polished under Arthur Brisbane's editorship.
His career in fiction writing achieved its first major success with the publication of the "Gallegher" stories in 1890. Their main character based on an actual newspaper copy boy in Philadelphia, the stories, later published in hardcover editions, were an instant success with the public. These were accompanied by the equally successful "Van Bibber" stories. A series of adventures and mishaps of a New York bon vivant, the stories gradually evolved the main character into a person embodying traits considered typical of Davis' characters: a strong moral sense of right and wrong, and generosity toward those considered less advantaged by society.
His literary successes enabled him to assume managing editorship of Harper's Weekly in 1890. Five years later, he had joined the New York Journal, a fledging member of the Hearst newspaper empire.
Trips to Latin America (he is credited with bringing back the first avocados from his 1895 trip to Venezuela that resulted in his "Three Gringos in Venezuela and Central America") and travels in Cuba fed his sense of adventure in developing popular stories for the fiction market (Soldiers of Fortune, featuring the adventurous engineer Robert Clay and first published as a serial in 1896) as well as poignant press pieces (such as The Death of Rodriguez) that aroused sympathy for the Cuban cause. Other correspondents might report the tactical and administrative aspects of the coming war. Davis would report it while focusing on the human drama – and the public loved it.
The outbreak of the Spanish American War led to the formation of one of the best journalistic opportunities Davis would ever experience. Lt. Col. Theodore Roosevelt, second in command of the 1st US Volunteer Cavalry, better known as the "Rough Riders", was far more colorful and better copy than his superior, the "cool and reserved" Colonel Leonard Wood. The regiment consisted of New York polo players, Western cowboys, Eastern college sports figures, and noted representatives of some of the best Newport and New York families. Davis wrote, "It is a great thing to bring classes together". Roosevelt, the Rough Riders, and Davis had converged at the right place and time. Roosevelt and his regiment provided the rich material Davis wanted, and Davis became their best publicist. It was an ideal relationship.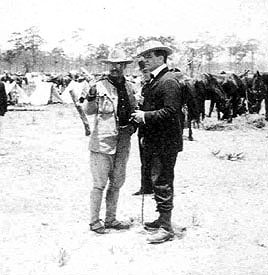 "Rough Rider" Theodore Roosevelt and friend Richard Harding Davis
Davis had originally traveled on patrol on board Rear Admiral Sampson's flagship, the armored cruiser NEW YORK. Other than the shelling of Matanzas, there was little material for a war correspondent in the early days of the war. It was fortunate, indeed, that he was able to join up with Roosevelt's unit at Tampa, and again later at the landings at Daiquiri.
Davis's reputation as an active war correspondent was solidified when, at the Las Guasimas action, he directed the fire of about half a dozen soldiers towards the Spanish, firing some 20 rounds from a borrowed Krag carbine himself. "I knew every other one of them," he wrote home, "had played football, and all that sort of thing, with them, so I thought as an American I ought to help." Exhilarated and emboldened by this action, he had proven his latent military abilities in combat. It was not his first time under fire, having reported from the trenches during the Greco-Turkish War of 1897. But this was the only time he would involve himself as a combatant. Thereafter, he would restrain himself to reporting actions and helping with the wounded. But his involvement was not lost on Roosevelt, who offered him a commission in the unit. Davis demurred, however, and accepted instead one of the three honorary memberships ever given by the Rough Riders.
It was several days later, at the Battle of San Juan Hill on July 1, that Davis created one of the best narratives ever recorded of this action. His first impulse, he related later, was that this was a terrible blunder, a folly, a seemingly scattered, disorganized movement that almost made him want to call out to the soldiers to come back. But gradually the charge of the combined units of the Rough Riders, 9th and 10th Cavalries, and 71st Infantry coalesced into an overwhelming action that succeeded in forcing the Spanish from the Kettle Hill and San Juan Hill trenches.

"[The Americans] had no glittering bayonets, they were not massed in regular array. There were a few men in advance, bunched together, and creeping up a steep, sunny hill, the tops of which roared and flashed with flame. The men held their guns pressed across their breasts and stepped heavily as they climbed. Behind these first few, spreading out like a fan, were single lines of men, slipping and scrambling in the smooth grass, moving forward with difficulty, as though they were wading waist-high through water, moving slowly, carefully, with strenuous effort. It was much more wonderful than any swinging charge could have been. They walked to greet death at every step, many of them, as they advanced, sinking suddenly or pitching forward in the high grass, but the others waded on, stubbornly, forming a thin blue line that kept creeping higher and higher up the hill. It was as inevitable as the rising tide".
His Cuban and Porto Rican Campaigns remains a major primary source for Spanish American War research.
Later, Davis would be the surprised recipient, along with three other correspondents, of the surrender of the Puerto Rican town of Coamo. Included in his Notes of a War Correspondent, the story still makes great reading today. The Spanish American War, with its personalized tales of heroic combat and victories easily won, made terrific copy for Davis and provided some of his best writing.
Davis later reported the Boer War from both sides, the Russo-Japanese War (but from remote locations), and World War I. During these years, he continued to write articles, short stories, novels, and plays. His most popular novel, Soldiers of Fortune, was made into a play and later a movie. His plays enjoyed moderate success and he was often part of the Broadway scene when he was not overseas reporting the latest coronation, revolution, or war.
His married life, however, was not quite as successful. His 1899 childless marriage to Cecil Clark – who perhaps reminded him of the ideal woman, able to share a man's adventures and his intellect – ended in divorce in 1910. He later married Elizabeth G. McEvoy (the musical comedy star and "Yama Yama Girl", Bessie McCoy) in 1912. Their one child, Hope Harding, named after his heroine in Soldiers of Fortune, was born in 1915.
Although his later years provided some of his most mature and introspective writing, Davis's financial difficulties, exacerbated by his lifelong tendency of financial irresponsibility, forced him to continue writing more for the remunerative value of his work than any intellectual appeal it might embody. However, his The Deserter and his description of the "German Army marching into Brussels" during World War I stand among his best works. The main character in The Deserter is a very realistic portrayal of an embittered soldier disillusioned by war – clearly there is no glamour in it. And the German Army, rather than the personalized soldiers of the Spanish American War, becomes a faceless, monstrous, nearly colorless, monolithic machine. This story remains among the best examples of Twentieth Century reporting. Clearly, these are no longer the swaggering adventurers of the Rough Riders, nor the Van Bibbers or Robert Clays of his earlier novels. These are more realistic portrayals, indicative of the mindless death machine that war had become.
Davis's last years were also spent in charitable efforts, raising support for the Allied soldiers in World War I. Apathetic disinterest, he lectured his readers, might merit a visit to the doctor, cautioning them to tell him there was something wrong with their hearts. Ever a supporter of patriotic causes, he was a vigorous supporter of the Boy Scouts and Leonard Wood's Plattsburg Movement – an early attempt to train a reserve officer corps in hopes of providing experienced soldiers for America's expected involvement in the Great War. It was during April of 1916, that he finally succumbed to a heart condition that had plagued him the past several months of his life. He died, characteristically working for the cause of preparedness, at his home during the night of April 11, a week before his fifty-second birthday.
He left a legacy of journalistic excellence, ethics, and reporting skill that still stands as an example for today's news industry. Contemporary journalists, while not bound to the same styles of reporting of his era, would yet benefit from the ethical and moral foundations of Richard Harding Davis's work.
---
Bibliography:
Davis, Charles Belmont. Adventures and Letters of Richard Harding Davis. New York, Charles Scribner's Sons, 1918.
Davis, Richard Harding. The Cuban and Porto Rican Campaigns. New York, Charles Scribner's Sons, 1898.
Downey, Fairfax. Richard Harding Davis: His Day. New York, Charles Scribner's Sons, 1933.
Haycraft, Howard, and Stanley J. Kunitz, ed., Twentieth Century Authors. New York, The H.W. Wilson Company. 1942.
Lubow, Arthur. The Reporter Who Would be King. New York, Charles Scribner's Sons, 1992.
---

Support this Site by Visiting the Website Store! (help us defray costs!)

---

We are providing the following service for our readers. If you are interested in books, videos, CD's etc. related to the Spanish American War, simply type in "Spanish American War" (or whatever you are interested in) as the keyword and click on "go" to get a list of titles available through Amazon.com.
---
Visit Main Page for copyright data