---
An Unusual Letter from Cuba:
James Lovegrove Marlin's "Banana Leaf" Letter
Contributed by Joan Eddy
---
Please Visit our Home Page to learn more about the Spanish American War
---
General: This letter is interesting, not so much for the news it contains, but for the way it was done. James Lovegrove Marlin wrote a letter home on a banana leaf! See the enlarged image below! The letter was written October 25, 1898 to his mother, Mary Minerva Marlin.
In Cuba, paper began to be difficult for the troops to obtain. Letters were written on all sorts of scraps of available paper. James Marlin was a bit more innovative.
Text of the letter:
"Havana, Cuba
Dear Mother:
I take great pleasure in writing ------ (these? this from Cuba????) I don't know how it will be when it gets up there I guess it will be frozen but it will be a nice letter if it keeps you can press it till it dries out.
There is not much news here everything is keeping quiet here.
We take a bath everyday in the fountain which is in the center of the park.
I am going down to go through the marine barracks I may get some relicks from there well I will come to a close did you get the pictures I sent up? Well this is all for the present"

---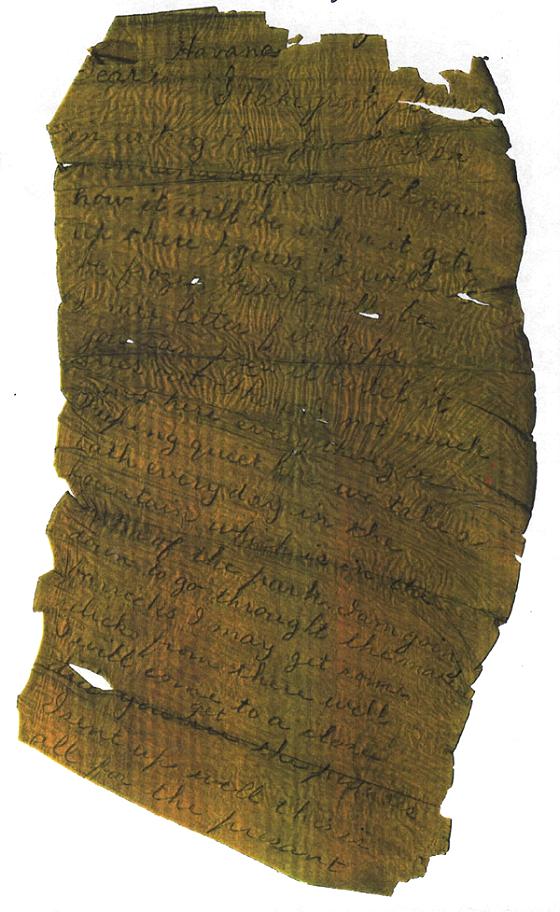 ---

Support this Site by Visiting the Website Store!! (help us defray costs!)

---

We are providing the following service for our readers. If you are interested in books, videos, CD's etc. related to the Spanish American War, simply type in "Spanish American War" (or whatever you are interested in) as the keyword and click on "go" to get a list of titles available through Amazon.com.
---
Visit Main Page for copyright data