---
The United Spanish War Veterans Medal
By Patrick McSherry
---
Please Visit our Home Page to learn more about the Spanish American War
---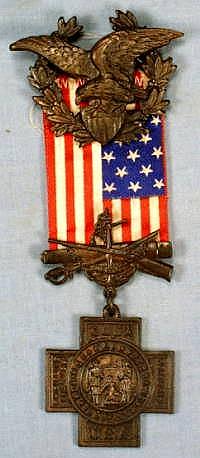 This medal was issued to members of the "United Spanish War Veterans." Anyone who served in the armed forces during the Spanish American War or during the Philippine American War was eligible for membership (this organization and the U.S. government both treated both of these separate wars as the same conflict). Of course, over 325,000 served in the Spanish American War, with the U.S. forces in the Philippine-American War peaked at over 70,000 men. As a result, the medal is not tremendously rare. To our knowledge, the serial numbers are not traceable on these medals.
The medal is approximately 4" long and 1 1/2" wide. At the top, it is the American eagle within a laurel wreath and the shield of victory. The ribbon has 13 stripes and 13 stars. At the bottom of the ribbon is a cavalry saber, an infantry rifle, and a naval anchor all crossed, representing the various branches of the military.
Dangling at the bottom of the medal is the Spanish American War cross, with the four arms reading "Porto Rico," "Cuba," "Philippines," with "USA" at the bottom. "Porto Rico" was the current spelling of Puerto Rico at the turn of the century. The dates on the cross read 1898-1902 with the words "Spanish War Veteran." The Spanish American War began and ended in 1898. The Philippine American War began in 1899 and continued into 1902, though some actions still occurred as late as 1906.
The reverse side of the cross has the word "United" with "North", "South" "East" and "West" in the arms of the cross. This is where the non-traceable serial number also appears.
---
Bibliography:
(As a service to our readers, clicking on title in red will take you to that book on Amazon.com)
Beede, Benjamin R., ed., The War of 1898 and U.S. Interventions 1898-1934 : An Encyclopedia (Military History of the United States, Vol 2. (New York: Garland publishing, Inc., 1994). 426.
Cohen, Stan. Images of Spanish American War, April-August,1998. (Missoula:Pictorial Histories Publishing Co., Inc., 1997). 357.
Dan Schrameck, personal correspondence.
---

Support this Site by Visiting the Website Store! (help us defray costs!)

---

We are providing the following service for our readers. If you are interested in books, videos, CD's etc. related to the Spanish American War, simply type in "Spanish American War" (or whatever you are interested in) as the keyword and click on "go" to get a list of titles available through Amazon.com.
---
Visit Main Page for copyright data
Return to Main Page