---
New York Volunteers Medal
Contributed by John Delin
---
Please Visit our Home Page to learn more about the Spanish American War
---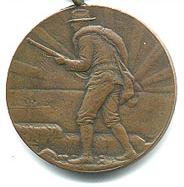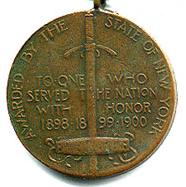 This medal was awarded to volunteers from the state of New York who served in the Spanish American War and also part of the Philippine American War. Apparently, the medal was given to all volunteers, including army and naval militia.
The obverse of the medal shows the army volunteer, in full gear, advancing on the foe. The reverse reads "Awarded by the State of New York To One Who Served the Nation With Honor 1898-1899-1900."
This particular medal was awarded to Hjalmar P. Delin (1876-1951) who later served in World War I and became an Ensign; then , to old for the Navy, served in the Merchant Marine as a first mate in World War II. He is buried in Pinelawn Cemetery, Long Island, NY.

---
Click here to visit the website Bibliography
---
Support this Site by Visiting the Website Store! (help us defray costs!)
---
We are providing the following service for our readers. If you are interested in books, videos, CD's etc. related to the Spanish American War, simply type in "Spanish American War" (or whatever you are interested in) as the keyword and click on "go" to get a list of titles available through Amazon.com.
---
Visit Main Page for copyright data
Return to Main Page