---
U.S. Navy West Indies Naval Campaign Medal
("Sampson Medal"),
Second Issue
Contributed by Peter Knepton
---
Please Visit our Home Page to learn more about the Spanish American War
---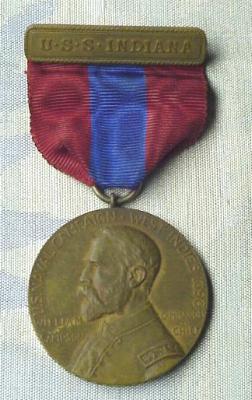 In the first issue (to see this version, click here) of this medal, the pendant and ribbon were suspended from bronze engagement bars with the bar with the name of the ship upon which the recipient served being the top bar. In 1908, the suspension ribbon was attached directly to the ship bar and campaign or engagement bars were clasped to the ribbon.
This paticular second issue style Sampson medal was awarded to Micheal Haley when he served a an Oiler on the USS Indiana during the Battle of Santiago, July 3, 1898 off the coast of Cuba.

---
Bibliography
---
Support this Site by Visiting the Website Store! (help us defray costs!)
---
We are providing the following service for our readers. If you are interested in books, videos, CD's etc. related to the Spanish American War, simply type in "Spanish American War" (or whatever you are interested in) as the keyword and click on "go" to get a list of titles available through Amazon.com.
---
Visit Main Page for copyright data
Return to Main Page