---
Frederic Remington
(1861-1909)
by Amy Van Houten
---
Please Visit our Home Page to learn more about the Spanish American War
---
General:
Frederick Remington was one of the greatest painters, sculptors, and illustrators of his time. He illustrated scenes of war during the Spanish-American War.
Biography: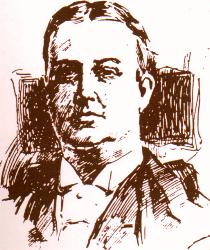 Frederic Remington was born in 1861 in Canton, New York, the son of a Republican newspaper publisher named Seth Pierre who was a Colonel in the cavalry and a Civil war commander. His mother was named Clara Sackrider. From his father, he inherited an interest in the cavalry and military operations. He did not, however, inherit his father's trim figure, as Remington was 5 foot 9 inches and weighed in at 300 pounds. In his youth, Remington enjoyed hunting and was also an avid horseman. Remington attended the Highland Military Academy in Worcester, Massachusetts through his high school years. Afterwards, he was educated at the Yale College School of Art where he was not the best of students and preferred playing football over art.
He returned home in 1880 after the death of his father. He was given a minor position in the state capitol through the influence of an uncle. His first cartoon was printed (and redrawn) by Harper's Weekly in 1882. He is today considered one of the premier illustrators of his time. He detested the commercialization of art; he felt publishers sacrificed art and truth to action and sensationalism. Remington preferred to draw his favorite subject, horses, but he also enjoyed drawing Indians, soldiers, and cowboys.
In 1884, Remington proposed to a women named Eva Caten, but she refused him so he moved out west to Kansas, where he invested in a hardware store and a Salon. He visited New York a few years later, and again proposed to Eva Caten, who again refused him. The next year he returned home again, proposed to Eva for the third time, yet this time she agreed to marry him. Later that year, they were married. The next year they moved back to Brooklyn, New York. In 1886, Remington attended the Art Students League in New York City. In February of 1888, his illustrations appeared in Theodore Roosevelt's serialized articles for Century Magazine, later published as Ranch Life and the Hunting Trail. Remington's many works were shown in many galleries throughout the rest of his life.
During the Spanish-American war, Remington worked for the New York Journal under William Randolph Hearst as a war correspondent. In 1897, prior to the sinking of the U.S.S. Maine, he was sent to Cuba to cover the Spanish holding Cuban prisoners in "death camps." Remington's job was to draw pictures of Spanish atrocities and the battles taking place in the revolution. Once there, he was very unhappy and found more comfort in the Navy gunboats offshore to working in the fields, He wrote to his employer "There is no war. Request to be recalled." To this, Hearst, in story that could never be verified, reputedly responded with "Please remain. You furnish the pictures, I'll furnish the war." Newspaper editors at this time, especially Hearst, would create stories about the war if there were none worth reporting. Each day, Hearst managed to fill the Journal with eight pages of information on the war. It was Remington's job to create the illustrations of what went on with the war. It was because of this disillusionment that Remington began to sculpt in bronzes.
Afterwards, Remington was sent to cover Theodore Roosevelt's campaign, where he preferred to study the rear echelons over the front lines. Still, he was present during the "Rough Riders'" assault on Kettle and San Juan Hills.
Later, he constructed a sculpture, entitled "The Bronco-buster," that was given by the Rough Riders to their commander Theodore Roosevelt as the date of their mustering out as a unit drew near. After covering the war, Remington was fascinated by how the average American man fit into his environment more than he cared to glamorize the "super heroes" of war.

Colonel Theodore Roosevelt says goodbye to his "Rough Riders." Frederic Remington's "The Bronco Buster," a gift from the men to their commander sits on the table behind Roosevelt.
Frederick Remington died on December 26, 1909 at his studio and home in New Rochelle, New York from the effects of an appendicitis attack.
---
Bibliography:
(As a service to our readers, clicking on title in red will take you to that book on Amazon.com). Websites referenced can be accessed by clicking on the address listed in red.
Ballinger, James K., "The Life of Frederic Remington" Frederic Remington Art Museum Home Page, http://www.northnet.org/broncho/chron.htm
Cohen, Stan. Images of Spanish American War, April-August,1998. (Missoula:Pictorial Histories Publishing Co., Inc., 1997). 25, 27.
:
Jeffers, H. Paul, Colonel Roosevelt: Theodore Roosevelt Goes to War, 1897-1898. (New York: John Wiley & Sons, Inc., 1996). 236.
Roosevelt, Theodore, The Rough Riders. (New York: Da Capo Press, 1990, reprint of same book byCharles Scribner's Sons, 1920). Source of Rough Riders saying good-vye to Theodore Roosevelt.
Seelye, John "Frederic Remington, 1861-1909)" http://kermit.traverse.com/people/dot/remington.html, reprinted from John Seelye, ed, Stories of the Old West: Tales of the Mining Camp, Cavalry Troop, & Cattle Ranch (New York: Penguin Books, 1994) 187-190.
http://www.smallplanet.com/imperialism/remember.html
---

Support this Site by Visiting the Website Store! (help us defray costs!)

---

We are providing the following service for our readers. If you are interested in books, videos, CD's etc. related to the Spanish American War, simply type in "Spanish American War" (or whatever you are interested in) as the keyword and click on "go" to get a list of titles available through Amazon.com.
---
Visit Main Page for copyright data