Sgt. Dillwyn M. Bell
Troop L, 1st U.S. Volunteer Cavalry ("Rough Riders")
(July 1, 1877 - October 12, 1944)
by Patrick McSherry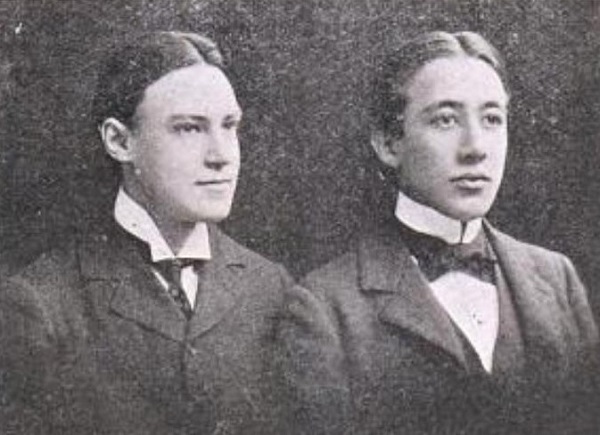 Rough Riders Walter Sharpe (left) and Dillwyn Bell (right)

---
Please Visit our
Home Page
to learn more about the Spanish American War
---
General:
Dillwyn Bell was the First Sergeant in Troop L of the 1st U.S. Volunteer Infantry ("Rough Riders"). He was wounded at the Battle of San Juan Hill.

---
The Biography:
Dillwyn Mifflin Bell was born on July 1, 1877, apparently in Springfield, Illinois, to Mifflin E. Bell and Adelaide Van Hoff Bell. We must state "apparently" since at various times in his life, he indicated his place of birth as Illinois, Pennsylvania, Washington DC and Iowa as can be seen in the various census returns. Bell's father was a well-known architect having served as the superintendent of construction of the Iowa state capitol, and then as the supervising architect for the U.S. Treasury.
Bell enlisted in the Rough Riders at Muskogee, "Indian Territory" – now known as Oklahoma – on May 14, 1898 as the first sergeant of Troop L. His being appointed first sergeant may have had something to do with his fellow Chicagoan and possible friend, John Thomas, being appointed as the first lieutenant in Troop L. Bell was described as being five feet, seven and a quarter inches tall, with fair complexion, brown eyes and brown hair. He listed his place of birth as Springfield, Illinois and his occupation as an architect. He was twenty-one years old.
The cowboys in the Rough Riders called him a "Chicago Dude." He had to prove himself to earn their respect, which he did. Little did they know that the young man had already experienced violence in his life. While walking down the street near his home he was assaulted by two men, one slashing at him with a knife and the other bashing him with a piece gas pipe. Knocked insensible, he was left for dead. The perpetrators stole his gold watch and a small amount of cash. Bell survived, and the perpetrators were captured within a few hours.
Proof of his bravery was soon exhibited to his men. Soon after the Rough Riders landed in Cuba they advanced to a point known as Las Guasimas where the regiment became one of several to encounter the Spanish rear guard forces attempting to slow the Americans' progress toward Santiago. Bell and his friend and fellow Chicagoan, Walter Sharpe, found themselves beside Troop L's captain, Allyn Capron, Jr. Reportedly during the action Capron turned to Bell and said "Give me your gun a minute." Bell obliged and then obtained a rifle for his own use from a man who had gone down. Bell then joined Capron in a kneeling position with Sharpe apparently on the other side of Capron. Very shortly Capron went down, mortally wounded. Sharpe and Bell went to Capron's aid with the officer imparting some messages for his wife and father to Bell. As he was carried off, Capron gave Bell a cheery goodbye, and was dead within an hour. Also wounded was Bell's friend and lieutenant, John Thomas.
Following the skirmish at Las Guasimas, Bell was listed as absent without leave from midnight until 6:00 PM the next day. His records may indicate that he was in the hospital at Siboney. Regardless, Sgt. Bell was back with regiment as it continued its advance toward Santiago. During the Battle of San Juan Heights, Bell was hit in the back by a shell fragment that narrowly missed Walter Sharpe who was behind him. After ten minutes, Bell rejoined his company but was ordered to the rear because of his wound. Bell initially followed the orders, but then returned to the battleline a third time. His return was met with cheers, and he was allowed to remain. Walter Sharpe narrowly escaped serious injury himself when he was hit by a mauser round, but, luckily, it was deflected by a pipe he was carrying in his pocket.
Following the battle, Bell was placed on detached service at the hospital at Siboney from July 2 until July 23. On July 26 he found himself in the hospital with yellow fever. The hospital mistakenly reported that he had died, but the report was false. He was nearly recovered when the regiment embarked on the transport for the quarantine camp at Montauk Point, Long Island (Camp Wikoff). Presumably since he was still recovering, he was separated from his comrades who lost track of him. On returning to the U.S., Bell was granted sick leave and was expected to arrive in Chicago shortly, however it seems that he was held in quarantine, and the sick leave was not noted on his record. He was granted furlough from September 7 until being mustered out on November 3, 1898.
Following the war, Bell had a varied career, but the "Rough Riders" continued to be a part of it. In 1899, when Theodore Roosevelt, then the governor of New York, visited Chicago, Bell and his friend Walter Sharpe were chosen to be among the six men to serve as his escort. At the time Bell was a student and architect and living at home with his family and siblings. Bell also joined the naval militia in 1901
Dillwyn Bell met Lavaughn Anderson and the two were married in the first decade of the 20th century. Bell was no longer an architect but the partner in an automobile supply company, and then became president of the Northwestern Steel Company. By 1920 he worked for a railway supply company, and was then president of the Pressed Steel Equipment Company, a manufacturer of railcars. By 1930, Bell a lock manufacturer, and later received a patent for a "key or permutation operated padlock." In 1942 Bell is listed as working for the Mills Novelty Company.
Dillwyn and Lavaughn Bell had two daughters, Lavaughn and Suzanne Bell. Bell passed away on October 12, 1944. He is buried in the Oak Woods Cemetery, Chicago, Illinois. His wife, Lavaughn passed away in 1964.
---
Bibliography:
Chicago Blue Book of Selected Names of Chicago and Suburban Towns. (Chicago: Chicago Diectory Co., 1901), 91.

Compiled Service Record of Dillwyn M. Bell, Old Military and Civil Records LICON, Textural Archives Services Division, National Archives, Washington DC.
"Dillwyn Bell Assaulted," Chicago Chronicle. January 9, 1896, 7.
"Dillwyn Bell Heard From," The Inter Ocean (Chicago, IL). September 3, 1898, 2
Find-a-grave.com, Memorial 129903398, Dillwyn Bell
Jones, Virgil Carrington, Roosevelt's Rough Riders. (Garden City, NY: Doubleday & Company, 1971) 285
"M. E. Bell, Architect, Dead," Chicago Tribune. June 2, 1904, 9
Nelson, Anne, "Rough Riders," Oklahoma Today, May- June 1898, 74.
Oak Park, Illinois, City Directory, 1922, 506
"To Meet Roosevelt," The Inter Ocean (Chicago, IL). April 9, 1899, 13.
U.S. Census for 1900 (birthplace listed as Illinois), 1910 (birthplace listed as Pennsylvania), 1920 (birthplace listed as Iowa), 1930 (birthplace listed as Illinois), 1940 (birthplace listed as Washington DC).
U.S. Selective Service System. World War I Selective Service System Draft Registration Cards, 1917-1918. Washington, D.C.: National Archives and Records Administration. M1509.
U.S. Selective Service System. Selective Service Registration Cards, World War II: Fourth Registration. Records of the Selective Service System, Record Group Number 147. National Archives and Records Administration.
USPTO Patent Full Text and Image Database, Patent #2133528.
---

Support this Site by Visiting the Website Store! (help us defray costs!)

---

We are providing the following service for our readers. If you are interested in books, videos, CD's etc. related to the Spanish American War, simply type in "Spanish American War" (or whatever you are interested in) as the keyword and click on "go" to get a list of titles available through Amazon.com.
---
Visit Main Page for copyright data