---
A Brief Biography of
Acting Assistant Surgeon John Blair Gibbs,
Medical Corps, United States Navy
(September 25, 1858 - June 12, 1898)
Contributed by Robert Pendleton

---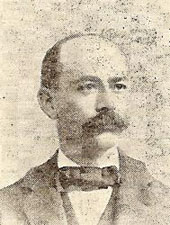 Acting Assistant Surgeon John Blair Gibbs
---
Please Visit our Home Page to learn more about the Spanish American War
---
General:
Acting Assistant Surgeon John Blair Gibbs served with the First Marine Battalion (Reinforced). He was killed in action at Guantanamo, Cuba.
The Biography:
John Blair Gibbs (throughout his life, his family and friends would call him "Blair") was born in Richmond, Virginia, on September 25, 1858. He was the second born son of Brevet Major-General Alfred Gibbs, United States Army, (1823-1868) and Peggy Forshee [Blair] Gibbs (1831-1908).
The first school he attended was at Fort Leavenworth, Kansas, where his father served as senior major of the newly formed Seventh U.S. Cavalry (made famous by Custer). Senior Major Alfred Gibbs, age 45, died suddenly at Fort Leavenworth on December 26, 1868. The family returned to the east where the Gibbs brothers prepared for college at the Rutgers Grammar School, New Brunswick, New Jersey.
Just prior to age 16, he was admitted to Rutgers College graduating, at age 20, in the Class of 1878 with a degree of A.B. (Bachelor of Arts). He then enrolled at the University of Pennsylvania where he was graduated, on March 15, 1881, with a doctorate in medicine. He traveled to Austria where he spent one year of surgical study in Vienna, under the supervision of the eminent surgeon Dr. Theodor Bilroth. Prior to his service in the U.S. Navy, he was assistant surgeon, Lebanon Hospital then assistant surgeon, Dement Dispensary of New York City. He also practiced surgery in association with Dr. Parker Syms, Manhattan, New York City.
Spain declared war on the United States on April 23, 1898, and the United States passed its own declaration of war retroactive to April 21, 1898. The declaration was to prove fateful for the doctor and country alike.
Prior to volunteering for naval service, Dr. Gibbs would comment to his brother Alfred that "I don't see how with any self-respect I could stay in New York while such a scrap was going on." Using his familial connection (by marriage), Assistant Secretary of the Navy Theodore Roosevelt encouraged him to offer himself for appointment as a surgeon through examination and he was completely successful.
On April 25, 1898, at the Navy Yard Hospital, New York City, Dr. Gibbs, a 40 year-old bachelor, was among the first of the candidates to receive the appointment of acting assistant surgeon in the Medical Corps, U. S. Navy.
Acting Assistant Surgeon John Blair Gibbs was assigned to the First Marine Battalion's Headquarters Staff as the assistant surgeon of the battalion's medical staff under the command of Surgeon John M. Edgar, Medical Corps, United States Navy. On his appointment, Surgeon Gibbs was ordered to Key West, Florida, where on May 6, 1898, he reported for duty with the battalion on board U.S.S. PANTHER.
On June 7, 1898, the battalion's medical staff of the First Marine Battalion (Reinforced), under the command of Lieutenant Colonel Robert W. Huntington reboarded the transport ship U.S.S. PANTHER and sailed for Cuba.
During the afternoon of Friday, June 10, PANTHER anchored at Guantanamo's outer bay. At 2:00 in the afternoon four of the six Marine companies disembarked and climbed to the top of a 192 foot hill above the landing beach that was soon named Camp McCalla by Colonel Huntington, after his immediate superior, Captain Bowman Hendry McCalla of the U.S.S. MARBLEHEAD, force commander. On the afternoon of the landing, tents were pitched and outposts established. The first night on Cuban soil passed quietly and uneventfully.
On the morning of the next day, Saturday, June, 11, the two remaining companies disembarked. At dusk, Spanish infantry and Cuban loyalist irregulars attacked the perimeter outpost sentinels killing two Marines.
On Sunday, June 12, at 1:00 in the morning, Surgeon Gibbs had almost finished bandaging a wounded private's hand, while under continuous fire from the enemy, when an attempt was made to take the sick and injured to a place of greater safety. Surgeon Gibbs stood and advanced to the front of the medical tent. While silhouetted by a sodium vapor lamp, he was fatally wounded. According to the Report of the Commandant, September 1898, Colonel Commandant Charles Heywood explained that "Assistant Surgeon John Blair Gibbs was killed by a Mauser bullet reported by Surgeon John M. Edgar, of the battalion, to have been fired at a range of 600 to 700 yards." The projectile shot through the left temporal region and exited at the right temporal region. Surgeon John Blair Gibbs died half an hour after receiving the fatal wound. His brief naval service had lasted only forty-nine days.
Reverend Harry W. Jones, serving as chaplain on board the U.S.S. TEXAS, volunteered to go ashore in order to aid and comfort the wounded and bury the dead. Chaplain Jones provided the Committal Service at Camp McCalla at the interment of Surgeon Gibbs and the two Marine privates, McColgan and Dumphy, of Company D, killed on outpost duty the previous afternoon.
Nearly a year later, in March 1899, the remains of the battalion's casualties were disinterred at Guantanamo Bay and returned to the Navy Yard, New York City aboard the U.S. Army transport ROUMANIAN (later renamed CROOK).
Acting Surgeon John Blair Gibbs' remains were transferred to the care of his uncle, Dr. Oliver Wolcott Gibbs, at Newport, Rhode Island, and he was reentered on Saturday, April 29, 1899, beside the grave of his father at St. Mary's Episcopal Church, Portsmouth, Rhode Island. At the request of the family only a committal service was read at the grave.
---
Bibliography:
The Channing Family, Carpenter, Frank, Genealogist, June 2, 1998. http//www3.edgenet.net/fcarpenter/chanfam.html
Special Collections and University Archives Staff, Kuzma, David, Reference Archivist, Rutgers the State University of New Jersey, 2005
Muster Rolls, 1-31 May 1898, Camp Sampson, Key West, Florida, First Marine Battalion (Reinforced)Headquarters Staff. Compiled by Robert M. Pendleton, unpublished manuscript, 2005.
Muster Rolls, 1-30 June 1898, Camp McCalla, Guantanamo Bay, Cuba, First Marine Battalion (Reinforced) Headquarters Staff. Compiled by Robert M. Pendleton, unpublished manuscript, 2005.
Van Reypen, William Knickerbocker, Surgeon General, Medical Corps, National Archives and Records Administration-NARA, Record Group 52, entry 11, General Correspondence, 1885-1912, file #63307
Jones, Harry W., Chaplain, U.S.Navy, A Chaplain's Experience Ashore and Afloat; the U.S.S. "Texas" Under Fire. New York: A.G. Sherwood & Co., 1901).
---
Support this Site by Visiting the Website Store! (help us defray costs!)
---
We are providing the following service for our readers. If you are interested in books, videos, CD's etc. related to the Spanish American War, simply type in "Spanish American War" (or whatever you are interested in) as the keyword and click on "go" to get a list of titles available through Amazon.com.
---
Visit Main Page for copyright data