---
The Roster of the 1st Montana Volunteer Infantry
Contributed by Sarah Wood and John Barrows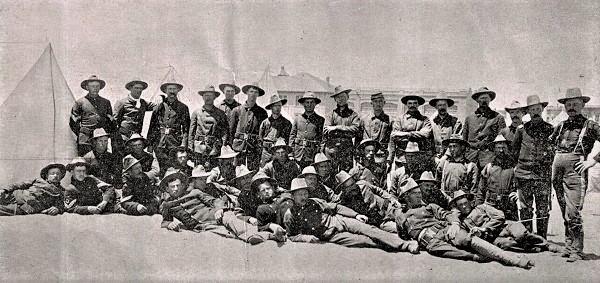 Company F of the 1st Montana Volunteer Infantry
---
Please Visit our Home Page to learn more about the Spanish American War
---
Field and Staff ||| Hospital Corps ||| Band ||| Company A ||| Company B ||| Company C ||| Company D ||| Company E
Company F ||| Company G ||| Company H ||| Company I ||| Company K ||| Company L ||| Company M
---
Click here for an account of the 1st Montana Volunteer Infantry's return home
Click here for a brief history of the 1st Montana Volunteer Infantry
Click here for a orders issued to sentinals in the 1st Montana Volunteer Infantry
Click here for additional info. on the 1st Montana Volunteer Infantry, Company E
---
General:
The following is the partial roster of First Montana Volunteer Infantry. More data will be added as it becomes available.
The Rosters:
Harry C. Kessler, Col., Butte, Mont.
Robert B. Wallace, Lt. Col., Helena, Mont.
James W. Drennan, Maj., Bozeman, Mont.
Byron H. Cook, Maj., Butte, Mont.
John R. Miller, Maj., Helena, Mont.
Ben E. Calkins, 1st Lt., and Regimental Adjutant. Butte, Mont.
Alfred Seadorf, 1st Lt., and Regimental Quartermaster. Butte, Mont.
Louis P. Sanders, 1st Lt., and Battalion Adjutant. Helena, Mont.
William B. Hanna, 1st Lt., and Battalion Adjutant. Helena, Mont.
William Brown, 1st Lt., and Battalion Adjutant. Helena, Mont.
George C. Stull, Chaplain. Butte, Mont.
Colin S. Hill, Sgt. Maj.
Charles W. Lane, Regimental Quartermaster Sgt.
Robt. H. Paxson, Hospital Steward.
Edw. H. Charette, Hospital Steward.
A.G. Lindquest, Hospital Steward.
Harry Roberts, Chief Musician.
Chas. D. Tomlinson, Principal. Musician.
Leon V. Alexander, Principal Musician.
Medical Officers:
F. J. Adams, Maj. and Surgeon.
Lou C. Bruning, 1st Lt. and Assistant Surgeon.
Le Roy Southmayd, 1st Lt. and Assistant Surgeon
Charles C. Cline
Harry A. Green
Rudolph Herbst
Robert Lennington – Died while in service
Albert D. McNeal
Oliver N. Nelson
Fred Peterson
John E. Strain
Albert B. Tonkin
William Kinkade, Drum Major
John Alexander
Edward Biganess
Henry Boyd
Alfred Cashmore
Asa F. Fisk
William Flowers
Alfred Torce
Alfred Force
Frederick Hall
John MacPherson
Bevan Montague
John Pearson
Oliver Ross
Walter Verge
George B. Mead
Herman Fashman
William H. Wilton
Frank Hawkins
Officers:
John E. Moran, Capt.
Charles French, 1st Lt.
Clarence L. Boardman, 2nd Lt..
Sergeants:
Thomas P. A. Howe, 1st Sgt.
Emmett L. Hawkins, Quartermaster Sgt.
Edwin G. Cornelius
Charles S. Hoermann
George E. Kumpe
Stuart H. Reid
Corporals:
George W. Boardman
David A. Bruneau
Albert G. Gray
Peter Peterson
Harry L. Price
William H. Tolbert
Musicians:
Seth H. Dibble
Edgar J. Thomson
Artificer:
John C. Adams
Wagoner:
John F. Ferguson
Privates:
Gunder Ammondson
Francis G. Anspach
Harry R. Athey
Frank Bates
John A. Best
Henry C. Beecher
Ira O. Black
John E. Blair
Darwin R. Boots
Oliver M. Bowen
Clarence G. Briggs
William R. Brown
John C. Bullard
Sherman A. Burger
L. C. Chamberlain
Adolph T. Charette
William E. Charette
M. T. Comstock
John T. Conrey
Roger Curry
S. W. B. Curry
Walter M. Dannat
Lemuel F. Depew
Patrick Derrig
Fred W. Dow
Walter H. Earll
Henry A. Elliott
Howard Ellis
Calvin A. Everhart
Walter J. Forster
Francis J. Gray
Thos. F. Hodges
John R. Irwin
Hugh M. Jones
Scott Jones
Alois Klauer
Fred F. Knight
Peter Kommers
Arthur D. Lambie
A. R. Lancaster
R. H. McCormack
Daniel McElliott
Robert S. Matheson
Jay D. Moore
Alonzo R. Morrison
Walter Morrison
Patrick M. Murphy
Timothy McDonald
Simon D. Murray
Otto Nelson
Moritz C. Neuman
Elton Nunn
Alvin F. Plottner
Fred E. Powell
William Radis
Robert Rothweiler
Carey A. Sayler
Edward J. Sayler
John W. Shannon
James R. Shaw
Casper Skog
Samuel D. Webb
James L. Young
Officers:
Charles Gardner, Capt.
William F. McGrath, 1st Lt.
Joseph Corby, 2nd Lt.
Sergeants:
Rhesis Francham, 1st Sgt.
John McAuley, Quartermaster Sgt.
Michael Joy
Dan Munroe
Ernest V. D. Murphy
Corporals:
Thomas Anderson
Wilmer Brinton
John J. Eddy
Timothy McAuliffe
Peter McKenzie
Harry Stevens
Musicians:
James W. Weaver
Peter S. Kelly
Artificer:
Charles Peltier
Wagoner:
Charles Foote
Privates:
William Aspel
Chas. Buchanan
Charles Black
William H. Black
Thomas Bergum
Thos. Bowden
Charles Brinton
John Coggins
James Connell
Thos. Crotty
Andrew Davis
Ralph Evans
John Erickson
Frank Foley
Frank Franzen
J. P. Green
W. A. Green
Chas. Goforth
Thos. Garrity
Michael Hannifan
Mike Hogan
Isaac Havard
Secundus Holland
Stephen Jeans
Thos. Joyce
W. A. Jennings
John Kemple
Luke Kennelley
Charles Derr
James Martin
John Murphy
George Miller
Leonard Miller
Thos. Mullaney
F. McMannimon
Thos. Maguire
Ed Morrissey
James McCarten
John McClernon
John McLeod
Patrick O'Brien
Arthur Peters
Henry Pollard
James Percise
James Rowling
Nathan Root
Harry Slack
Albert Stack
Louis Semple
Joseph Shane
C. E. Thompson
James Tierney
Foster Torrence
Milton Valentine
Homer E. Vroom
Wm. Williams
Z. S. Wright
J. A. Wright
Harry White
Winnie Whiteley
Edward Walsh

Officers:
James F. Keown, Capt.
John F. Mercer, 1st Lt.
William H. Poorman, 2nd Lt.
Sergeants:
Alexander Wessetch, 1st Sgt.
Andrew C. Harding, Quartermaster Sgt.
Arthur W. Church
Lloyd R. Hood
Robert H. Sprague
Henry A. Summers
Corporals:
Bransom B. DeHart
James S. Dolliver
Louis Kraus
Chas. J. Lisle
M. J. O'Connor
Ernest E. Paddock
Harry C. Patterson
Ed. M. Reynolds
I. C. Smith
Musician:
Fred Lytle
Artificer:
William McManus
Wagoner:
John R. B. Cheney
Privates:
Victor H. Adams
Parker Brown
C. T. Boswell
Edward P. Brown
Jas. W. Cameron
Frank A. Camp
Daniel Coryell
L. Cruttenden
John F. Dunn
Fritz Esselborn
Robert Fogle
William Flowers
Harry B. Gray
Edward M. Gould
Albert S. Hicks
William P. Hayes
Oscar Hodson
Glen Hurd
Amos A. Hegland
A. W. Hogstrom
Frank Hobart
Comly T. Heaton
Edmond G. High
George I. Hyatt
George W. Ingram
John Kerrigon
Martin Keough
William Kinkade
Frank Leonard
Robert Mahaffy
Warren J. Morris
Edward Moran
Joseph Morgan
Joseph Marx
Gottlieb Molsen
John P. Molitor
Henry Miller
John McLaughlin
Peter Norve
William H. Owen
Harry Ponsford
Daniel Paling
L. L. Pierstorff
James P. Phaelen
George W. Post
Chas. S. Patterson
Edw. S. Pollard
Frank E. Price
Emery Ricketts
George Reynolds
John A. Ross
Merton L. Rowley
F. D. Schwietering
F. W. Smith, No. 1
F. W. Smith, No. 2
Theodore Schuele
Frank Thomas
Theodore Volkey
John T. Wickham
D. W. Weeden
Clemens Weise

This company was from the Ruby Valley
Officers:
George Reif, Capt.
Edward Gainan, 1st. Lt.
George Lowman, 2nd Lt.
Non-commissioned officers:
Jas. McClurg, 1st Sgt.
Dean Vickers, Q.M. Sgt.
Jas. W. C. Dennis, Sgt.
Boyd A. Kneedler, Sgt
Chas. N. Morse, Sgt
Cornelius McClurg, Cpl.
Grant D. Mathers, Cpl.
Valentine Gilbert, Cpl.
Jas. W. Bothwell, Cpl.
Chas. Kelly, Cpl.
Nels Peterson, Cpl.
Others:
Nichols Rider, Cook
Musicians Stewart R. Champion and Floyd C. Wilson
Frack Mack, Artificer
Privates:
Chas. Beckwith,
Alonzo L. Blaugh,
John A. Bowman,
Jas. Box,
John Boyd,
Jas. Carlon,
Albert Case,
Jos. A. Casebeer,
Abraham Clem,
Jas. Comley,
Chas. Edgehill,
Frank Faires,
Jas. Francis,
Nazaire Gardner,
Jefferson Garrett,
Edgar Guidry,
Albert Johnson,
Lucisius Kellogg
David Healy
Fay Kohrs,
Berry Knudson,
Wm. F. Kramer,
Olvier Longfellow,
Robert Lee,
Albert Mack,
Alex J. McArthur,
Herbert G. McPeters,
Juliius Moritz,
Chas. Nacie,
Thos. G. Pasley,
Thos. Rickards,
Wm. Roden,
John R. Rogers,
W. F. Stobhe,
Oscar Stone,
Maurice Wilses,
Perry Wilsey,
Wm. Wammach,
Christ. Xigler,
Ray Zigler.
Discharged prior to mustering out:
Chas. W. Mead, 1st Lt.
Almer Kellogg, QM Sgt.
August Romey, Sgt.
Albert Cole, Corp.
Clarence E. Wilson, Corp.
Jerome Mayland, Artificier,
Privates:
Jos. W. Black,
Curtis Brooks,
Otis Carter,
Job Foster,
Berrigton Gould,
Chauncy Jackson,
Wm. H. McDonald,
Isaac A. Ogden,
John H. Orth,
Edward L. Reynolds,
Jos. Sicard,
Elisa Siprell,
Jos. A Spaulding,
Thos. Wilson
Goerge B. Mead transferred to the Regimental Band.
Soldiers wounded in the conflict included George E. Lowman, Jas. W. C. Dennis, Jas. M. Box, Abraham L. Clem, Wm. F. Kramer, Edward L. Reynolds and Thos. Rickards.
Wm. G.Marshall died of wounds received in action.
Officers:
Andrew Jensen, Captain, Great Falls (merchant)
Fred'k Bird, 1st Lieutenant, Dillon (farmer)
Homer G. Rickards, 2nd Lieutenant, Butte (clerk)
Non-commissioned Officers:
Francis A. Johnston, 1st Sergeant, Dillon (teamster)
Comas Nelson, Quartermaster Sergeant, Dillon (liveryman)
Fred M. Rogers, Sergeant, Dillon (painter)
Osborne McIntosh, Sergeant, Butte (student)
Albert S. Johnson, Sergeant, Dillon (barber)
Robert Robbins, Sergeant, Dillon (laborer)
Harry Allen, Corporal, Dillon (operator)
Wellington H. Mace, Corporal, Germantown, Pennsylvania (engineer)
Patrick F. Harrington, Corporal, Butte (blacksmith)
Andrew L. Banks, Corporal, Dillon (farmer)
John J. McDonald, Corporal, Carroll (engineer)
Jas. P. Lenox, Corporal, Dillon (farmer)
Others:
Wm. D. Brown, Cook, Santian, Oregon (farmer)
John H. McQuarry, Musician, Milton, Oregon (painter)
Ernest H. Boyd, Musician, Dillon (laborer)
Wm. F. Dudley, Artificer, Dillon (miner)
Ernest Powell, Wagoner, Whitehall (farmer)
Privates:
Andrew Anderson, Falim, Kansas (farmer)
George T. Banks, Seabrook, Kansas (cook)
John L. Banks, Dillon (farmer)
Frank Borbridge, Rochester, Minnesota (waiter)
John Cavanaugh, Hollingsdale, Wisconsin (miner)
Ray. S. Conger, Dillon (painter)
Dennis D. Doyle, Butte (miner)
Andrew Ehricks, Butte (carpenter)
James Enright, Butte (teamster)
Emil Feltman, Perry, Idaho (farmer)
Ellis J. Fifer, Butte (fireman)
Rich'd Fielder, Red Rock (clerk)
Robt. Foster, Butte (fireman)
David E. Freeman, Lawrenceburg, Indiana (laborer)
Paul Frisch, Billings (laborer)
Angelo A. Fyhrie, Dillon (clerk)
Geo. B. Graham, Holden, Missouri (teacher)
Orin F. Grant, Marseilles, Illinois (miner)
Robt. J. Gray, Dennison Mills, Quebec, Canada (farmer
John Hank, Newton, Illinois (miner)
Jas. M. Harney, Galena, Illinois (salesman)
Eberhard Heberlein, Great Falls, (chemist)
David C. Hines, Gowere, Missouri (farmer)
Chas. L. Huestis, Cold Springs, Putman County, New York (miner)
Wm. K. Ireland, Butte (miner)
Robt. Johnston Butte (miner)
Henry Keyser, Dillon (laborer)
Albert S. Lloyd, Anaconda (laborer)
Ray H. Longwell, Blockton, Iowa (farmer)
Eli Loucks, Newbridgeville, Pennsylvania (farmer)
John W. Lyons, Wood River, Nebraska (miner)
Thos. W. McConnon, Peterson, New York (bookkeeper)
Oscar McIntosh, Dillon, (laborer)
Jas. C. Nedrow, St. Anthony, Idaho (teamster)
Otto M. Olsen, Lone Walnut, Kansas (laborer)
Martin Pendergast, Butte (miner)
Axel Peterson, Rawlins, Wyoming (laborer)
Michael Phelan, Butte (miner)
Chas. N. Robb, Gibbons, Nebraska (clerk)
Geo. W. Schulte, Dillon (laborer)
Edw. Sheser, Dillon (clerk)
John H. Selzer, Lincoln, Nebraska (miller)
John F. Sullivan, Butte (miner)
John S. Taylor, Dillon (clerk)
Nicholas Vincent, Butte (switchman)
Robt. A. Waddell, Butte (miner)
Guy W. Wade, Wadena, Iowa (laborer)
Fred Walker, Amity, Oregon (farmer)
Geo. D. Wenceslaw, Butte (miner)
Earl V. Williamson, Sacramento, California (butcher)
John W. Wynes, Chappell, Nebraska (laborer)
George W. Zeigler, Toledo, Ohio (clerk)
Transferred:
Geo. W. Crowell, Sergeant, Dillon (clerk), to Regimental Band, September 10, 1898
Alfred Cashmore, Private, Dillon (painter), to Regimental Band, June 6, 1898
John F. Pearson, Private, Butte (butcher), to Regimental Band, June 6, 1898
Promoted:
Chas. H. Virden, Dillon (carpenter), from First Sergeant to Second Lieutenant, Company C, First Montana Infantry, August 17, 1899
Discharged:
Lorenzo Cushing, Sergeant, Dillon (clerk), disability, November 11, 1898.
Rich'd F. Wells, Sergeant, Manila, P.I. (assayer), by order, August 1899.
Walter M. Powers, Corporal, Dillon (student), by order, August 31, 1899.
Harry Chamberlain, Manila, P.I. (painter), by order, August 20, 1899).
Wilfred Chetelle, Manila, P.I. (miner), by order, July 11, 1899 (reenlisted).
Harry C. Falls, USA Transport (engineer), by order, October 8, 1898.
Wm. Leaton, Manila, P.I. (miner), by order August 20, 1899.
Wm. P. Mulcahy, Manila, P.I. (electrician), by order, August 20, 1899.
Jens Nelson, Manila, P.I. (clerk), by order, August 20, 1899.
Wounded:
Andrew Jensen, Captain, wounded in right forearm, near Apalit, P.I., April 27, 1899.
Wm. F. Dudley, artificer, wounded in right leg at Caloocan, P.I., February 17, 1899.
Geo. T. Banks, wounded in right arm at La Loma Church,P.I., March 25, 1899.
John Cavanaugh, wounded in neck at Tuliahan River, P.I., March 25, 1899.
Jas. Enright, wounded in chest at La Loma Church, P.I., March 25, 1899.
Jas. P. Lenox, Corp, wounded in right knee, near Bocaue, P.I., March 25, 1899.
John H. McQuary, Musician, wounded in chest at Taliahan River, P.I., March 28, 1899
Axel Peterson, wounded in right forearm, near Bocaue, P.I., March 28, 1899.
Chas. N. Robb, wounded in right thigh at San Fernando, P.I., June 16, 1899.
Former Company E members Geo. W. Crowell, Principal Musician, and Alfred Cashmore, Private, both transferred to the First Montana Infantry Band. Both were wounded. Crowell was wounded in the right leg at Malolos, P.I., on April 4, 1899, and Alfred Cashmore was wounded in the left leg at Caloocan, P.I., March 2, 1899.

Officers:
William L. Hill, Capt.
Gustave T. Nickel, 1st Lt.
Adolf Keppner, 2nd Lt.
Sergeants:
Adolph Keppeler, 1st Sgt.
Thomas J. Coberly, Quartermaster Sgt.
Arlin R. Ayers
Gustave H. B. Hess
Louis Olson
James E. Weaver
Corporals:
John H. Caddy
Charles H. Evans
William Johnson
Ernest H. Leosch
John Stenzel
James C. Taylor
Musicians:
John G. Vigeant
David L. Williams
Artificer:
Joseph O. J. Beckman
Wagoner:
John Strasser
Privates:
Alex. C. Abbott
Albert Ackerman
Joseph J. Baker
William Borkowski
Joseph Brauer
Edward B. Bowen
Herbert R. Bucks
Frederick A. Chaxel
Dugal Carmichael
James Cravere
Alfred C. Caddy
Geo. W. Chapman
Adolph M. Clay
Milan D. Elderkin
Chas. W. Elwell
John J. Evans
Joseph Frantzen
John S. Forsbery
Robert E. Gaffin
H. P. Gallibraith
Eugene Gastiger
Samuel Gilliam
William Gottleib
Martin Hall
Abel H. Hall
William B. Harris
William P. Harris
Edward W. Harvey
Henry B. Hinton
Victor L. Hitter
Michael L. James
Thomas Johns
Jesse E. Jones
John Jonas
Owen King
Acle McMahone
Bruce H. Mason
Alexander McAlfrey
William McCartney
George F. Mardel
Frank S. McNeil
Michael Nugent
Jesse J. Norgard
Frank Ottis
Maethias J. Ostberg
Charles F. Patton
Charles M. Pyle
William Raymond
T. J. Renaux
Thos. W. Robinson
G. A. Schudoma
Alvin D. Sheldon
William F. Stanley
Lorenz Shanb
Frank E. Tate
Joseph L. Trahaunt
William F. Turner
Charles Uebele
Eugene Valencour
Chas. R. Valentine
William H. Walsh
Louis Weigle
Charles M. Walker
Eugene A. Whitten
Officers:
Ellis W. Wynne, Capt.
Edgar S. Paxson, 1st Lt.
William B. Knowlton, 2d Lieut..
Sergeants:
Thomas J. Bordeaux, 1st Sgt.
Walter G. Tucker, Quartermaster Sgt
Albert H. Doud
John T. McCluskey
Frank Morford
William L. Soper
Corporals:
A. J. Erickson
George Hunter
John V. Lemmon
John J. McLane
Marvin B. Sipple
Joseph H. Williams
Musicians:
Harry Paxson
Charles Bayer
Wagoner:
William G. Watson
Artificer:
William J. Borthwick
Privates:
Fred D. Abbott
James Anderson
Hayes Axtell
Delos D. Babcock
E. B. Benware
Frank E. Beland
William J. Boast
Guy Belenger
Robert Brown
L. C. Bartholomew
Charles J. Byers
R. M. Calkins
John T. Carter
Guy N. Churchill
James E. Coleman
John P. Daily
A. N. Dussault
George W. Elliott
William H. Fifer
Wm. C. Gardenhire
Wm. W. Garver
George Gibson
John C. Heilig
Robert B. Hall
Joseph Hervey
Wm. Hardcastle
Louis F. Hoffman
William Holmes
Chas. M. Hewitt
Frank E. Kennedy
James W. Kennedy
Charles J. Kinseth
George W. King
Percy R. Lockhart
Alexander Laist
Wm. H. McCarty
Samuel McDonald
Wilbur J. McKee
J. T. McLaughlin
William McLean
Daniel A. McMillan
T. E. Manchester
Fred E. Mershon
Joseph P. Meyer
Martin N. Miller
Edward S. Moore
Karl J. Peterson
Fred'k J. Prince
Joseph A. Proulx
Alex G. Ralston
Geo. B. Raymond
Jos. S. Robinson
C. R. Schwietzer
Walter A. Sherlock
Samuel M. Shields
Claude H. Still
Steve Stevens
Wm. E. Van Orden
Louis Van Derhook
Gomer Williams
Charles E. Young
George E. Young
William H. Yost
Officers:
Frank E. Green, Capt.
Samuel Hilburn, 1st Lt.
Byron J. McIntire, 2nd Lt.
Sergeants:
Andrew W. Swaney, 1st Sgt.
August C. Lagoni, Quartermaster Sgt.
Mark R. Baldwin
James K. Lang
Pinckney M. Thompson
Corporals:
James Coulter
James J. Hayes
James F. Johnson
Archibald Logan
George C. McCauley
Albert R. Peterson
Musicians:
Henry Bode
Albert R. Burke
Artificer:
John W. Kneiff
Wagoner:
Hugh W. McCauley
Privates:
Edward F. Barrett
George Berry
Henry Bird
R. W. Bradley
A. H. Buckland
Isaac M. Chance
Birt B. Curtis
Robert R. Case
William H. Doyle
Charles G. Dick
Chas. E. Forbes
Alfred N. Finley
Frank A. Gibson
John Gilmore
Edward S. Green
Benjamin A. Green
Elmer Greenleaf
Henry Clay Gould
Silas Gould
George W. Hatt
Swan Halleen
Arnt Hogan
Willard Hollowell
Thomas J. Howard
Oscar Herbert
Nels Hansen
A. J. Ingraham
Matthais Iverson
Joseph D. Isaacs
Charles Jessup
Charles F. Jewell
Le Roy Johnstone
Ralph C. Kirkland
Theodore Knutson
Henry Loewe
Hans C. Mamem
Fred Meiers
Charles Myers
David Nelson
John Nilson
Chas. A. Ovelman
Lewis Pallat
William A. Patton
Clarence Poole
Charles Runels
Jos. E. Ritchey
Patrick Rooney
Geo. A. Rowland
Joseph H. Shultz
Alfred F. Smith
Soren H. Smith
George Stanley
A. Stromgerm
Samuel Swanson
Ole Thorson
Jos. Wadsworth
Walter J. Walker
Lewis S. Warner
Rice Wood
Fred Wheaton
John S. Wise
William Zeller

Officers:
Guy H. Preston, Capt.
Edward A. Foster, 1st Lt.
James M. Croft, 2nd Lt.
Sergeant:
Thomas D. Barton, 1st Sgt.
Edwin K. Cheade, Quartermaster Sgt.
Clarence H. Barrows
William A. Shawls
Arthur W. Stoddard
George F. Young
Corporals:
Thomas H. Harrison
Thomas G. Neilson
Albert Pfaus
Charles L. Seifert
Edward L. Skinner
Benjamin C. Wiedeman
Musicians:
Richard Roberts
William Shugart
Artificer:
Frank M. Partridge
Wagoner:
Perry McHugh
Privates:
Carl A. Anderson
Seymor Addison
J. F. Arsenchek
Percy C. Bullard
G. H. Burmaster
Frank N. Bristol
R. B. Bradley
Harry Buser
George Briggs
Wm. A. Bonham
Antone Bisjak
Harry D. Booth
Nugget Cordero
Milton B. Carroll
Conrad Duvall
Chas. G. Edwards
Joseph Echer
Chas. G. Frost
J. F. Fisher
Frank Gaut
Samuel Grant
E. J. Grindrod
Le Roy Gorley
George W. Hall
Alvin M. Hill
Harshal H. Huffine
William R. Hortop
Authur T. Harvey
Edward B. Harvey
Wm. J. Hannah
F. H. Jones
James P. Johnson
John G. Kirtz
Edward J. Kurz
Joseph Lorenz
Edward J. Lynne
James Logan
Wm. R. Meyersick
Robert H. McKee
Andrew J. Merton
John L. Munz
Bernard Neisigh
Wm. C. O'Leary
Gilbert F. Olson
Samuel C. Purdy
Shelton N. Paine
John B. Ritch
Claude Ramsey
Wm. J. Roberts
Alex. Robertson
Chas. F. Robbins
Julius Riser
Roy O. Sherman
Charles F. Smith
John F. Shultz
Lewis D. Smith
Frank A. Storey
Chas. Sternesha
Jas. W. Stevenson
A. Van Idersteine
Edw. M. Weaver
Hiram L. Welsh

Officers:
Thomas S. Dillon, Capt.
Jacob N. Kennedy, 1st Lt.
Phillip Greenon, 2nd Lt.
Sergeants:
Miles Kelly, 1st Sgt.
Jeremiah Mahoney, Quartermaster Sgt.
Michael Barry
John F. Corrigan
Patrick Culleton
Patrick McBride
Corporals:
John Cavin
Patrick Duffey
Edward Heafy
Barney Marron
Arthur O'Leary
John Riley
Musicians:
Richard C. Burke
Joseph E. Jette
Artificer:
John Clinton
Wagoner:
Austin O'Malley
Privates:
John Alexander
Gustaf Ahlgren
B. F. Belknap
Henry Bell
Herman Blank
George D. Brown
Frank P. Burke
William A. Brown
Harry Burleigh
James T. Cannon
Hoyt B. Cooper
James Conlan
Francis Corrigan
Michael Corrigan
John E. Crow
Jas. A. Callahan
Earl Dougherty
Joseph M. Devine
George C. Douglas
John Donohoe
Thomas Feeny
Frank Faley
J. R. Fitzpatrick
James Fitzpatrick
Michael Fitzgerald
James Garvey
James Golden
F. Goldworthy
Walter Green
F. C. Greene
John Hager
Paul Harman
Martin K. Hyman
Chas. A. Kaiser
Lawrence Keegan
Lawrence Keenan
John Kiley
Carl G. Killenger
John Kirley
James Kennedy
William Lyons
Thomas Malloy
Robert Murphy
Patrick McCullom
James McDevitt
Barney McKittrick
Patrick McMahon
Paul E. Nicholas
John Newman
Thos. A. O'Toole
Hugh Rafferty
James W. Reed
Robert M. Richwine
John P. Rowan
Richard J. Ryan
John Smith
Frank J. Smyth
Thomas Scallon
C. Underwood
Howard L. Tanner
John T. Tierney
Harold Tonseth
Henry Watt
Thomas Williams
Officers:
Asa L. Duncan, Capt.
Walter J. Bradshaw, 1st Lt.
Eugene S. French, 2nd Lt.
Sergeants:
T. B. Stephens, 1st Sgt.
Charles R. Sutton, Quartermaster Sgt.
Guy W. Hassler
C. L. Moore
T. M. Ripley
Fred S. Yager
Corporals:
Charles Albrecht
Alex Goodman
H. H. Hawkins
T. H. Larkin
T. J. McLaughlin
F. J. Miller
Musicians:
John Bass
Joseph D. Hoffman
Artificer:
William H. Stedman
Wagoner:
Frank Munroe
Privates:
John P. Bahnsen
Julius Barney
Kerr Beadle
Michael Bennett
Wm. H. Blashill
Robert Bridgens
W. L. Briggs
Geo. W. Brown
James Browning
Ralph Bushnell
Austin D. Butler
Donald Cameron
Edward Costello
George Daigh
Thomas Dunne
David Eyerly
Oscar A. Falling
John Femnell
Patrick Flynn
Mark T. Good
Barney Hagan
David Hanley
Oscar Hallpeter
Frank H. Henry
John S. Herald
George Hynes
Carl Johnson
Severt Johnson
Wm. L. Kindell
John F. King
Frank N. Kline
Emery B. Lacey
Frank Lessenger
Hugh McGee
Andrew McGinnis
Walter J. McLean
John Mazanec
Napoleon Monroe
Daniel Mosier
Edward A. Myers
S. J. Murphy
Andrew Nelson
Edward C. O'Brien
Daniel Olson
Robt. Orminston
Frank Peterson
George Pitcher
Samuel Price
O. H. Rollins
Linford Seeley
G. W. Shepard
Alfred F. Sibley
A. W. Smith
John Sorenson
William Stedman
August Streit
Harry Strong
Frank Stursa
William Thefaul
George Townsend
Bird C. Vestal
George E. Walker
Hans W. Wegener
Walter L. Whann
Harry Younglove

Officers:
John Hallahan, Capt.
Bryan Conrad, 1st Lt.
Gerald Sullivan, 2nd Lt.
Sergeants:
Edward J. Hanlon, 1st Sgt.
George Deis, Quartermaster Sgt.
Siegfried A. J. Dorn
Bartholomew N. Kennedy
Martin O'Shea
Carl A. Steinmetz
Corporals:
Charles B. Buck
Jesse H. Getchell
William S. Lincoln
Philip McDonnell
James O'Leary
William Reilley
Musicians:
Guy W. Hankins
George L. Spier
Artificer:
Grover Napier
Wagoner:
George C. Downing
Privates:
Harry Archbold
Chas. F. Bateman
Daniel P. Boyle
Peter Brackman
John L. Brooks
John Brooks
Fred M. Cain
John J. Campbell
James Casey
Joseph Callahan
William J. Cheastey
F. W. Condon
Albert P. Daily
Robt. A. Dodson
Patrick Dougherty
Thomas Donnelly
Anton Doll
Thomas Eaton
Wm. E. Edwards
William P. Fisher
Thos. J. Gorman
Edwin J. Godahl
Byron Griffin
Frank G. Hamill
William Hamly
James Haughey
William E. Hall
William A. Hill
John Hendrickson
Swift D. Hunter
Michael Henry
Patrick Holland
Fred'k P. Hudson
Henry Jebe
Andrew S. Jensen
Fred Johnson
Frank Landreman
Adolph Meihofer
Frank Mills
William Mietschke
Charles P. Monroe
Chas. A. Murphy
Robt. W. McCulloch
Hugh McKenzie
James Noonan
Cornelius O'Connor
James O'Donnell
James H. O'Neill
Barney O'Neill
Ole T. Onarheim
Alfred Ouillette
Martin S. Railey
Charles L. Rice
Charles Rodgers
John E. Robinson
Thomas Ryan
John A. Saxton
Jacob L. Schiffman
John Smith
Floyd Shipman
David Silver
Gustave J. Tente
---
Bibliography:
Barrows, John The Dillon Tribune, October 27, 1999 (used by permission)(Companies D and E).
Keppeler, James - Photo of Company F from the Butte Miner.

Wood, Sarah - Data on the Regimental Field and Staff, Companies A, B, C, F, G, H, I, K, L, M, Band, and Hospital Corps from K. I. Faust's Roster of the First Montana Regiment, U.S.V.
---
Support this Site by Visiting the Website Store! (help us defray costs!)
---
We are providing the following service for our readers. If you are interested in books, videos, CD's etc. related to the Spanish American War, simply type in "Spanish American War" (or whatever you are interested in) as the keyword and click on "go" to get a list of titles available through Amazon.com.
---
Visit Main Page for copyright data