---
A Brief History of the First Washington Volunteer Infantry
Thanks to Gary Thompson
---
Please Visit our Home Page to learn more about the Spanish American War
---
General:
The First Washington Volunteer Infantry served in the Philippines, though it arrived after the fighting of the Spanish American War had ended. The unit later took part in the Philippine-American War.
The Unit History:
The 1st Washington Volunteer Infantry was formed in Tacoma, Washington on May 6 - 13, 1898. Initially, the unit was comprised of 46 officers and 967 enlisted men. Though the war's fighting had ended by armistice on August 13, the unit shipped out from San Francisco on October 19, 1898 as part of the Fifth Philippine Expedition aboard the transports NEWPORT and OHIO. The unit arrived in the Philippine Islands on November 22,1898. The Spanish American War formally ended on December 10, 1898, with the signing of the Treaty of Paris.
When the Philippine American War broke out on February 4, 1899, the unit rapidly became involved. The military records of Private James M. Derrey, of Company J, indicate that the unit initially saw combat in the area of Santa Ana on February 4-5, 1899. Later engagements found the unit in battle around Taguig May 19th, Taitai Cainta and Morong on the 4-5 of June, and near Calamba on July 26-27.
In summary, the 1st Washington spent 38 days in trenches, and 204 days on the firing line. Losses to the 1st Washington from all causes included 27 officers, with 25 resigned or discharged, 1 due to disease, and 1 killed in action. Enlisted losses totaled 578, including 86 transfers, 79 discharged for disability, 2 discharged by general court martial, 344 discharged by order, 17 killed in action, 17 killed by disease, 8 who died as a result of wounds received, 1 drowning, and 24 desertions. In addition to the above losses, 5 officers and 89 enlisted men were wounded during the unit's stay in the Philippine Islands. The 1st Washington left the Philippine Islands on September 5, 1899 for San Francisco, arriving on October 9, 1899. The unit was stationed at the Presidio while awaiting discharge, where on November 1, 1899 the 1st Washington was disbanded. At that time the unit consisted of 46 officers and 769 enlisted men.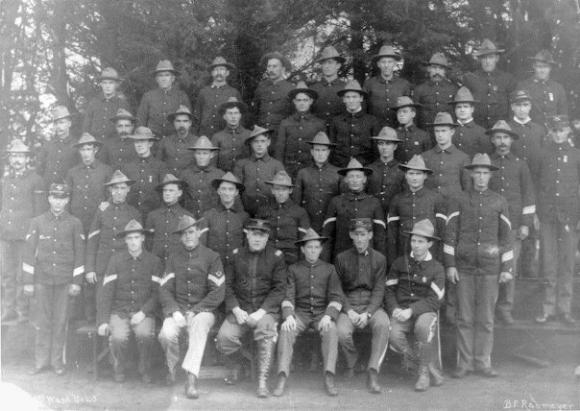 A portion of Company J, 1st Washington Volunteer Infantry
---

To visit the website bibliography, click here. To visit the website video bibliography, click here

---

Support this Site by Visiting the Website Store! (help us defray costs!)

---

We are providing the following service for our readers. If you are interested in books, videos, CD's etc. related to the Spanish American War, simply type in "Spanish American War" (or whatever you are interested in) as the keyword and click on "go" to get a list of titles available through Amazon.com.
---
Visit Main Page for copyright dataa