---
A partial roster of
2nd Texas Volunteer Infantry
Contributed by David Minton
---
Please Visit our Home Page to learn more about the Spanish American War
---
Field and Staff ||| Company A ||| Company E
---
General:
This is a partial roster for the Second Texas Volunteer Infantry. We are looking for information on the remaining companies and the remainder of Co. E. If you have any additional info. to contribute, please let us know by clicking here!
The Roster:
Colonel, L. M. Openheimer
---
Company A ("Mabry Guards"):
Officers:

Captain, Charles G. Beirbower
1st Lieut., Richard C. Bierbower
2nd Lieut., George Coon
Sergeants:
1st Sergeant, Eugene West
Q.M. Sergeant, David C. Randall
Edward H. Webber
Monte Sedgley
Donald Brice
Jack H. Roberts
Corporals:
Holly Berry
Colon McMahon
Harvey M. Reynolds
Henry J. Wellhausen
Lonnie Baker
Dan Garvin
Hugh E. Jones
Patrick W. Desmond
Edward F. McBride
James Mullins
Herman C. Karnes
William Bean (Died at Miami, Fla., August 13th, 1898)
Musicians:
Charles C. Goodwin
Robert E. Dennis
Joseph Barbee
Artificer:
John Webber
Wagoners:
John Webber
Curtis R. Alexander
Privates:
Armstrong, William W.
Bailey, William E.
Barnes, John
Bell, John
Bennett, Robert L.
Cass, Robert N.
Chamberlain, James D.
Cawthon, Herbert
Cotton, Hatton R.
Carson, Thomas G.
Coleman, Walter T.
Davis, Glen
Donovan, Oscar
Dunn, Alonzo B.
Finland, James
Fugate, Brax
Flewellen, Wilbur L.
Fuller, Jack
Galvin, John P.
Gardner, John F.
Gholson, Robert M.
Gilbreath, Hugh
Guilheim, Charles S.
Gibson, James O.
Hartung, William F.
Harvey, John M.
Howard, Elmer F.
Hoerler, John B.
Hennaker, William A.
Hunt, Albert G.
Jackson, Holly
Jordan, John B.
Johnson, Charles M.
Johnson, Samuel D.
Justice, William E.
Kendrick, James H.
Landrith, Thomas
Lasater, Joe E.
Lewis, Crawford B.
Livingston, George W.
Long, Dea P.
Lucas, Frank
Phillips, Leonard J. Transferred To Hospital Corps
Mathis, Robert J.
Mariner, Phillip H.
Mullins, Richard
Mackey, John P.
Merrell, Arthur
Mclendon, Dennis J.
Nelson, Richard
Parrish, William
Presley, Judson G.
Porter, Alpheus R.
Price, George E.
Pickett, Sydney R.
Pomas, Emile
Rogers, Zeb V. Died In Miami, Fla., July 28, 1898
Rogers, Walton L.
Roberts, Liston C.
Rucker, Charlie B.
Sparra, Jewall C.
Smith, James A.
Skipper, Arthur G.
Stephens, John H.
Saline, Robert C.
Shaw, Robert C. Transferred To Hospital Corps
Stoker, James A.
Sonner, Benjaman F.
Standifer, Charles J.
Stone, Henry
Thomson, Harry M.
Toolen, John R.
Trice, Giles H.
Tucker, William W.
Van Hutton, George
Waldrop, William
Wells, Ernest
Wells, Bice
White, John N.
Witkowsky, Steve T.
Wilson, Randol P.
Williamson, Alvin
Yates, Milton F.

---
Company E: (partial roster, missing names of privates after Arthur Coleman. The company was raised in Dallas. All of the men, unless otherwise note, listed Dallas as their place of residence)
Officers:
Captain Charles S. Mitchell
1st Lieutenant Angelo De Stefan
2nd Lieutenant Erskin H. Roach
Sergeants:
Archer Word, 1st Sergeant
James B. Joslyn (?), 2nd Sergeant
Frank D. Perkins, Sergeant
James B. O'Neall, Sergeant
Harvey C. Johnston, Sergeant
Corporals:
John B. McLeod
William Gaven
Henry C. Secmuller
Clarence J Nephler
Edward Anderson
Louis Ludlow
Carl E. Schuster
Mack Smith
William Morrison
Other:
Richard J. Cornwall, Musician
Charles J. Patterson, Wagoner
Private:
Bennett, Coleman (Waco)
Berman, Paul B.
Biggers, Eugene
Bookter, Edwin F. (Waco)
Brock, Harry R.
Brown, Earnest L. (Fort Worth)
Bryan, James R.
Caven, David B.
Carter, Ben Jr. (Waco)
Cohen, Louis
Coleman, Arthur L.
---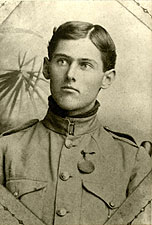 The information on Company A came from a roster that was owned by Harry McDonald Thomson. Harry McDonald Thomson was born on April 7, 1879 in Oenaville, Bell County, Texas, the sixth child of Alexander Cromwell Thomson and Sara Ann Bray. His great grandfather, Alexander S. Thomson, Jr., was an early pioneer and colonizer of Texas having brought over 100 settlers from Tennessee in 1832. He received some of the first land grants from the newly formed Mexican government and he and his family later became instrumental in the Texas revolution and subsequently in the government of the new Republic of Texas.
In 1889, Harry and his family moved to Coleman, Coleman County, Texas, and he remained a citizen of that county for 81 years. In early life he served as a school teacher before going into business for himself as a grocer, merchant and also in real estate. Later, after retiring from business, he was appointed Coleman Postmaster by Franklin Roosevelt, and served in that capacity until his final retirement.
On May 12,1898, at the age of 19, he became the first volunteer from Coleman County to enlist for service in the Spanish-American War, being mustered in Austin, Texas. He served as a private in Company A, 2nd Texas Volunteer Infantry, "Mabry Guards," until his discharge on November 9, 1898. Upon his return to civilian life, he played semi-professional baseball in the Texas leagues as a pitcher and catcher and competed against such notables players as Honus Wagner.
Harry was active in local, state and national politics having served as a councilman for a number of years and as a national delegate. He was a close political ally of Lyndon Johnson and assisted him in a number of his campaigns for various state and national offices.
He was married to Ms. Jessie Alice Melton on September 9, 1904 and they had one son and two daughters. Harry had 8 grandchildren and 15 great grandchildren. He died in Coleman on July 7, 1970 was buried in the Thomson plot in the city cemetery.
---
Bibliography:
McCrum, Douglas - Roster of Company A from a broadside memorial roster of the company and information on Harry Thomson
Minton, David - partial roster of Company E.
---

Support this Site by Visiting the Website Store! (help us defray costs!)

---

We are providing the following service for our readers. If you are interested in books, videos, CD's etc. related to the Spanish American War, simply type in "Spanish American War" (or whatever you are interested in) as the keyword and click on "go" to get a list of titles available through Amazon.com.
---
Visit Main Page for copyright data