---
The Roster of the 2nd New York Volunteer Infantry
Contributed by John LeBarre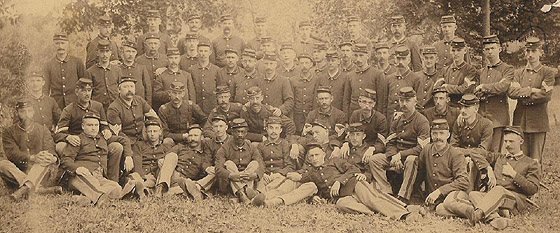 2nd New York Volunteer Infantry, Co. G
---
Please Visit our Home Page to learn more about the Spanish American War
---
Company B
---
Click here if you have rosters additional companies to contribute
---
General:
The following is the partial roster of Second New York Volunteer Infantry. More data will be added as it becomes available.
The Second New York Volunteer Infantry served its term of service in the continental U.S. during the war. It did not go overseas
The Rosters:
Officers:
Edward C. Gale, Captain
Henry P. Sherman, First Lieutenant
Carroll L. Maxcy, Second Lieutenant, resigned May 31, 1898
Calvin S. McChesney, Second Lieutenant, promoted from Q.M. Sgt., June 13,1898 .

Sergeants:
David B. Plum, first Sergeant
George B. Harrison, Q.M. Sergeant, promoted from Corporal, June 18,1898
Sergeants
Louis H. Baker
Edward F. Roy
Porter S. Oakley
Frederick T. Lape
Corporals:
Samuel C. Woodcock, died Oct. 4, 1898
Charles P. Roy, app. May 23, 1898
Milton F. Bolton, app. June 7, 1898
Elmer Darling, app. July 7, 1898
Horatio H. Hayner, died Sept. 20, 1898
Harry G. Taylor, app. July 7, 1898
Frank O. Styles, Jr.
John T. Starkweather, app. June 7, 1898
Henry S. Giles, app. June 18, 1898
Lewis W. Dayton, app. July 7, 1898
Timothy J. Quillinan, app. July 7, 1898
Orton H. Thomas, app. July 7, 1898
Others:
Musician: Henry R. Leffingwell
Artificer: Matthew S. Cummer
Wagoner: Chester H. Stillman
Privates:
Armstrong, William J.
Abrams, John F.
Ashby, Chester
Baxter, Horace E.
Banker, Edward W.
Bridgeman, Peter T.
Bantel, Edward C.H.
Betts, Clarence W.
Brown, Thomas E.
Bowler, Michael
Cluett, Walter H.
Cluett, Sanford L.
Cluett, George A.
Campbell, William J.
Clark, Francis D.
Draper, Frederick E., Jr.
Draper, Phillip H.
Donnelly, William M.
Dauchy, William P.
Davey, George E.
Dippo, Frank
Douglas, Joseph F.
Eaton, Joseph O.
Easson, James
Ennis, John D.
Eycleshymer, Irvin
Flynn, John, Jr.
Fowler, Fred S.
Foster, DeWitt P.
Frame, R. Walter
Frear, Charles W.
Gilbert, Edward G., 2nd
Gilbert, Wm. A.
Goodwin, Frederick D.
Green, Griswold
Green, Lansdale B.
Hagen, Charles
Hare, George L.
Haskell, Walter V.
Harrington, Edward E.
Hart, George B.
Harper, Wallace A.
Hayes, John F.
Hall, George M.
Hislop, Thomas W.
Hoyt, Henry H.
Hastings, Milton C.
Ingalls, H. Bertram
Judson, Stephen H.
Kennedy, William S., died Aug 28, 1898
Kemp, Edward J.
Kober, Edward, Jr.
Kolb, Frank E.
Kienhofer, Augustus
Lane, Leland T.
Lansing, Hugh H.
Lynd, Leonard E.
Luddy, John A.
Lumley, Frank J.
Link, Zera D.
LeMay, Alphonso
Liker, Willaim F.
Leonard, Harry B.
Magill, James S.
Martin, Edawrd H.
McArthur, William H., died Aug. 18, 1898
McCarthy, Eugene J.
McChesney, Levi S.
McLoughlin, Thomas J.
McCue, James F., Jr.
Murphy, Edward, Jr.
Noetzel, Oscar W.
Pike, Webster M.
Quinn, Francis M.
Ranken, T. Harry
Reynolds, James A.
Smith, Seth W.
Smith, George A.
Sherwin, Harry E.
Sleicher, Harry S.
Sheary, Michael
Sheehan, Willaim F.
Surdam, Harold
Thompson, William L.
Toole, Thomas H.
Tyner, William J., Jr.
Thompson, John J.
Torrance, Charles H.
Wales, Edward D.
Wales, Philip K.
Warren, Eugene
Williamson, Esek B.
Wright, Josiah P.
Waterman, Harry A.
Wilson, John V.
Young, Albert E.L.

---
To visit the website bibliography, click here. To visit the website video bibliography, click here
---
Support this Site by Visiting the Website Store! (help us defray costs!)
---
We are providing the following service for our readers. If you are interested in books, videos, CD's etc. related to the Spanish American War, simply type in "Spanish American War" (or whatever you are interested in) as the keyword and click on "go" to get a list of titles available through Amazon.com.
---
Visit Main Page for copyright data