---
"The Rough Riders"
A 1927 Film Production!
---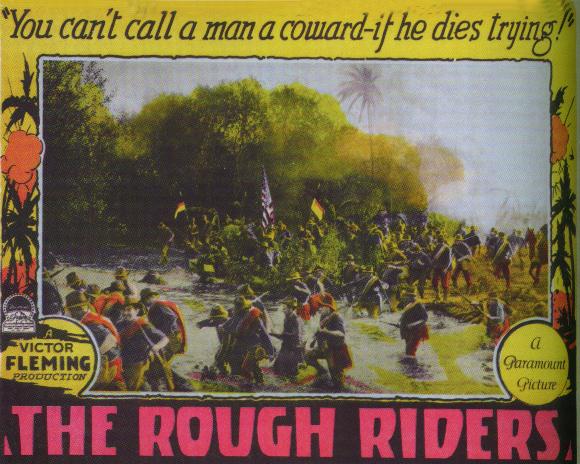 ---
Please Visit our Home Page to learn more about the Spanish American War
---
General:
The following is information about a 1927 film on the Rough Riders.
The information:
This was a black and white 35 mm 13 reel film made by the Paramount Famous Lasky Corp. It was premiered in New York on March 15, 1927.
Producer: Adolph Zukor, Jesse Lasky; Assoc. Producer B. P. Schulberg; Director: Victor Fleming; Screenplay Robert N. Lee, Keene Thompson
The cast included Noah Beery, Charles Farrell, George Bancroft, Charles Emmett Mack, Masry Astor, Frak Hopper (as Roosevelt), Col Fred Lindsay (as Leonard Wood), and Fred Kohler (Sgt. Stanton)
The story concerns the Rough Riders (of course). Bancroft's character skip's jail to enlist, as does his pursuer, the sheriff (Beery). Bert, a local Texas boy and Van, a New Yorker compete for the attractions of Dolly (Astor). Bert and Van become friends, and when Bert is wounded at San Juan Hill, Van carried him back down of the hill, where he dies as a hero. Van notifies Dolly. The film ends with Dolly and van attending Roosevelt's inauguration with their two children.
The production was filmed around San Antonio. When filming began, Paramount hosted a dinner at the St. Anthony Hotel with local people, and the military in attendance. The production company arrived in town aboard the Southern Pacific RR and was met by a brass band.

---
Bibliography:
(As a service to our readers, clicking on title in red will take you to that book on Amazon.com)
Frank Chappell (correspondent, provided info. on the surviving stills, and location of the filming)
Cohen, Stan. Images of Spanish American War, April-August,1998. (Missoula:Pictorial Histories Publishing Co., Inc., 1997), 324 -326.
---

Support this Site by Visiting the Website Store! (help us defray costs!)

---

We are providing the following service for our readers. If you are interested in books, videos, CD's etc. related to the Spanish American War, simply type in "Spanish American War" (or whatever you are interested in) as the keyword and click on "go" to get a list of titles available through Amazon.com.
---
Visit Main Page for copyright data
Return to Main Page