---
Regimiento de Infanteria "Constitucion" Nº 29
"Constitution Infantry Regiment NR. 29"
by Francisco José Díaz Díaz
---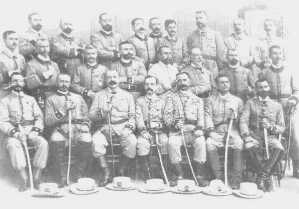 ---
Please Visit our Home Page to learn more about the Spanish American War
---
To see an example of the uniform worn by the Regimento de Infanteria "Constitucion" No. 29, Click here
---
General:
Dates of Muster-In/Muster-out: This regiment had two battalions and one Staff detachment. Each battalion had 20 officers and 326 men during peacetime; In war, each battalion increased to 39 officers and 1001 men.
Size of Regiment: 83 officers, 2040 men.
Losses: The three companies that fought during the Battle of El Caney had 201 men killed or wounded and 98 taken prisoner.
Location of service: 1st battalion: Cuba. 2nd battalion: Spain.
Actions: El Caney, Cuba.
Unit History:
Before the Cuban War, this regiment was in Spain. Its served in the "6ª Región Militar" (6th Military District). When the War against the Cuban rebels began, the Spanish Minister of War, General Azcarraga, ordered that a number of Spanish regiments be sent to Cuba, with regiments coming from the various battalions. By the Royal Order of Campaign, in July 25, 1895, seventeen infantry regiments were ordered to send one battalion to Cuba. The battalion sent by "Constitution" Regiment 29 was its first 1st Battalion.
This battalion included:
Staff Detachment: 1 Lieutenant Colonel, 2 comandantes (major in US Army), 2 captains, 1 alferez (2nd lieutenant in US Army) for carrying the regimental flag, 2 medical doctors (officers), 1 army chaplain (officer), 1 sergeant, 1 cornet corporal, 1 gunsmith and 2 soldiers.
6 companies, with each company having 1 captain, 3 lieutenants, 1 alferez (2nd ieutenant in US Army), 5 sergeants, 10 corporals, 4 cornets, 4 soldiers of 1st class (veterans) and 143 soldiers of 2nd class.
The total numbe rof men was 1040 under the command of Lieutenant Colonel Bernardo Areces Lopez. This battalion was equipped with Mauser Rifles 1893 7 mm. The officers were equipped with revolvers Lefaucheux model 1863 and Spanish infantry sabre model 1887.
When this Battalion arrived at Cuba was sent to Santiago de Cuba and brigaded into 1st brigade (General Vara del Rey), Santiago Division (General Linares).
When Major-General Shafter's American Troops disembarked at Daiquiri and Siboney, the Spanish Minister of War ordered the formation of the 4th Army Corp with two Divisions, the Santiago Division and the Manzanillo Divisions. The chief of Army Corp was General Linares. The Santiago Division was under command of General Toral and the Manzanillo Division was under accidental command of Colonel Ascario.
Three companies of Constitution battalion were sent to El Caney. The other three companies were sent to San Luis, near to Santiago.
On July 1, American troops under command of General Lawton began their attack on El Caney at 6:30 AM. The Spanish troops included three companies of the 1st battalion Constitution Regiment nr. 29, 50 men of the "Asia" Regiment and 40 men of the "Cuba" regiment. All told, there were 529 men under the command of General Vara del Rey. They were, however, without artillery. The American artillery opened fire at 6:30. For ten hours, the fight raged, with the Spanish troops remaining in their positions until 17:00. One hundred of the men then withdrew to Santiago.
American losses, according to Spanish sources, were 81 men killed and 360 men wounded. For their action, the King Alfonso XIII of Spain gave the Great Cross of San Fernando to the Battalion.
---
Source: García, Antonio Carrasco, En guerra con los Estados Unidos. Cuba 1898" ( In War Against United States. Cuba 1898) (Madrid: Editorial Almena S.L, 1998).
---

Support this Site by Visiting the Website Store! (help us defray costs!)

---

We are providing the following service for our readers. If you are interested in books, videos, CD's etc. related to the Spanish American War, simply type in "Spanish American War" (or whatever you are interested in) as the keyword and click on "go" to get a list of titles available through Amazon.com.
---
Visit Main Page for copyright data