---
U.S. Navy Recipes
By Patrick McSherry
---
Please Visit our Home Page to learn more about the Spanish American War
---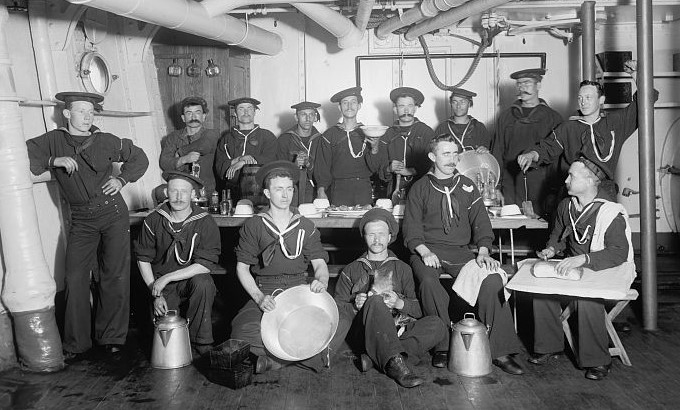 The berth deck slushers," or mess cooks, of the Battleship MAINE


General:


Bonified recipes used in the U.S. Navy during the Spanish American War are difficult to find. The Navy had no official cookbook. Some of the types of dishes prepared are known by name and were made in other periods also. However, as the recipes were not documented, they could have changed over time. Below are some recipes we believe to be correct to the period.

The Recipes:

Burgoo

Burgoo has been a source of some confusion in recent years because there are two distinctly different foods which are called "burgoo." In portions of the United States - generally Kentucky and Tennessee - burgoo is the term applied to a type of stew. However, the burgoo of the Spanish American War era U.S. Navy referred to a different concoction. Going back to the British navy, burgoo was a boiled oatmeal, as was noted by William Spavens. Apparently this recipe carried over to the U.S. Navy, with references to the oatmeal concoction as late as 1907. It can be assumed that the following recipe, which appeared in the U.S. Navy's first cookbook in 1902 was the burgoo of which the sailors of the Spanish American War U.S. Navy were partaking:


"Into pots of boiling water to which 1 pound of butter and 2 pounds of sugar have been added stir 40 pounds of oatmeeal and boil two hours, stirring occasionally. (NOTE. - When the oats are crushed or cracked boil for twenty minutes only.)"



Plum Duff

Plum duff is referred to by navymen of differnt time periods and different countries. The "duff" part of the name is claimed to be from a mispronounciation of the word "dough." Dough had to rhyme with "rough," and was therefore pronounced "duff."

We have a tongue-in-cheek recipe for plum duff from 1898 as recorded by a soldier of the 2nd Oregon Volunteer Infantry who wrote:


"Will send you a recipe for making pudding. If you will try it, no doubt you will like it:Take a few hard tack, or, if you havenít them, a few stale biscuits will serve the purpose; take an axe and pound them up as fine as possible; pour in a cupful of vinegar and a half- teacup of brown sugar, thoroughly dissolved in bacon grease, and drop in a few prunes; if you havenít the prunes, a little rice will do. Then make a sauce out of milk made from cocoa nut and prepared chalk, with the yolk of an egg, and a little cinnamon or pepper will do; put it on the fire by five in the morning and by six in the evening it will be ready to serve. Eat while itís hot. The name of this is plum duff..."

The recipe above is not intended for a full recipe, but does give a good idea of how the recipe was prepared. The recipe is quite similar to that found in the 1902 Navy cookbook. Given the similarities, we believe that the 1902 recipe reflects the version of this dish prepapred during the war. The 1902 recipe is as follows:


"Soak 25 pounds of stale bread in cold water and drain dry. Add 25 pounds of sifted flour, 5 pounds of suet chopped fine, 3 pounds of raisins, 5 pounds of sugar, 4 pounds of currants, 2 pounds of prunes, 3 tablespoonfuls of salt, 1 teaspoonful of ground cloves, 1 tablespoonful of ground cinnamon, and 1 wineglassful of vinegar, and mix all thoroughly with cold water. Turn the bags inside out, drop them into boiling water, render out slightly, and drop into dry flour, dredging them thoroughly. Turn the bags flour side in and fill them with the pudding. securing the opening firmly, drop into the copper in which water is boiling and cook for at least two hours. If there is sufficient time, the pudding will be improved by boiling three or four hours."


Sea Pie

The following recipe was provided in the

New York Sun

newspaper, and lists Sea Pie as being "one of Uncle Sam's naval delicacies." The recipe provided, said to serve 22 men, is as follows:


Cut up 16 1/2 pounds of meat, two pounds carrots or other vegetables, one pound onions, all of which place in boiler with enough water to cover; add some jelly from the meat, season with pepper and salt and stew gently. Make a paste with five pounds of flour and 1 1/2 pounds of suet or drippings. Place this dough over the stewed meat and boil or steam for 20 minutes."


Slumgullion

The same soldier from the
2nd Oregon Volunteer Infantry
who provided the recipe for "Plum Duff" provides a period tongue-in-cheek recipe for Slumgullion, which was a Navy staple, as follows:


"...Another mixture we call slum gullion is made this way: Get a kettle of water, put it on the fire until it comes to a boil, then take several cans of horse meat, and stir it in with hardtack and if you have a can of tomatoes that you donít need and are in your way, just drop it in with plenty of salt and pepper, and you will have the nicest dish you ever saw..."
---
Bibliography:
Berth Deck Slusher Photo - Library of Congress
Feeding the Pacific Squadron," The Asheville Weekly Citizen. (Asheville, NC), November 12, 1907, 3

"From the Philippines," Springfield Leader and Press. (Springfield, Missouri), December 31, 1898, 5.

General Mess Manual and Cookbook for Use on Board Vessels of The United States Navy. (Washington: Government Printing Office, 1902) 29, 31.
Spavens, William, The Narrative of William Spavens: A Chatam Pensioner .(Chatham Publishing, 1998) 69.

Uncle Sams' Cook Book," Boston Globe. Juky 7, 1898. 7 (the article was quoted in the Boston Globe from the New York Sun).

---

Support this Site by Visiting the Website Store! (help us defray costs!)

---

We are providing the following service for our readers. If you are interested in books, videos, CD's etc. related to the Spanish American War, simply type in "Spanish American War" (or whatever you are interested in) as the keyword and click on "go" to get a list of titles available through Amazon.com.
---
Visit Main Page for copyright data