---
20th Kansas Volunteer Infantry Commemorative Medal
By Andrew Lipps
---
Please Visit our Home Page to learn more about the Spanish American War
---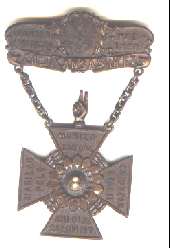 The soldiers and sailors of the Spanish American War returned to a hero's welcome in their home states, and many of the states and cities struck medals to present to the local boys.
One such medal was struck by the state of Kansas and presented to her veterans through the Department of Kansas GAR (The Grand Army of the Republic was a nationwide organization of Civil War Union veterans with wide social and political influence). This two piece bronze medal has an 8th Corps badge within a Kansas sunflower, and battle names on the arms of the cross. The reverse notes that the medal was given by the People of the State of Kansas through the Kansas GAR in 1900. The example shown here is engraved on the reverse to "Q.M Sergt. Harold B. Reed, Co. K." of the 20th Kansas Volunteer Infantry. The 20th Kansas served in many engagements in the Philippine Islands.
---

To visit the website bibliography, click here. To visit the website video bibliography, click here

---

Support this Site by Visiting the Website Store! (help us defray costs!)

---

We are providing the following service for our readers. If you are interested in books, videos, CD's etc. related to the Spanish American War, simply type in "Spanish American War" (or whatever you are interested in) as the keyword and click on "go" to get a list of titles available through Amazon.com.
---
Visit Main Page for copyright data
Return to Main Page