---
The California Volunteers Medal
Contributed by Andrew Lipps
---
Please Visit our Home Page to learn more about the Spanish American War
---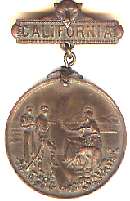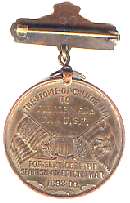 This medal, issued to the California Volunteers who served in the Spanish American War is a two piece bronze medal with an ornate pinback top bar reading CALIFORNIA on the front and numbered on the reverse. It has a heavy well struck bronze planchet with an ornate soldier and lady (Liberty, Columbia???) scene on the front and the reverse reading THE PEOPLE OF CALIFORNIA TO ... FOR SERVICE IN THE SPANISH AMERICAN WAR 1898-1899. The medal in the images is numbered 90 and is impressed named to J.KILEMADE CO. A U.S.V.
---

To visit the website bibliography, click here. To visit the website video bibliography, click here

---

Support this Site by Visiting the Website Store! (help us defray costs!)

---

We are providing the following service for our readers. If you are interested in books, videos, CD's etc. related to the Spanish American War, simply type in "Spanish American War" (or whatever you are interested in) as the keyword and click on "go" to get a list of titles available through Amazon.com.
---
Visit Main Page for copyright data
Return to Main Page