---
U.S. Marine Corps
Spanish Campaign Service Medal
By Patrick McSherry
---
Please Visit our Home Page to learn more about the Spanish American War
---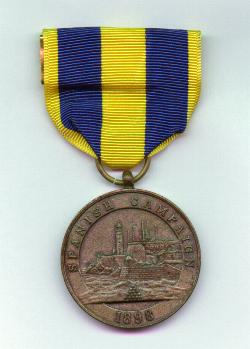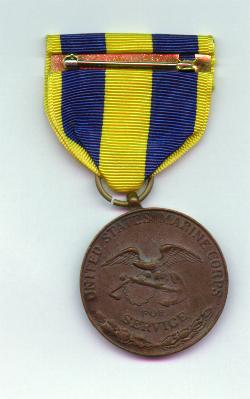 The Spanish Campaign Marine Service medal was issued by the United States government to all members of the the U.S. Marine Corps who served at sea in the theater of operations or who served in Cuba, Puerto Rico, Guam or the Philippines between May 1, 1898 and August 16, 1898. The medal is similar to the Spanish Campaign Navy Service medal and the Spanish Campaign Army Service medal.
The front side (left, above) has the statement "SPANISH CAMPAIGN" around the top. At the bottom is the date "1898." Depicted in the center is a typical coastal spanish fortification, possibly intended to be Havana's Morro Castle, a symbol of the war. Below the fortification is a pile of cannonballs.
The reverse side (right, above) has the statement "UNITED STATES MARINE CORPS" around the top, and "FOR SERVICE" below the eagle. The statement identifying the Marine Corps is the only difference between the Navy and Marine versions of the medal. The center bears the image of an eagle alighting on a foul anchor. Below the words "FOR SERVICE" are two types of leaves. The leaves curving to the left are oak leaves, a symbol of strength. The leaves curving to the right are olive leaves, the symbol of peace.
---
Bibliography:
(As a service to our readers, clicking on title in red will take you to that book on Amazon.com)
Cohen, Stan. Images of Spanish American War, April-August,1998. (Missoula:Pictorial Histories Publishing Co., Inc., 1997) 357.
---

Support this Site by Visiting the Website Store! (help us defray costs!)

---

We are providing the following service for our readers. If you are interested in books, videos, CD's etc. related to the Spanish American War, simply type in "Spanish American War" (or whatever you are interested in) as the keyword and click on "go" to get a list of titles available through Amazon.com.
---
Visit Main Page for copyright data
Return to Main Page