---
John Tidwell's certificate for serving aboard
USS SOLACE
Information contributed by Bill Tidwell
---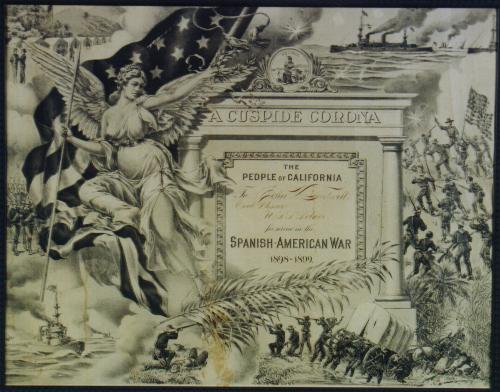 This certificate was awarded to John Vance Tidwell, a coal passer aboard the SOLACE. It reads "A CUSPIDE CORONA/The/People of California/John V. Tidwell/Coal Passer/U.S.S. Solace/Spanish American War/1898-1899."
John Tidwell's career involved service aboard a number of famous Spanish American War vessels. He joined the U.S. Navy at San Francisco, being inducted on March 30, 1898. His inital service was aboard the U.S. Receiving Ship INDEPENDENCE. On May 17, 1898, he joined the crew of the USS CHARLESTON, serving aboard her on her trip to Manila, during which she captured the island of Guam. On November 3, 1899, he became a member of the crew of the gunboat, USS HELENA, though he stayed aboard less than a month at which time he was transferred to the USS PETREL, a veteran of the Battle of Manila Bay. Next, as of January 14, 1900, he was again transferred. This time his new berth was aboard the monitor USS MONTEREY.
On December 28, 1900, he became a member of the crew of the SOLACE. He remained a member of her crew until he was discharged on March 29, 1901 at San Francisco.
John Tidwell, a native of Thornton, Texas passed away on May 29, 1939 at the Veterans Hospital in Gulfport, Mississippi in his 62 year.
---

To visit the website bibliography, click here. To visit the website video bibliography, click here

---

Support this Site by Visiting the Website Store! (help us defray costs!)

---

We are providing the following service for our readers. If you are interested in books, videos, CD's etc. related to the Spanish American War, simply type in "Spanish American War" (or whatever you are interested in) as the keyword and click on "go" to get a list of titles available through Amazon.com.
Search:
Keywords:
---
Visit Main Page for copyright data