---
U.S.S. YOSEMITE
by Miguel Hernandez
---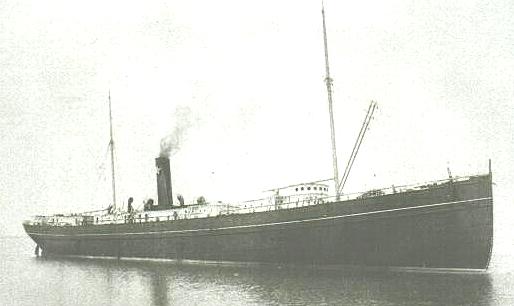 ---
Please Visit our Home Page to learn more about the Spanish American War
---
Click here for info. on the PURISSIMA CONCENPCION incident
Click here to read about the YOSEMITE's action against the ANTONIO LOPEZ
Click here to read about the crew of the YOSEMITE
Click here for a letter written by a YOSEMITE crew member.
---
GENERAL:
On June 16-17, 1898, the USS YOSEMITE was assigned to intercept the Spanish vessel PURISSIMA CONCEPCION. The attempt failed amid controversy. The article provides some insight into the controversy.
BACKGROUND:
Well before the war the U.S., the U.S. Navy had begun an ambitious naval warship building. However, these new war ships were deemed not to be sufficient and in early 1898 the Navy embarked on another program to enhance and expand its fighting capabilities. This expansion came about as a result of a $50 million "war chest" that the U.S. Congress had appropriated. For its time it was an astronomical sum and one which the nearly-bankrupt Spanish government simply could not match. Approximately $30 million of the appropriation went to the Navy. The Navy purchased or leased proximately over 100 privately owned vessels from ship owners and brokers from the US and around the globe. Spain also took the same course to augment her naval fleet, and acquired some twenty-two commercial vessels. Both Spain and the United States converted these steam vessels into auxiliary cruisers, gunboats, colliers and transports.
Included in the purchase of these vessels was a freighter called EL SUD from the Southern Pacific Company; the price was $575,000. She was purchased on April 6, 1898, and commissioned only seven days later as an auxiliary cruiser. Her transformation from freighter to fighter was accomplished at League Island, PA and, Newport News, VA and by May 30, 1898 she departed Hampton Roads for duty in the Caribbean. At the shipyards three inch-thick steel plates were mounted athwart her engines, and a five-foot coal berm formed a dubious barrier of protection for her boilers. Ten 5"guns were added and six, 6-pounders rapid fire guns set on the port and starboard ports on the broadsides, below. She also had a pair of colt machine guns. In all she carried eighteen guns and to complete her vestment as a warship she was painted "fighting Grey".
Without doubt, the most unusual aspect of the makeover from EL SUD to USS YOSEMITE, was that of the crew. With the exception of four regular navy men and twenty-eight U.S. Marines, the rest of the 285 men aboard were residents of Saginaw, Benton Harbor, Detroit, Ann Arbor and several other Michigan communities. They were all members of the Michigan Naval Brigade, a part-time volunteer auxiliary force. Since the number of regular U.S. Navy sailors was insufficient to meet the war-time needs, it had to rely on men who belonged to the U.S Naval Militia. (Fourteen states of the union located along the east, west and Great Lakes coasts had such units and it was they who manned many of these newly acquired ships in the so-called Mosquito Fleet as well as some of the Navy's squadrons operating in the north Atlantic).
One of the most famous of these units, the Michigan Naval Brigade, was assigned to the USS YOSEMITE. In fact, 46 of its sailors were faculty, students or alumni of the University of Michigan at Ann Arbor and numerous others were members of the socially elite Detroit Club of that city. For the duration of the war the club could not hold any business meetings because almost all its executive board members were crewmen aboard USS YOSEMITE. The ranking U-M man aboard ship was Chief Engineer Mortimer E Cooley, an assistant professor of U-M's School of Engineering and Architecture. Cooley had graduated from the U.S. Naval Academy in 1878 and after a couple of cruises as an ensign he resigned when he was offered a teaching position at the university. He and the others associated with the university joined the Michigan Naval Brigade following a visit to the campus by Secretary of War Russell Alexander Alger, a Michigan politician who was one of the leaders of the pro-war claque. President McKinley subsequently named him Secretary of War.
In early April the U-M men and traveled to Detroit to rendezvous with their other Michigan cohorts. On April 27, 1998 they were sworn into the U.S. Navy aboard the USS YANTIC, which was berthed at a pier at the foot of Bates Street on the Detroit River. They entrained from Detroit on April 29th to the Norfolk Navy Yard in Virginia and arrived there a few days later and on May 7, 1898, they stepped aboard the USS YOSEMITE under the command of a regular Navy officer William H. Emory, who met them at Newport News. After some sea trials they were assigned to the Eastern Squadron and left for Key West on 30 May and subsequently headed for the war in the Caribbean.
YOSEMITE's first duty was to serve as an escort for the USS PANTHER (another former civilian vessel converted to wartime use) which carried 677 US Marines to Guantanamo Bay, Cuba. One of USS YOSEMITE's landing boats brought the first group of Marines ashore and according to Cooley's unedited notes, a University of Michigan man planted the first American flag on Cuban soil. Crewmembers also helped capture a small Spanish cannon. Her next action, on June 16-17, 1898 involved a controversial failed attempt to intercept a Spanish ship, the PURISSIMA CONCEPCION.
Her last action, off Puerto Rico on June 28,1898, involved the interception of the Spanish supply vessel, ANTONIO LOPEZ, which was run aground and eventually destroyed, but not before much of her badly needed supplies were off-loaded.
In 1902 the U.S. Navy awarded the Michigan mariners the Congressional Medal (not to be confused with the Congressional Medal of Honor) and the Admiral Sampson Medal for their participation in tin the June 28th action off San Juan. Just prior to their discharge form the navy; August 22, 1898 the crew had been given a cash award of three months pay. This was the first time any participant of the Spanish-American War, or any war since, has had been cash for participating in a battle. Under naval regulations existing at that time, units could be so awarded if they had successful engaged in a battle against a superior numbered force, in this case, three Spanish warships and the guns of a Spanish fortress.
The USS YOSEMITE's crew was discharged from federal service, on August 22, 1898. Their ship remained in U.S. Navy service first serving as a station ship at recently captured Guam and surveying the island's San Luis de Apra harbor for approximately eight months. On April 17, 1900 she departed to Japan where she underwent repairs at Yokohama and Uraga and subsequently visited Nagasaki and the Philippines before returning to Guam in July where she served as station ship.
On November 13, 1900 a tremendous typhoon hit the island and USS YOSEMITE was blown off her moorings, first on to shore and then out to sea. Although the crew was able to make it back to port, USS YOSEMITE took on a great deal of water and was shipping badly and, her screw was severely damaged. Shortly after the storm passed, the Navy made a decision that USS YOSEMITE was not worth repairing and she was towed out to sea and scuttled. Her exact location is unknown.

---
TECHNOTES:
| Classification: | | Auxiliary Cruiser |
| --- | --- | --- |
| Built: | | 1892 |
| Commissioned: | | May 2, 1887 |
| Rig | | Schooner |
| Armament: | | Ten 5 " guns |
| | | Six 6- pounder rapid fire guns |
| | | Two Colt Gatling-type Guns |
| Contractor: | | Newport News Shipbuilding & Drydock Co. . |
| Length: | | 389 feet, 2 inches |
| Beam: | | 48 feet |
| Draught: | | 20 feet, 1 inch |
| Displacement: | | 6,179 tons |
| Compliment: | | 18 officers and 267 enlisted men. |
| Engine Type: | | Single screw vertical inverted triple expansion |
| Speed: | | 16 knots |
| Bunker Capacity | | 1,371 tons coal |
---
Clerk of Joint Committee on Printing, The Abridgement of Message from the President of the United States to the Two Houses of Congress. (Washington: Government Printing Office, 1899) Vol. 2, 921, 1158, 1216.
Cooley, Mortimer E. (general unedited notes-appendix 1; list of crew-appendix 2.) Ann Arbor: Bentley Historical Library, University of Michigan at Ann Arbor.
Lewis, H. H., A Gunner Aboard the Yankee. (New York: Doubleday & McClure Co., 1898) 297.
Emory, William H. Rear Admiral (Ret.), The Life of an American Sailor (New York: George H. Doran Company) [circa1923 Imprint].
Feur, A.B. The Spanish American War at Sea (p.p. 148-154)
Rivero Mendez, Angel, Cronica de la Guerra Hispano Americana En Puerto Rico. (Madrid: Sucesores de Rivadenyra SA, 1922)
Stringham, Joseph S., The Story of the USS Yosemite. (Detroit, MI 1929) Self-Published Memoir
USS Yosemite, Log of the USS Yosemite: Official Reports of the Battle of June 28. Bentley Historical Library, University of Michigan at Ann Arbor.
---

Support this Site by Visiting the Website Store! (help us defray costs!)

---

We are providing the following service for our readers. If you are interested in books, videos, CD's etc. related to the Spanish American War, simply type in "Spanish American War" (or whatever you are interested in) as the keyword and click on "go" to get a list of titles available through Amazon.com.
---
Visit Main Page for copyright data