---
A list of Spanish American War Veterans buried in
Ohio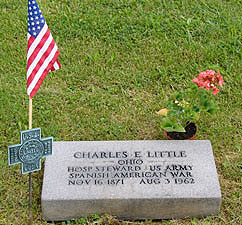 Grave of Charles E. Little (courtesy of Chuck Bright)

---
This list is just starting and needs your help! If you know of more Spanish American War Veterans buried in Ohio, please email us the information from their stone, and the location of the cemetery by clicking here
---
Click here for a link to Spanish American War veterans buried in Wayne County, Ohio
---
ACKERMAN, IRA
(1880 - 1947)(Whitehouse Cemetery, Whitehouse, Lucas Co., OH)**
ADAMS, HARRY BURTON, Pvt.,
2nd Ohio Volunteer Infantry, Co. E (September 19, 1877 - April 18, 1963)(Greenlawn Cemetery, Tiffin, Seneca Co., OH)***
ALEXANDER, WILBUR K.
14th U.S. Infantry, Co. L (Bath Center Cemetery, Bath Township, Summit Co., OH)
ALLEY, JOHN, Pvt.,
6th Ohio Volunteer Infantry, Co. D (1875-1955) (Fountain Cemetery, Fostoria, Hancock Co., OH) ****
ANDERSON, CLIFFORD, Pvt.,
1st West Virginia Volunteer Infantry, Co. B (McPherson Cemetery, Clyde, Sandusky Co., OH) ****
ANDERSON, JOSEPH, Cpl.,
24th U.S. Infantry, Co. F (Woodlawn Cemetery, Toledo, Lucas Co., OH)**
ANDES, WILLIAM D., Sgt.,
6th Ohio Volunteer Infantry, Co. D (1872-1943) (Fountain Cemetery, Fostoria, Hancock Co., OH) ****
ANTHONY, LOUIS H., Pvt.,
8th Ohio Volunteer Infantry, Co F (April, 1875 - February 27, 1959)(St. Peters Catholic Cemetery, Canton, Stark Co., OH)
ARKLE, ALBERT C., Pvt.,
1st Kentucky Volunteer Cavalry (June 23, 1874 - November 25, 1951)(Arlington Cemetery, Cincinnati, Hamilton Co., OH)
ASENDORF, JOHN HENRY, Pvt.,
10th Pennsylvania Volunteer Infantry, Co. C (1863 - 1953) (Toledo Memorial Park Cemetery, Sylvania, Lucas Co., OH)
BACHER, OPHA. Cpl.,
6th Ohio Volunteer Infantry, Co. D (1878-1958) (Fountain Cemetery, Fostoria, Hancock Co., OH) ****
BACON, WILLIS, Capt.,
2nd Ohio Volunteer Infantry, Co. H (1866-1938) (Greenlawn Cemetery, Tiffin, Seneca Co., OH) ****
BAGLEY, CHARLES N., Pvt.,
16th Pennsylvania Volunteer Infantry, Co. H (May 17, 1877 - September 27, 1954)(St. Joseph Cemetery, Lockbourne, Franklin Co., OH)
BALL, WILLIAM C., Cpl.,
6th Ohio Volunteer Infantry, Co. D (1875-1935)(Ohio Soldiers & Sailors Home Cemetery, Sandusky, Erie Co., OH) ****
BANDSLES, WILBUR, Pvt.,
6th Ohio Volunteer Infantry, Co. M (October 27, 1877 – May 14, 1952)(Riverside Cemetery, Defiance, Defiance Co., OH)**
BARNES, JAMES, Pvt.
6th Ohio Volunteer Infantry, Co. G (Westview Cemetery Carrollton, Carrollton Co., OH)
BECKERT, FRANCIS ("FRANK") HENRY, Pvt.,
1st Battalion, Ohio Light Artillery, Battery C, (September 9, 1876 – April 24, 1957)(Greenwood Cemetery, Zanesville, Muskingum Co., OH)
BENNER, ERNST E.
2nd Ohio Volunteer Infantry, Co. E (Greenlawn Cemetery, Tiffin, Seneca Co., OH)***
BILLHEIMER, CHARLES A., Pvt.,
2nd Ohio Volunteer Infantry, Co. K (Bethel Cemetery, Portage Twp, Wood Co. OH)****
BIRD, CHARLES E.,
(1876 – 1957) (Loudonville Cemetery,Loudonville, Ashland Co., OH) (Loudonville Cemetery,Loudonville, Ashland Co., OH)+*
BLACK, ALEXANDER GARFIELD, Sgt.
20th (U.S.?) Infantry Regiment, Co. F, Kentucky (May 15, 1880 - February 16, 1957)(Woodhill Cemetery, Franklin, Warren Co., OH)
BLAIR, WELLINGTON, Pvt.,
6th Ohio Volunteer Infantry, Co. D (1873-1945) (Fountain Cemetery, Fostoria, Hancock Co., OH) ****
BLAKE, PHINEAS [FINIS],
8th Illinois Volunteer Infantry, Co. G (Forest Cemetery, Toledo, Lucas Co., OH)**
BLOSSER, HARVEY, Musician,
6th Ohio Volunteer Infantry, Co. D (1878-1965) (Fountain Cemetery, Fostoria, Hancock Co., OH) ****
BOSAW, ORVILLE JAMES
(March 5, 1880 - February 9, 1957)(Maple Grove Cemetery, Cleves, Hamilton Co., OH)
BOTH, CHARLES W., Cpl.,
6th Ohio Volunteer Infantry, Co. D (1876-1940) (Fountain Cemetery, Fostoria, Hancock Co., OH) ****
BOWER, E. D., Pvt.,
2nd Ohio Volunteer Infantry, Co. F (1876-1898), (St. Wendelin Catholic Cemetery, Fostoria, Hancock Co., OH) ****
BOWSER, E. D.
2nd Ohio Volunteer Infantry, Co. F (1876-1898)(Greenlawn Cemetery, Tiffin, Seneca Co., OH)*** ****
BOWSWER, J. W.
5th Ohio Volunteer Infantry, Co. F (Died December 15, 1900)(Plot 163, Block 2, Wesley Chapel Cemetery, Columbus, Franklin Co., OH)
BOYER, CHARLES H.,
10th Ohio Volunteer Infantry (Died September 27, 1926)(East Side, lot 996, Union Cemetery, Columbus, Franklin Co., OH)
BRICKEL, JAMES
(1854-1924) (Old Maplewood, Cemetery, North Baltimore, Wood Co., OH)****
BRINER, LEWIS, A., Sgt.,
6th Ohio Volunteer Infantry, Co. D (1878-1936) (Fountain Cemetery, Fostoria, Hancock Co., OH) ****
BRITENBURGH, LEWIS, Pvt.,
6th U.S. Artillery (Died 1932) (McPherson, Cemetery, Clyde, Sandusky Co., OH) ****
BROOKIN, OCSAR, Pvt., Medal of Honor,
17th U.S. Infantry, Co. C (June 19, 1869 - August 18, 1938)(Sunset Cemetery, Galloway, Franklin Co., OH)#
BROWN, JAMES E., Pvt.,
2nd Ohio Volunteer Infantry, Co. H (1867-1923)(Fountain Cemetery, Fostoria, Hancock Co., OH) ****
BROWN, JESSE
(1879 - January 27, 1922) (Pleasant Ridge Presbyterian Cemetery, Cincinnati, Hamilton Co., OH)
BRUCE, HARRY, Pvt.,
19th U.S. Infantry Co. K (Woodlawn Cemetery, Toledo, Lucas Co., OH)**
BULGER, WILLIAM, Lt. Col.,
6th Ohio Volunteer Infantry (1851-1928) (Fountain Cemetery, Fostoria, Hancock Co., OH) ****
BURKART, JACOB, Cpl.
21st U.S. Infantry, Co. I (McPherson Cemetery, Clyde, Sandusky Co., OH) ****
BURKEL, JOHN A., Pvt.,
6th Ohio Volunteer Infantry, Co. D (1871-1911) (Fountain Cemetery, Fostoria, Hancock Co., OH) ****
BURTCH, RUFUS A., Pvt.,
3rd Ohio Volunteer Infantry, Co. C (January 19, 1859 - August 10, 1918) (Dayton National Cemetery, Dayton, Montgomery County, OH)
CALLENTONE, GEORGE, Cpl.,
7th Ohio Volunteer Infantry, Co. F (1876 - 1909) (South Lawn Cemetery, Coshocton, Coshocton Co., OH)
CALLENTINE, CHARLES, Pvt.,
7th Ohio Volunteer Infantry, Co. F (1877 - 1921) (South Lawn Cemetery, Coshocton, Coshocton Co., OH)
CAMBRIC, JOHN, Pvt.,
10th Ohio Volunteer Infantry, Co. H (St. Joseph's Cemetery, Maumee, Lucas Co. OH)**
CAMPFIELD, RAYMOND D., Cpl.,
7th Infantry, Co. F (October 20, 1871 - January 24, 1946)(Crown Hill Cemetery, Orrville, Wayne Co., OH)
CARGO, FRED E., Seaman,
U.S. Navy (1878-1898)(Oak Grove Cemetery, Bowling Green, Wood Co., OH) ****
CARPENTER, JOHN L.,
(Loudonville Cemetery, Loudonville, Ashland Co., OH)*
CARTER, GEORGE W., Cook,
6th Ohio Volunteer Infantry, Co. I (McPherson Cemetery, Clyde, Sandusky Co., OH) ****
CHICHESTER, THOMAS, Pvt.,
47th New York Volunteer Infantry, Co. G (Woodlawn Cemetery, Toledo, Lucas Co., OH)**
CLASS, LOUIS, Pvt.,
6th Ohio Volunteer Infantry, Co. D (1865-1924) (Union Cemetery, West Independence, Hanock Co., OH) ****
CLEVIDENCE, CLAUDE J.
2nd Ohio Volunteer Infantry, Co. E (Greenlawn Cemetery, Tiffin, Seneca Co., OH)***
CLOSS, EDWARD M. Pvt.,
160th Indiana Volunteer Infantry, Co. B (Woodlawn Cemetery, Toledo, Lucas Co., OH)**
CLOTZ, CHARLES
U.S. Navy (September 15, 1882 – August 22, 1964) (Riverside Cemetery, Defiance, Defiance Co., OH)**
COLEMAN, CHARLES A.
(1875 - November 1930) (Pleasant Ridge Presbyterian Cemetery, Cincinnati, Hamilton Co., OH)
COMER, CHARLES N. Pvt.,
2nd Ohio Volunteer Infantry, Co. E (May 31, 1879 - May 6, 1969) (State Line Cemetery, Toledo, Lucas Co., OH)**
CONCELLIOUS, LOUIS, Pvt.,
6th Ohio Volunteer Infantry, Co. M (Riverside Cemetery, Defiance, Defiance Co., OH)**
CONLEY, ABRAHAM, Pvt.,
2nd Ohio Volunteer Infantry, Co. H (1869-1915) (Fountain Cemetery, Fostoria, Hancock Co., OH) ****
CONLEY, GEORGE E.,
23rd U.S. Infantry, Co. A (1880 - 1944) (Calvary Cemetery, Springfield, Clark Co., OH)
CONN, JAMES M.,
(May 11, 1889 - March 8, 1931) (Dayton National Cemetery, Dayton, Montgomery Co. Ohio)
CONNELLY, JOHN, Pvt.,
6th Ohio Volunteer Infantry, Co. D (1879 - 1926)(Ohio Veterans Home Cemetery, Sandusky, Erie Co., OH) ****
CONRAD, ROSE E. Cpl.,
6th Ohio Volunteer Infantry (1877 -1939)(State Line Cemetery, Toledo, Lucas Co., OH)**
CONTI, JOHN M., Cpl.,
4th Ohio Volunteer Infantry, Co. B (April 1, 1870 - 1955)(St. Joseph Cemetery, Columbus, Franklin Co., OH)
COOK, WILLIAM E., Pvt.,
6th Ohio Volunteer Infantry, Co. D (1878-1955) (Fountain Cemetery, Fostoria, Hancock Co., OH) ****
COREY, GEORGE, Pvt.,
2nd Ohio Volunteer Infantry, Co. H (1872-1913)(Fountain Cemetery, Fostoria, Hancock Co., OH) ****
CORL, CURTIS, Pvt.,
6th Ohio Volunteer Infantry, Co. D ( 1877-1944) (Fountain Cemetery, Fostoria, Hancock Co., OH) ****
CRAMER, FRANK D., Cpl.,
2nd Ohio Volunteer Infantry , Co. H (November 26, 1867 - May 8, 1952)(Greenlawn Cemetery, Tiffin, Seneca Co., OH)*** ****
CRANDALL, HAL,
10th Ohio Volunteer Infantry, Co. D (Riverside Cemetery, Maumee, Lucas Co., OH)**
CRASS, WILLIAM H, Pvt.,
23rd U.S. Infantry, Co. B (1859-1930)(Oak Grove Cemetery, Bowling Green, Wood Co., OH) ****
CRAUSE, WALTER H.
(1877-1947) (Mt. Zion Cemetery, Portage Twp, Wood Co, OH)****
CREAGER, WALTER, Pvt.,
2nd Ohio Volunteer Infantry, Co. E (1877-1939) (Farewell Retreat Cemetery, Republic, Seneca Co., OH) ****
CREED, WILLIAM, Pvt.,
5th Ohio Volunteer Infantry, Co. B (October 1, 1849 - Oct 31, 1931)(Dayton National Cemetery, Dayton, Montgomery Co., OH)
CRITCHFIELD, BENJAMIN H.
8th Ohio Volunteer Infantry, Co H (Loudonville Cemetery, Loudonville, Ashland Co., OH)*
CULBERTSON, JOHN F., Cpl.,
6th Ohio Volunteer Infantry, Co. D (1854-1932) (Fountain Cemetery, Fostoria, Hancock Co., OH) ****
CULP, ALBERT M., Cpl.,
6th Ohio Volunteer Infantry, Co. D (1871-1948) (Fountain Cemetery, Fostoria, Hancock Co., OH) ****
CULP, FRANK, Capt.,
6th Ohio Volunteer Infantry, Co. D (1865-1950) (Fountain Cemetery, Fostoria, Hancock Co., OH) ****
CUNNINGHAM, GEORGE W., 2nd Lt.,
6th Ohio Volunteer Infantry, Co. D and Co. G (1863-1931) (Fountain Cemetery, Fostoria, Hancock Co., OH) ****
DALE, WILLIAM, Pvt.,
6th Ohio Volunteer Infantry, Co. D (1862-1898) (Fountain Cemetery, Fostoria, Hancock Co., OH) ****
DAOUST, EDWARD M.
6th Ohio Volunteer Infantry, Co. F (Whitehouse Cemetery, Whitehouse, Lucas Co., OH)**
DAUBER, JOHN G., Pvt.,
8th Ohio Volunteer Infantry (July 29, 1872 - December 27, 1944) (Loudonville Cemetery, Loudonville, Ashland Co., OH)*
DAVIE, JOHN B., Musician
4th Ohio Volunteer Infantry, Co. E (Section L, Lot 182, July 23, 1868 - October 8, 1909) (Green Lawn Cemetery, Columbus, Franklin Co., OH)#
DAVIS, HARRY K.,
8th Ohio Volunteer Infantry, Co. E (January 11, 1872 - 1929)(Grandview Cemetery, Sebring, Mahoning Co., OH)
DAVIS, JACIE J., Pvt.
4th Ohio Volunteer Infantry, Co. L (June 4 1880 - March 20, 1919) (Mound View Cemetery, Mt. Vernon, Knox Co., OH)
DAVIS, JOSEPH CARL
(December 1, 1876 - February 23, 1924)(Section A, Lot 47, Riverview Cemetery, East Liverpool, Columbiana Co., OH)
DAVIS, WILLIAM A.
(Born 1869)(Grandview Cemetery, Sebring, Mahoning Co., OH)
DAYWALT, WILLIAM E.
2nd Ohio Volunteer Infantry, Co. E (1875 - 1961)(Greenlawn Cemetery, Tiffin, Seneca Co., OH)***
DEANGELO, ROMIE
6th Ohio Volunteer Infantry, Co. A (Forest Cemetery, Toledo, Lucas Co., OH)**
DeCAMP, ANDREW
(Greenlawn Cemetery,Chillicothe, Ross Co., OH)
DEISLER, HARLEY M.
2nd Ohio Volunteer Infantry, Co. E (1880 - 1960)(Greenlawn Cemetery, Tiffin, Seneca Co., OH)***
DEMER, SIMON W., Pvt.,
2nd Ohio Volunteer Infantry, Co. K (1860-1920) (Old Maplewood, Cemetery, North Baltimore, Wood Co., OH)****
DENNIS, CHARLES, L. Pvt.,
6th Ohio Volunteer Infantry, Co. I (McPherson Cemetery, Clyde, Sandusky Co., OH) ****
DEPLER, FRANK C., Pvt.,
8th Ohio Volunteer Infantry, Co. C (December 3, 1878 - May 21, 1958)(Section 3 East, Grave 1, Union Cemetery, Columbus, Franklin Co., OH)#
DERN, CHARLES WILLIAM "SAMMY", Pvt.,
2nd Ohio Volunteer Infantry, Co. G (July 19, 1877 - November 19, 1949)(Graham Cemetery, near Wayne, Montgomery Twp, Wood Co, OH)
DETRAY, WILLIAM WAYNE, Artificer?
2nd Ohio Volunteer Infantry, Co. E (September 25, 1865 - March 27, 1957) (Greenlawn Cemetery, Tiffin, Seneca Co., OH)*** ****
DILDINE, CHARLES G.
2nd Ohio Volunteer Infantry, Co. E (Greenlawn Cemetery, Tiffin, Seneca Co., OH)***
DILDINE, FRANK 2nd Lt.,
2nd Ohio Volunteer Infantry, Co. E (1869-1938) (Greenlawn Cemetery, Tiffin, Seneca Co., OH) ****
DODDS, WILLIAM L., Cpl.,
161st Indiana Volunteer Infantry (Fairview Cemetery, Orleans, Orange Co., IN)
DOW, THOMAS H.,
U.S. Artillery. Co K (Loudonville Cemetery, Loudonville, Ashland Co., OH)*
DOWNS, EPHRIAM J., Sgt.,
2nd Ohio Volunteer Infantry, Co. K (Old Maplewood, Cemetery, North Baltimore, Wood Co., OH)****
DRAKE, CHARLES, O., Pvt.,
2nd Ohio Volunteer Infantry, Co. H (1877-1958)(Weaver Cemetery, Bloom Twp., Wood Co., OH) ****
DRAKE, WILLIAM A.,
2nd Ohio Volunteer Infantry, Co. E (1877 - 1933)(Greenlawn Cemetery, Tiffin, Seneca Co., OH)***
DREW, SAMUEL, Pvt.,
1st Ohio Light Artillery, Battery G (1877-1916) (McPherson Cemetery, Clyde, Sandusky Co., OH) ****
DUBIEL, FRANCIS, Pvt.,
17th U.S. Infantry (July, 1862 - October 21, 1904) (Section 44, Lot 131, Grave 1, Greenlawn Cemetery, Columbus, Franklin Co., OH)#
DUBELL, ERNEST, Pvt.,
51st Iowa Volunteer Infantry, Co. B (Woodlawn Cemetery, Toledo, Lucas Co., OH)**
DUCAT, WILLIAM ALEX, Pvt.,
6th Ohio Volunteer Infantry, Co. D (1879-1951)(Oak Grove Cemetery, Bowling Green, Wood Co., OH) ****
DUFFY, THOMAS E., Pvt.,
6th Ohio Volunteer Infantry, Co. D (1872-1942) (Fountain Cemetery, Fostoria, Hancock Co., OH) ****
EDDY, ALEXANDER J., Cpl.,
1st West Virginia Volunteer Infantry, Co. M (Greenwood Cemetery, Bellaire, Belmont Co., OH)
EISENHARD, JOHN, Pvt.
6th Ohio Volunteer Infantry, Co. I (1875-1950) (McPherson Cemetery, Clyde, Sandusky Co., OH) ****
ELDER, CHARLES E.,
20th Kansas Volunteer Infantry, Co. F (1866 - 1908)(Grandview Cemetery, Scioto Township, Ross Co., OH)
ELLIOTT, JOEL, Wagoner,
6th Ohio Volunteer Infantry, Co. I (McPherson Cemetery, Clyde, Sandusky Co., OH) ****
ENGLAND, RAY, Pvt.,
2nd Ohio Volunteer Infantry, Co. H (1876-1922) (Fountain Cemetery, Fostoria, Hancock Co., OH) ****
ENGSTROM, EARL. Pvt.,
6th Ohio Volunteer Infantry, Co. D (Died 1911) (Fountain Cemetery, Fostoria, Hancock Co., OH) ****
ERNEST, RALPH C., Pvt.,
6th Ohio Volunteer Infantry, Co. D (1878-1950) (Fountain Cemetery, Fostoria, Hancock Co., OH) ****
ERVIN, LEWIS
2nd Infantry, Co. K (Greenlawn Cemetery, Portsmouth, Scioto Co., OH)
EVANS, FRANKLIN D., Pvt.,
1st Ohio Volunteer Light Artillery, Co. G (Woodlawn Cemetery, Toledo, Lucas Co., OH)**
FARROW, DENNIS, Pvt.,
8th Illinois Volunteer Infantry, Co. M (Woodlawn Cemetery, Toledo, Lucas Co., OH)**
FASIG, ARCHIE, Capt.,
2nd Ohio Volunteer Infantry, Co. H (Died 1915) (Fountain Cemetery, Fostoria, Hancock Co., OH) ****
FASIG, WALTER, Sgt.,
2nd Ohio Volunteer Infantry, Co. H (1871-1949) (Fountain Cemetery, Fostoria, Hancock Co., OH) ****
FAULKNER, WILLIAM L., Pvt.,
3rd Ohio Volunteer Infantry, Co. D (April 25, 1863 - January 14, 1938) (Evergreen Cemetery, Saint Paris, Champaign Co., OH)
FEASEL, GORDON, Pvt.,
2nd Ohio Volunteer Infantry, Co. H (1873-1921)(Bloom Chapel Cemetery, Bloom Twp., Wood Co., OH) ****
FEIGHTNER, WILLIAM L. Musician,
6th Ohio Volunteer Infantry, Co. K (1877-1964) (McPherson Cemetery, Clyde, Sandusky Co., OH) ****
FIELD, OSCAR WADSWORTH, Cpl., Medal of Honor.
U.S.S. NASHVILLE, U.S. Marine Corps (October 6, 1873 - January 5, 1912)(Section O-Q, Row A, Grave 9, Dayton Veterans Affairs Medical Center, Dayton, Montgomery Co., OH)***
FIRTH, GEORGE B., Pvt.,
6th Ohio Volunteer Infantry, Co. L (1871-1949) (St. Wendelin Catholic Cemetery, Fostoria, Hancock Co., OH) ****
FITZPATRICK, HARRY W. K.
12th Ohio [U.S.?] Volunteer Infantry, Co. M (Born 1879) (McPherson Cemetery, Clyde, Sandusky Co., OH) ****
FORD, CHARLES, Pvt.,
17th U.S. Infantry, Co. E (June 7, 1873 - October 11, 1957) (Crown Hill Cemetery, Vienna, Trumbull Co., OH)
FREESE, JOHN M., Sgt.,
(August 15, 1859 - May 7, 1911)(Section 69, Grave 22, Woodland Cemetery, Cleveland, Cuyahoga Co., OH)
FRY, ROSS, Pvt.,
2nd Ohio Volunteer Infantry, Co. H (1867-1960)(Weaver Cemetery, Bloom Twp., Wood Co., OH) ****
FRY, WAYNE, Pvt.,
2nd Ohio Volunteer Infantry, Co. H (1880-1972) (Weaver Cemetery, Bloom Twp., Wood Co., OH) ****
FURRROW, EDGAR D., Pvt.,
6th U.S. Infantry, Co. F (McPherson Cemetery, Clyde, Sandusky Co., OH) ****
GAGEN, JOHN, Pvt.
1st Ohio Volunteer Infantry, Co. C (1858-1936) (Vine St. Hill Cemetery, Cincinnati, Hamilton Co., OH)
GALE, STANLEY B., Pvt.,
2nd Ohio Volunteer Infantry, Co. H (Bloom Chapel Cemetery, Bloom Twp., Wood Co., OH) ****
GARDNER, KENNITH E.,
6th Ohio Volunteer Infantry, Co. G (Greenlawn Cemetery, Delta, Fulton Co., OH)

GARNER, EVERETT E., Quartermaster Sgt.,
6th Ohio Volunteer Infantry, Co. D (1862-1926) (Fountain Cemetery, Fostoria, Hancock Co., OH) ****
GAUCH, FRANK B., Pvt.,
2nd Ohio Volunteer Infantry, Co. I (1878-1942) (Old Maplewood, Cemetery, North Baltimore, Wood Co., OH)****
GAUCH, FRED, Pvt.,
2nd Ohio Volunteer Infantry, Co. I (1881-1904) (Old Maplewood, Cemetery, North Baltimore, Wood Co., OH)****
GEORGE, ROBERT M., Cpl.
10th Ohio Volunteer Infantry, Co. L, (March 4, 1874-December 10, 1958)(Woodlawn Cemetery, Zanesville,
Muskingum County OH)
GEYER, ARTHUR
2nd Ohio Volunteer Infantry, Co. E (Greenlawn Cemetery, Tiffin, Seneca Co., OH)***
GIBSON, JOHN W.
(1858-June 1908) (Pleasant Ridge Presbyterian Cemetery, Cincinnati, Hamilton Co., OH)
GIFFIN, IRA V., Pvt.,
8th U.S. Cavalry, Troop A (September 23, 1876 - July 5, 1899)(High Ridge Cemetery, Pultney Twp., Belmont Co., OH)
GILLETTE, WILLIAM E., Maj.,
6th Ohio Volunteer Infantry (1860-1948) (McPherson Cemetery, Clyde, Sandusky Co., OH) ****
GILMORE, OLIVER , Cpl.,
5th Infantry (Old Maplewood, Cemetery, North Baltimore, Wood Co., OH)****
GLENNON, WILLIAM, Pvt.,
10th Ohio Volunteer Infantry, Co. D (St. Joseph's Cemetery, Maumee, Lucas Co. OH)**
GORCZ, LEO, Pvt.,
22nd U.S Infantry, Co. B (June 14, 1879 - September 11, 1954)(Section 47, Lot 640, Grave 4,Calvary Cemetery, Cleveland, Cuyahoga
OH)
GREENWALD, HOWARD M., Cpl.,
8th Ohio Volunteer Infantry, Co. L (September 13, 1868 - March 17, 1958) (West Lawn Cemetery, Canton, Stark Co., OH)
GRUBB, FRANK, Pvt.,
6th Ohio Volunteer Infantry, Co. D (Arcadia Cemetery, Arcadia, Hancock Co., OH) ****
HAIGHT, LESLIE W.
8th U.S. Infantry, Co. F (1876 - 1904)(Portage Twp Cemetery, Wood Co., OH)****
HALL, WILLIAM, Pvt.,
6th Ohio Volunteer Infantry, Co. G (Woodlawn Cemetery, Toledo, Lucas Co., OH)**
HAMMOND, OLIVER, Pvt.,
6th Ohio Volunteer Infantry, Co. D (1880-1957) (Fountain Cemetery, Fostoria, Hancock Co., OH) ****
HANAWALT, ARTHUR, Pvt.,
6th Ohio Volunteer Infantry, Co. K (1873-1956) (Oak Grove Cemetery, Bowling Green, Wood Co., OH) ****
HARDING, JOHN F.,
(1876 - 1956)(Greenlawn Cemetery, Tiffin, Seneca Co., OH)***
HARPER, JOHN E., Pvt.,
2nd Ohio Volunteer Infantry, Co. K (Old Maplewood, Cemetery, North Baltimore, Wood Co., OH)****
HARTMAN, IRVING R.
(1859-October 31, 1918) (Pleasant Ridge Presbyterian Cemetery, Cincinnati, Hamilton Co., OH)
HAYES, WEBB COOK, Col.,
(March 20, 1856 - July 26, 1934)("Spiegel Grove," home of Rutherford Hayes, Fremont, Sandusky Co., OH)#
HAZEN, NERI. Cpl.,
6th Ohio Volunteer Infantry, Co. D (1877-1938) (Fountain Cemetery, Fostoria, Hancock Co., OH) ****
HEACOX, ROSCOE, Pvt.,
6th Ohio Volunteer Infantry, Co. D (1880-1968) (Fountain Cemetery, Fostoria, Hancock Co., OH) ****
HEILMAN, JOHN L.
(1876 - 1950)(Greenlawn Cemetery, Tiffin, Seneca Co., OH)***
HEINZ, GEORGE, R., Artificer
3rd Ohio Volunteer Infantry, Co. H (1869 - 1923) (Rome-Proctorville Cemetery, Proctorville, Lawrence Co., OH)
HELLER, CHARLES E.
2nd Ohio Volunteer Infantry, Co. E (1876 - 1907)(Greenlawn Cemetery, Tiffin, Seneca Co., OH)***
HESSEMANN, GEORGE RUDOLPH
Field Artillery (VA Cemetery, Dayton, Montgomery Co., OH)
HILDEBRAND, LUCIEN O., (G.,?)
15th Pennsylvania Volunteer Infantry (Section 28, Plot 3, Union Cemetery, Columbus, Franklin Co., OH)#
HINDS, OLIVER T.,
6th U.S. Cavalry, Troop G (Sq. 1, Row 98m Ravine Cemetery, Sylvania, Lucas Co., OH)
HISSNER, ELMER A.
8th Ohio Volunteer Infantry, Co. K (Henry Warstler's Cemetery, Plain Twp., Stark Co., OH)
HOFFMAN, M. G., Pvt.,
2nd Ohio Volunteer Infantry, Co. E (April 16, 1878 - October 22, 1907)(Greenlawn Cemetery, Tiffin, Seneca Co., OH)*** ****
HOFFMAN, RICHARD A., Pvt.,
3rd New Jersey Volunteer Infantry, Co. H (McPherson Cemetery, Clyde, Sandusky Co., OH) ****
HOLLADAY, CHARLES F., Pvt
3rd Ohio Volunteer Infantry, Co F (December 14,1879 - September 15, 1943)(Hillsboro Cemetery,Hillsboro, Highland Co, OH)
HOPKINS, GEORGE PETER, Pvt.,
1st Ohio Volunteer Infantry Co. K (December 20, 1874 - March 3, 1966)(Wesleyan Cemetery, Cincinnati, Hamilton Co., OH)
HOSKINS, CLARENCE JOSIAH
5th OhioVolunteer Infantry (1881-1935) (Mount Pleasant Cemetery, Geneva, Ashtabula Co., OH)
HOUSE, TRUMAN A., Pvt.,
6th Ohio Volunteer Infantry, Co. K (McPherson Cemetery, Clyde, Sandusky Co., OH) ****
HUBBELL, LYMAN,
6th Ohio Volunteer Infantry, Co. H (Forest Cemetery, Toledo, Lucas Co., OH)**
HULL, ALFRED, Sgt.
1st Ohio Volunteer Infantry, Co. F (Feb. 26, 1873-May 4, 1916) (Spring Grove Cemetery, Cincinnati, Hamilton Co., OH)
JOHNSON, EUGENE Pvt.,
6th Ohio Volunteer Infantry, Co. F (July 18, 1873- Jan. 7, 1953)(State Line Cemetery, Toledo, Lucas Co., OH)**
JOHNSON, JOHN, Pvt.,
2nd Ohio Volunteer Infantry, Co. E (1875-1915)(St. Joseph Catholic Cemetery, Tiffin, Seneca Co., OH) ****
JOLLY, C. L., Pvt.,
2nd Ohio Volunteer Infantry, Co. E (November 3, 1878 - May 25, 1908)(Greenlawn Cemetery, Tiffin, Seneca Co., OH)*** ****
JONES, LESLIE C., Cpl.,
1st Ohio Volunteer Infantry, Co. E (1876-1958)(Greenwood Cemetery, Hamilton, Butler Co., OH)
JONES, LOUIS, Pvt.,
6th Ohio Volunteer Infantry, Co. D (1881 - 1925)(St. Andrew's Catholic Cemetery, Bascom, Seneca Co., OH) ****
JONES, THOMAS, Pvt.,
6th Ohio Volunteer Infantry, Co. D (1879-1935) (Fountain Cemetery, Fostoria, Hancock Co., OH) ****
KARG, WILLIAM, Pvt.
8th Ohio Volunteer Infantry, Co. M (1868-1927) (Oakwood Cemetery, Bucyrus, Crawford Co., OH)
KARNES, HOWARD THOMAS
(1875 - January 26, 1920) (Pleasant Ridge Presbyterian Cemetery, Cincinnati, Hamilton Co., OH)**
KARRICK, CHARLES, Pvt.,
2nd Ohio Volunteer Infantry, Co. H (1875-1952) (Fountain Cemetery, Fostoria, Hancock Co., OH) ****
KEIFER, JOSEPH WARREN, Maj. Gen.,
(January 30, 1836 - April 22, 1932)(Ferncliff Cemetery, Springfield, Clark Co., OH)
KELLER, WILLIAM G., Pvt., Medal of Honor,
10th U.S. Infantry, Co. F (April 19, 1876 - September 20, 1963)(Lakeview Cemetery, Cleveland, Cuyahoga Co., OH)***
KIHM , ALBERT A., Pvt.,
Hospital Corps (July 7, 1880 - January 22, 1906)(Saint Marys Catholic Cemetery, Avon, Lorain Co., OH)
KING, NELSON B., Pvt.,
10th Ohio Volunteer Infantry (April 19, 1877 - November 23, 1950) (State Line Cemetery, Toledo, Lucas Co., OH)**
KISSLING, JACOB, Pvt.,
6th Ohio Volunteer Infantry, Co. D (1858 - 1925)(Ohio Veterans Home Cemetery, Sandusky, Erie Co., OH) ****
KISTNER, RAWSON, Pvt.,
6th Ohio Volunteer Infantry, Co. D (1877-1898) (Fountain Cemetery, Fostoria, Hancock Co., OH) ****
KNOTT, PEARL, Pvt.
2nd Ohio Volunteer Infantry, (1880-1946)(Woodland Cemetery, Van Wert, Van Wert Co., OH)
LaBAR, WILLIAM H.,
2nd Ohio Volunteer Infantry, Co. E (1876 - 1913)(Greenlawn Cemetery, Tiffin, Seneca Co., OH)***
LANCE, RAY, Cpl.,
6th Ohio Volunteer Infantry, Co. D (1877-1906) (Fountain Cemetery, Fostoria, Hancock Co., OH) ****
LAPOINT, GEORGE, Pvt.,
10th Ohio Volunteer Infantry, Co. H (Riverside Cemetery, Maumee, Lucas Co., OH)**
LAVER, LOUIS, Pvt.,
5th U.S. Infantry (May 9, 1877 - March 3, 1951)(Ferncliff Cemetery, Springfield, Clark Co., OH)
LEA, THOMAS, Cpl.,
6th Ohio Volunteer Infantry, Co. D (Died 1958) (Fountain Cemetery, Fostoria, Hancock Co., OH) ****
LEE, WALTER J., Pvt.
7th U.S. Cavalry (March 20 1879 - February 9 1945) (Woodside Cemetery, Middletown, Butler Co., OH)
LEE, WILLIAM C., Cpl.,
6th Ohio Volunteer Infantry, Co. D (1864-1940)(West Millgrove, West Millgrove Cemetery, Wood Co., OH) ****
LEFFEL, MACK O., Pvt.,
19th U.S. Infantry, Co. A (Died February 14, 1939)(Lot 11, Section MWesley Chapel Cemetery, Columbus, Franklin Co.,OH)
LEININGER, JOHN A,. Capt.,
8th Ohio Volunteer Infantry, Co. F (Died August 8, 1898)(West Lawn Cemetery, Canton, Stark Co., OH)
LEITNER, JOHN D., Maj.,
2nd Ohio Volunteer Infantry, Co. D (1869-1950)(St. Joseph Catholic Cemetery, Tiffin, Seneca Co., OH) ****
LEMMON, CHARLES, M. Pvt.,
6th Ohio Volunteer Infantry, Co. I (1879-1922) (McPherson Cemetery, Clyde, Sandusky Co., OH) ****
LEMON, MACK, Pvt.,
6th Ohio Volunteer Infantry, Co. I (McPherson Cemetery, Clyde, Sandusky Co., OH) ****
LENTZ, CHARLES,
(1868-1928) (Loudonville Cemetery, Loudonville, Ashland Co., OH)*
LESLIE, CLARENCE SCOTT, Pvt.,
2nd Ohio Volunteer Infantry, Co. H (1882-1961)(Weaver Cemetery, Bloom Twp., Wood Co., OH) ****
LEVY MICHAEL, Pvt.,
4th Ohio Volunteer (?) Cavalry (September 13, 1878 – October 26, 1951)(Riverside Cemetery, Defiance, Defiance Co., OH)**
LEY, PAUL ADAM,
22nd U.S. Infantry, Co. L (June 16, 1868 - June 7, 1900)(Section 4, Row 3, Saint Bernards Cemetery, Akron, Summit Co., OH)
LITTLE, CHARLES E., Acting Hospital Steward,
Hospital, 1st Division, 7th Army Corps (November 16, 1871- August 3, 1962) (Westboro Cemetery, Westboro, Clinton Co., OH)
LONG, CHESTER CLAUDE, Pvt.
3rd Ohio Volunteer Infantry, Co. G (1880 ­ April 27, 1922) (Woodland Cemetery, Dayton, Montgomery Co., OH)
LONG, ELMER J.
2nd Ohio Volunteer Infantry, Co. H (1873 - 1963) (Portage Twp Cemetery, Wood Co., OH)****
LORAH, CHARLES, Pvt.,
6th Ohio Volunteer Infantry, Co. D (1877-1950) (Fountain Cemetery, Fostoria, Hancock Co., OH) ****
LOUDENBERG, OLIVER
(January 6, 1841 - January 17, 1900)(Westlawn Cemetery, Mantua Center, Portage Co. Mantua, OH)
LOVY, FRED E., M.D.
6th Ohio Volunteer Infantry, Hospital Corps (1877-1899) (St. Louis Catholic Cemetery, Custar, Wood Co., OH)****
LYNCH, DAVID A., Hospital Steward
6th Ohio Volunteer Infantry (1867-1939) (Fountain Cemetery, Fostoria, Hancock Co., OH) ****
MacMAHAN MARION D.
(1869 - 1947)(Greenlawn Cemetery, Tiffin, Seneca Co., OH)***
MANLEY, JOHN P.
(c. 1860 - December 27, 1925) (Pleasant Ridge Presbyterian Cemetery, Cincinnati, Hamilton Co., OH)
MANN, EDWARD J., Pvt.,
6th Ohio Volunteer Infantry, Co. I (1869-1929) (McPherson Cemetery, Clyde, Sandusky Co., OH) ****
MARLETT, JUSTIN A., Pvt.,
2nd Ohio Volunteer Infantry, Co. M (Ridgelawn Cemetery, Elyria, Lorain Co., OH)
MATTHIAS, EDWARD SHILOH, Capt.,
2nd Ohio Volunteer Infantry, Co. D (April 6, 1873 - November 2, 1953)(Greenlawn Cemetary, Columbus, Franklin Co., OH)
McCLEAD, ALFRED, Pvt.,
6th Ohio Volunteer Infantry, Co. D (1880-1959) (St. Wendelin Catholic Cemetery, Fostoria, Hancock Co., OH) ****
McCORMACK, EDWARD J.,
Company E (December 21, 1875 - June 21, 1907)(Greenlawn Cemetery, Tiffin, Seneca Co., OH)***
McCOY, NATHAN A., SR.
(Amaranth Abby, Franklin Co., Columbus, OH)#
McDONNELL, PATRICK J., Cpl.,
2nd U.S. Cavalry (June 4, 1875 - November 18, 1949) (Mt. Carmel Cemetery, Toledo, Lucas Co., OH)
McMAHON, EDWARD C.,
(September 25, 1874 - August 29, 1906) (Hillsboro Cemetery (formerly Greenwood), Hillsboro, Highland Co., OH)
McMAHON, WILLIAM
(1877-1904) (Hillsboro Cemetery (formerly Greenwood), Hillsboro, Highland Co., OH)
McMAKEN, WILLIAM V., Col.,
6th Ohio Volunteer Infantry (1855– 1923)(Woodlawn Cemetery, Toledo, Lucus Co., OH) ****
McMEEN, JAMES, 1st Sgt.,
6th Ohio Volunteer Infantry, Co. D (1873-1915) (St. Wendelin Catholic Cemetery, Fostoria, Hancock Co., OH) ****
McVITTY, ALBERT, Pvt.,
2nd Ohio Volunteer Infantry, Co. K (1877 - 1923) (Old Maplewood, Cemetery, North Baltimore, Wood Co., OH)****
MEECE, GEORGE, Pvt.,
4th Kentucky Volunteer Infantry, Co. E (1859-1957) (Green Lawn Cemetery, Columbus, Franklin Co., OH)
MEEK, FRANK L., Pvt.
6th Ohio Volunteer Infantry, Co. I (1879-1948) (McPherson Cemetery, Clyde, Sandusky Co., OH) ****
MEEK, GEORGE BURTON
U.S.S. WINSLOW (1872 – May 11, 1898) (McPherson Cemetery, Clyde, Sandusky Co., OH) ****
MESCALL, JOHN, Pvt.,
10th Ohio Volunteer Infantry, Co. D (Woodlawn Cemetery, Toledo, Lucas Co., OH)**
MESS, WILLIAM R., Pvt.,
6th Ohio Volunteer Infantry, Co. I (1864-1915) (McPherson Cemetery, Clyde, Sandusky Co., OH) ****
MESSER, BURBRIDGE, Cpl.,
Infantry (Died October 24, 1932)(Section 3, Row 12, Site 8, Dayton National Cemetery, Dayton, Montgomery Co., OH)
MILLER, CONSTANTINE, Pvt.,
1st Ohio Volunteer Infantry, Co. C (March 10, 1877-December 11, 1953)(Section 5, veterans section, St. Joseph New Cemetery at the end of West 8th Street, Cincinnati, Hamilton Co., OH) [editor's note - family reports that true date of birth may be 1880]
MILLER, DAVID, L., Cpl.,
2nd Ohio Volunteer Infantry, Co. H (1868-1945)(Fountain Cemetery, Fostoria, Hancock Co., OH) ****
MILLER, HARKNESS, J. Musician,
6th Ohio Volunteer Infantry, Co. I (1877-1964) (McPherson Cemetery, Clyde, Sandusky Co., OH) ****
MILLER, JOHN C., Pvt.,
8th Ohio Volunteer Infantry, Co. H (1874-1954) (New Weston Cemetery, Weston, Wood Co., OH)****
MILLER, LUTHER G.
8th Pennsylvania Volunteer Infantry. Co. C (1876-1971)(Westwood Cemetery, Section A, Center, Grave #907, Woodville, Sandusky Co., OH)
MILLER, ROBERT G.,
6th Ohio Volunteer Infantry, Co. D (1861-1925) (Fountain Cemetery, Fostoria, Hancock Co., OH) ****
MINK, FRED, Pvt.,
6th Ohio Volunteer Infantry, Co. M, (Riverside Cemetery, Defiance, Defiance Co., OH)**
MISCHLER, MATTHEW, Pvt.,
23rd U.S. Infantry, Co. H (1875 - 1966)(Calvery Cemetery, Dayton, Montgomery Co., OH)
MOHN, JOHN H.,
8th Ohio Volunteer Infantry, Co. L (April 8, 1878 - Janiuary 21, 1954)(Woodlawn Cemetery, Wadsworth, Medina Co., OH)
MONK, JOHN, Pvt.,
7th Ohio Volunteer Infantry (February 11, 1877 - May 24, 1951)(Plot 119, Block S, Grave 2,Wesley Chapel Cemetery, Columbus, Franklin Co., OH)
MORGAN, J. L., Pvt.,
1st Ohio Volunteer Cavalry, Troop E (Old Maplewood, Cemetery, North Baltimore, Wood Co., OH)****
MULFORD, GRANT
(March 16, 1853 - August 29, 1899)(Plot 154, Grave 4, Wesley Chapel Cemetery, Columbus, Franklin Co., OH)
MURPHY, JAMES HENRY, Pvt.,
2nd Wisconsin Volunteer Infantry, Co. H (June 16, 1872 - February 23, 1951)(Section 2, Plot 9, Grave 2, Highland Park Cemetery, Cleveland, Cuyahoga Co., OH)
MURPHY, JAMES J.,
(April 16, 1878 - February 7, 1931)(Greenlawn Cemetery, Tiffin, Seneca Co., OH)***
MYERS, PARK, Capt./Surgeon
6th Ohio Volunteer Infantry (1860-1928) (Fountain Cemetery, Fostoria, Hancock Co., OH) ****
NAFES, CHARLEY R.
(1875 - 1901) (New Weston Cemetery, Weston, Wood Co., OH)****
NELIGH, HARRY H., Pvt.,
2nd Ohio Volunteer Infantry, Co. E (Greenlawn Cemetery, Tiffin, Seneca Co., OH)*** ****
NEWCOMER, WILLIAM H.,
8th Ohio Volunteer Infantry, Co. L (1873-1954) (Crownhill Cemetery, Orrville, Wayne Co., OH)
NICHOLS, ROLDON, Sgt.,
6th Ohio Volunteer Infantry, Co. D (1879-1935) (Fountain Cemetery, Fostoria, Hancock Co., OH) ****
OGLINE, EDWARD, Pvt.,
8th Ohio Volunteer Infantry, Co. K (1876 - 1905)(Section A, Plot 108, Alliance City Cemetery, Alliance, Stark Co., OH)
OKERT, ANDREW
U.S. Navy (1883-1909)(Wesley Chapel Cemetery, Columbus, Franklin Co., OH)
OKERT, OSCAR OTTO
(1880 - 1912)(Wesley Chapel Cemetery, Columbus, Franklin Co., OH)
O'NEIL, ARTHUR E., Cpl.,
U.S. Marine Corps (October 30, 1873 - October 10, 1955) (Loudonville Cemetery,Loudonville, Ashland Co., OH)*
PAIN, NORMAN J.,
2nd Ohio Volunteer Infantry, Co. H (1875-1941) (Fountain Cemetery, Fostoria, Hancock Co., OH) ****
PARSONS, ARTHUR, Pvt.,
4th Ohio Volunteer Infantry, Co. C (Died November 12, 1919) (Old Section 14, Lot 273, Plot #11, Union Cemetery, Columbus, Franklin Co., OH)
PARTLOW, WILSON R. Sgt.,
2nd Ohio Volunteer Infantry, Co. K (Old Maplewood, Cemetery, North Baltimore, Wood Co., OH)****
PAXTON, EDWARD, Wagoner
9th Ohio Volunteer Infantry, Co. D (Woodlawn Cemetery, Toledo, Lucas Co., OH)**
PELLEY, CHARLES, Pvt.,
6th Ohio Volunteer Infantry, Co. M (Woodlawn Cemetery, Toledo, Lucas Co., OH)**
PERRY, LEWIS E.,
(1861 - 1903)(Greenlawn Cemetery, Tiffin, Seneca Co., OH)***
POPE, EDWARD A.
2nd Ohio Volunteer Infantry, Co. E (1877 -1907)(Greenlawn Cemetery, Tiffin, Seneca Co., OH)***
RADKE, ANTON, Pvt.,.
5th Ohio Volunteer Infantry, Co. B, (1877 - 1934) (Brooklyn Heights Cemetery, Cleveland, Cuyahoga Co., OH)
RAU, HARRY, Pvt.,
10th Ohio Volunteer Infantry, Co. E (June 15, 1877 - July 31, 1957)(Section 3 East, Grave 612, Union Cemetery, Columbus, Franklin Co., OH)#
RAUB, ROLLA, Pvt.,
2nd Ohio Volunteer Infantry, Co. H (Born 1876) (Jerry City Cemetery, Portage Twp, Wood Co. OH)****
RAY, GRANVILLE, Pvt.
10th Ohio Volunteer Infantry, Co. D (1878 - 1920)(Whitehouse Cemetery, Whitehouse, Lucas Co., OH)**
RAY, JESSE, Pvt.,
6th Ohio Volunteer Infantry, Co. B (1872-1930) (McPherson Cemetery, Clyde, Sandusky Co., OH) ****
RAYMOND, CHARLES, 1st Sgt,
6th Ohio Volunteer Infantry, Co. I (1872-1931) (McPherson Cemetery, Clyde, Sandusky Co., OH) ****
READY, WILLIAM E.
(1879 - 1965)(Greenlawn Cemetery, Tiffin, Seneca Co., OH)***
REIDEL, ELMER, Pvt.,
6th Ohio Volunteer Infantry, Co. D (1878 - 1914)(Ohio Veterans Home Cemetery, Sandusky, Erie Co., OH) ****
REYNOLDS, BERKLEY
2nd U.S. Infantry, Co, G (Section 64 East, Grave 6, Union Cemetery, Columbus, Franklin Co., OH)#
RICHARDS, WILLIAM C., Pvt.,
6th Ohio Volunteer Infantry, Company K (1875 - 1944)(Lindsey Cemetery, Lindsey, Sandusky County, OH)
RICHARDSON, MERLE, Pvt.,
2nd Ohio Volunteer Infantry, Co. M (1879-1917) (Fountain Cemetery, Fostoria, Hancock Co., OH) ****
RIGGS, WASHINGTON, Pvt.,
3rd Kentucky Volunteer Infantry, Co. M (September 18, 1870 - April 11, 1956)(Greenlawn Cemetery, Portsmouth, Scioto Co., OH)
RIGGS, WILLIAM
9th Ohio Volunteer Infantry, Co. B (Calvary Cemetery, Springfield, Clark Co., OH)
ROBBINS, LANDER V. Pvt.,
2nd Ohio Volunteer Infantry, Co. H (1863-1943) (Fountain Cemetery, Fostoria, Hancock Co., OH) ****
ROBINSON, HOWARD, H., Pvt.,
6th Ohio Volunteer Infantry, Co. I (McPherson Cemetery, Clyde, Sandusky Co., OH) ****
RODD, CHARLES, Pvt.,
10th Ohio Volunteer Infantry, Co. D (St. Joseph's Cemetery, Maumee, Lucas Co., OH)**
ROE, GEORGE E., Cpl.,
7th Ohio Volunteer Infantry, Co. G (Barnes Cemetery, Newark, Licking Co., OH)
ROE, JONAS SMITH
(June 8, 1870 - May 3, 1943)(Barnes Cemetery, Newark, Licking Co., OH)
ROMANIS, JAMES,
(April 16, 1878 - December 7, 1954) (Section 117, Lot 81, Green Lawn Cemetery, Columbus, Franklin Co.,OH)#
ROPP, JOHN A., Pvt.,
2nd Ohio Volunteer Infantry, Co. H (1879-1965) (Arcadia Cemetery, Arcadia,Hancock Co., OH) ****
ROSEBROOK, JESSE, Wagoner,
2nd Ohio Volunteer Infantry (March 10, 1876 - May 15 1946) (Forest Hill Cemetery, Canton, Stark Co., OH)
ROSENDALE, SCOTT, E, Cpl.,
2nd Ohio Volunteer Infantry, Co. H (Bloom Chapel Cemetery, Bloom Twp., Wood Co., OH) ****
ROSENTHAL, HARVEY ALLEN, Capt.,
(June 11, 1876 - February 12, 1955)(Greenlawn Cemetery, Tiffin, Seneca Co., OH)***
ROWLAND, CHARLES D., Sgt.,
4th Ohio Volunteer Infantry (September 3, 1871 - June 2, 1944) (Wesley Chapel Cemetery, Columbus, Franklin Co., OH)
RUAB, ROLLA G., Pvt.,
2nd Ohio Volunteer Infantry, Co. H (1865-1957)(Jerry City. Portage Twp., Wood Co., OH) ****
RYON, JACOB EDWARD, Pvt.,
6th Ohio Volunteer Infantry, Co. L (1870-1957) (West Lawn Cemetary, Canton, Stark Co., OH)
SANTEMIRE, GEORGE T., Sgt.,
2nd Ohio Volunteer Infantry, Co. H (1886-1927) (Weaver Cemetery, Bloom Twp., Wood Co., OH) ****
SARVER, ERNEST L.
7th Ohio Volunteer Infantry, Co. D (January 2, 1876 - September 19, 1954)(Smithfield Memorial Cemetery, Smithfield, Jefferson Co., OH)
SCHAAL, WILLIAM, Cpl.,
5th Ohio Volunteer Infantry (Woodlawn Cemetery, Toledo, Lucas Co., OH)**
SEARGEANT, WILLIAM A., Cpl.,
6th Ohio Volunteer Infantry, Co. I (1877-1941) (McPherson Cemetery, Clyde, Sandusky Co., OH) ****
SEARS, FOSTER G.
(1879-1900) (New Weston Cemetery, Weston, Wood Co., OH)****
SHAFFER, JOSEPH, Pvt.,
6th Ohio Volunteer Infantry, Co. D (1867-1954) (Fountain Cemetery, Fostoria, Hancock Co., OH) ****
SCHAUDER, JOHN, Pvt.,
2nd Ohio Volunteer Infantry, Co. E (St. Joseph Catholic Cemetery, Tiffin, Seneca Co., OH) ****
SCHAUWEKER, JAMES T., Pvt.
8th Ohio Volunteer Infantry, Co I (February21,1878 - January7, 1929) (Loudonville Cemetery, Loudonville, Ashland Co., OH)*
SCHLATTER, DANIEL, Pvt.,
6th Ohio Volunteer Infantry, Co. D (1877-1954) (Fountain Cemetery, Fostoria, Hancock Co., OH) ****
SCHMITT, JOHN C., Blacksmith,
1st Ohio Volunteer Cavalry, Troop B (1876 - 1961) (St. Joseph Cemetery, Lockbourne, Franklin Co., OH)
SCHMUCKER, OTTO P., Pvt.,
2nd Ohio Volunteer Infantry, Co. H (1876-1957) (Greenlawn Cemetery, Tiffin, Seneca Co., OH) ****
SCHORN, FRED F.
5th Ohio Volunteer Infantry (October 6, 1870 - January 6, 1945)(Brooklyn Heights Cemetery, Cleveland, Cuyahoga Co., OH)
SCHMUCKER, OTTO, Pvt.,
2nd Ohio Volunteer Infantry, Co. E (November 28, 1876 - April 24, 1957)(Greenlawn Cemetery, Tiffin, Seneca Co., OH)***
SCOTT, CHARLES B.,
10th Ohio Volunteer Infantry, Co. H (Forest Cemetery, Toledo, Lucas Co., OH) **
SCOTT ERNEST W., Pvt.,
6th Ohio Volunteer Infantry, Co. I (1878 - 1954)(Greenlawn Cemetery, Tiffin, Seneca Co., OH)*** ****
SCOTT, GEORGE, F., Pvt.,
2nd Ohio Volunteer Infantry, Co. K (1876-1941) (Old Maplewood, Cemetery, North Baltimore, Wood Co., OH)****
SCOTT, MORRIS E., Pvt.,
2nd Ohio Volunteer Infantry, Co. K (1877-1940) (Old Maplewood, Cemetery, North Baltimore, Wood Co., OH)****
SEARCH, EDWIN HAYS, Sgt.,
1st Ohio Volunteer Infantry, Co. C (1876 - 1903)(Mount Washington Cemetery, Mount Washington, Hamilton Co., OH)
SEIBERT, CURTIS D., Pvt.,
(1860? - October 21, 1932) (Loudonville Cemetery, Loudonville, Ashland Co., OH)*
SELLINGER, WILLIAM, Sgt.,
6th Ohio Volunteer Infantry, Co. I (1877-1907) (McPherson Cemetery, Clyde, Sandusky Co., OH) ****
SELVEY, MANLEY G., Cpl..
6th Ohio Volunteer Infantry, Co. I (1869-1934) (McPherson Cemetery, Clyde, Sandusky Co., OH) ****
SHIMMER, HARVEY, Pvt.,
2nd Ohio Volunteer Infantry (1870-1948) (New Weston Cemetery, Weston, Wood Co., OH)****
SHOCKNESSE, GRANT H.,
(1872 – 1946) (Loudonville Cemetery,Loudonville, Ashland Co., OH) (Loudonville Cemetery, Loudonville, Ashland Co., OH)+*
SHUFELT, CYRUS, Pvt.,
2nd Massachusetts Volunteer Infantry, Co. G (Woodlawn Cemetery, Toledo, Lucas Co., OH)**
SIMPSON, ROBERT H., Pvt.,
Hospital Corps (1872 - 1933)(Crypt 1, Tier 67, Plot Cor 3, Amaranth Abby, Franklin Co., Columbus, OH)#
SINGER, BENJAMIN, Pvt.,
6th Ohio Volunteer Infantry, Co. D (1871-1962) (Fountain Cemetery, Fostoria, Hancock Co., OH) ****
SINGER, MINAR, Pvt.,
6th Ohio Volunteer Infantry, Co. D (1874-1940) (Fountain Cemetery, Fostoria, Hancock Co., OH) ****
SISSON, RUPERT HAROLD, Pvt.
1st Missouri Volunteer Infantry, Co. K (1878-1934) (Lake View Cemetery, Cleveland, Cuyahoga Co., OH)
SKAGGS, FERIT E., Pvt.,
20th U.S. Infantry (June 2, 1877 - October 11, 1918)(Peecher Cemetery, Londonderry, Ross Co., OH)
SLATER, ERNEST GEORGE, Pvt.,
1st Ohio Volunteer Cavalry, Troop D (1876-1942)(Greenlawn Cemetery, Chillicothe, Ross Co. OH)
SLONE, BEN J., Musician
15th United States Infantry, Co D (1880 - 1959) (Woodside Cemetery, Middletown, Butler Co., OH)
SMITH, FRED M., Pvt.,
2nd Ohio Volunteer Infantry, Co. E (Farewell Retreat Cemetery, Republic, Seneca Co., OH) ****
SMITH , HERMAN M.,
2nd Ohio Volunteer Infantry, Co. E (1879 -1931)(Greenlawn Cemetery, Tiffin, Seneca Co., OH)***
SMITH, ROLLIE(?) W., Pvt.,
6th Ohio Volunteer Infantry, Co. D (1876 - 1945)(Greenlawn Cemetery, Tiffin, Seneca Co., OH)***
SMITH, REED W. Pvt.,
6th Ohio Volunteer Infantry, Co. G, (Woodlawn Cemetery, Toledo, Lucas Co., OH)**
SMITH, ROBERT L., Quartermaster Sgt.,
6th Ohio Volunteer Infantry, Co. D (1870-1945)( Fountain Cemetery, Fostoria, Hancock Co., OH)****
SNYDER, GUY, M., Pvt.,
2nd Ohio Volunteer Infantry, Co. H (1876-1938) (Fountain Cemetery, Fostoria, Hancock Co., OH) ****
SOHN, JOSEPH, 1st Lt.,
2nd Ohio Volunteer Infantry, Co. E (Died 1948) (St. Joseph Catholic Cemetery, Tiffin, Seneca Co., OH) ****
SOMMERS, HARRY J., Pvt.,
1st Ohio Volunteer Infantry, Co. E (1878-1959) (Fountain Cemetery, Fostoria, Hancock Co., OH) ****
SPITLER DURBIN, Cpl.,
8th Ohio Volunteer Infantry, Co. M (1871 - 1898)(Greenlawn Cemetery, Tiffin, Seneca Co., OH)***
SQUIRE, IRA H., Cpl.,
6th Ohio Volunteer Infantry, Co. H (1874-1959) (McPherson Cemetery, Clyde, Sandusky Co., OH) ****
STECKER, JOHN M. Cpl.,
2nd Ohio Volunteer Infantry, Co. H (Fountain Cemetery, Fostoria, Hancock Co., OH) ****
STEINGRABER, GUST, Pvt.,
6th Ohio Volunteer Infantry, Co. D (1879-1914) (Fountain Cemetery, Fostoria, Hancock Co., OH) ****
STEFFES, MARTIN, Sgt.,
7th U.S. Cavalry (St. Joseph's Cemetery, Maumee, Lucas Co. OH)**
STITH, ORLANDO J., Pvt.,
23rd U.S. Infantry, Co. G (February 8, 1878 - March 3, 1961)(Oakdale Cemetery, Marysville, Union Co.,OH)#
SWATMAN, TITUS A.,
7th Ohio Volunteer Infantry, Co. H (June 17, 1875 - June 2, 1941)(Greenlawn Cemetery, Chillicothe, Ross Co., OH)
SWEANY, JOHN E.,
2nd U.S. Volunteer Engineers, Co. C (1862-1905) (Greenlawn Cemetery, Nelsonville, Athens, Co., OH)
TANKERSLEY, FOUNTAIN, Pvt.,
4th Kentucky Volunteer Infantry, Co. L (October 17, 1855 - April 28, 1924) (Dayton National Cemetery, Dayton, Montgomery Co., OH)
TAYLOR, GEORGE
(February 15, 1845 - March 18, 1899)(St. Johns Cemetery, Mt. Vernon, Knox Co., OH)
TAYLOR, THOMAS E.,
4th Ohio Volunteer Infantry (Section O, Lot 47, Grave 11, Green Lawn Cemetery, Columbus, Franklin Co.,OH)#
TIDD, HARRY M., Pvt.,
1st West Virginia Volunteer Infantry, Co. M (Arcadia Cemetery, Arcadia,Hancock Co., OH) ****
TILLER, CHARLES, Pvt.
6th Ohio Volunteer Infantry, Co. M, (1877-1964 )(Calvary Cemetery, Section 19, E.61/2 South part, 2224 Dorr
Street, Toledo, Lucas Co., OH)
TRAUTMAN, F. J., Sgt.,
6th Ohio Volunteer Infantry, Co. D (Zion Lutheran Cemetery, Fostoria, Seneca Co., OH) ****
TRUMBULL, CLARENCE, Pvt.,
U.S. Volunteers, Co. E (1878-1956) (New Weston Cemetery, Weston, Wood Co., OH)****
TURNER, CHARLES, Pvt.,
7th Ohio Volunteer Infantry, Co. G (Woodlawn Cemetery, Toledo, Lucas Co., OH)**
UNGER, GUSTAVE W., 2nd Lt.,
8th Ohio Volunteer Infantry, Co. D (1875-1956) (Wooster Cemetery, Wooster, Wayne Co., OH)
VICKERY, WILBERT B., Pvt.,
6th Ohio Volunteer Infantry, Co. I (1877-1921) (McPherson Cemetery, Clyde, Sandusky Co., OH) ****
VOTRIE (VOLTRIE), ALBERT B., Quartermaster Sgt.,
6th Ohio Volunteer Infantry, Co. M (December 28, 1865 - February 3, 1900)(Hedges Cemetery, Broughton, Paulding Co., OH)
VOSBURGH, FREDRICK, Sgt.
6th Ohio Volunteer Infantry, Co. D (1869-1935) (Fountain Cemetery, Fostoria, Hancock Co., OH) ****
WAITE, GEORGE C., Coal Passer,
U.S.S. OREGON (1873-1945) (Oak Grove Cemetery, Bowling Green, Wood Co., OH) ****
WEAVER, EDWARD, P. Pvt.,
6th Ohio Volunteer Infantry, Co. A (McPherson Cemetery, Clyde, Sandusky Co., OH) ****
WEAVER, SAMUEL B.
10th Ohio Volunteer Infantry, Co. E. (1857-1917) (Woodlawn Cemetery, Wadsworth, OH)
WEBB, GEORGE E., Pvt.,
1st Kentucky Volunteer Infantry, Co. I (1882 - 1983)(Batavia-Union Cemetery, Batavia, Clermont Co., OH)
WEIN, JOSEPH
7th U.S. Cavalry, Troop C (1875 - 1918) (Section 5, Row 10, Saint Bernards Cemetery, Akron, Summit Co., OH)
WELLS, WILLIAM
10th Ohio Volunteer Infantry, Co. L (Union Cemetery, Columbus, Franklin Co., OH)
WENDE, BRUNO, Pvt., Medal of Honor,
17th U.S. Infantry, Co. C (April 17, 1859- December 27, 1929)(Spring Grove Cemetery, Cincinnati, Hamilton Co., OH)***
WENTZ, RALPH B.
2nd Ohio Volunteer Infantry, Co. E (August 8, 1873 - March 1, 1952) (Greenlawn Cemetery, Tiffin, Seneca Co., OH)***
WESENBERGER, EARL, Cpl.,
6th Ohio Volunteer InfantryCo. M (1879-1900) (Riverside Cemetery, Defiance, Defiance Co., OH)**
WEST, HARRY
5th Infantry, Co. F (1878 -1928)(Riverside Cemetery, Cleveland, Cuyahoga Co., OH)
WEST, OTTO L., Cpl.,
6th Ohio Volunteer Infantry, Co. A (1872 - 1952) (Knollwood Cemetery, Cleveland, Cuyahoga Co., OH)
WHITE, CHARLES Pvt.,
6th Ohio Volunteer Infantry, Co. M (Riverside Cemetery, Defiance, Defiance Co., OH)**
WICKERD, OTIS, Pvt.,
6th Ohio Volunteer Infantry, Co. D (1880-1928) (Fountain Cemetery, Fostoria, Hancock Co., OH) ****
WILLIAMS, WILLIAM T.
6th Ohio Volunteer Infantry, Co. D (1882-1963) (Fountain Cemetery, Fostoria, Hancock Co., OH) ****
WILSON, ORLO, Pvt.,
6th Ohio Volunteer Infantry, Co. D (1883-1906) (Fountain Cemetery, Fostoria, Hancock Co., OH) ****
WINCKELMAN, ADAM,
(1877 - 1948)(Section 56 East, Grave 126, Union Cemetery, Columbus, Franklin Co., OH)#
WOOLF, CYRUS, Cpl.,
6th Ohio Volunteer Infantry, Co. D (1863-1929) (St. Wendelin Catholic Cemetery, Fostoria, Hancock Co., OH) ****
YATES, DWIGHT, Pvt.,
6th Ohio Volunteer Infantry, Co. D (1881-1964) (Fountain Cemetery, Fostoria, Hancock Co., OH) ****
YATES, JOHN A., Pvt.,
2nd Ohio Volunteer Infantry, Co. H (1878-1915) (Fountain Cemetery, Fostoria, Hancock Co., OH) ****
YATES LEE T., Pvt.,
6th Ohio Volunteer Infantry, Co. D (1878-1919) (Fountain Cemetery, Fostoria, Hancock Co., OH) ****
YINGLING, TOBIAS RUDISEL, Cpl.,
2nd Ohio Volunteer Infantry, Co. E (August 25, 1876 - December 13, 1922)(Greenlawn Cemetery, Tiffin, Seneca Co., OH)***
YINGST, HARRY L., Cpl.,
2nd Ohio Volunteer Infantry, Co. E (Greenlawn Cemetery, Tiffin, Seneca Co., OH)***
YOCHUM, WALTER, Wagoner,
6th Ohio Volunteer Infantry, Co. D (1867-1947) (Fountain Cemetery, Fostoria, Hancock Co., OH) ****
ZIEGLER, LOUIS C., Pvt.,
8th Ohio Volunteer Infantry, Co. C (June 2, 1876 - November 17, 1953)(Union Cemetery, Columbus, Franklin Co., OH)
---
Thanks to the following people for contributing information to the page!
Brenda S. Adkins (Washington Riggs)
John P. Asendorf (John Henry Asendorf)
Floyd Ball (George Meece)
Ronald Barnett (Louis Laver)
Cheryl Behrend (William Creed)
Nancy Bendle (John Sweany)
Rhonda Bennett (Albert Arkle)
Ruth Blevins (Ferit E. Skaggs)
bobocoon@pinehurst.net (Rufus Burtch)
Paulette Boley (Via Find-a grave.com)(harry K. Davis, Joseph Carl Davis, William A Davis)
Charlotte (Find-a-Grave) (Edwin Hays Search)
Chuck Bright (Charles Little)
Carol S. Brothers (Louis Anthony, Howard M. Greenwald, John Leininger, Jesse Rosebrook)
Anna Brown (William L. Faulkner)
Beth Brown (James Conn)
Brett Brown (Charles Dern)
E. J. Campfield (Raymond D. Campfield)
Vickie Clark (via Find-a-Grave.com)(John H. Mohn)
Cindy Crawford (Alexnader J. Eddy)
Deborah Clark (Pearl Knott)
Mark W. Combs (Orville James Bosaw)
Leslie Cox (Oliver Loudenberg)
Jim Dailey (George Taylor)
Lee Darst (Wilbur K. Alexander)
Dain K. DeCamp (Andrew DeCamp)
Karen Davis (Lewis Ervin)
Elizabeth Dechent (Jacob Edward Ryon)
Dan Drzewiecki (Kennith E. Gardner, Oliver T. Hinds, Granville C. Ray)
Joyce Craft Ellsworth (via findagrave.com) (Albert A. Kihm, Harry West)
Cecilia Eppink (John Freese)
Thomas Fadley (John M. Conti)
Find-a-grave.com (Louis C. Ziegler)
Cyndi Gagen (John Gagen)
G. Stuart Garwood (Gustave W. Unger)
Roberta George-Curran (Robert George)
Richard Gortz (Leo Gorcz)
John A Graham (Clarence Josiah Hoskins)
Anne Halford (Edward C. McMahon, William McMahon)
Charlene Hartzler (William Newcomer)
Bill Hedrick, Sr. (James Barnes)
Meredith Heinz (George Heinz)
Laura Hine (Anton Radke)
Patricia Hobson (Ben Slone)
Bill Hull (Alfred Hull)
Randy Jackson (Burbridge Messer)
Greg Joseph (Francis Beckert)
Paula Julian (Elmer Hissner)
Ann McDonnell Konz (Patrick J. McDonnell)
Jan Kulnis (Charles Ford)
Gregory Peter Lantay (Edward Ogline)
Esther Lee (Charles N. Bagley)
Betty Leonard (Charles Holladay)
Carolann Kearnes Leskovec (Rupert Sisson)
William Lloyd (Ernest L. Sarver)
Skip Magyar (Ira V. Giffin)
Richard Mann (entries followed by four asterisks - ****)
Deborah Marlett (Justin Marlett)
Karen Schmitt Marshall (John C. Schmitt)
Laurie Melson (William Karg)
Jim McHugh/John Miller (Constantine Miller)
Jean McKibben (Albert Votrie/Voltrie)
Patrick McSherry (entries followed by three asterisks - ***)
Saundra L. Mueller (Ernest George Slater)
Mike Mullen (Joseph Warren Keifer)
Russell Morgann (Matthew Mischler)
Joanne Nemitz (Fred F. Schorn)
Brent Nimmo (names followed by #)
Christine Noga (Otto L. West)
Patricia Noon (George E. Webb)
Liz Ogle (Fountain Tankersley)
Claudia Penn (George Peter Hopkins)
Gaynell Perry (Chester Claude Long)
Nancy Elder Petersen (Charles E. Elder)
rhgradolph@email.msn.com (George Hessemann)
W. C. Richards (William C. Richards)
Wendy J. Riebel (Jacie J. Davis)
Earl Roe (George Roe, Jonas Roe)
A.J. Rohr (entries followed by an asterisk(*))
Cheryl Lee Russell (Walter Lee)
Steve Sams (Leslie C. Jones)
Edward Matthias Sanderson (Edward Shiloh Matthias)
Sandy (Find-a-grave) (Charles H. Boyer, Arthur Parsons)
Carol Schaefer (Luther Miller, Charles Tiller)
Laurie Callentine Sullivan (Charles Callentine, George Callentine)
Darrin Upp (names from Pleasant Ridge Presbyterian Church Cemetery, Cincinnati)
Anthony Valentine (entries followed by two asterisks(**))
Matthew Weaver (Samuel B. Weaver)
Kathie Weigel (via Find-a-Grave.com)(Paul Adam Ley, Joseph Wein)

---
Click here to visit the website bibliography
---
Support this Site by Visiting the Website Store! (help us defray costs!)
---
We are providing the following service for our readers. If you are interested in books, videos, CD's etc. related to the Spanish American War, simply type in "Spanish American War" (or whetever you are interested in) as the keyword and click on "go" to get a list of titles available through Amazon.com.
Search:
Keywords:
---
Visit Main Page for copyright data