---
U.S.S. OLYMPIA Commemorative Medal
By Patrick McSherry
---
Please Visit our Home Page to learn more about the Spanish American War
---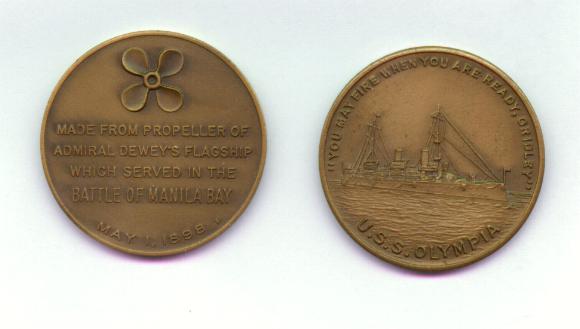 The Cruiser OLYMPIA Association initially issued commemorative medals made from the propellers of the OLYMPIA in the 1960's. It is not known how many were produced.
The front side (right, above) has the statement "YOU MAY FIRE WHEN YOU ARE READY GRIDLEY" around the top. At the bottom is the statement "U.S.S. OLYMPIA." The OLYMPIA is depected in the center.
The reverse side (left, above) has the statement "MADE FROM PROPELLER OF ADMIRAL DEWEY'S FLAGSHIP WHICH SERVED IN THE BATTLE OF MANILA BAY." Below is the date of the battle, "MAY 1 , 1898." The image at the top is of one of the OLYMPIA's propellers.
The medals were produced in two sizes - the coin size depicted above, and in a medallion that is approximately three inches in diameter.
---

To visit the website bibliography, click here. To visit the website video bibliography, click here

---

Support this Site by Visiting the Website Store! (help us defray costs!)

---

We are providing the following service for our readers. If you are interested in books, videos, CD's etc. related to the Spanish American War, simply type in "Spanish American War" (or whatever you are interested in) as the keyword and click on "go" to get a list of titles available through Amazon.com.
---
Visit Main Page for copyright date
Return to Main Page