---
U.S.S. Columbia
By Patrick McSherry
---

---
Please Visit our Home Page to learn more about the Spanish American War
---
Click here to view one of the COLUMBIA's 6-pounder guns
---
General:
The USS COLUMBIA was built as a commerce raider. During the war, however, she saw little actual combat. She took part in convoying troops to Puerto Rico in July and August of 1898.
Background:
The cruiser COLUMBIA was launched on July 26, 1892, with Miss H. Morton christening her as she slid down the ways. In April of 1894, COLUMBIA was placed in commission under the command of Capt. G. W. Sumner. At the time of her commissioning, she was the longest vessel in the U.S. Navy. She and her sister MINNEAPOLIS would maintain this distinction through the Spanish American War.
Her first years were uneventful. She steamed south to protect American interests in the Caribbean. When the Kiel Canal was opened in June of 1895, COLUMBIA was one of the vessels sent to represent the United States. She had crossed the Atlantic Ocean in a record time of just under seven days, at a speed of 18.4 knots. Following the festivities, she returned to the U.S.'s east coast until being decommissioned and held in ordinary in Philadelphia beginning in May of 1897.
With the threat of war looming, COLUMBIA was recommissioned on March 15, 1898. She was assigned to Commodore Winfield Scott Schley's "Flying Squadron," but as concerns mounted up and down the east coast about the whereabouts of Spanish Admiral Cervera's approaching squadron, and the fear of a possible attack, COLUMBIA was detached from the "Flying Squadron" and sent to patrol off New England. After the Spanish squadron had been located in Santiago harbor, COLUMBIA was detailed to duties in the Cuban theater, beginning on June 30. The COLUMBIA took part in the convoy and landing of troops at Guanica, Puerto Rico on July 26, 1898. In March 31, 1899, COLUMBIA was decommissioned and placed in reserve in Philadelphia.
Following service as a receiving ship in New York from August 31, 1902 to November 9, 1903, and service as part of the North Atlantic Training Squadron, she was again placed out of commission on May 3, 1907.
After the loss of the oceanliner LUSITANIA, the COLUMBIA was recommissioned on June 22, 1915, joining the Submarine Flotilla as its flagship. Her duty involved steaming between the Atlantic submarine bases on inspection tours. She was detached from this duty on April 19, 1917. Her new duty was as flagship of Squadron 5, Patrol Force steaming off of the Delaware Bay.
In July of 1917, COLUMBIA joined the Cruiser Squadron as a convoy escort. She made five trips across the Atlantic on this duty, ending on November 13, 1918. One of her duties had been to escort the British liner DANUBE from Guantanamo Bay, Cuba to Halifax, Nova Scotia. After the war, Columbia became the flagship of Squadron 2, Destroyer Force, Atlantic Fleet, steaming along the east coast of the United States, and in the Caribbean. After May 29, she lost her flagship designation, but continued her operations. She was reclassified as CA-16 on July 17, 1920, and renamed OLD COLUMBIA on November 17, 1921.
COLUMBIA was finally decommissioned on June 29, 1921. She was sold January 26, 1922.

Advantages/Disadvantages:
The COLUMBIA was a high speed cruiser for her day, with excellent range at normal cruising speeds. She was, however, relatively lightly armed and lightly armored. This combination gave her the characteristics of an excellent commerce raider, however, there is no evidence of her capturing any prizes in her history. The same characteristics made her somewhat undergunned and under armored for any major squadron-to-squadron action.
The COLUMBIA was built for high speed. However, when she operated at high speed, her coal consumption was quite, as would be expected, greatly reducing her operational range.

---
TECHNOTES: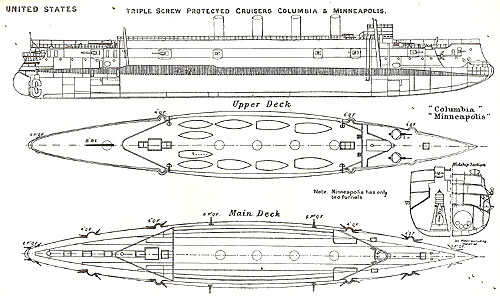 | Classification: | | Protected Cruiser, C-12 |
| --- | --- | --- |
| Laid down: | | December 30, 1890 |
| Launched: | | July 26, 1892 |
| Commissioned: | | April 23, 1894 |
| Rig: | | Three masted schooner |
| Armament: | | One 8 inch breechloading gun |
| | | Two 6 inch breechloading guns |
| | | Eight 4 inch rapid Fire guns |
| | | Twelve 6-pounder rapid fire guns |
| | | Two one-pounder rapid fire guns |
| | | Two Colt revolving guns |
| | | One field piece (for landing parties) |
| | | Four torpedo tubes |
| Contractor: | | William Cramp and Sons, Philadelphia, PA. |
| Length: | | 412 feet |
| Beam: | | 58 feet 2 1/4 inches |
| Draft: | | 22 feet 6 1/2 inches |
| Maximum draft fully loaded: | | 25 feet 7 inches |
| Displacement | | 7,375 tons |
| Compliment: | | 30 Officers and 447 Enlisted Men under the command of Captain J. H. Sands |
| Engine Type: | | Vertical triple-expansion engines, 18,509 hp. 3 shafts. |
| Speed: | | 22.8 knots |
| Coal bunker capacity: | | 1670 tons |
| Normal coal supply: | | 750 tons |
| Armor: | | Protective deck, 4 inches (slopes), 2 1/2 inches (flats) |
| Cost: | | Cost: $2,725,000 (for hull and machinery) |
---
Brassey's Naval Annual. 1898
Clerk of the Joint Committee on Printing, The Abridgement of the Message from the President of the United States to the Two Houses of Congress. Vol. II (Washington DC: Government Printing Office, 1899).
Harris, Brayton, Lt. Cmdr., U.S.N.R., The Age of the Battleship. (New York: Franklin Watts, Inc., 1965)
McSherry, Jack L., Things We Remember. (privately printed in 1966).
Naval History Department, Department of the Navy, Dictionary of American Naval Fighting Ships. (Washington DC: Government Printing Office, 1963).
Schley, Winfield Scott, Forty-five Years Under the Flag. (New York: D. Appleton and Company, 1904).
Spears, John R., Our Navy in the War with Spain. (New York: Charles Scribner's Sons, 1898).
---

Support this Site by Visiting the Website Store! (help us defray costs!)

---

We are providing the following service for our readers. If you are interested in books, videos, CD's etc. related to the Spanish American War, simply type in "Spanish American War" (or whatever you are interested in) as the keyword and click on "go" to get a list of titles available through Amazon.com.
---
Visit Main Page for copyright data