---
U.S.S. Concord
By Patrick McSherry
---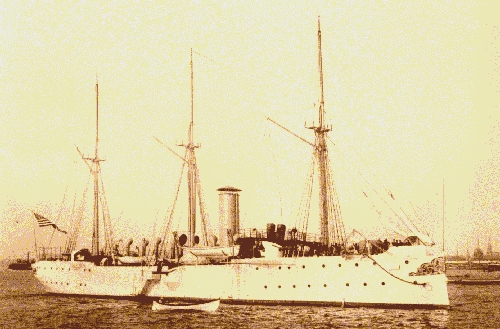 ---
Please Visit our Home Page to learn more about the Spanish American War
---
Click here for an 1898 crew roster
Click here for a letter from CONCORD Water Tender William Crouse
---
GENERAL:
U.S.S. CONCORD was part of Commodore Dewey's squadron at the Battle of Manila Bay, in which the U.S. Navy's Asiatic Squadron defeated the Spanish Pacific Fleet. During the battle, the vessel was fifth in Dewey's six vessel line of battle.
BACKGROUND:
U.S.S. CONCORD was commissioned February 14, 1891 with Commander O. A. Batcheller in command of the vessel. Initially operating off of the New England Coast, she departed on November 17, 1891 for a cruise that took her to the West Indies, South America, and then to New Orleans where she arrived on April 27, 1892. CONCORD then steamed up the Mississippi River as far as Cairo, Illinois. Afterwards, she returned to duty off New England. She made a second cruise to the West Indies later that year, returning to Norfolk on December 5, 1892.
The vessel participated in international Naval reviews at Norfolk and New York in March and April, 1893, before departing to the Far East to join the Asiatic Squadron. She arrived in Hong Kong on October 30, 1893. On May 29, 1894, U.S.S. CONCORD arrived at Unalaska, where she began cruising in the North Pacific to uphold a treaty between the United States and Great Britain protecting fur seals. She also gathered hydrographic information to correct Bering Sea charts and conducted scientific observations on fur seals.
After rejoining the Asiatic Squadron in September, 1894, she returned to San Francisco, arriving May 3, 1896 where she was placed out of commission for repairs. The repairs took nearly a year, from May 27, 1896 to May 22, 1897. From July to the end of November, 1897, she steamed in Alaskan waters.
On being ordered to the command of the Asiatic Squadron, Commodore Dewey discovered that the Squadron did not even have a peacetime allotment of ammunition, and war seemed to be approaching. After being told that no merchant vessels were available to carry the dangerous cargo to the squadron, Dewey learned that CONCORD was being fitted out at Mare Island in preparation to being sent to the Asiatic Squadron. Dewey pushed to have her carry a load of the needed ammunition. He personally visited the vessel, impressing on her commander the need for carrying as much ammunition as possible. Some ship*s stores were not purchased until the vessel arrived in the Far East to make additional room for ammunition. This effort proved to be very important since, when it became obvious that war would not be avoided, it was too late to ship the ammunition. The vessel sailed for the Far East on January 8, 1898.
After reconnoitering Subic Bay with USS BOSTONin search of the Spanish fleet, CONCORD entered Manila Bay with Dewey's fleet in the early morning hours of May 1, 1898. While passing El Fraile Island at the entrance to the Bay, the battery on the island opened fire on the squadron. U.S.S. CONCORD, along with BOSTON, RALEIGH and McCULLOCH all returned fire.
At 5:05 a.m., the Spanish land battery near Manila opened on the Squadron at a range of seven miles. BOSTON and CONCORD returned their fire, not heeding Dewey's warning to conserve ammunition. During the battle, CONCORD followed U.S.S. PETREL in the line of battle, attacking the Spanish fleet, which was totally destroyed. At the conclusion of the battle, CONCORD was sent to finish off the Spanish transport MINDANAO which had been beached. The vessel was set afire and its cargo of supplies destroyed.
In the days that followed, CONCORD landed troops at Corregidor to disarm the Spanish artillery there. The landing parties returned with the breechplugs from the Spanish guns. Also, when McCULLOCH was sent to Hong Kong to file Dewey's report of the Battle of Manila Bay with Washington, CONCORD, in company with BOSTON, escorted her beyond the entrance to the harbor as there was still known to be Spanish gunboats in the area. In the middle of June, when reports of a possible torpedo attack on the squadron was circulated, the squadron set itself for defense, and CONCORD searched the waters off Manila in the early hours of the morning. No attack occurred.
In July, CONCORD and RALEIGH were dispatched to Subic Bay where the Germans were reportedly aiding the Spanish against the Insurgents. If there was any such action it ceased since the presence of the American vessels caused the German warship IRENE to leave the bay. Later, during the final attack on Manila in August, CONCORD was stationed off of the Pasig River.
Following the fall of Manila, CONCORD left to assume other duties in the Far East, but she returned in December to aid in putting down the Insurrection. Her duties included patrolling the coast, bombarding guerrilla outposts, and aiding in operations with the army. Except for a trip to Guam to deliver supplies, CONCORD stayed in the Philippines until June, 1901.
She left the Philippines and steamed for San Francisco, arriving in September 1901, after spending some time in Alaskan waters. She briefly cruised off Mexico before being placed out of commission at Mare Island on February 26, 1902.
The vessel was recommissioned on June 15, 1903, and operated as for north as Alaska, south to Panama and east to Hawaii before again being decommissioned at Bremerton, Washington, on August 4, 1904. CONCORD was again recommissioned on September 16, 1905, steaming for the Philippines, where she remained until March 1906. From there, she went to China, serving as a station ship at Shanghai and Canton, and on the Yangtze River Patrol until 1908. On January 2, 1909 she began her duties as a station ship at Guam, a position she held until September, at which time she steamed for Puget Sound, Washington, arriving October 11, 1909.
CONCORD was decommissioned on November 4, 1909, and was assigned as a barracks ship for the Naval Militia of Washington at Seattle. On June 15, 1914, she was transferred to the Department of the Treasury, serving as the quarantine station for the Coast guard at Astoria, Oregon. U.S.S. CONCORD returned to the U.S. Navy on March 19, 1929, and was sold on June 28, 1929.
Two of CONCORD's six inch guns can be seen today in a park near Seattle, Washington's Woodland Park Zoo.

ADVANTAGES/DISADVANTAGES:
U.S.S. CONCORD, a gunboat, was meant to be used on inland waterways and rivers, as well as for blockade duty. She was not designed for use in major fleet actions, being unarmored. In spite of this, she served at Manila Bay.
---
TECHNOTES: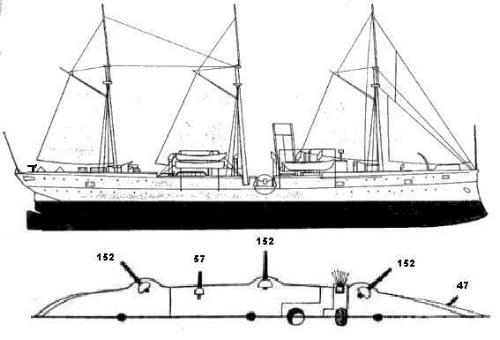 Note: 152 mm is 6"; 57 mm is 6 pdr.; and 47mm is 3 pdr.
| Classification: | | Patrol Gunboat PG-3 |
| --- | --- | --- |
| Laid down: | | May ,1888 |
| Launched: | | March 8, 1890 |
| Commissioned: | | February 14, 1891 |
| Rig: | | Three masted schooner |
| Armament: | | Six 6 inch breechloading guns |
| | | Two 6 pounder rapid Fire guns |
| | | Two 3 pounder rapid Fire guns |
| | | Two 37 mm Hotchkiss Revolving Cannons |
| | | Two Gatling Guns |
| | | One field piece (for landing parties). |
| Contractor: | | N. F. Palmer & Company, Chester, PA. |
| Length: | | 230 feet |
| Beam: | | 36 feet |
| Draft: | | 14 feet |
| Maximum draft fully loaded: | | 16.7 feet |
| Displacement | | 1710 tons |
| Complement: | | 13 officers and 181 enlisted men under the command of Commander Asa Walker |
| Engine Type: | | Horizontal triple-expansion engines, 3405 hp. 2 shafts. |
| Speed: | | 16.8 knots |
| Coal bunker capacity: | | 403 tons |
| Normal coal supply: | | 200 tons |
| Armor: | | Unarmored, 3/8 inch steel on slopes and flats. |
| Cost: | | Cost: $490,000 (for hull and machinery). |
---
Bibliography:
(As a service to our readers, clicking on title in red will take you to that book on Amazon.com)
Clerk of the Joint Committee on Printing, The Abridgement of the Message from the President of the United States to the Two Houses of Congress, Vol. 2 (Washington DC: Government Printing Office, 1899).
Dewey, George, Autobiography of George Dewey (Annapolis: Naval Institute Press, 1987, originally published in 1913 by Charles Scribner's Sons, New York) ISBN 0-87021-028-9.
Harris, Brayton, Lt. Cmdr., U.S.N.R., The Age of the Battleship, (New York: Franklin Watts, Inc., 1965)
Humes, Tim (info. on the guns at Seattle, Washington)
Naval History Department, Department of the Navy, Dictionary of American Naval Fighting Ships, (Washington DC: Government Printing Office, 1959).
---

Support this Site by Visiting the Website Store! (help us defray costs!)

---

We are providing the following service for our readers. If you are interested in books, videos, CD's etc. related to the Spanish American War, simply type in "Spanish American War" (or whatever you are interested in) as the keyword and click on "go" to get a list of titles available through Amazon.com.
---
Visit Main Page for copyright data