---
Cruiser U.S.S. RALEIGH
By Patrick McSherry
---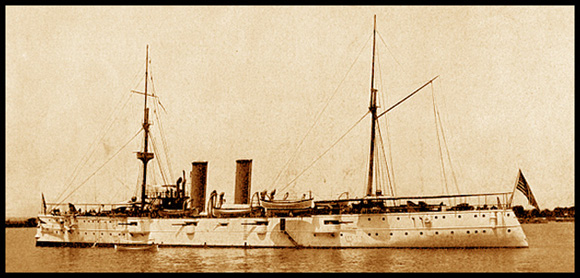 ---
Please Visit our Home Page to learn more about the Spanish American War
---
Click here for a 1898 crew roster
---
GENERAL:
The U.S.S. RALEIGH was a member of the United States Asiatic Squadron under Admiral Dewey and took part in the Battle of Manila Bay/Cavite on May 1, 1898. In this battle, Admiral Montojo's Spanish squadron was destroyed.
BACKGROUND:
RALEIGH was laid down on December 19, 1889 at the Norfolk Navy Yard, at Portsmouth, Virginia, but was not launched until March 31, 1892. She was commissioned on April 17, 1894, and placed under the command of Captain Merrill Miller.
In early September, 1894 RALEIGH was shifted to Hampton Roads, and conducted her shakedown cruise on the Chesapeake Bay. In January 1895, her fitting out was completed at the torpedo station at Newport, Rhode Island. On January 25, she joined the North Atlantic Squadron cruising off the east coast until 1897. In the summer of 1896 she was used as a training vessel for members of the Louisiana and South Carolina Naval Militia .
After being overhauled, the RALEIGH took part in the ceremonies dedicating Grantís Tomb.
On June 1, 1897 RALEIGH reported for duty on the European Station at Smyrna (now Izmir) on the Aegean Sea. Here her duties included a goodwill tour of Moroccan ports and service in the various Mediterranean ports. In December she transited the Suez Canal to join the Asiatic Station, reaching Hong Kong on February 18, 1898, she reached Hong Kong, three days after the Battleship MAINE exploded and sunk in Havana harbor, Cuba.
When the American vessels left Hong Kong for Mirs Bay on April 25, RALEIGHís speed was slowed to a crawl because of the breakdown of a circulating pump left her with only one engine. The pump was repaired that night in Kowloon and sent down to RALEIGH, putting her back in operation. On April 25 (April 26 in Hong Kong), the U.S. Congress declared war on Spain, and on April 27, RALEIGH, along with the remainder of Deweyís Asiatic Squadron, steamed for the Philippines.
In the darkness of April 30, the squadron, including RALEIGH passed El Fraile Island, entering Manila Bay. RALEIGH was fired on by the battery on El Fraile. She responded along with CONCORD and BOSTON, silencing the battery.
At dawn, RALEIGH took part in the Battle of Manila Bay. Steaming in column, the American squadron ran past the stationary Spanish squadron, firing at close range. The Spanish Squadron under Admiral Montojo was completely destroyed.
On May 2, 1898, RALEIGH she sent officers ashore to demand the surrender of Corregidor and, on the 3rd, sent men to disable the batteries there and destroy the munitions. This was followed by a similar action at Palo Caballo for the same purpose. On May 9, RALEIGH captured the Spanish gunboat CALLAO as she steamed into the bay unaware that the bay was now controlled by the American navy.
On July 7, RALEIGH shelled Spanish positions on Grande Island in Subic Bay until the positions surrendered, when she landed a garrison to hold the position. On August 10, RALEIGH returned to Manila, taking part in the actions to take the city on August 13.
On August 25th RALEIGH was sent to Hong Kong with mail, returning to the Philippines in early September. On December 15, RALEIGH steamed for the U.S. via the Suez Canal, arriving in New York on April 15, 1899 amid great honors. Next, she went to Philadelphia, where she was met by President William McKinley, and Secretary of the Navy, John Long. Following this event, she toured ports in the Carolinas before being sent to Portsmouth Navy Yard, Kittery, Maine where she was decommissioned on June 10, 1899.
RALEIGH was recommissioned on January 5, 1903. After delivering supplies to Honduras, she steamed for the Far East, again by way of the Suez Canal. She rejoined the Asiatic Squadron at Chefoo, China on August 26. For four years she cruised the various ports of the Far East, before departing Yokosuka for San Francisco on August 12, 1907. RALEIGH was decommissioned on October 12, 1907
Recommissioned on February 21, 1911, RALEIGH served in San Francisco, California and Bremerton, Washington for two years. In 1913 she became four years of service as a station ship at series of Mexican ports, such as Manzanillo, Mazatlan, La Paz, and Guaymas. She made brief trips to Guatemala and Nicaragua during this period.
With World War One arriving, RALEIGH joined the Atlantic Fleet, serving as part of Cruiser Force, 2nd Squadron and patrolling from Boston to Norfolk. On December 12 1917, RALEIGH began four months of service in Brazilian waters before continuing on to west Africa. Here she delivered munitions to the Liberian Government before returning to Brazilian waters. When German submarines appeared off the U.S.ís east coast, RALEIGH was ordered home to protect the homefront and serve as a convoy vessel in the Caribbean off the southeastern U.S. coast.
On April 21, 1919 RALEIGH was decommissioned for the last time and on August 5, 1921 she was sold for scrap to Henry Hitnerís Sons Co., Philadelphia, Pennsylvania.

---
TECHNOTES: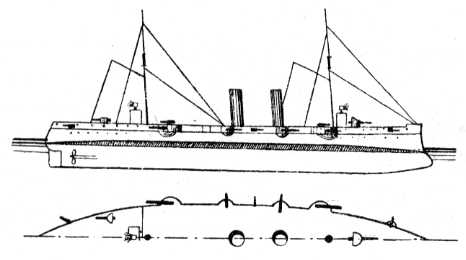 | Classification: | | Protected Cruiser C-8 |
| --- | --- | --- |
| Laid Down: | | December 19, 1889 |
| Launched: | | March 31, 1892 |
| Commissioned: | | April 17, 1894 |
| | | One 6" gun |
| | | Ten 5" guns |
| | | Eight 6 pounders |
| | | Two 1 pounders |
| | | One Gatling Gun |
| | | Four torpedo tubes |
| Contractor: | | Norfolk Navy Yard, Norfolk, VA. |
| Length: | | 306 feet |
| Beam: | | 42 feet |
| Draught: | | 19.5 feet |
| Displacement: | | 3640 Tons |
| Complement: | | 312 officers and enlisted men under the command of Capt. J. B. Coghlan |
| Engine Type: | | Vertical triple-expansion engines, 10,500 hp. 2 shafts |
| Boiler type: | | 6 boilers (4 double-ended and 2 single-ended) |
| Speed: | | 19 knots |
| Armor: | | 2 - 5" deck, 4" gun protection, 2" casemate |
---
Clerk of Joint Comittee on Printing, The Abridgement of Message from the President of the United States to the Two Houses of Congress, Washington: Government Printing Office, 1899. Vol. 2, p. 1252, Vol. 4 p. 75.
Naval History Department, Navy Department, Dictionary of American Naval Fighting Ships, Vol. VI (Washington DC: Government Printing Office, 1976) 18-20.
Sargent, Nathan, Admiral Dewey and the Manila Campaign, (Washington DC: Naval Historical Foundation, 1947) 21
---

Support this Site by Visiting the Website Store! (help us defray costs!)

---

We are providing the following service for our readers. If you are interested in books, videos, CD's etc. related to the Spanish American War, simply type in "Spanish American War" (or whatever you are interested in) as the keyword and click on "go" to get a list of titles available through Amazon.com.
---
Visit Main Page for copyright data