---
Spanish Battleship PELAYO
By Nick Mitiuckov
---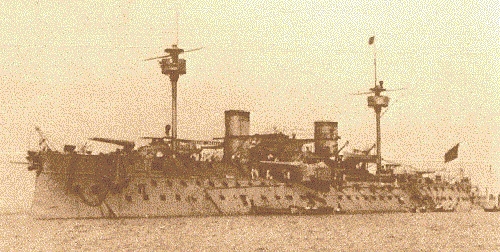 ---
Please Visit our Home Page to learn more about the Spanish American War
---
Click here to read about the Pelayo and Camara's Relief Squadron
Additional views of Pelayo!
Pelayo at anchor ||| Pelayo in broadside
Pelayo's 280 mm turret ||| Pelayo's 320 mm turret ||| Pelayo's broadside guns
Pelayo at sea with Carlos V
---
GENERAL:
PELAYO was the strongest ship built in the Spanish shipyards in the time leading up to the Spanish American War. During the war, she was flagship of Reserve squadron of Rear Admiral Camara, and took part in no military fighting action during the war.
BACKGROUND:
The vessel was named for Pelayo (or Pelagei) (? - 737), the leader of Insurrection against the Moors, that led to the Reconquista. After a great victory at Covadonga (718) against the Moors, Asturia became the first independent Spanish kingdom, and Pelayo, first king of Asturia.
PELAYO was built in France. Her design based on French battleship MARSEAU, but Pelayo was smaller and able to pass through the Suez Canal. Almirante Antequera, the Spanish Naval Minister, believed that the PELAYO would be the first battleship of great series of new battleships. But, as the result of the crisis in the Caroline Islands, there was a change in plan. Instead of building PELAYO's intended sisterships, cruisers of INFANTA MARIA TERESA-class were built for action in the colonies. The PELAYO was considered to have too little coal endurance and to be too slow for this use.
PELAYO was completed on 1890, and at the first time took part in many international parades and shows, for example, 1891 in Greece, 1892 in Genoa, and 1895 in Kiel.
In 1897, a planned refit of PELAYO occurred and she went to La Sen for this to be carried out. In 1898, the Spanish-American War began, but work on the battleship continued. It was planned to replace her secondary battery of one 162-mm and twelve 120-mm guns with nine 140-mm guns. However, at the time the war broke out, the protection of secondary artillery was removed to allow for the replacement of the guns, which had not yet occurred. This is where the work ended, which left the PELAYO without adequate protection for its secondary battery!
On May 14, she was formally accepted as part of Reserve squadron. On June 16, PELAYO, the cruiser CARLOS V and several auxiliary ships and torpedo-boats set out to steam to Manila, Philippine Islands to counter the Americans in the wake of the Battle of Manila Bay/Cavite. When Camara's Squadron arrived at Port Said (Egypt), the Egyptian government delayed the supply of coal to the squadron. By the time the Squadron arrived at the Suez Canal (Egypt), the war was already effectively lost for the Spanish.
An order was sent to Admiral Camara to return to Spain on July 7. The squadron was dissolved on July 25.
After war, PELAYO continued to take part at various parades and shows. In 1901 she was in Tulon, 1904 n Lisbon, 1904 in Vigo Bay, etc.
There was great difficulties is using the PELAYO for tactical combat. Spain had no other vessel with similar characteristics. It was planned to organize one division with PELAYO and the old frigates NUMANCIA and VITORIA, but the frigates were too old and in too poor of a condition. Some time later, when Spain completed the construction of some dreadnoughts, it was planned to organize one division around PELAYO. But, by this time, PELAYO was too old and in too poor of a condition for this to occur. As a result o her lonely position, the entire service adopted the nickname coined by a humorist for the PELAYO - "SOLITARIO" ("the individualist").
Pelayo's guns were only fired in anger against an enemy one time. This was in 1909, during the Spanish-Moroccan War.
In 1912, as the result of a navigational error, PELAYO was greatly damaged in Fonduko Bay (Mahon). The battleship was repaired, but after that time only saw service as a training vessel. In 1923, she was disarmed and in 1925, scrapped.
ADVANTAGES/DISADVANTAGES:
Pelayo was considered to be slow and have a low coal endurance (she could not store enough coal in her bunkers for long-range requirements. Her isolated position of being a capital ship of singular design and capabilities in Spain's navy, left her in an odd position for military planning.

---
TECHNOTES: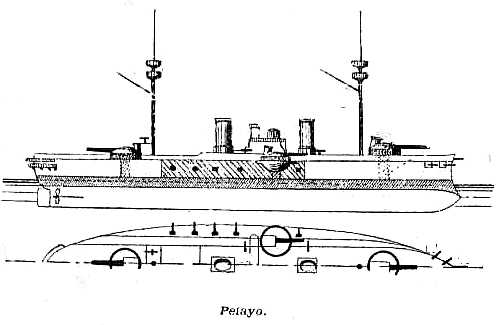 PELAYO
| Classification: | | First Class Battleship |
| --- | --- | --- |
| Ordered: | | November 12, 1884 |
| Laid down: | | February, 1886 |
| Launched: | | February 5, 1887 |
| Completed: | | June 3, 1888 |
| Rig | | Two masts |
| Armament: | | Two 320 mm/35 cal. Honotoria Breechloading guns (48 tons) |
| | | Two 280 mm/35 cal. Honotoria Breechloading guns (32 tons) |
| | | One 162 mm/35 cal. Honotoria Breechloading guns |
| | | Twelve 120 mm/35 cal. Honotoria Breechloading guns |
| | | Three 57 mm Hotchkiss Quickfire guns |
| | | Thirteen 37 mm quickfire guns |
| | | Four machine guns |
| | | Seven torpedo tubes |
| Weight of main guns: | | 160 tons |
| Contractor: | | Forges et Chanters de laMediterranee (La Sen, France) |
| Length: | | 120.04 meters |
| Beam: | | 20.20 meters |
| Draft: | | 7.58 meters |
| Displacement: | | 9745 tons |
| Complement: | | 520 Officers and Enlisted Men |
| Engine type: | | Two 2 cylinder compound engines generating 9,600 hp. |
| Boiler type: | | 12 Nicloss-class with pressure (85 pound/sq. foot). After being reboilered in1897/98, she was given- 16 Normand-class boilers |
| Coal Bunker capacity: | | 1000 tons |
| Normal coal load | | 500 tons |
| Normal coal expediture | | 0.732 kg/hp. |
| Coal Endurance: | | 3,000 miles at 10 knots |
| Speed: | | 16.7 knots (in trials) |
| Armor type: | | Creysot (similar to Harveyized armor) |
| Armor: | | Belt 450-300 mm, barbettes400-300 mm; deck 70-51 mm; gun shields 80-50 mm; coning tower 155 mm |
| Cost (wthout artillery or armor): | | 22 million pesetas |
---
Aguilera A., "Pelayo," Buques de la Armada Espanola. (Madrid, 1969) p. 13-16.
"Spanish Battleship PELAYO," Warship International. (1970. - # 2) p. 183-184.
Mitiuckov N.V., "Ispanskiy Bronenosets PELAYO," Krasniy Officer. (1996. #1) S.2-6.
"PELAYO" Voennie Floti i Morskaya Spravochnaya Knizhka na 1897 god.- SPb:
Typography by Edward Goppe, 1897. - S. 401-404.
Wilson H.W., Downfall the Spain. (London: Sampson Low, Maston & Co, 1900). p. 454
---

Support this Site by Visiting the Website Store! (help us defray costs!)

---

We are providing the following service for our readers. If you are interested in books, videos, CD's etc. related to the Spanish American War, simply type in "Spanish American War" (or whatever you are interested in) as the keyword and click on "go" to get a list of titles available through Amazon.com.
---
Visit Main Page for copyright data