---
Spanish Cruiser INFANTA MARIA TERESA
By Patrick McSherry
---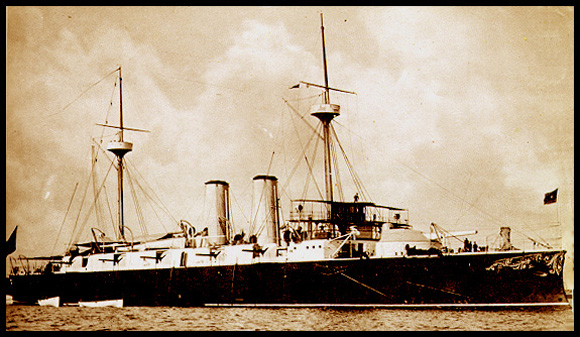 ---
Please Visit our Home Page to learn more about the Spanish American War
---
Chart of Hits ||| Admiral Cervera's biography
Admiral Cervera's account of the loss of the MARIA TERESA at Santiago
José Muller Tejeira's account of the MARIA TERESA at Santiago
Click here to view one of the Teresa's 10 cm Honotoria guns, now in Groton, Connecticut
Click here to view one of the Teresa's six pounder guns, now in Monroe, Wisconsin
Click here to view one of the Teresa's six pounder guns, now in Lowell, Massachusetts
Click here to view one of the Teresa's 10 cm Honotoria guns, now in Ottumwa, Iowa
Click here for to see the Teresa forward turret lantern, an artifact from the ship.

---
GENERAL:
Admiral Cervara's flagship the INFANTA MARIA TERESA was one of the prides of the Spanish Fleet. Aboard her the unhappy Admiral led his fleet across the Atlantic to what he knew could only be its doom in Cuban waters. She was lost at the Battle of Santiago.
BACKGROUND:
INFANTA MARIA TERESA led the sortie out of Santiago Bay on July 3rd, 1898. As the flagship she drew the bulk of the American fire in the early stages of the battle. Soon she was seriously damaged and on fire. After apparently making an attempt to ram Commodore Schley's flagship, USS Brooklyn, Cervera ran the TERESA ashore just a few miles west of the entrance to Santiago Bay and allowed his crew to save themselves. Despite being ravaged by fire and magazine explosions, the US Navy found the cruiser salvageable and she was patched up, refloated and taken to Guantanamo Bay for preliminary repairs. While being towed to the Norfolk, Virginia for rebuilding by the repair ship VULCAN she was caught in a tropical storm. The repair ship MERRITT took off the helpless cruiser's crew, the tow line was cut, and the TERESA was lost at sea. She eventually came to rest between two reefs off Cat Island and, with her back broken, was declared a total loss.
ADVANTAGES/DISADVANTAGES:
The INFANTA MARIA TERESA was a modern and speedy first class Cruiser. However, the level of training and maintenance in the Spanish fleet was not what it should have been, and the TERESA, like all of Cervara's ships, went to war at less than full efficiency. She was in need of drydocking and short of ammunition. Even some of her guns were not operatable. Also, like all warships of the era, she was heavily decorated and furnished with wood. The US Navy stripped this flammable material off its vessels at the beginning of the conflict, but the Spanish failed to do so, making the TERESA and her fleet-mates seriously susceptible to fire.
---
TECHNOTES:
| Classification: | | Cruiser (Intermediate type between armored and protected, |
| --- | --- | --- |
| | | secondary guns and other vital parts had no armor.) |
| Laid down: | | 1889 |
| Launched: | | 1890 |
| Completed: | | 1893 |
| Rig: | | Two military masts |
| Armament: | | Two 28 cm Hontoria guns (11 inch) |
| | | Ten 14 cm Hontoria guns (5.5 inch) |
| | | Eight 57 mm Hotchkiss QF guns (3 inch?) |
| | | Eight 37 mm revolving Hotchkiss guns (1.65 inch) |
| | | Two 22 mm Nordenfelt machine guns |
| | | Two 2.75 inch bronze guns (for landing parties?) |
| | | Eight tordedo tubes |
| Contractor: | | Sociedad Astilleros del Nervion, Bilbao, Spain |
| Length: | | 366 feet, 8 inches (111.8 meters) |
| Beam: | | 65 feet (19.81 meters) |
| Mean draft: | | 21 feet, 6 inches (6.55 meters) |
| Displacement: | | 6,890 tons |
| Complement: | | 497 Officers and Men, |
| | | under the command of Capt. Victor Concas. |
| Engine type: | | 13,700 hp. engines, twin screws. |
| Speed: | | 20.25 knots |
| Coal bunker capacity: | | 1,050 tons |
| Coal endurance @ 10 knots: | | 9,700 miles |
| Armor: | | 305 mm (10 -12 inch) steel compound side belt, |
| | | 250 mm (9.8 inch) barbettes, 50 mm (2 inch) deck. |
---
Bibliography:
(As a service to our readers, clicking on title in red will take you to that book on Amazon.com)
Azoy, A.C.M., Signal 250! The Sea Fight Off Santiago, (New York: David McKay Company, 1964).
Blow, Michael, A Ship to Remember , (New York: William Morrow and Company, Inc., 1992).
Clerk of Joint Committee on Printing, The Abridgement of Message from the President of the United States to the Two Houses of Congress. (Washington: Government Printing Office, 1899. Vol. 4
Freidel, Frank, The Splendid Little War. (Boston: Little, Brown and Company, 1958)..
González López, Manuel P., Personal Internet Contact.
---

Support this Site by Visiting the Website Store! (help us defray costs!)

---

We are providing the following service for our readers. If you are interested in books, videos, CD's etc. related to the Spanish American War, simply type in "Spanish American War" (or whatever you are interested in) as the keyword and click on "go" to get a list of titles available through Amazon.com.
---
Visit Main Page for copyright data