---
Spanish Cruiser VIZCAYA
By Patrick McSherry
---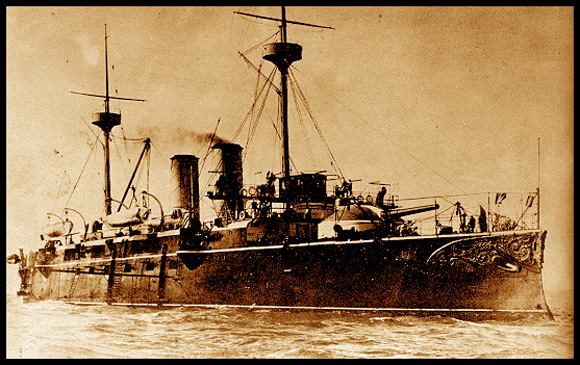 ---
Please Visit our Home Page to learn more about the Spanish American War
---
Other views of the VIZCAYA:
Stern view after the battle ||| Broadside view after battle showing bow damage ||| chart of hits
Shell fired by Vizcaya at Santiago ||| Vizcaya wreck as seen in 1902
---
Capt. Antonio Eulate's Report of the Action of the VIZCAYA at Santiago
Click here to read about a 14 cm Hontoria gun from Vizcaya at the U.S. Naval Academy in Annapolis, Maryland
Click here for another of the VIZCAYA's 14 cm Hontoria Guns in Columbia, Tennessee
Click here for another of the VIZCAYA's 14 cm Hontoria Guns at West Point, New York
Click here to read about a gun reputedly from Vizacaya, which is not in Lowell. Massachusetts
---
1/400 Plan and Profile (BIG .pdf file - 600 Kb)
(Courtesy of Jose Pillet - Requires substantial download time and Adobe Acrobat reader)
---
GENERAL:
The Cruiser VIZCAYA was one of the prides of the Spanish Fleet. Part of Admiral Cervera's Squadron, she was trapped at Santiago de Cuba by the blockading US Fleet of Sampson and Schley and destroyed when the Spanish ships sortied on July 3, 1898.
BACKGROUND:
VIZCAYA was sent to New York early in 1898 to reciprocate the "friendly" visit of USS MAINE to Havana. After the destruction of the MAINE, she returned to Spain and was attached to Admiral Cervera's fleet. Very soon VIZCAYA was again crossing the Atlantic for what would prove to be the last time. Blockaded at Santiago de Cuba with the rest of Cervera's force, VIZCAYA was the second ship to sortie from the harbor on July 3, 1898. Suffering from heavy American fire during the Battle of Santiago, Captain Don Antonio Eulate ran VIZCAYA on the rocks about 18 miles from the harbor entrance and surrendered, in order to save the lives of his crew. When the wounded Eulate was brought aboard the USS IOWA, he glanced over at his blazing command, raised his hand in salute and said "Adios, Vizcaya". As if on cue, the cruiser's forward magazine exploded as the words left his lips. When the US Navy surveyed the wrecks of the Spanish fleet after the war, VIZCAYA was declared a total loss.
ADVANTAGES/DISADVANTAGES:
The VIZCAYA was a modern and speedy first class Cruiser. However, the level of training and maintenance in the Spanish fleet was not what it should have been, and the VIZCAYA, like all of Cervera's ships, went to war at less than full efficiency. She was in severe need of drydocking, her foul bottom greatly reducing her speed and increasing her coal usage. She was short of ammunition and some of her guns were not operable. Also, like all warships of the era, she was heavily decorated and furnished with wood. The U.S. Navy stripped this flammable material off its vessels at the beginning of the conflict, but the Spanish failed to do so, making the VIZCAYA and her fleet-mates seriously susceptible to fire.
---
TECHNOTES: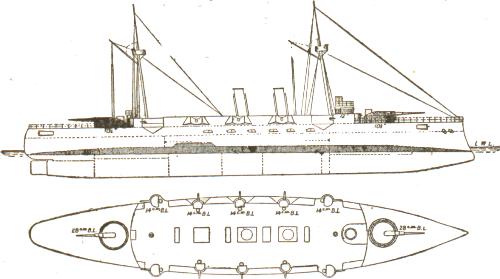 | Classification: | | Cruiser (Intermediate type between armored and protected, |
| --- | --- | --- |
| | | secondary guns and other vital parts had no armor.) |
| Laid down: | | 1889 |
| Launched: | | 1891 |
| Completed: | | 1893 |
| Rig: | | Two military masts |
| Armament: | | Two 28 cm Hontoria guns (11 inch) |
| | | Ten 14 cm Hontoria QF guns (5.5 inch) |
| | | Eight 57 mm Hotchkiss QF guns (3 inch?) |
| | | Eight 37 mm revolving Hotchkiss guns (1.65 inch) |
| | | Two 22 mm Nordenfelt machine guns |
| | | Two 2.75 inch bronze guns (for landing parties?) |
| | | Eight torpedo tubes |
| Contractor: | | Sociedad Astilleros del Nervión of Sestao, |
| | | supported by Brown of Sheffield (UK). |
| Length: | | 366 feet, 8 inches (111.8 meters) |
| Beam: | | 65 feet (19.81 meters) |
| Mean draft: | | 21 feet, 6 inches (6.55 meters) |
| Displacement: | | 6,890 tons |
| Complement: | | 497 Officers and Men, under the command |
| | | of Captain Don Antonio Eulate. |
| Engine type: | | 13,700 hp. engines, twin screws. |
| Speed: | | 20.25 knots |
| Coal bunker capacity: | | 1,050 tons |
| Coal endurance @ 10 knots: | | 9,700 miles |
| Armor: | | 305 mm (10 -12 inch) steel compound side belt, |
| | | 250 mm (9.8 inch) barbettes, 50 mm (2 inch) deck. |
---
Bibliography:
(As a service to our readers, clicking on title in red will take you to that book on Amazon.com)
Azoy, A.C.M., Signal 250! The Sea Fight Off Santiago, (New York: David McKay Company, 1964).
Blow, Michael, A Ship to Remember , (New York: William Morrow and Company, Inc., 1992)
Brown, Charles H., The Correspondent's War. (New York: Charles Scribner's Sons, 1967).
Clerk of Joint Committee on Printing, The Abridgement of Message from the President of the United States to the Two Houses of Congress. Washington: Government Printing Office, 1899. Vols. 2, 4.
Crabtree, HJ. B., The pasing of Spain and the Ascendency of America. (Springfield: The King-Richardson Pusblishing Co., 1898), p.346.
Freidel, Frank, The Splendid Little War" (Boston: Little, Brown and Company, 1958).
González López, Manuel P., Personal Internet Contact.
---

Support this Site by Visiting the Website Store! (help us defray costs!)

---

We are providing the following service for our readers. If you are interested in books, videos, CD's etc. related to the Spanish American War, simply type in "Spanish American War" (or whatever you are interested in) as the keyword and click on "go" to get a list of titles available through Amazon.com.
---
Visit Main Page for copyright data