---
Auxiliary Cruiser YANKEE
By Patrick McSherry
---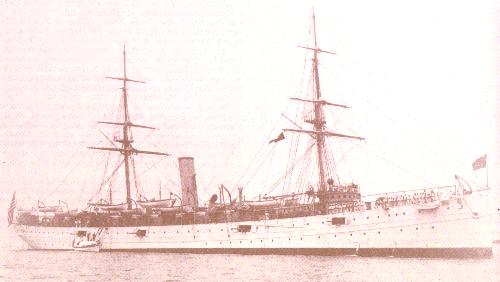 ---
Please Visit our Home Page to learn more about the Spanish American War
---
Click here to read an account of the YANKEE in action
Click here for the log of the YANKEE
Click here for a roster of the New York Naval Militia
Click here to read about William Edgar White, USMC and life aboard the YANKEE
Click here for a roster of the YANKEE's U.S. Marine Contingent
Click here to see the medal issued bythe State of New York to its volunteers
---
GENERAL:
The Auxiliary Cruiser YANKEE, manned mainly by men of the New York Naval Militia, saw action during the Spanish American War
BACKGROUND:
The YANKEE began its career as the Newport News Shipbuilding and Drydock company in 1892, and was soon plying the waters as a liner for the Southern Pacific Company as the EL NORTE. With the approach of the Spanish American War, the U.S. Government provided $50 million for the build up of the U.S. military. The Navy invested much of its share of the funds in new ships. Some of those funds went to purchase the EL NORTE for use as an auxiliary cruiser on April 6, 1898. Scarcely over a week later, on April 14, 1898 the renamed vessel was commissioned into the U.S. Navy as the Auxiliary Cruiser YANKEE, under the command of Commander William H. Brownson.
YANKEE was soon fitted out with a battery of guns that included (10) 5-inch guns, (6) 6 pounders and 2 Colt machine guns. On April 14, 1898, Yankee was commissioned at New York, as an auxiliary cruiser. The outbreak of hostilities found YANKEE plying the waters off coast of the U.S. between Block Island and Cape Henlopen. After coaling on May 27, she received orders to join the blockading squadron forming around Cuba following the locating of the Spanish naval squadron under Admiral Cervera. YANKEE arrived off Santiago on June 3 after a brief stop at St. Nicholas Mole, Haiti.
In the early days of June, 1898, YANKEE saw her share of action. On June 6, she was engaged in the duel against the Spanish shore batteries. On June 7, in company ST. LOUIS and MARBLHEAD, she went on the expedition to cut communication cables in Guantanamo Bay. During this expedition, MARBLHEAD and YANKEE engaged the Spanish gunboats ALVARADO and SANDOVAL and silenced a single muzzleloading gun firing from Fort Caimanera.
On June 8, the vessel was sent to St. Nicholas Mole with dispatches, and then on June 10 to Port Antonio, Jamaica to deliver more dispatches and to search for the blockade runner PURISSIMA CONCEPCION. On June 13, off Cienfuegos, YANKEE engaged the Spanish gunboats DIEGO VELAZQUEZ and LINCE, putting them both to flight and then fired on the Sanbanilla Battery before returning to blockade duty off Cienfuegos.
YANKEE continued blockading duties off Cienfuegos until late June, when the vessel went to Key West to replenish its coal supplies. From Key West, the vessel was sent to New York to pick up a cargo of ammunition and then to Norfolk for additional ammunition. YANKEE arrived off Guantanamo on July 21. She remained in Guantanamo until August 11, 1898. The ship returned briefly to blockade duty, but an armistice brought an end to hostilities on August 13, 1898. On August 24th, she pointed her bow toward New York. After a trip to League Island, Pennsylvania, the ship returned to New York where her crew of New York Naval Militia were mustered out.
YANKEE was decommissioned on March 16, 1899 and remained at League Island. In May, 1903, the vessel was recommissioned under Commander George P. Colvcoressee, who had been second in command of the CONCORD at the Battle of Manila Bay. Throughout 1903 and 1904, the vessel was used as a training vessel. In December of 1904, she was sent to Panama to exchange the marine garrison stationed there. In 1905, the vessel served in support of American forces serving in Dominican waters.
In 1906, YANKEE took part in the Presidential naval Review at Oyster Bay, New York. A little over a month later, on September 25, YANKEE was again decommissioned at Portsmouth Navy Yard, Kittery, Maine, and then moved to Boston.
Recommissioned on June 15, 1908, YANKEE again served as a training vessel. However, on September 23, 1908, while on a training excursion YANKEE encountered a dense fog, compounded by smoke from nearby forest fires, in Buzzards Bay. With obscured visibility, YANKEE ran aground on Spindle Rock near Westport. Grounding at high tide, her bow was lodged in the rocks with her stern partially submerged. The navy attempted to patch her with 1000 bags of cement, but the attempt failed and a salvage contract was awarded to John Arbuckle and W. W. Weatherspoon.
YANKEE was refloated on December 4, but soon sank in Buzzard's Bay (at latitude 41° - 32' - 30" N; longitude 70° - 52' - 40" W) while under tow to New Bedford. She was struck from the Navy roll son April 17, 1912.
YANKEE lies in 55 feet of water and in bad condition. She dynamited was a hazard to navigation.
---
TECHNOTES:
| Classification: | | Auxiliary Cruiser |
| --- | --- | --- |
| Built: | | 1892 |
| Commissioned: | | April 14, 1898 |
| Rig: | | Schooner |
| Armament: | | Ten 5 inch breechloading guns |
| | | Six 6-pounder (57 mm) rapid fire guns |
| | | Two Colt Revolving Guns |
| Contractor: | | Newport News Shipbuilding and Drydock Company |
| Length: | | 406 feet, 1 1/2 inches |
| Beam: | | 48 feet, 4 1/2 inches |
| Draft: | | 22 feet |
| Displacement | | 6,888 tons |
| Complement: | | 15 Officers and 267 Enlisted Men |
| | | under the command of Willard Brownson |
| Engine Type: | | Inverted triple expansion engines generating 3,800 hp., 1 screw |
| Speed: | | 14.5 knots |
| Coal endurance | | ? |
| Normal coal supply: | | 1,000 tons |
| Armor: | | None |
| Cost: | | ?? |
---
Bibliography:
Clerk of Joint Committee on Printing, The Abridgement of Message from the President of the United States to the Two Houses of Congress. Vol. 2 (Washington: Government Printing Office, 1899). 1216-1217.
Massachusetts Coastal Zone Management webpage on the YANKEE (http://www.state.ma.us/czm/ua-yank.htm)
Mooney, James L., Ed., Dictionary of American Naval Fighting Ships, Vol. VIII (Washington: Naval Historical Center, 1981) 512-514.
---

Support this Site by Visiting the Website Store! (help us defray costs!)

---

We are providing the following service for our readers. If you are interested in books, videos, CD's etc. related to the Spanish American War, simply type in "Spanish American War" (or whatever you are interested in) as the keyword and click on "go" to get a list of titles available through Amazon.com.
---
Visit Main Page for copyright data